Campervan Bürstner Copa - multi-talented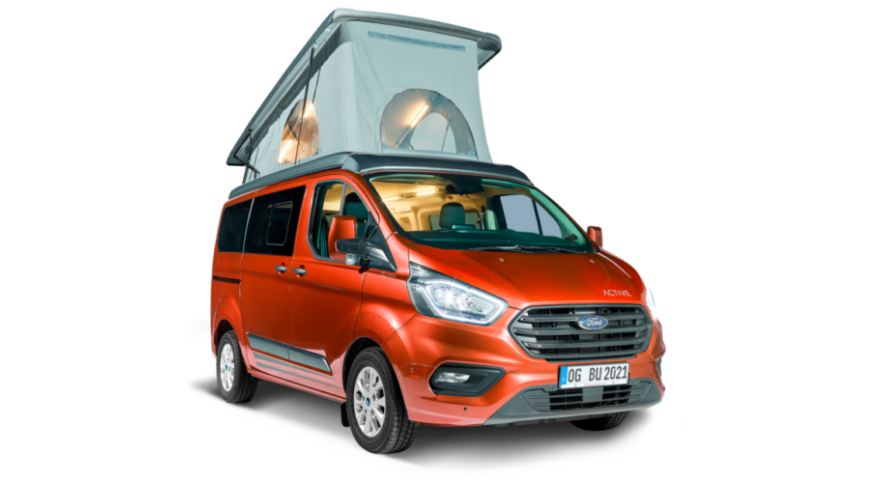 Bürstner is a well-known brand in the caravanning world. In addition to a wide range of motorhomes and caravans, the company's portfolio also includes ultra-mobile campervans based on Citroen Jumper and Fiat Ducato. This range has been joined by an even smaller brother with a nice-sounding name "COPA". The base of the motorhome is a Ford Transit Custom powered by a 2-liter diesel engine with 130 horsepower.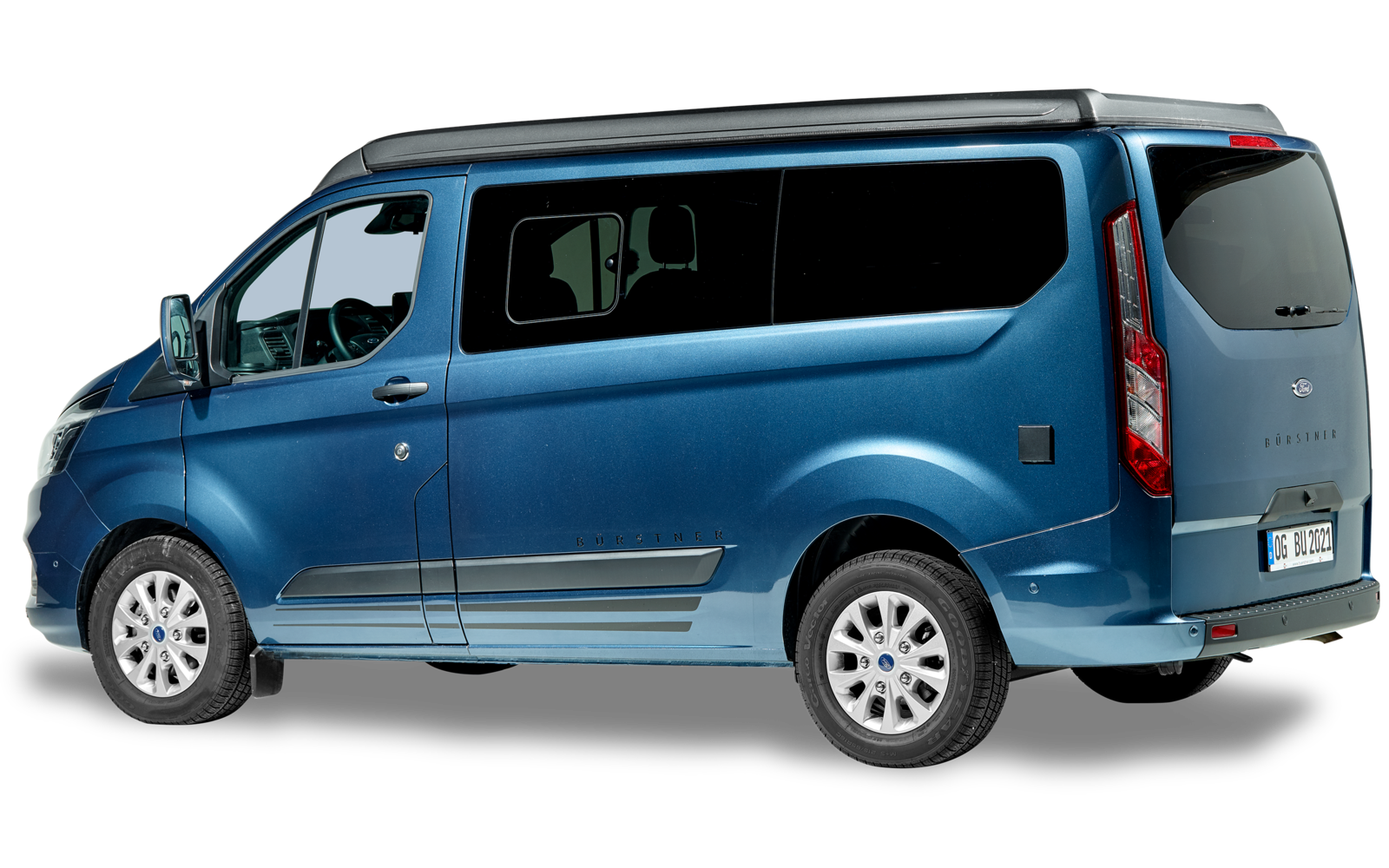 The segment referred to as "urban campers" is growing dynamically. These cars are a perfect combination of an everyday car and a recreational vehicle. The target group is usually couples and young families with children. The vehicles are agile and allow you to cover long distances quickly and comfortably, and do not cause problems in the traffic of crowded European metropolises. They are also relatively easy to park. That's what COPA is like - it's a multi-talented toddler with small dimensions and great possibilities. The length is less than 5 meters (497 cm), the width is 199 cm and the height is 209 cm. The curb weight is 2440 kg, and the gross vehicle weight is 3190 kg - the payload is therefore as much as 750 kg. So much for the introduction and general information. What does COPA offer travelers?
Bürstner COPA - everything you need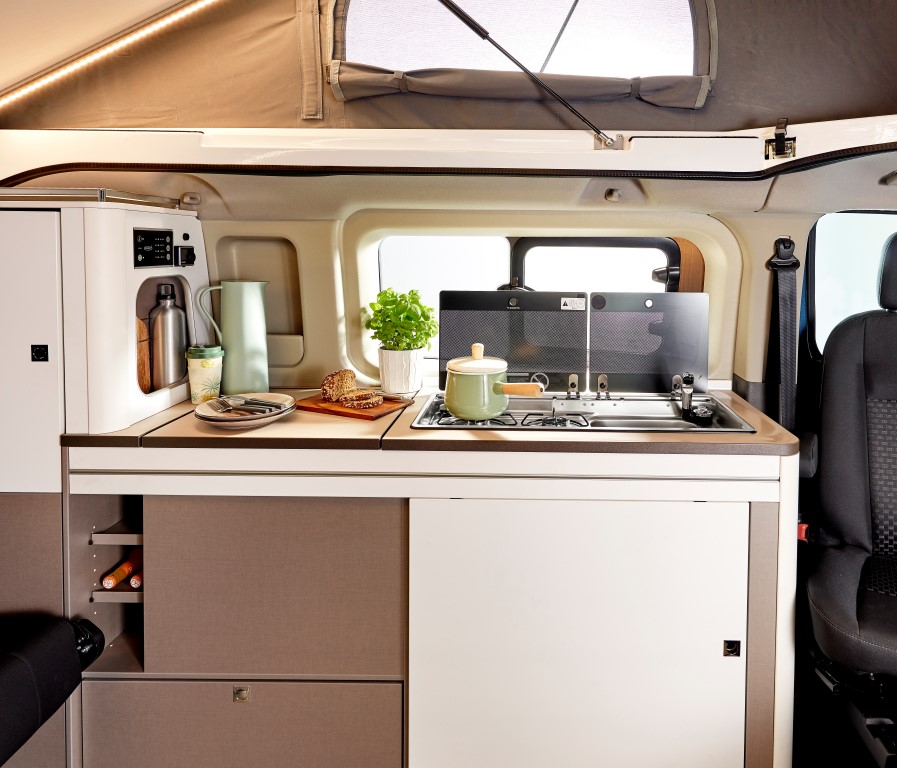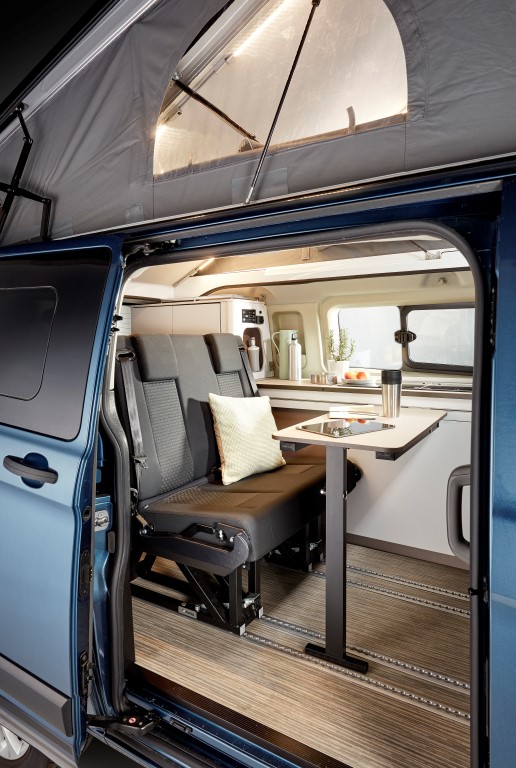 The COPA model was presented to the general public for the first time in January this year at the CMT fair in Stuttgart. Already for 2022, the manufacturer has planned several modifications in terms of specifications and equipment. The basic construction concept of the building consists of rails into which sofas and single armchairs are inserted. Depending on the chosen car variant (Bus/Holiday), there may be 6 seats equipped with seat belts. This makes this mini motorhome a perfect solution for families with children. After folding the rear sofa, we get a bed for 2 people with dimensions of 188x110 cm.
The standard SCA raised roof is an additional bed measuring 190x110 cm. The clean water tank can hold 50 liters, and the gray water tank 35 liters - these are very decent values in this class of cars. The built-in battery has a capacity of 95 Ah and works as standard with a 25 A booster. The kitchen is equipped with a 2-burner gas cooker (powered from a 2.75 kg cylinder) and a sink. A 41-litre compressor cooler is available as an option. The folding table inside can be removed and used outside. A great solution are swivel seats for the driver and passenger, which allow you to sit comfortably at a family meal. As standard, the motorhome is equipped with an external shower. Thermal comfort inside will be ensured by the Webasto heating system with a power of 2 kW.
Attractive design and price
From the outside, COPA looks great. The available color variants of the body allow personalization - from black, silver, blue, through gray, and ending with orange. The wheels are decorated with 16-inch alloy wheels. The base car itself is well equipped - as standard we will find, for example, dipped beam in LED technology, cruise control, an integrated media station, parking assistant and other amenities. In terms of equipment, we can choose from several packages (Copa Active, Elektropackage, Ford Komfort with or without intelligent cruise control). After removing or moving the rear seats, we get an impressive cargo space. The accessories offered by Bürstner include a tent attached to the tailgate or a set consisting of a table and camping chairs.
In the segment of small campervans, the competition will be, for example, VW California against VW or similar constructions based on, for example, Renault Trafic. The list price of the COPA model in Germany oscillates around 40,000. EUR. Taking into account the 4% higher VAT and excise duty, the price in our country will approach the ceiling of EUR 45,000. This is about 20% less than comparable California. Deciding on the Bürstner, we get a really nice equipped car developed and produced by a company with traditions. Analyzing the value for money, it can be said that it is very adequate in this case.
The representative of the brand is the caravanning company Bürstner Polska sp. z o. o. based in Poznań. On site, you can not only see new models, but also rent many of them before buying - the fleet is regularly refreshed and is one of the best in Poland - you can find the full offer at www.kamperypoznan.pl . If, however, you are looking for your dream recreational vehicle, then in addition to new models, you can take advantage of the wide range of selected used cars: https://kamperypoznan.pl/przyczepy-kempingowe-na-sprzedaz/
I feel best in the form of trade fairs and meetings with enthusiasts. Technical freak. In my life I have dismantled many motorhomes for the first time. Fan of large vehicles, mountain biking and traveling without weight and financial restrictions. At CampRest, I am responsible for all publications on automotive topics.
Enjoyed reading this article? Share it!