Celtic Rambler caravan - royal camping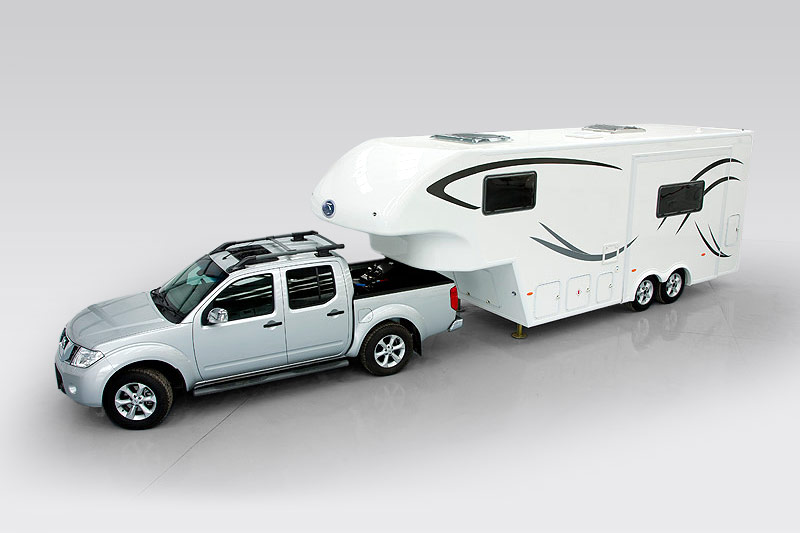 Celtic Rambler is the most expensive caravan in the offer of the British brand Fifth Wheel . If you dream about a huge trailer that can be attached to e.g. a pickup truck, you couldn't have found a better place!
Let's start with the disadvantage. You cannot pull this trailer with a Fiat Seicento or even a Volkswagen Golf. The minimum will be a strong pickup, because the Celtic Rambler caravan weighs 3,200 kg. When fully loaded - 1,100 kg - we will achieve the permissible total weight of 4,300 kg . And if so, then a B-category driving license is not enough and you have to add Viatoll (road tolls) when traveling in Poland.
Now that we've cleared that up, let's move on to the advantages. You don't have to look far, because a slim, aerodynamic look can make this British beauty hot followers. The trailer body is made of wood-free elements in such a way as to minimize the number of joints. Thanks to this, the Celtic Rambler should serve its owner long and without any problems.
Really a lot of space
What distinguishes the Fifth Wheel caravans is the retractable lounge area . So when we get to the place where we want to live for a while, just press the button to pull out one of the walls. Inside, in an extended place, we will be able to use a comfortable 2.5-meter sofa!
Speaking of dimensions, it is worth mentioning that the caravan measures 8.8 m , its height is 3.3 m and the width is 2.3 m. Thanks to such a large size, for example, a large bathroom with a shower of 0.64 m .
The manufacturer boasts that you can freely walk around a large bed with a size of 1.9 x 1.5 meters . The second bed, unfolding from the couch in the living room, has a slightly worse dimensions: 1.9 x 1.35 m. Thanks to this, four people who live in the caravan should not complain about the lack of space, even while sleeping.
In addition, the trailer has a full-size wardrobe and many compartments - one of them is located under the frame of the main bed. There are also external compartments. The largest one has an area of 3 square meters. In addition, there is a compartment for two gas bulbs and a spare wheel.
Royal equipment
The interior is made of walnut -colored furniture, which gives this caravan an elegant but (unlike the exterior) classic feeling.
What's interesting is that the L-shaped kitchen is on the back wall . There is just so much space in the caravan that it was possible to separate a separate cooking zone a bit off the beaten track. There is, of course, a stainless steel sink and a fridge-freezer (its capacity is 175 liters). But there is also a full-size gas cooker integrated with the oven , as well as a microwave oven.
As standard, the Celtic Rambler is equipped with an Alde heating system, which includes both underfloor heating and a boiler. The clean and gray water tanks have a capacity of 233 liters each .
The caravan also includes such small items as a bathroom fan, an odor absorber in the kitchen, or gas and temperature sensors. For an additional fee, you can buy air conditioning, leather upholstery, automatic chassis leveling system or a rear view camera.
Without any frills, the Celtic Rambler costs £ 51,500 (in the UK).
Sometimes it is better to get lost than to ask for directions too much. Aldous Huxley
Enjoyed reading this article? Share it!