Concorde Credo - an introduction to luxury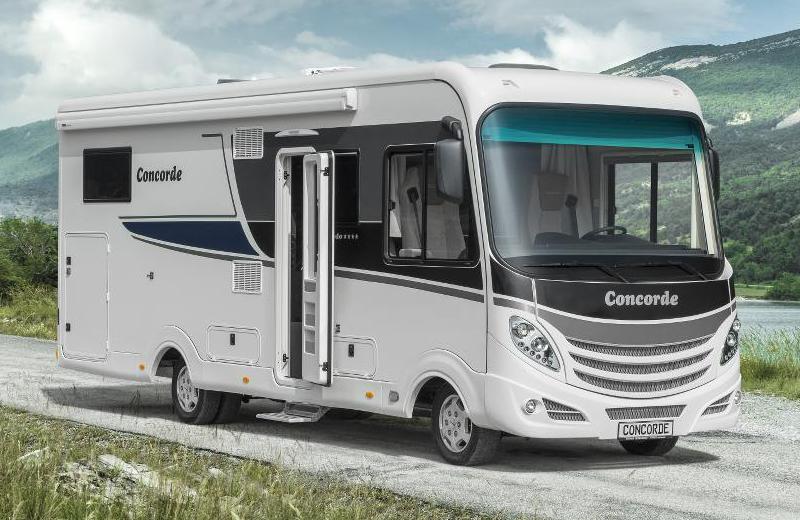 Luxury is not a matter of size - with these words Concorde tries to convince customers to the smallest motorhome in its range. However, it is neither small nor cheap. You have to spend at least 131 thousand. euro (in Germany).
Let's be clear - we can buy a very decent apartment for this price. But on the other hand - we will not travel to our apartment, meanwhile Concorde Credo will allow us to explore the world in very comfortable conditions.
In addition, after recent changes, the motorhome gained a less controversial exterior and interior in line with the latest trends. After getting inside, we will not be surprised or disappointed - it is as it should be, and at the same time we will find more places than in many other motorhomes.
Iveco with rotating toilet
The Concorde Credo is based on the Iveco Daily . The basic version will be a 769 cm long vehicle , equipped with a 3-liter 146 HP engine . Such power should be enough for stress-free travel at reasonable speeds. Other engine versions are available at an additional cost.
The manufacturer pays particular attention to the raised floors and the perfect insulation of the cabin (also on the roof side), which should protect passengers from both outside noise and cold (in the autumn and winter months).
The car was equipped with a 90-liter fuel tank. When it comes to typical camping equipment, it is worth paying attention to the 140-liter clean and dirty water tank , a 160-liter fridge with a freezer compartment (it can be operated with gas, 12 V or 230 V electricity), and a ceramic toilet with 17.5 -l container for faeces, filling indicator and a rotating shell. The motorhome also has an Alde central heating system with a power of 5500 W.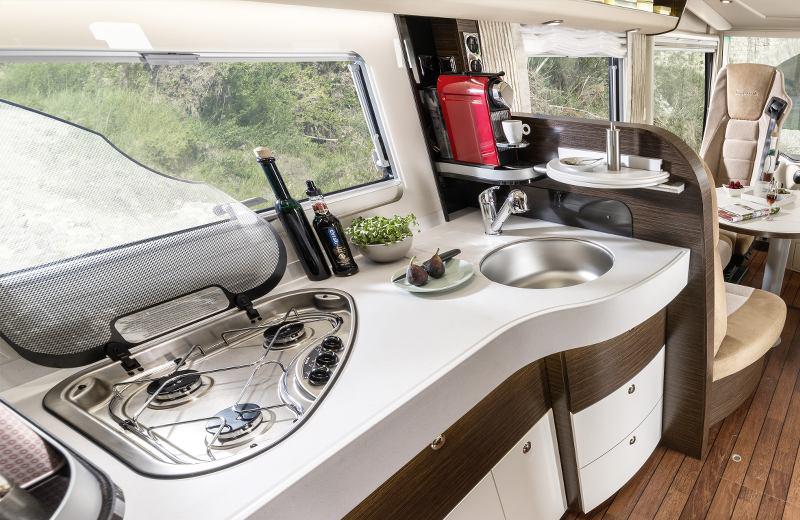 Two-color interior
Credo comes in five variants, the longest measuring 849 cm . Importantly, the toilet part in each of them is arranged next to both opposite walls of the vehicle and can be separated from the dining and sitting area with a sliding door . This makes the bathroom very spacious.
In the kitchen, attention is drawn to a ceramic countertop , a stainless steel sink, but also a Nespresso coffee machine and specially designated places for a first aid kit . In the bedroom, the use of cold foam mattresses proves the high quality. Above the beds you will find bedside lamps with movable necks, and in the entire motorhome - rich LED lighting.
The interior of the entire motorhome is decorated in two colors - matte wenge and cream, high gloss. The floors are covered with carpeting that looks like… wooden boards. In the garage, the floor is covered with aluminum .
The blinds mounted on the windshield and side windows are certainly a great convenience. They can perform several functions - e.g. protect against prying eyes from the outside during a stop and provide protection against mosquitoes.
If you think that Credo is worth a closer look, you can get more detailed information from S-Camp, which is the only official distributor of the Concorde brand in Poland.
Sometimes it is better to get lost than to ask for directions too much. Aldous Huxley
Enjoyed reading this article? Share it!