Electric motorhome - Dethleffs e.home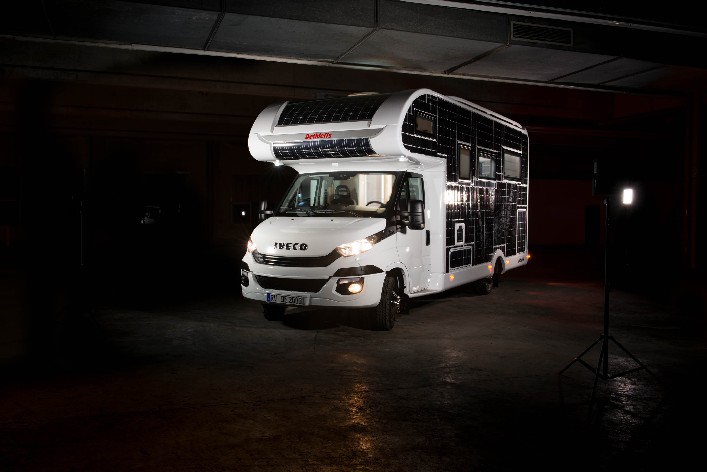 During the CARAVAN SALON in Dusseldorf, representatives of the Dethleffs brand presented the result of two years of work on the vehicle of the future. E.Home, as the concept is called, is at first glance a massive motorhome based on the Iveco Daily Electric vehicle.
During the conference, project coordinators emphasized that they want to be pioneers and apply technologies that have not been used in this industry so far. A little over 31 square meters of a special solar mat (or rather foil) is characterized by a total efficiency of 3000 Watt and is to be a source of energy for heating, a stove and a refrigerator.
Especially when it comes to heating, Dethleffs did a smart job: the manufacturer uses plates inside that store heat and release it to the environment when the temperature drops.
The devices inside are controlled using a tablet and an application, including the integrated ALEXA voice control module from Amazon (lights, dimmers, power receivers).
For over a dozen years he has been an enthusiast of caravanning, after caravans it was the turn of campers in 2014. I follow the caravanning market in Europe, with particular emphasis on Poland, hoping that both the popularity of this form of recreation and the quality of the equipment will soon catch up with Western Europe ...
Enjoyed reading this article? Share it!