Futuria motorhome - more than a luxury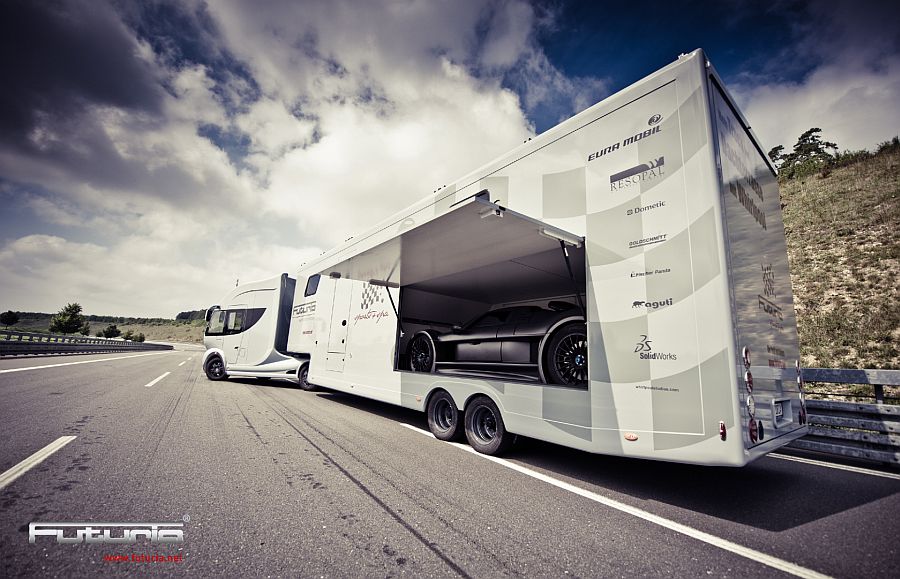 For those who have everything, but would like even more, the German company Most Mobile Specials in cooperation with the camping company Eura Mobil has prepared the Futuria Sport + Spa model.
Most specializes in the production of futuristic-looking special-purpose trucks, e.g. for business and promotional purposes. However, the offer also includes a model that should be of particular interest to enthusiasts of active leisure - of course, those whose wallets enable life without any compromises.
Roof bath
The Futuria Sport + Spa model is hardly a motorhome in the classic sense, but this monster with an aerodynamic front end, equipped with a 200 HP engine, has a lot to offer enthusiasts of long journeys. In this case, no compromises means a large garage that can easily accommodate a sports car , a living room, two bedrooms and a terrace over the entire surface of the trailer.
It is this last element that arouses the most emotions. And it is not only about the view from the roof of the trailer, the high-quality steel barriers, or even the non-slip teak floors, resistant to water and UV rays. The biggest sensation is a large jacuzzi with illuminated jets and a waterfall effect. Such equipment ignites the imagination not only on the hottest days.
Something for party people
And yet the terrace can be used in many ways. There is also enough space for grills, picnic tables and a folding bar - these elements can be ordered as additional equipment. But parties can be organized both on the roof and in the living room, to which we go down the aluminum stairs.
In the guest area, there is room for 10 people on the U-shaped sofa only. If there is going to be a party, the manufacturer thought about a powerful sound system and a system that produces artificial fog.
It's getting hot? That's okay! Futuria has two air -conditioning units, the outlets of which are located in a soundproofed ceiling covered with a glossy, almost mirror-like surface.
There is enough electricity for everything
In addition to sound equipment, DVDs and screens, Futuria also has a fully automatic Miele coffee machine with a permanent water connection , a microwave oven and an 80-liter fridge with freezer. 100-liter tanks for water and sewage are available in the vehicle, there is also a designated place for an ... industrial dishwasher .
If we would like to connect additional equipment, we can use six double 230V sockets. You can do it without worries, because Futuria has its own generator . The floors are carpeted with exceptional (industrial) durability.
A few numbers ...
After the madness of the night spent, we can rest in one of the two bedrooms, the ceilings of which are covered with imitation leather. Just like in the living room, the windows are sliding open in the bedroom. The beds measure 1900 x 800 mm . An additional, large bed (2000 mm x 1600 mm) is located in the driver's cabin. The driver also has a 22-inch LED TV.
The manufacturer ensures that a maximum of 100 copies of this model will be available worldwide. For formalities, we will add that Futuria Sport + Spa measures 3,650 mm in height, and its permissible total weight is 8,950 kg.
The cheapest version of a luxurious motorhome can cost around PLN 380,000. euro, but if we do not want to get a "naked" vehicle, we should prepare about 657 thousand. euro .
FILM: Futuria motorhome
Sometimes it is better to get lost than to ask for directions too much. Aldous Huxley
Enjoyed reading this article? Share it!