Hel's favorite - Dethleffs 730FKR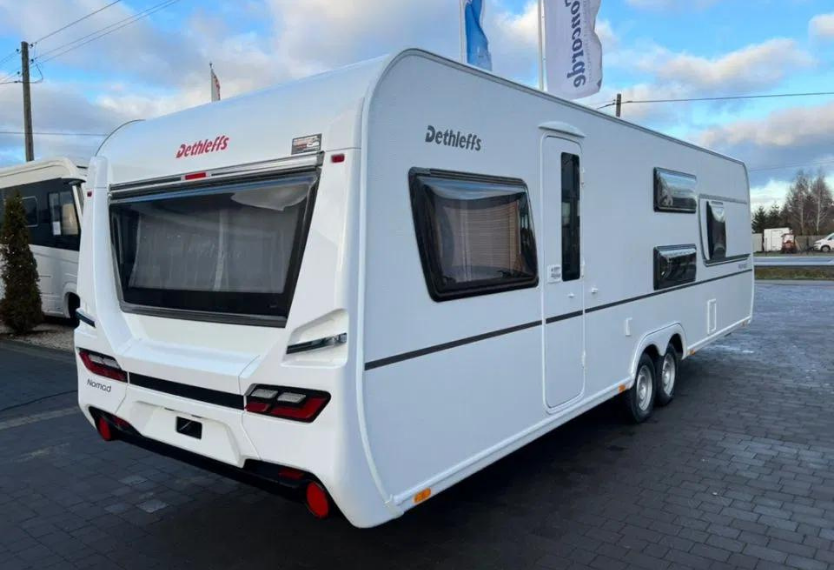 There is no more fun for a magazine writer than to talk about what is his "horse". While creating and editing materials about the Dethleffs brand, I happened to mention a certain trailer model from this manufacturer, which stole my heart. And today I am able to come back to these miracles. To my question: "What do you think deserves the most attention in Dethleffs before the summer season?" Łukasz Chlebny, the owner of the Camping Center from Kutno, replied without hesitation: "You know what, I think it is worth showing what people most often choose to visit Hel, ie FKR730". I invite you to read.
Why can the popularity of a given model on the Polish peninsula be any criterion determining its value? Well, because ordering a trailer for such applications does not make random decisions. The trailer becomes their second home for a really long time and must perfectly meet the needs of demanding users.
From the outside, the FKR730 looks like a typical two-axle NOMAD in the latest version. The trailer is big. Very big. Its width is 250 cm, while the length is 942 cm with the drawbar and 805 cm without the drawbar. The height, on the other hand, is 265 cm. From the outside, the attention is drawn to attractive LED lighting on an extremely shapely, muscular even at the back. Chromed maneuvering handles on the front and rear add an exclusive look. When ordering this model, we can choose smooth aluminum instead of the standard "fish scale" structure.
Interior - uncompromising space
There are plenty of storage compartments above the comfortable sofas that will be appreciated by every traveler. Of course, we can easily change the horseshoe into a large-sized bed - 230x155 cm is a lot of space. Next to the living room with a sleeping function, there is a kitchen - as uncompromising as the whole caravan. A large sink and a 3-burner stove with electric ignition are the central elements of the worktop. Above the top, there are two spacious tilt cabinets, underneath it, traditional drawers and sliding cargo. The cargo drawer is an extremely useful element of the trailer, as it allows you to fit higher containers, jars and bottles, which would be troublesome to store in drawers, and those that do not require refrigeration - in practice, olive oil, fruit syrup, concentrate, etc.
Baking fans can also order a small oven integrated with cabinets under the counter. Another option that is absolutely necessary, in my humble opinion, is an enlarged fridge - 175 liters will allow you to fit most of your food and drinks, and the enlarged freezer will quickly cool down what you need, including the production of ice, in the blink of an eye.
Opposite the kitchen there is a small worktop at the entrance (for small items), and a space for mounting a TV set right above it. Next to it you will find a spacious wardrobe - there is no need to worry about a place for things in this model. Located more or less in the middle of the length, the children's room has a bunk bed (two beds, 195x75 cm each) and a table with seats for up to 4 kids (this one can also be rebuilt to create an additional bed). Of course, along the entire length of the children's room opposite the bunk bed, we have spacious cabinets under the ceiling. Lots of things and toys can fit here. Also under the lower bed you will find storage compartments and space for all holiday luggage. It is possible to order a bunk bed with 3 levels in case the standard layout does not prove to offer a sufficient number of sleeping places. In this way, we get as many as 8 comfortable beds - perfect conditions for a large family or a group of friends. We can separate this room with sliding partitions from the living room and kitchen and other rooms with sliding partitions.
At the very front we have a bedroom with a bed measuring 155x200 cm with cabinets above it. The mattress is comfortable and spacious - most importantly, the manufacturer did not use a sharp "cut" corner, known from some French beds, which takes up space for the legs. The passage to the bathroom is wide enough. The modern furniture design and colors will appeal to the tastes of most users. A well-thought-out, warm-colored LED indirect lighting will create a homely atmosphere - especially above the cabinets along the entire length and width of the vehicle. Of course, we also have comfortable reading spots above the beds.
Equipment - what to pay attention to
If you are starting to study the catalogs and manufacturer's websites, it means that you are seriously considering buying a trailer and joining the group of caravanning globetrotters. It is easy to get lost in the maze of manufacturers' specifications. First of all, you should answer the question when are you going to use the trailer and what to prepare for?
In the case of the 730 FKR trailer, we have a number of options, the choice of which is worth considering to fully use its potential. From the point of view of independence and winter camping, it is good to consider: a clean water tank increased to 70 liters, an enlarged refrigerator (mentioned earlier), a city water connection, gas and electric heating with a Truma CP PLUS or ALDE panel.
The issues of sheathing (smooth or fish scale), bedroom windows and optional XPS foam insulation instead of polystyrene are decisions based on individual circumstances. For full comfort, however, it seems indispensable to choose an "optional" bathroom layout with a separate shower completely at the front. It is absolutely brilliant and, from a practical point of view, unbeatable. As in many models, we do not have a washbasin outside the bathroom, and everything is closed in a neat, well-arranged and functionally designed room.
Luxury must weigh
The FKR730 trailer is heavy (1,855 kg of unladen weight in the basic version) and its gross vehicle weight is 2,200 kg. So we have theoretically as much as 345 kg of load capacity. Remember to pack wisely, and when ordering, provide for the weight of additional factory equipment and accessories (awning, air conditioning, vestibule, deckchairs, gas cylinders, mover), as well as the supply of water taken on board. This model will require quite a tug to handle it. Taking into account the scope of equipment, space and quality of workmanship, assuming the appropriate selection of specifications, it is from the point of view of large families the first-class choice.
The official representative of the Dethleffs brand in Poland is the Camping Center from Kutno. The company has branches in Poznań, Gdynia and Warsaw. Currently available vehicles can be found at the link:
https://centrumcampingowe.otomoto.pl/
I feel best in the form of trade fairs and meetings with enthusiasts. Technical freak. In my life I have dismantled many motorhomes for the first time. Fan of large vehicles, mountain biking and traveling without weight and financial restrictions. At CampRest, I am responsible for all publications on automotive topics.
Enjoyed reading this article? Share it!