More than a camper, more than an off-roader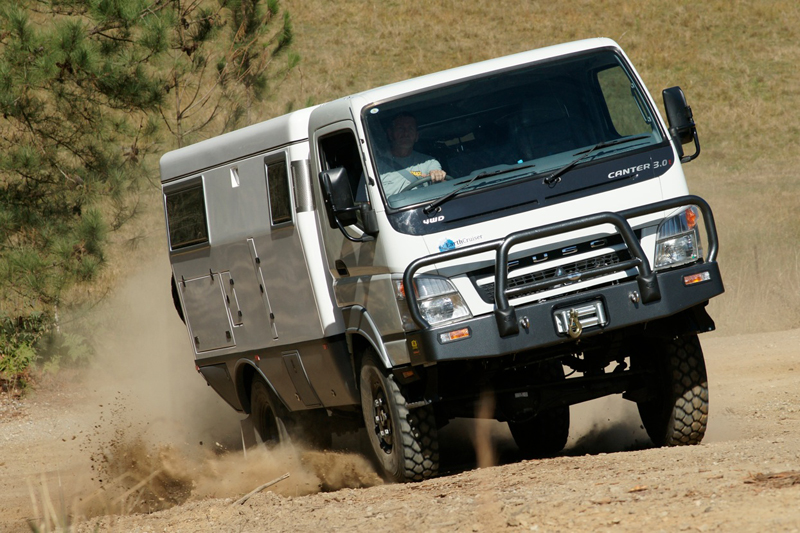 This is not a car suitable for regular camping . However, if you want to experience a real adventure and you can go on a long vacation (the usual one is not enough), EarthCruiser will be perfect for an expedition lasting many thousands of kilometers.
Rocky Mountains, Sahara? Where do you want to spend your next vacation? There are hardly any inaccessible areas with this vehicle.
EXP EarthCruiser is an unusual motorhome produced in Australia, which is based on the Mitsubishi Fuso Canter truck. The first Fuso truck made its debut in 1963, and although it has changed many times since then, it is associated with reliability to this day. And the off-road version is simply amazing - huge ground clearance, huge wheels, exceptional off-road characteristics ... All this makes the EarthCruiser a car that (according to the manufacturer) can reach places that most people only read about in the newspapers.
A luxury motorhome in the Sahara desert
In this vehicle, luxury has a completely different dimension than when we mean a "normal" motorhome. In this case, off-road characteristics are much more important than comfortable suspension, and the interior layout is completely subordinated to practical considerations.
Shower? Yes, it is. It's just that the shower and chemical toilet are placed in an integrated cabin. You can also use the shower outside.
Although the surface of the truck is not very large (approx. 7 m2), we managed to find a place for a typical kitchen with a sink, hob and fridge . Thanks to the raised roof made of fabric (in some versions), you can find a place to sleep not only downstairs, but also "upstairs".
The car has large tanks for water (optionally up to 270 liters), and electricity is obtained from diesel fuel. Therefore, we will do without a gas cylinder and without connecting the batteries to external power sources.
The exact specification of the equipment depends on the country of destination. EarthCruiser comes standard with a 120 liter fuel tank .
A camper suspension that can do it all
Nothing is more valuable here, however, than the suspension, which allows you to drive on steep slopes, allows you to drive over very uneven obstacles, allows you to overcome waters much deeper than the largest puddle (up to a depth of 900 mm), and even copes with desert sand.
Let us add that the stiffness of the suspension is adjustable. Of course, the car has a 4x4 drive and is available with a 5-speed manual gearbox with a reduction gear or a 6-speed automatic gearbox. The EarthCruiser uses military tires Michelin XZL - 255/100 R16 or Toyo Open Country - 315/75 R16. The wheels are single.
The EarthCruiser measures 6,250 cm in length, 2,060 cm in width, and is 2,510 cm high. The ground clearance is 260 mm. The approach angle is 45 degrees and the departure angle is 40 degrees . For comparison, in the Toyota Land Cruiser, the latter two parameters are 20 and 25 degrees, respectively. The EarthCruiser has a gross vehicle weight of 5 tonnes.
For travelers who visit many continents, this car has another advantage. It will perfectly fit into a container where it can be transported by ship.
Price? For the purchase of such a ubiquitous rover, you need to spend 220 thousand. dollars (in the US). In addition to the version based on Faso, it is also possible to order a vehicle based on Isuzu NPS.
Sometimes it is better to get lost than to ask for directions too much. Aldous Huxley
Enjoyed reading this article? Share it!