Skylark - a family Polish company with global know-how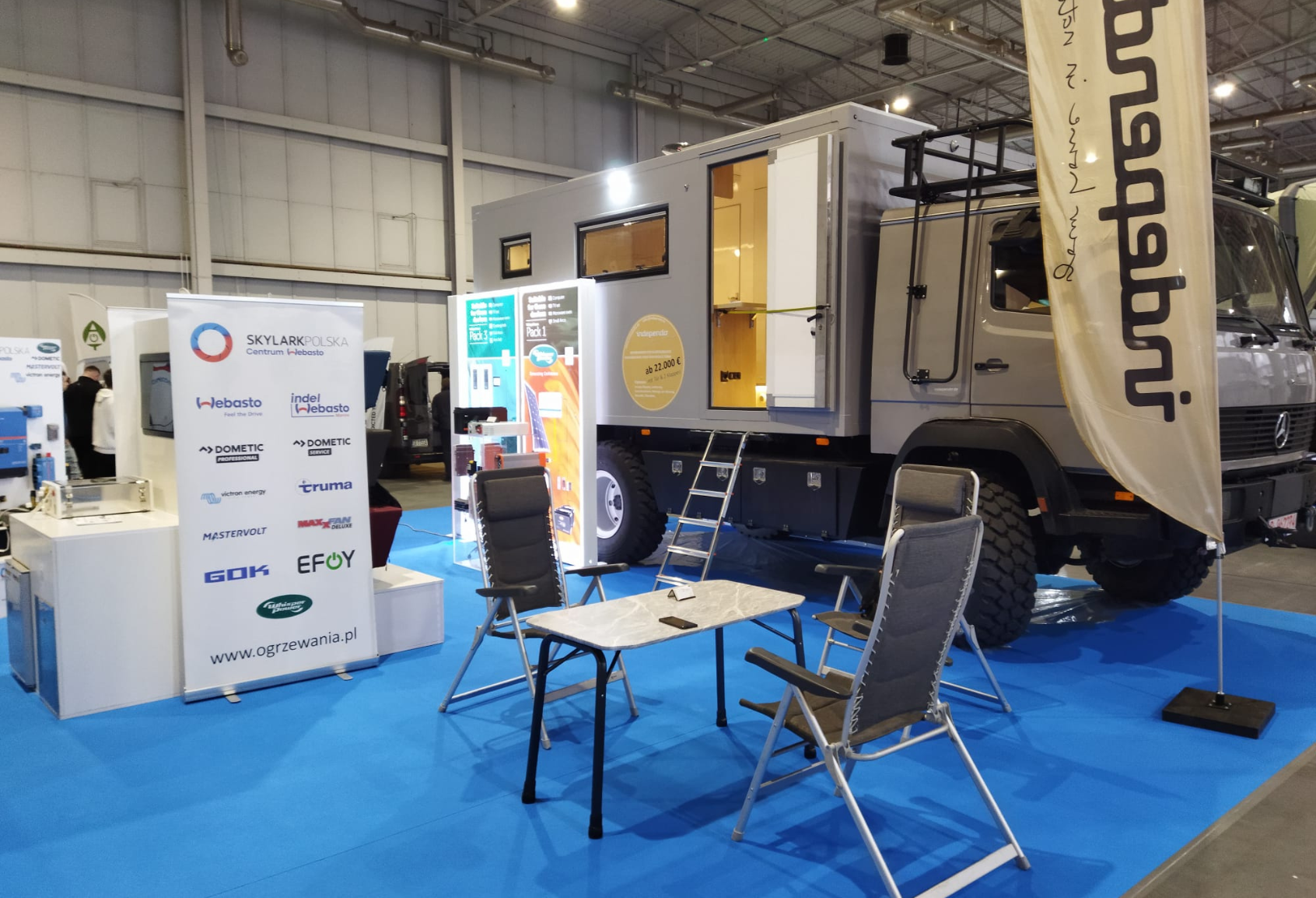 There are many companies on the caravanning map of Poland that have chosen a narrow and specialized area as their scope of activity. Qualifications and experience allow us - often laymen - to ask difficult questions and receive a precise answer.
In the multitude of online professionals and self-proclaimed gurus, it is good to have people who know their stuff and will always provide professional help. One of the companies with considerable know-how in topics related to the mobile lifestyle is the Skylark company, with its representative, Kamil Kowieski, we were able to talk about the business profile and a niche, extraordinary offer.
Skylark experts
Kamil, your company got loud on the wave of the caravanning boom. What is the core of your business and what constitutes your competitive advantage?

We are not an industry behemoth or one of the many online stores without the so-called backend. Although we are a small, family company of 6 people, 4 of whom are a family, we have been operating in the automotive industry since the 1990s. From the beginning, our specialization was heating, air conditioning and sunroofs. Currently, we are distinguished by the fact that we run our own specialized service, and at the same time wholesale and retail sale of products for the construction of motorhomes. Our customers, when purchasing from us, can count on our support and knowledge, the condition of which is confirmed by our service authorizations from leading manufacturers in the industry.

How would you define your target group and what brands are the core of sales?
On the one hand, we sell a lot to caravan builders. Our clients, however, are also services and individual clients. On the other hand, we run our own service, where we try to be able to repair what we sell ourselves. Working with this equipment, we necessarily have valuable information about which products are worthy of attention, and what is a marketing rubbish.
At the moment, we are an authorized trade and service partner of such famous brands as Webasto, Dometic, Truma, Victron, Mastervolt, WhisperPower, Maxxair, GOK, Indel, Efoy / SFC.

You mentioned Maxxfan. This is a phenomenal product that we also had the opportunity to test. It is probably not the only "niche" product in your offer?
It's true, we launched Maxxfan some time ago and it is one of our bestsellers. The product "defends itself" by itself, but we constantly promote it so that everyone can hear about it and due to the fact that it beats the competition and is worth every zloty spent.
Indeed, our offer includes several extraordinary products, which we checked down to the smallest details before introducing them to the offer. Among the interesting news, I feel obliged to mention, for example, the management panel for newly built motorhomes:
https://ogrzew.pl/Simarine-Caravan-Panel-SPDU-52
https://ogrzew.pl/Simarine-Pico-Monitor-Akumulatorow
or a separation toilet:
https://ograwy.pl/Separett-Tiny-Toaleta-Separujaca-Osobny-Pojemnik

We also try to support Polish brands whose products in terms of quality are not inferior to Western competitors, such as Kon-Tec LiFePo4 batteries. The quality convinced us, and taking into account the solutions used, the difference compared to cheaper substitutes is symbolic:
https://ogrzew.pl/Kon-Tec-Akumulator-LiFePo4-12-100Ah
Since heating is our "horse", it is impossible not to mention gas-electric boilers for installation under the vehicle:
https://ogrzew.pl/Whale-Bojler-gazowo-elektryczny-8l
Another solution more and more often chosen by customers are Pundmann boilers powered by hot air from Webasto, as well as electrically (12V, 24 or 230V).
Will you be able to meet at trade fairs this season? How do you use the current boom in the industry?

Of course. A lot is happening in our company. In addition to everyday sales and service work, we would also like to be noticed at home and abroad and set sail for the "wide waters". This year we will be exhibiting at fairs in May in Warsaw, in June in Germany (travel fair in Bad Kissingen) and in autumn in Poznań and Nadarzyn. Each fair is also an opportunity to learn about new solutions that we could include in our offer. There are more and more of these solutions with us.
Of course, the caravanning boom translates into interest in our offer and the crowd of customers is substantial, but we do not want to and cannot forget about quality. We do everything to individually select the optimal products for our customers. Both water / interior heating, windows, refrigerators, electricity, water and gas installations, air conditioning / ventilation, etc.
Generally, we are able to do whatever the customer can think of at any high level (including fuel cells, gray water filtration, hydraulic leveling, silent diesel generators - even 52dB at 7m). We can comprehensively help you retrofit an existing motorhome or "arm" a vehicle that is yet to become a motorhome. The scope of our services is wide, we do not only provide furniture.
Skylark offer
You can check the company's offer at www.ogrzew.pl . We will meet Kamil on the pages of our portal, probably using his knowledge and experience more than once. For products that we believe are so-called Game changers (such as the MAXXFAN mentioned in the article) will also definitely come back.
I feel best in the form of trade fairs and meetings with enthusiasts. Technical freak. In my life I have dismantled many motorhomes for the first time. Fan of large vehicles, mountain biking and traveling without weight and financial restrictions. At CampRest, I am responsible for all publications on automotive topics.
Enjoyed reading this article? Share it!