The largest caravanning fair is taking place in Dusseldorf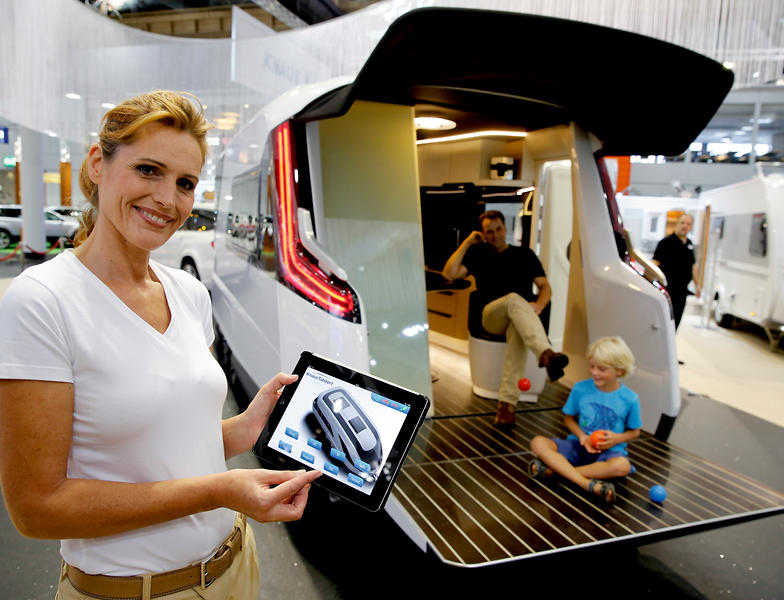 The organizers expect that the currently ongoing Caravan Salon in Düsseldorf will attract a total of 160,000 people. visitors. 570 exhibitors from 22 countries show their products in and around nine exhibition halls.
Two trends can be noticed during the fair in Düsseldorf. On the one hand, manufacturers are trying to offer smaller and lighter versions of their motorhomes and caravans, on the other - luxury vehicles, even more expensive and even better equipped than in previous years, are sensational. Technical innovations are also popular, such as controlling the on-board equipment of a motorhome with a tablet.
Caravisio - caravanning of the future
The greatest emotions are aroused by the premiere show of the futuristic Caravisio caravan, which was shown by the Knaus Tabbert company. It is a technical and artistic vision for the future of caravans. And although this model, designed for 2 years, will not go into production, it still has a chance to set new directions in caravanning.
When preparing the Caravisio, the designers followed the example of modern yachts . They wanted to combine excellent aerodynamics with a clean design that could appeal to, for example, lovers of Apple devices. Inside you will find rooms divided into zones and a V-shaped double bed, which can be enlarged by adding an additional element. A shower with a touch panel is definitely a revelation, thanks to which you can program its settings.
But what is most spectacular in this model is the projector hidden in the ceiling, or rather what it can do. When the trailer's tailgate is open and the glass door is closed, the projector can project the image on it so that it can be viewed from the outside. It is also possible to set it so that movies or TV programs can be watched inside the trailer. Controlling devices with a tablet or opening doors with fingerprints are other amenities of the future.
A motorhome for PLN 3.5 million
Another vehicle that attracted a lot of attention in Düsseldorf was the Vario Perfect 1200 Platinum II - a 12-meter motorhome with a garage that can be easily accessed by a Mini car. In this case, however, we are not dealing with the car of the future, but with a vehicle that can be easily bought. It is enough to transfer 827 thousand to the producer's account. euro, or approx. 3 million 300 thousand. zloty.
Vario Perfect was created on the basis of a bus equipped with a 420 HP engine . The chassis of this 3-axle vehicle is distinguished by air suspension and independent front wheel suspension. In the interior, we will probably appreciate the integrated air conditioning and underfloor heating system, but these are banal advantages. Lovers of luxury will pay more attention to armchairs made of colored leather, or furniture made of bent cherry wood. Granite flooring should also not be in the way. The equipment includes, among others microwave, coffee maker, dishwasher and, of the less obvious elements, a rain shower.
We will write about the less sensational discoveries of this year's showroom in Düsseldorf in a separate article.
Sometimes it is better to get lost than to ask for directions too much. Aldous Huxley
Enjoyed reading this article? Share it!