The Slovenian wonder of space, or Adria Twin Sports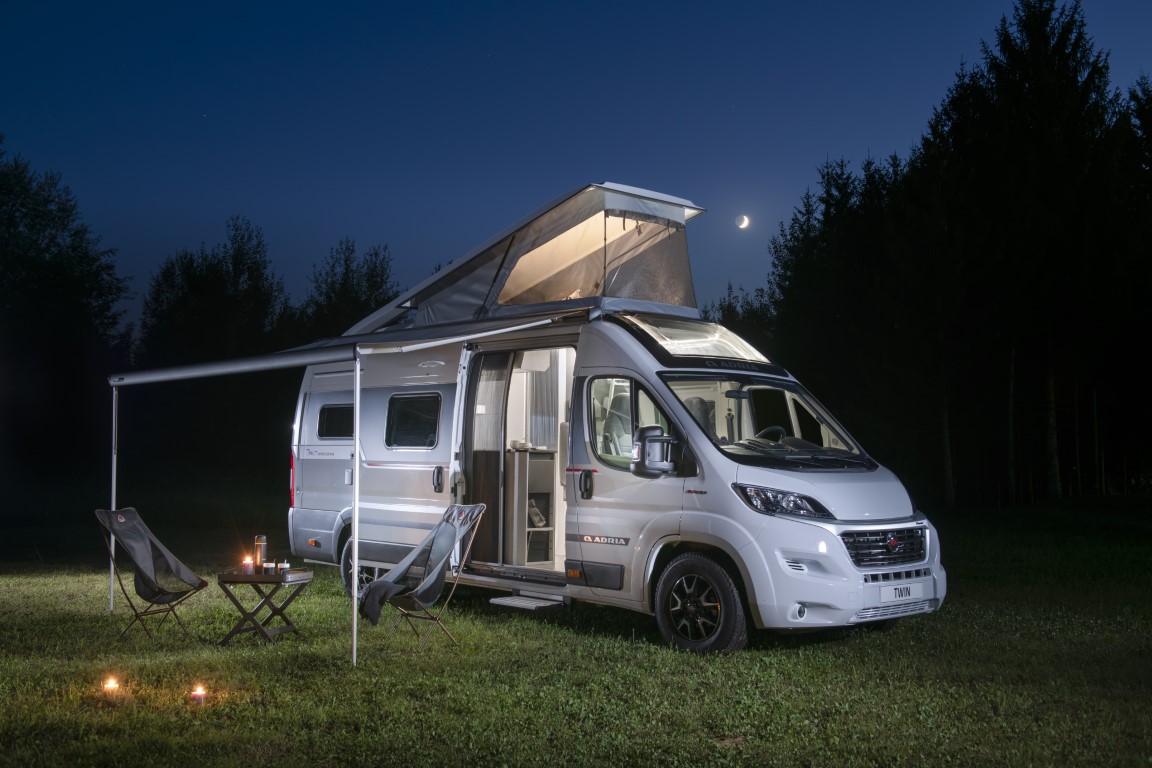 The vast majority of customers, when choosing a motorhome for a configuration of 4 people for driving and sleeping, avoid the "tin" segment with a wide berth for fear not even of discomfort while driving, but of a crush and inconvenience at a standstill.
Adria Twin Sports with the designation 640SGX is an extremely successful and thoughtful design based on an interesting patent of an integrated lifting composite roof, which can be an excellent alternative to larger semi-integrated vehicles.
In combination with the considerable height of the model and the panoramic window in the front part of the vehicle, we get an amazing impression of space. However, these are not the end of the advantages of this extraordinary vehicle.
Patented sleeper roof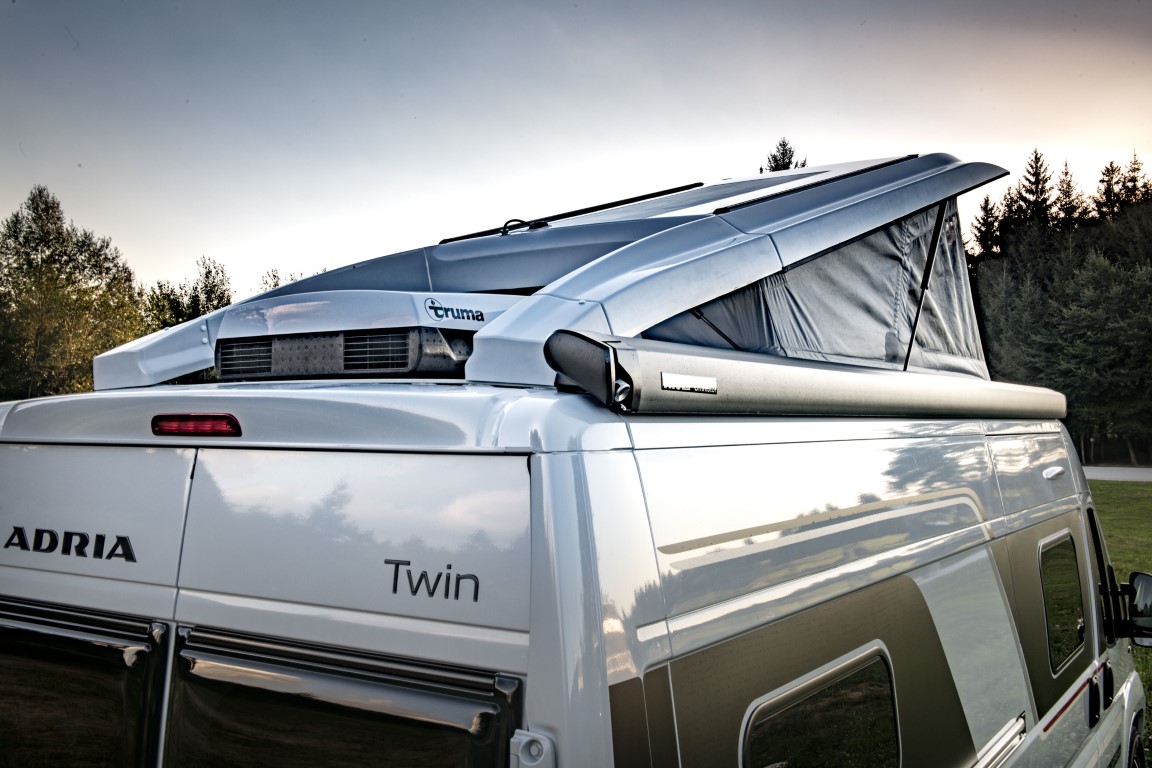 The devil is in the details - while in many smaller recreational vehicles we find various forms of sleeping roofs, here the designers set themselves the goal of creating a streamlined structure, easy to open and tight, not forgetting the influence of the roof on other functional aspects - and so it is possible to use a sleeping roof, and at the rear there is a bay that allows you to fit a skylight or air conditioning.
The front of the roof rises to a height of 110 cm and the rear to 40 cm, which provides ample legroom. The bed itself is spacious (120x200 cm) , comfortably accommodates 2 people, is accessible from a ladder and is equipped with 2 lighting points for reading and USB sockets. There is also an awning at the edge of the roof.
Compact but spacious
The interior is dominated by bright, modern colors and practical solutions - noteworthy is the sliding wall in the Duplex bathroom, which allows to functionally separate the toilet and shower functions.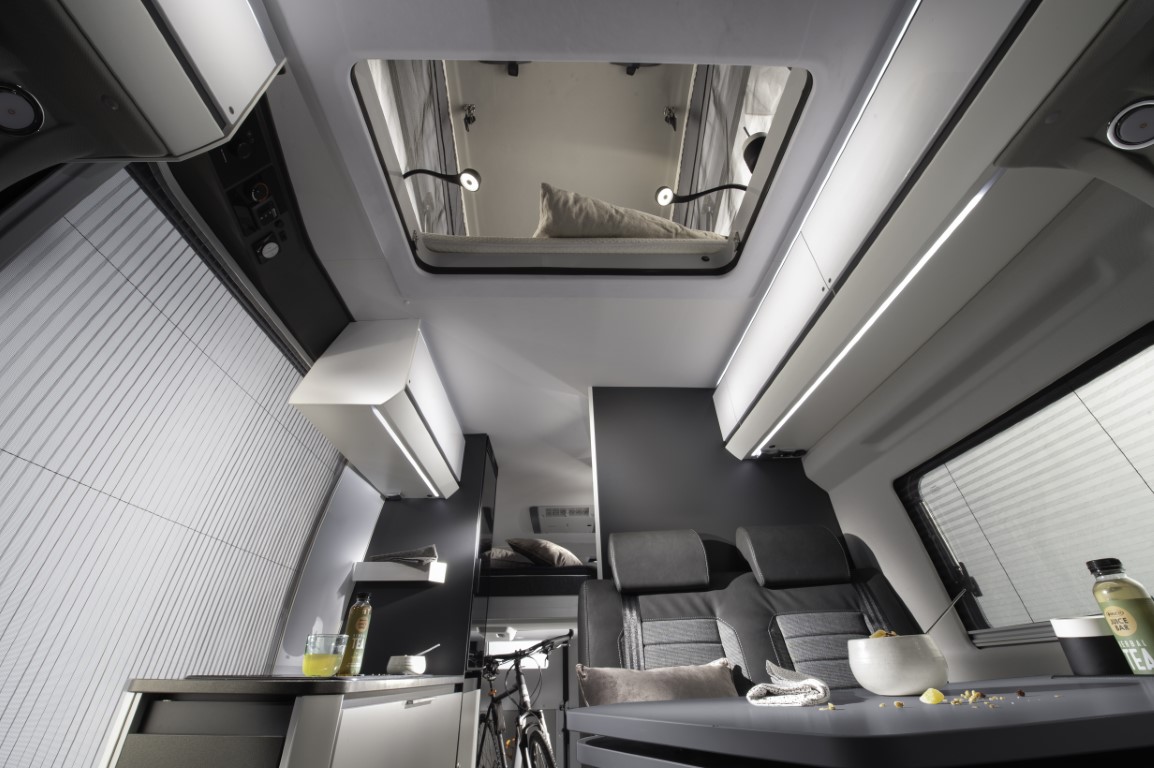 The kitchen is equipped with a double cooker, sink and a large compressor refrigerator (138l). We have roomy drawers and an attached side extension of the worktop at our disposal. Interestingly, as an option, it is possible to create an additional sleeping space in the front, dimensions 55x160 cm.
The rear bed is 195x180 cm and is electrically lifted. Raising the bed creates a cavernous cargo space at the rear of the vehicle, which will be especially appreciated by active people carrying, for example, a lot of sports equipment.
The capacity of the clean water tank is 100l (20l for driving), and the gray water tank is 70l. When configuring the vehicle, it is worth taking into account the promotional DE LUXE package, which includes a whole list of attractive "flavors", not only visual, but also practical (blackout blinds, electric step) or parking sensors. When it comes to heating, the vehicle has a Webasto Air Top (Diesel) heating system and a Whale (Diesel) boiler.
Base vehicle

The base for the model is a Fiat Ducato with 2.3l engines with a capacity of 120 to even 180 HP , and interestingly enough, the GVM can be up to 4 tons in addition to the standard 3.5 t - this means in the latter case an overcharge of over 800 kg , with a substantial permissible trailer weight - up to 3,000 kg (up to 2,500 kg for a vehicle with a GVM of 3.5t). The buyer can choose the external colors - white or steel gray, in terms of upholstery and interior colors, there are 4 configurations, including leather. The car is 636 cm long, 268 cm high and 205 cm wide.
In terms of space and functionality, this "canister" can easily compete with many half-integrateds, while remaining a compact and agile travel companion. Taking into account the quality of workmanship of the Adria brand, to which this Slovenian manufacturer has got used to us, it is a proposal definitely worth considering!
Adria motorhomes and trailers are available in Poland in a well-developed dealer and service network, which allows for a convenient choice of a dealer located closest to our place of residence.
We can choose from:
I feel best in the form of trade fairs and meetings with enthusiasts. Technical freak. In my life I have dismantled many motorhomes for the first time. Fan of large vehicles, mountain biking and traveling without weight and financial restrictions. At CampRest, I am responsible for all publications on automotive topics.
Enjoyed reading this article? Share it!