Caravaning Summer Show 2021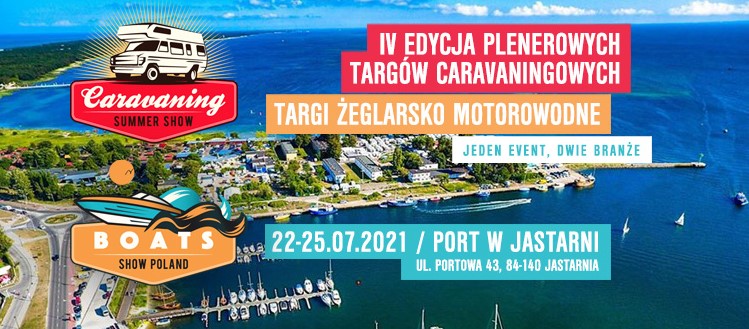 The 4th edition of the outdoor caravanning fair on the Hel Peninsula is ahead of us. Caravaning Summer Show.
The cooperation with the authorities of Jastarnia in 2020 turned out to be so successful that this year's fair remains in the same location - a picturesque port.
An ideal place and time to promote caravanning
Time and place are not accidental. On the one hand, a very large number of 100% occupied campsites, located on the Hel Peninsula and in the vicinity - these are direct customers and an opportunity, for example, to replace the caravan or motorhome with a new one. On the other hand, it is difficult to count the number of tourists who have the opportunity to get to know and love the world of caravanning. This is a great opportunity to talk to experts.
What will distinguish the 4th edition from the others is the duration of the Caravaning Summer Show. An additional day means that we invite visitors from Thursday (22.07). We finish traditionally on Sunday.
The perfect place to promote the rental - a huge mass of tourists who live in hotels, lodgings on vacation is your potential client. Why ? The pandemic has developed, and certainly has turned the eyes of many to the world of caravanning. Not everyone will buy, but some will want to try this climate. This dream can be fulfilled by caravan, motorhome and roof tent rentals. The date of the fair is a high season for rentals and not all of them have a free motorhome at this time on July 22-25. You do not need a camper to promote the rental! All you need is a small event tent, a table, banner chairs, a tablet or a laptop and smiling people who will tell you about everything.
Invite you to your campsite - We love the Peninsula, but we also love all of Poland. Invite to your campsite or to your agritourism open to caravanning in another part of Poland now or at a different time of the year. As in the case of a rental company, all you need is a small event tent, table, chairs, tablet or laptop. And of course a nice smiling man!
Therefore, we invite you to participate in this unique fair in the climatic location of the port in Jastarnia
Companies that have already applied for this year's edition:
ACTIVE GAMES - a representative of Teardrop caravans and inflatable tents, including roof tents
ADLER - power generators, starting devices and power banks.
CAMPER 4 MOUNTAIN - manufacturer of a VW motorhome.
CAMPER PLANET - Polish manufacturer of roof tents
DOMETIC - a wide range of products from the world of caravanning.
ELCAMP - producer of GLOBE TRAVELER and distributor of caravans and motorhomes of brands: ADRIA and HYMER. ELCAMP is also an accessories store and service.
LARK LEISURE HOMES - producer of mobile and frame houses.
LIFE STYLE CAMPER POLSKA importer of X-Line and SteelDrop caravans.
MALOKO - a Polish brand of tourist accessories that was born out of love
MOLO SURF - Camping Molo Surf SPOT Jastarnia. White, sandy beaches, shallow and uncrowded water, luxurious caravans and first-class camping infrastructure!
WARSAW CRAVANING CENTER - wide road - representative of the brands: ADRIA, BURSTNER, HYMER and SUN LIVING. The offer also includes motorhomes of Polish production GLOBE TRAVELER. WCC also offers its customers an accessories store and service. The novelty in the offer are
WAVECAMPER - producer of motorhome vans based on WV and Renault.
WV CITY MOTORS - during this year's edition will present: Grand California, California, Caddy California - new, - Wavecamper 4x4 (original project, off-road version).
Contact for companies interested in participation:
Filip Kołodziej, tel. 603 508 464, e-mail: [email protected]
We have created the CampRest portal for people who value freedom and travel on their own.
Enjoyed reading this article? Share it!