Visit CampRest stand at the Caravans Salon fair in Poznań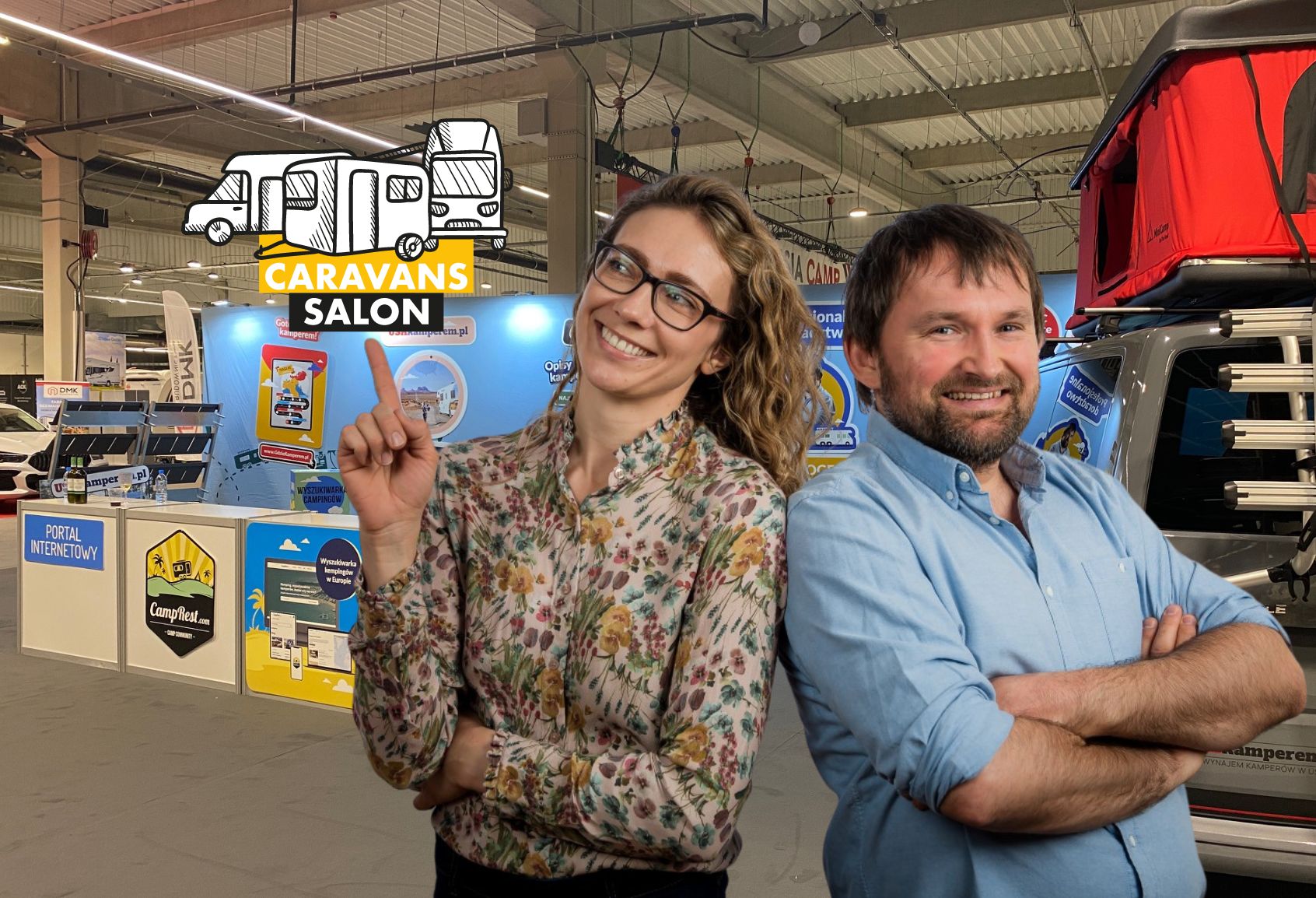 At our stand, as every year, you will be able to talk with us about everything related to camping & caravanning. In addition, this time we also have invited a few companies that also have something interesting for you.
CampRest's Printed Camping Guide 2022
Of course, we have our free guides for you. Unfortunately, we only have 1000 copies left, which will most likely finish on Saturday noon, so hurry to visit if you want to get 1 copy.
The 2023 edition will not be printed until the beginning of the year 2023.
In addition to our guide, we have other promotional materials from diferent campsites as well as from My Switzerland and the Czech Tourism, so if you already have our guide, it's worth dropping by.
General chats and sharing of our knowledge
First of all, there will be our experts - Kasia & Piotr, who will be happy to advise you which campsites in Europe or Poland to choose for your next trips.
Piotr will also advise you on the topic of choosing a motorhome and accessories based on his own experience, but additionally he will share his observations on traveling with a motorhomes over 3,5 tons in Europe.
Motorhome rental in the USA, i.e. USAkamperem.pl
As some of you already know, we are the official representative of Cruise America in Poland - it is the largest motorhome rental company in the USA and Canada and through us you can rent motorhomes in these countries.
Come and talk to Kasia about the whole process of such a rental and how to prepare for such a trip.
Motorhome or trailer insurance
We have a great offer for private individuals and rentals. Come to our stand, where Maciej Turowski - our CampRest Insurance expert will answer all your questions.
Mini Camp
The Polish manufacturer of Mini Camp roof tents will be with us, which you can personalize in terms of color and graphics.
Sea 2 Summit
The team from Larix will be at your disposal in the field of camping and caravanning accessories. They offer all accessories, from cutlery and dishes, through backpacks and sleeping bags to tents.
Caravan Park Sexten
Our favorite mountain and winter campsite in South Tyrol, where we organize a Winter Motorhome Rally every year. Davide will be with us, with whom you can chat in English, German or Italian on all topics related to leisure on their campground and in the vicinity.
Camps from the Croatian Jadranka chain
Known to all, Camping Cikat is only one campsite in Croatia from their offer. If you have any questions, you want to organize, for example, New Year's Eve in Croatia, the guys from this company will be at our stand and you will agree the details of such an event with them.
Where you will find us?
In Hall 5, stand 12
When: 21-23.10.2022
We have created the CampRest portal for people who value freedom and travel on their own.
Enjoyed reading this article? Share it!