Highway tolls in Slovakia from 2016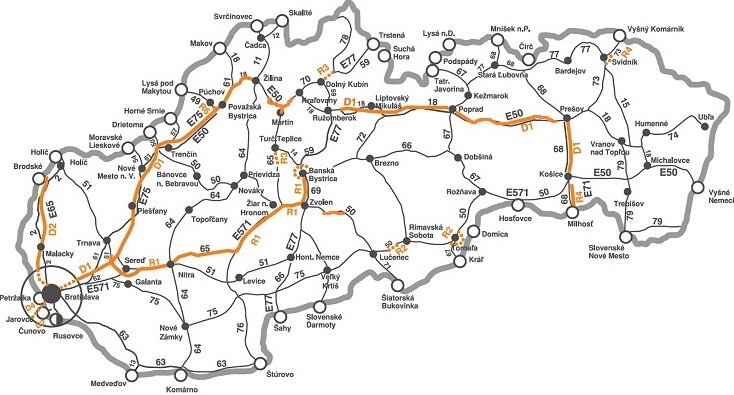 From January 1, 2016, electronic vignettes will be introduced in Slovakia to replace the classic vignettes stuck to the windshield of the car.
From December 1, 2015, electronic vignettes can be purchased at selected fuel stations in Slovakia, at points of sale and self-service vending machines at border crossings, via the website www.eznamka.sk or via a smartphone or tablet via the "eznamka" mobile application.
The website www.eznamka.sk has been developed in 6 language versions, including Polish. Buying an "e-vignette" online is very simple. When purchasing, you must enter the vehicle registration number, country in which the car is registered and provide payment card details. If you want to receive a confirmation of the purchase of an e-vignette, you must also enter your e-mail address. When buying an e-vignette at petrol stations or at points of sale at border crossings, we can pay in cash or by credit card.
The prices of electronic vignettes in 2016 will be the same as in previous years
A 10-day e-vignette will cost € 10

monthly € 14

annual € 50

motorcycles are exempt from road tolls on Slovak motorways and expressways
Additionally, we would like to inform you that on November 30 this year. a new 9.5 km long section of the motorway in the Levoci area with a 600 m long Sibenik tunnel has been made available for drivers
Until Christmas, a section of the Fricovce-Svinia motorway will be opened. Motorcyclists will be able to smoothly reach the D1 motorway from Ivachnova near Ruzomberok to Presov / about 130 km /.
More information and up-to-date maps of toll road sections in Slovakia are available on the websites www.ndsas.sk , www.eznamka.sk , www.dialnicnenalepky.sk and www.emyto.sk .
Information on traffic regulations in Slovakia can be found in the Road Traffic Act section.
We have created the CampRest portal for people who value freedom and travel on their own.
Enjoyed reading this article? Share it!