More and more exhibitors at Caravans Salon in Poznań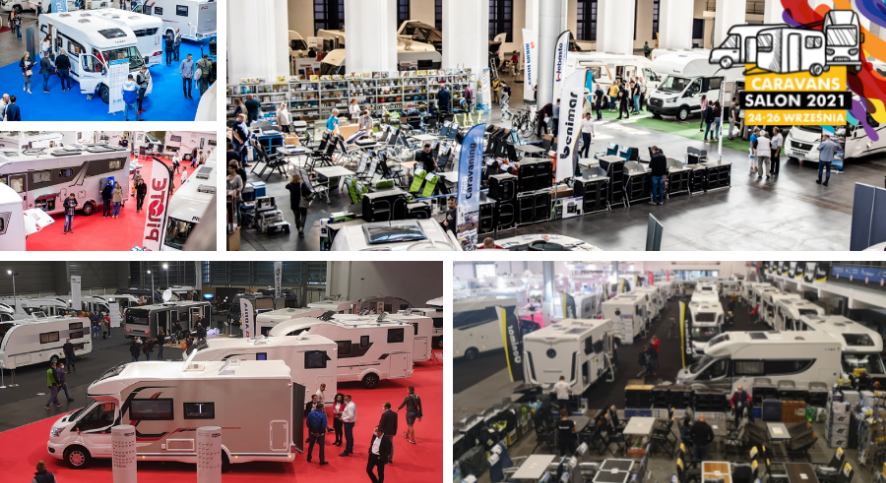 The list of exhibitors at the Caravans Salon fair in Poznań, which starts on September 24 at the Poznań International Fair, is still growing. The organizers emphasize that this year we will see a lot of new exhibitors who have not yet appeared at the fair or are just making their debut on the dynamically growing caravanning market in Poland. At the moment, there are about 50 companies on the list that will present their offer. Taking into account the specificity of the market, where companies such as, for example, CarGO, Elcamp or ACK Benimar have 6 or 8 brands in their portfolio, trade fair visitors can count on the representation of about 100 different brands, motorhomes, caravans or accessories and services. related to caravanning. Held together with Caravans Salon, Tour Salon and Festival Traces of Dreams, there are another 50 exhibitors from the tourism, equipment and outdoor industries.
More about exhibitors, premieres and news HERE.
Polish team from Dusseldorf, reports to Poznań
The leading Polish "export" companies, which have recently made a sensation at the fair in Germany, will have their stands at the Caravans Salon. We will also see solutions and news from Globe Traveler, Balcamp, Wavecamper or Escape Vans in Poznań. Globe Traveler also announced the Polish premiere of the new version of Voyager Z and Wavecamper of several of its innovative campervan patents.
Of course, there will also be other brands from the top Polish dealers, but we have already written about them.
Ahorn Camp and LMC Caravan for the first time at the fair in Poland
Caravans Salon Poland will also feature premieres, not only specific motorhomes or caravans, but also the first brand presentations. Ahorn Camp and LMC Caravan brands will have such debuts in Poznań.
Thanks to the CAMPER4U.PL company, we will see the German brand Ahorn Camp, one of the fastest growing and largest organizations dealing in the sale of motorhomes in Germany - at the fair we will see 4 models of this manufacturer.
Centrum TMT will show LMC Caravan vehicles, also from Germany, dating back to the 1960s.
A treat for 4x4 fans, Noriaki's art and solutions from innovative "boxes"
There will also be something for fans of extreme solutions at the Poznań fair. The Adventure Van Conversions brand, known for its bold projects, will present some of its amazing expedition motorhomes, including the Grand Tourer based on Renault Master 4x4 or the unique project The Watcher Ultimate 4 × 4 Sprinter NCV3 , i.e. a demonstration van decorated with drawings by a famous artist from Poznań. NORIAKI's street art (Poznań is full of Watchers, that is Mr. Periscope).
You will also be able to see and compare several designs of recently popular camping boxes, which allow you to turn a van or a larger car into a motorhome for the duration of the trip. Brands such as EGOE Nest , Escape Vans and Raxo will present their solutions and patents in this area.
Volkswagen California in four scenes
City Motors from Gdańsk, a Volkswagen dealer, will present 4 different versions of California, which is currently the best-selling motorhome / campervan in Poland. We will see a small compact Caddy California (new), a version for sunbathers, i.e. California Beach, and two versions of the larger Grand California - 600 and 680.
Special Zones, Rally and many lectures
This year Caravans Salon takes up as many as 3 large pavilions at MTP, so there will be a lot to see and check. Pavilion 4 is particularly noteworthy, with a Retro Zone and a Vanlife / Hand Made Zone planned.
We will see there, therefore, over 20 retro motorhomes and sets, presented by their owners. The zone is being created with the participation of the Campermajstra group. You can read more about Retro HERE .
The Vanlife / Hand Made zone is, on the one hand, a place where we meet Youtubers and Vanlifers who show the secrets of life on the Internet or social media on a daily basis: here we will meet the teams of PodróoVani e, Foxes in Eden , Terasfera and Familiaventura . On the other hand, there will be room for owners of motorhomes built or converted by themselves.
An inseparable element of the fair will be the 12th National Caravanning Rally, this year about 160 teams will register. Unfortunately, the lots ended some time ago.
Due to the Festival Traces of Dreams taking place as part of the fair, visitors will have two stages at their disposal: the Fair Stage in Pavilion 6 and the Festival Stage in Pavilion 11 (Spire), which gives a choice of over 30 different lectures and meetings. The program of the Fair Stage can be found HERE , and the Travel Festival HERE .
We invite you to Poznań, to the Poznań International Fair from 24 to 26 September, where we will also appear.
Tickets can be purchased online only at this link: https://bit.ly/Bilety_na_Caravans_Salon_2021
We have created the CampRest portal for people who value freedom and travel on their own.
Enjoyed reading this article? Share it!