Open Vineyards Day at the 16th International Wine Days in Jasło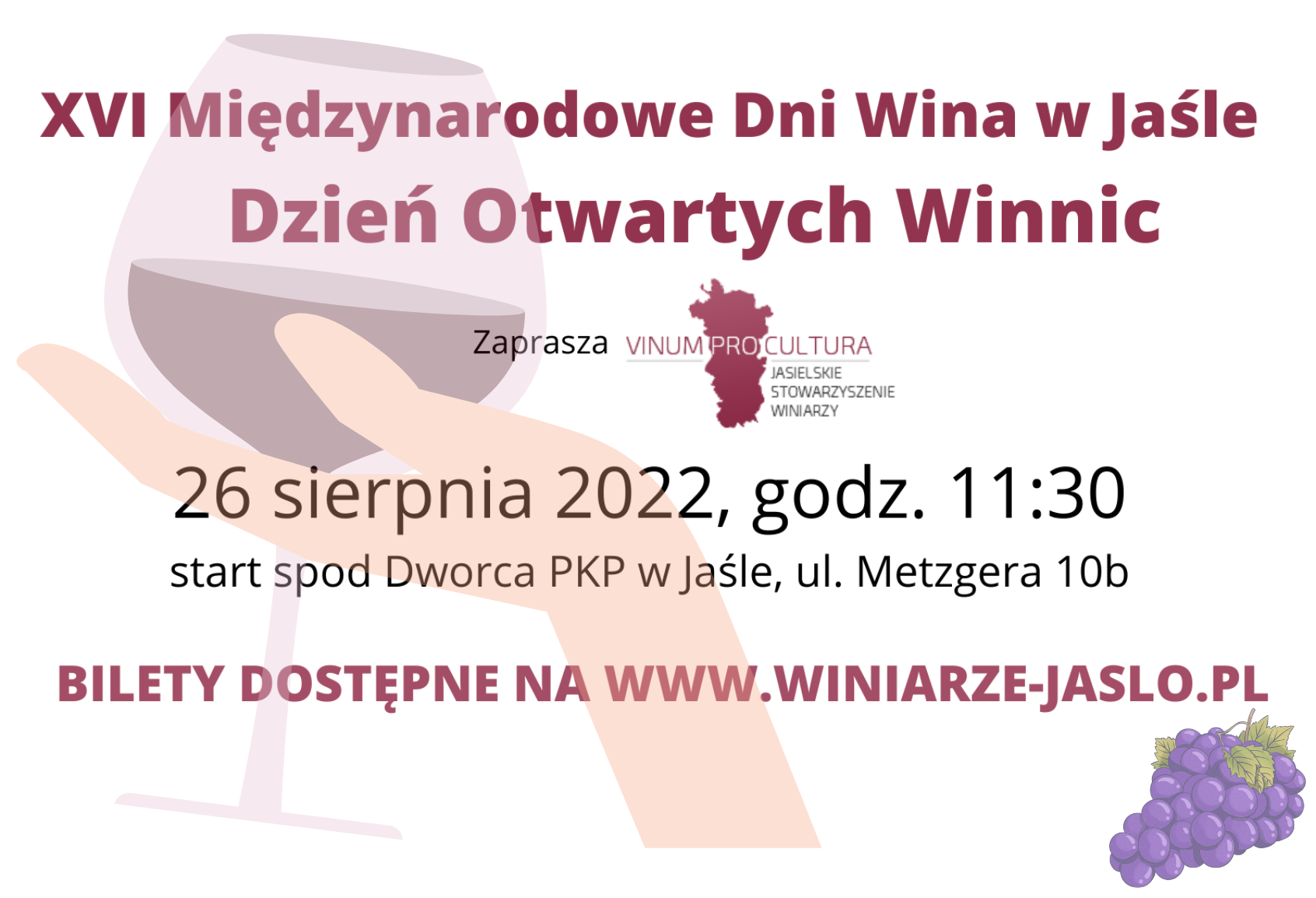 As every year, the 16th International Wine Days will begin with the Day of Open Vineyards. This is a unique opportunity to taste wines in the place where they are made, see the vine up close, look into the cellars and talk to the winemakers.
Nothing adds to the charm of tasting like wine stories. You will be able to see, get to know and taste all of this. Each of the vineyards will offer you the best - not only wines, but also regional delicacies and its unique atmosphere.
XVI International Wine Days - interesting trips
This year, we invite you to two trips:
Trip I
It will depart from the railway station in Jasło (ul. Metzgera 10b) at 11:30. He will visit the Vanellus Vineyard, the Vetus Vineyard and the Subcarpathian Wine Manufacture.
The return to the railway station in Jasło is expected around 19:00.
Trip II
It will depart from the railway station in Jasło (ul. Metzgera 10b) at 11:30. He will visit the Dwa Granice Vineyard, the Sztukówka Vineyard and the Wiarus Vineyard.
The return to the railway station in Jasło is expected around 18:15.
Each vineyard offers a tasting of at least 4 wines and regional snacks, and at the last points of both excursions a tasting and a bonfire.
Tickets at the price of PLN 190 are available at www.winiami-jaslo.pl .
You will travel through the vineyards with special enobusemi.
Your guides will be: Tatiana Mucha from Winnicomania and Katarzyna Korzeń from EnoPortal - they will tell you all the most important stories about the region and Polish winemaking, they will share interesting facts and anecdotes.
The International Wine Days are not only tasting at the Jasło market. This year, we invite you to the extended offer of the Tasting Workshops. Each meeting is different, but equally unique and conducted by specialists from the wine industry. All meetings will be held at the Wine Salon in Jasło and tickets at the price of PLN 90 can be found at www.winiary-jaslo.pl.
August 27, 2022
12:00 Poland vs. The rest of the world - Tomasz Kolecki, SSP
A duel of Polish and foreign wines, which arouses many emotions, is very liked by everyone. The referee in this match will be the audience gathered, and the moderator as usual: Tomasz Kolecki. He will personally choose the best Polish labels that the workshop participants will compare with their stylistically similar counterparts from traditional wine regions. The tasting will, of course, take place blindly.
Previous editions of "Poland vs. the rest of the world" showed that quite good players can appear on both sides, and the result of the duel can be very surprising.
Who will win this year? Be sure to come check it out.
14:00 Are Polish winemaking just hybrids? - Jarosław Baranowski, SSP
Polish winemaking is often identified only with wines from hybrid grapes, this is obviously not a mistake. On the other hand, the world of wine is very changeable. We observe the progressive climate changes, which, along with the continuous development of our winemakers, allow for an increasing share of Vitis Vinifera among Polish wines. During the meeting, I will present you wines awarded with gold medals during the Polish Wine Competition 2022 from various international grape varieties. It will be interesting.
17:00 Special wines - Michał Bardel, Czas Wina
Not all wines are made the same. During the workshops, we will meet with exceptional wines. Wines that are made by various methods of vinification. The wines will be accompanied by a story about their peculiarities as well as a large dose of vinification knowledge that is not so easy to obtain.
August 28, 2022
12:00 Eno-sensoryka, or the pleasure of tasting - Katarzyna Korzeń, EnoPortal
Wine tasting is not a difficult but slightly complicated art. We grow it for fun. It is an interaction of our senses not only with a unique drink, but also with everything around it - history, people, place. They are memories, associations, emotions.
During the workshops you will see - with examples how it all works: What is wine? How do we taste them? What happens in our mouths and what happens in our heads when tasting them? Why is it all so nice?
It will be a real adventure for your senses: blind tasting of six Polish wines in various styles and special sensory exercises.
14:00 Polish bubbles - Michał Sobieszuk, Eat Polska
First of all, this is not the time when every sparkling wine can be called champagne. Second, that doesn't mean there aren't any other wonderfully sparkling wines with bubbles! Produced with the traditional, champagne method, the mustaches have made themselves at home in the portofolios of Polish vineyards, presenting an ever higher level every year. During the tasting we will try this year's winners, we will tell you why Polish mousses have great potential, we will check what role dead yeast plays in their formation and whether bubbles are a good combination with cake and strawberries.
CampRest is the media part of this event, to which we invite all wine lovers!
We have created the CampRest portal for people who value freedom and travel on their own.
Enjoyed reading this article? Share it!