Train Krakow - International Wine Days in Jasło-Krakow "W Other Klimaty Railway"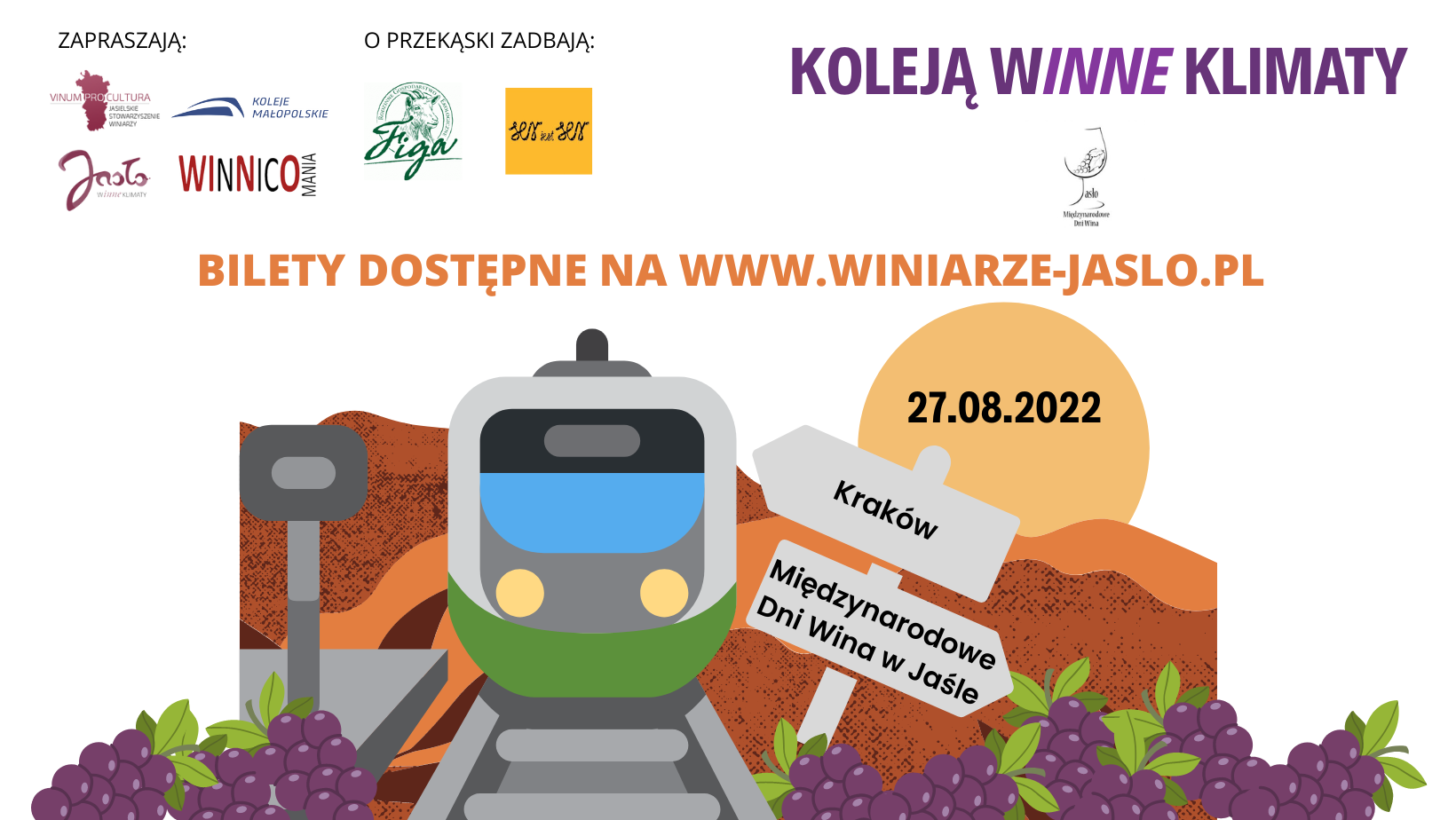 We invite you to the only such train in Poland! On August 27, at 7:42 am, the train will depart from Kraków Główny station for the 16th International Wine Days in Jasło.
A treat for wine connoisseurs
The ticket price includes:
- return ticket, Kraków - Jasło - Kraków;
- tasting the wines of the 9th Polish Wine Competition in Jasło during the trip;
- a traveler package, which will include: a glass with the MDW logo, tasting portions of local cheeses from the Figa Family Ecological Farm and olives from Cheese Jest Cheese, discount to the Regional Museum in Jasło;
- warm, Podkarpacie sour rye soup on the platform in Jasło;
- a guided walk of the Regional Museum in Jasło to the Jasło market square.
Scheduled arrival to Jasło is 10:30.
The return train will depart at 19:00 from the railway station in Jasło. In the meantime, 37 wine stands from all over Poland, the Fair of Regional Products and Tasting Workshops will be waiting for you on the Jasło market.
Where to buy tickets?
Train tickets are available at https://www.winiary-jaslo.pl .
Until the end of July, a promotional price is valid - PLN 155 / person, from August 1, the regular price will be PLN 170 / person.
As every year, WINNICOMANIA will take care of the passengers on the train.
Payment for tickets can be made via online payments and Blik, the possibility of paying by card will start any day.
They invite you to travel together:
Jasło Winemakers Association Vinum Pro Cultura, Koleje Małopolskie, Winnicomania and the City of Jasło.
Partners: The Regional Museum in Jasło and the Subcarpathian Voivodeship.
Sponsors: Family Ecological Farm Figa and Cheese Jest Ser.
Media patrons: Camprest, Czas Wina, Eat Polska, Enoportal.pl, Ferment, Women and Wine, Food Service, Our Vineyards, Otovino.pl, Oui Chef, Przegląd Gastronimiczny, Winicjatywa.
In a campervan for the 16th International Wine Days in Jasło
We have good news for people who would like to come to this event with motorhomes. The City Hall confirmed that the car park at ul. Kwiatowa in Jasło will be available for 10 motorhomes. There are toilets and a wash basin on site. There will also be a service person there by 21:00 to help.
We have created the CampRest portal for people who value freedom and travel on their own.
Enjoyed reading this article? Share it!