Valentine's Caravanning Festival Travel - see the program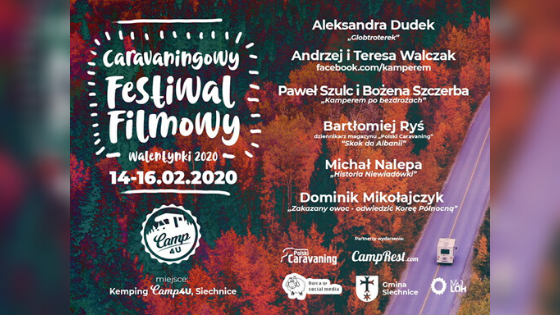 Are you looking for inspiration for your next travels? Are you thinking about your next trip or just want to hear interesting stories about the closer and further regions? This event is for you. The Valentine's Festival of Travelers starts on February 14 at the Camp4U campsite in Siechnice near Wrocław.
Free admission!
We did not want to create another standard caravanning rally. The idea was an event that would attract not only campers and caravans owners, but also "ordinary" people looking for new, interesting directions - explain the owners of the field, which started its activity in June last year.
The list of speakers who will appear during the 3-day event is relatively long. There will be caravanning topics, i.e. related to campers and caravans (Andrzej and Teresa Walczak), but we will also talk loosely about exotic regions such as Turkmenistan or North Korea. Aleksandra Dudek, the author of the blog "Globtroterek" and a friend of the campsite, Michał Nalepa, will also present themselves in the common room, telling about the history of "Niewiadówka", one of the most popular caravans in our country.
The full schedule of the event is as follows:
[FRIDAY]
20:00 - 22:00 - Mr. and Mrs. Walczak
[SATURDAY]
Time 15: 00-15: 45 - Bartłomiej Ryś / Polish Caravaning - "Jump to Albania"
15-minute break
4:00 pm - 4:45 pm - "At the Departure" - Turkmenistan
15-minute break
5:00 pm - 5:45 pm - Skarawaningowani "Where he will carry us" - Sebastian Piętka
15-minute break
18:00 - 18:45 - Michał Nalepa - Toddler and Niewiadówka - The Story of Niewiadówka
15-minute break
19:00 - 19:45 - Paweł Szulc and Bożena Szczerba - Expedition to Russia
15-minute break
20:00 - 20:45 - Aleksandra Dudek - "Globetrotters"
15-minute break
21:00 - 21:45 - Dominik Mikołajczyk - "Forbidden fruit - visit North Korea"
22:00 - start of loose fun in the common room, bonfire, snacks and dancing until dawn
[SUNDAY]
Farewell to the teams, departure from the field by 16:00.
Participation in the event is free of charge.
Stop at the campsite according to the price list available here: http://camp4u.pl/cennik2/
You can come with your camper or caravan at any time - the reception is open from 8:00 am.
There will be a bar serving drinks and hot and cold meals at the campsite throughout the weekend.
Registration for the event: by phone (+48 698 608 934 - Bartek) or by e-mail: [email protected]
When registering, please provide the name and surname of the crew representative, the number of adults, the number of children and the registration number of the car (tug) or motorhome.
We invite!
Camp4U is a modern, all-year-round resort associated with ACSI, located in Siechnice, just off the road number 94 towards Oława.
Enjoyed reading this article? Share it!