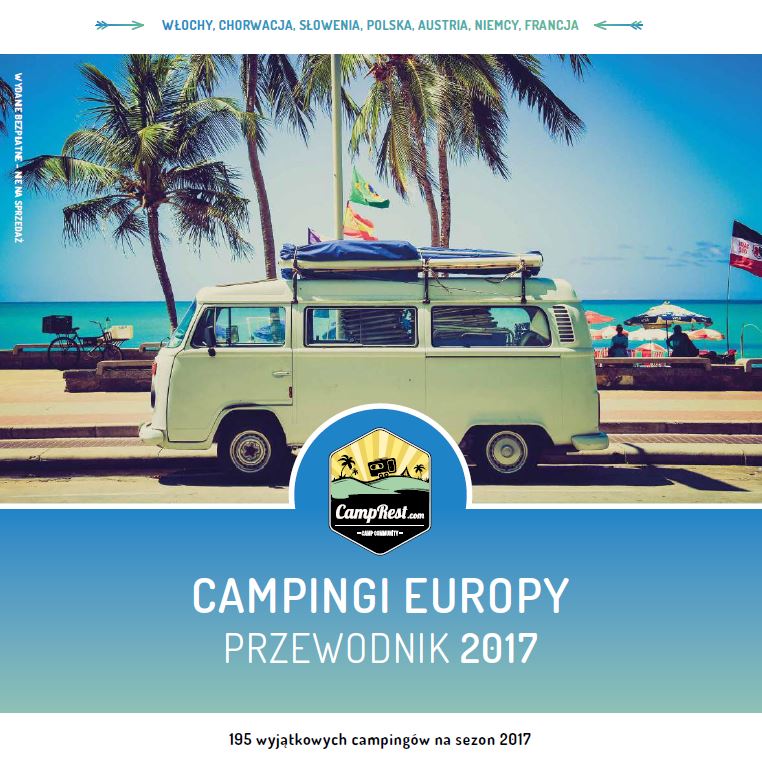 This weekend, on February 24-26, the International Tourism Fair will be held in Wrocław. In particular, we invite you to the Camprest.com stand, where you will be able to receive for free the freshly printed "Guide to Camping Europe 2017"!
The Centennial Hall in Wrocław will host the Wrocław International Tourism Fair for the ninth time. During the fair you will be able to meet almost 200 exhibitors from Poland and the world, incl. from Italy, Germany, the Czech Republic, Georgia, Slovakia, the Netherlands, and even from such exotic places as South Korea or the Dominican Republic. The fair will be an excellent opportunity to meet exhibitors from various regions of Poland and the world. The fair will be accompanied by many events.
Festival of travelers
As part of the festival, you will be able to meet various travelers and learn a lot about their ways of visiting the world. For this year's fair, 12 presentations were prepared covering five continents . Invited travelers will help participants move to the Balkans, the Arctic Circle, to Chernobyl, the Philippines, Peru, Scandinavia, Morocco, Iceland. There will also be presentations on South America and Central Asia.
Special guests
During this year's edition of MTT Wrocław, the special guests will be Tomek Michniewicz and Szymon Radzimierski . The first is a journalist, photographer, reporter, author of books and broadcasts. The second gentleman is an adventurer who travels the wildest corners of the world, writes a blog, and recently published his first book. Meetings with travelers will also take place as part of the "Travel Bookstore ", where they will talk about their books, among others Aleksander Lwow, Krzysztof Rostek, Włodzimierz Ranoszek, Krzysztof Wielicki, Anna Borecka and Ewa Skut.
Food festival
The culinary festival is an annual journey around the world through the flavors, cuisines and customs associated with various cultures . First, the guests will be invited to delicious Italy. Then, you will be able to try traditional American steaks. The journey will end in Japan - the country of sushi and fresh fish.
During the culinary trips, there will be plenty of Polish delicacies - the fairs will feature the cuisine of Lower Silesia, Greater Poland, and Warmia and Mazury. On Sunday, desserts, cakes, ice cream will reign supreme, and you will also be able to learn the art of brewing Chinese tea and alternative coffee preparation. There will also be plenty of tasting stands waiting for guests.
Conferences and workshops
Professionals from the tourism industry will be able to take part in conferences and workshops. Their leading topics will be industry news, social media and the possibility of effective use of internet marketing .
Attractions for children
A lot of attractions will be waiting for the youngest guests, including by Jurapark Krasiejów (paleontological museum combined with an amusement park) and the European Fairy Tale Center Matołek the Billy Goat. You will also be able to see the largest railway model in Poland. Globetrotter will also appear at the fair, inviting children to play together, and the traveling family will organize photography workshops for juniors.
A guide to camping in Europe 2017
Many attractions will also be available at the stand of the most popular Polish caravanning portal. We have prepared a lot of gadgets for our guests and the recently published "Guide to Camping Europe 2017" . This publication is free but hard to get. It can be obtained only at selected tourism fairs and by shopping in online and stationary stores of our partners. So let's go to the MTT Wrocław fair for her!
The guide includes 195 specially selected campsites from Italy, Croatia, Slovenia, Austria, Germany, France and Poland . Importantly - in addition to richly illustrated descriptions, the publication also includes practical tips and discount coupons, allowing you to significantly save on holiday trips.
A new feature will be a wide presentation of the offer of great Italian campsites and holiday resorts from the ECV Elite Club Vacanze chain . ECV has 10 campgrounds in various regions of Italy, incl. on Lake Garda, near Venice, Tuscany and Rome. At each campground, apart from the motorhome pitches, you can rent very comfortable, fully equipped holiday homes, and the campsites also have many attractions for children and adults (swimming pools, water lagoons, amusement parks, restaurants and others). Interested persons will be able to receive special discount codes entitling to a 15% discount on booking all holiday homes at ECV campsites. Note - the discount applies to bookings throughout the season, and therefore also during the peak occupancy!
The stand will also offer brochures about specific campsites, and you will also be able to get detailed information on topics related to camping, caravanning and the CampRest.com website itself.
Organizational information
The fair will be open to all interested parties from Friday (February 24) to Sunday (February 26) from 10.00 to 17.00 (Sunday to 16.00). A normal ticket costs PLN 15, but we recommend two-day tickets for PLN 20. If two days is not enough - a three-day pass (PLN 30) is also available. Children, teenagers and organized groups can count on attractive discounts, and the youngest travelers (up to 7 years of age) enter for free.
MTT Wrocław will be held at the Centennial Hall in Wrocław (ul. Wystawowa 1). There is a car park for approx. 2000 cars next to the hall.
More information is available at www.mttwroclaw.pl .
Sometimes it is better to get lost than to ask for directions too much. Aldous Huxley
Enjoyed reading this article? Share it!