Volkswagen lovers - COME !!! Great rally already in June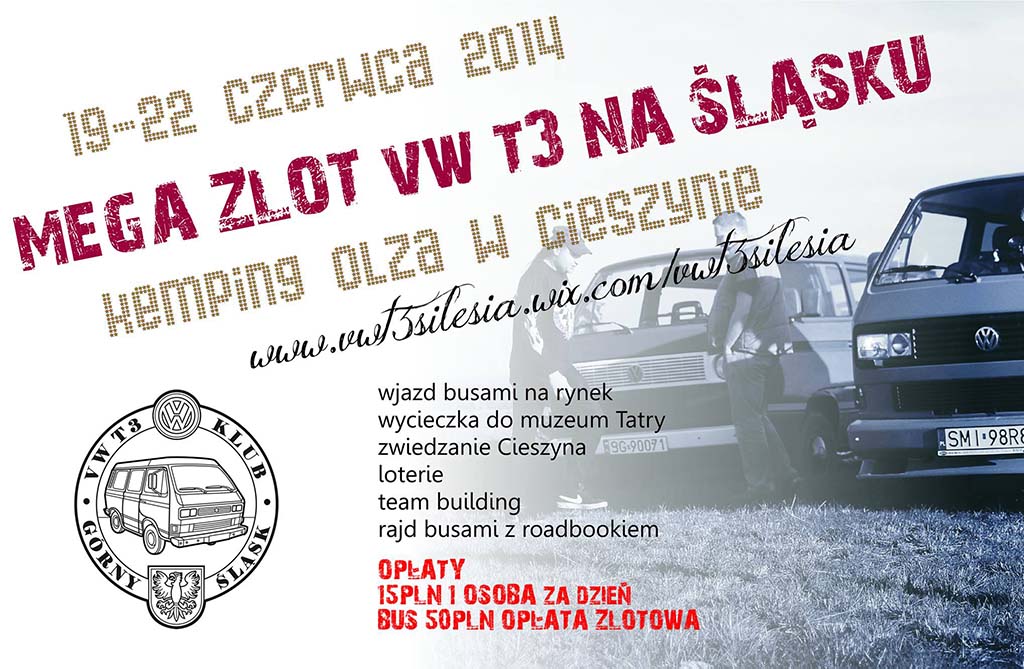 Something like that has never happened in Cieszyn before! On June 19, 2014, over a hundred unique and beautiful Volkswagen T3 and Beetles will come to the Olza campsite !!!
Who?
VW T3 UPPER SILESIAN CLUB , the organizer of all the commotion, once again decided to assemble a great meeting for fans of Volkswagen rear-wheel drives . Everything is already done and the club invites you from the very morning on Thursday 19th June and will not let anyone out until Sunday 22nd.
Where?
At Camping Olza in Cieszyn , situated among beautiful greenery, in the vicinity of which there are many wonderful attractions. The youngest will find a very nice playground, and to the nearby park you will be able to take your loved one for a romantic walk or for an unforgettable canoe cruise on the local pond.
The camping offers very good sanitary and social facilities and a restaurant where you can relax after all the hardships of the day with a pork chop and a cold beer.
Rally program
JUNE 19 - THURSDAY
10.00 OPENING OF THE CAMPING GATES FOR ZLOTOWICZ
12.00 CEREMONIAL OPENING OF THE RALLY
14.00 GAMES AND FUN FOR CHILDREN
15.00 PLASTIC COMPETITION
16.00 SCREENING OF THE FILM "DEPARTURE"
18.00 BUS FILMS "THE BUS" AND OTHER
20.00 FIRE
JUNE 20 - FRIDAY
9.00 SPORTS YOGA FOR INTERESTED PARTIES
10.00 AM BUS TRIP TO THE TATRA MUSEUM IN THE CZECH REPUBLIC
15.00 FITNESS PLAYS, TEAM BUILDING
17.30 FILMS FOR THE YOUNGEST
19.30 GIVING AWARDS FOR FITNESS EVENTS
20.00 ELEGANT DANCER
JUNE 21 - SATURDAY
9.00 SPORTS YOGA FOR INTERESTED PARTIES
10.30 A GUIDE TOUR IN CIESZYN
15.00 BUS PARADE ENTERING THE CIESZYN MARKET SQUARE
17.00 FANT LOTTERY
18.00 TRADITIONAL BEER COMPETITION
18.30 COMPETITIONS FOR: THE prettiest bus, the most original, the most utility ...
20.00 CONCERT
JUNE 22 - SUNDAY
9.00 SPORTS YOGA FOR INTERESTED PARTIES
10.00 AM TOURIST RALLY WITH ITINERER
14.30 AWARDING PRIZES FOR THE TOURIST RALLY
15.00 CEREMONIAL END OF THE RALLY
How much is it?
PLN 15 per person per night + PLN 50 PLN fee for 1 bus
Submissions
The organizer asks everyone to declare their arrival directly by e-mail: [email protected]
More information about the rally and the club itself can be found on the website of the VW 3T Silesia club
All cars from VW stables with rear axle are of course welcome !!!! Well more WELCOME !!!
In the gallery we present photos from previous club rallies.
The main driver, founder and the brain of CampRest. He is the one who runs the whole mechanism, implements new ideas faster than he is able to invent them. He used to be a professional driver and have run his own freight forward company - as you can see, he has always been drawn to sleep in the car;) He likes to drive large motorhomes and encourages you to get a C driving license and buy motorhomes over 3.5 tons.
Enjoyed reading this article? Share it!