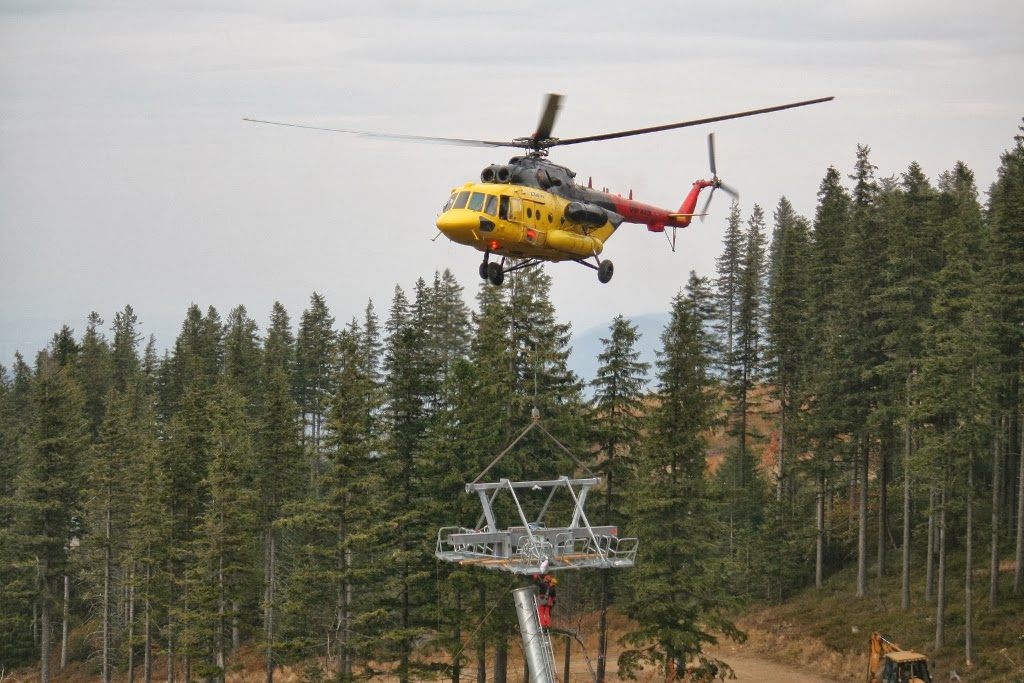 A modern 4-seater sofa on Skrzyczne and 40 km of sunny routes - this is the offer of Szczyrk, one of the most popular tourist centers in Poland. It is worth coming here for skiing.
The next ski season is fast approaching and you can slowly wonder which slopes to go on this year. Alps? Dolomites? Or maybe the Pyrenees? Compared to foreign three-thousanders, our mountains are rather modest, but they also have a lot to offer. Especially when we are talking about the resort with the largest number of ski lifts and slopes in Poland, i.e. Szczyrk.
The resort is located in the valley of the Żylica river, in the Silesian Beskids. From the south it is surrounded by the Skrzyczne massif, and from the north by the Klimczok mountain group. It is popular with tourists both in winter and summer, thanks to its excellent climatic conditions.
Winter in Szczyrk
Szczyrk is full of life all year round, but especially in winter. Then, avid snowboarders and skiers come from all over the country, on which there are over 30 ski slopes of varying difficulty and a total length of almost 40 km. One of them is the black run No. 23 FIS - Skrzyczne-Doliny Dunacie, licensed by the International Ski Federation FIS to host all alpine skiing competitions, including World Cup. It is artificially snowed, its length is 2800 m, and the level difference - 650 m.
The center is developing dynamically. Already in the upcoming winter season, we will be able to use the modern cable car to Skrzyczne. Currently, works are being carried out on putting up a 4-seater sofa in the Central Sports Center. The new purchase is not only bigger than the previous train, which transported 2 people, but also much faster. Changes can also be seen in the Szczyrk Ski Resort (SON). The construction of a huge and, most importantly, free car park at Juliany (Intermediate Hall) has been completed.
Attractions of the resort
Nobody will be bored in Szczyrk. Picturesque mountain peaks on the horizon, including Malinów, Magura and Kotarz, invite you to set off on one of the many routes. It is an ideal starting point for numerous hiking and biking trails , so it is no surprise that mountain bikers are interested in the resort as much as those who enjoy exploring the area on foot. Amateurs and professionals come here - everyone will find something for themselves. The more that the sports and tourist infrastructure is exceptionally developed, which allows for intensive training in excellent conditions. In the aforementioned Malinów, I can highly recommend the wonderful family guest house Malinówka , which is managed by Urszula Konior, who loves the mountains. In winter, from Malinówka to the nearest ski lift near Golgotha, we will get on our own skis in less than 3 minutes or we will set off on an unforgettable cross-country skiing adventure.
Central Sports Center The Olympic Preparation Center in Szczyrk (COS OPO) boasts an extremely diverse sports and recreation base. It includes, among others multifunctional sports hall with biological regeneration and gym, beach volleyball courts, sports stadium and indoor swimming pool. There are also tennis courts and pitches for team games. People who value more active recreation than regular skis will certainly be interested in the wide offer of Kamelleon , which includes, among others , snowmobile rentals, Trikke Skki or snow safaris .
Magnificent landscapes, clean air, countless opportunities to spend time - this is what Szczyrk offers, one of the most popular mountain tourist destinations in the country.
A writer by profession, a passion of a cat. One day he will see what is behind the Urals - good to Vladivostok. So far, when he can, he enjoys the sun of the countries of southern Europe. And it's also fun;)
Enjoyed reading this article? Share it!