Where's Camperem? - Ready motorhome routes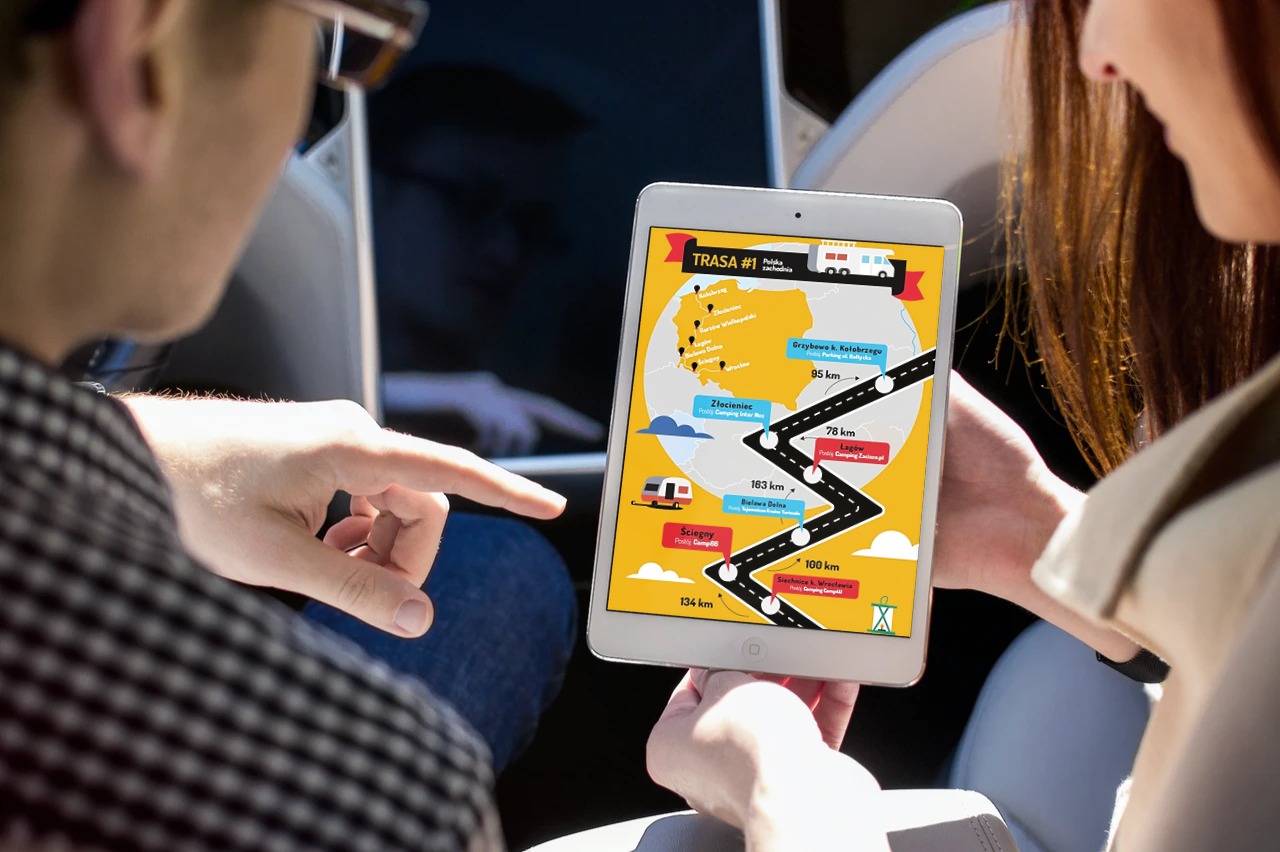 Exactly a year ago, we came up with the idea to create ready-made camper routes for you. Why did so much time pass from idea to implementation? Coming up with such routes is only one of the stages, but we wanted the routes to be beautifully arranged graphically and that is also time-consuming. The error-free Papercut.pl, as usual, helps us in this. Thanks to them, e-books are legible and transparent. We hope you will like them!
Where did the idea for arranging the routes come from?
In fact, it came from the fact that we have already run out of time to respond to your requests for recommendation of interesting places to go with a camper for the first time and again. You have often said that you do not have time to find places to stop, you do not know how to divide the road sections, what to see along the way, etc ... This often discouraged you from renting a motorhome at all! Well, it can't be like that anymore;)
What you will find in ready camper routes
In each e-book of Camprest Tours you will find offers for several dozen nights (from about 20 to 40), which are arranged in 5 ready routes. In each of them you will find basic information about the length of the entire route, about the length of individual sections, you will get a link to a Google map with a planned route. At each stop there is also a link to the google map or to the campground profile in our campsite search engine. In the e-book you will find information about whether the campsites are animal-friendly , we let you know what is interesting in the vicinity of the campsite, where you can eat something good and what children and adults can do at the campsite.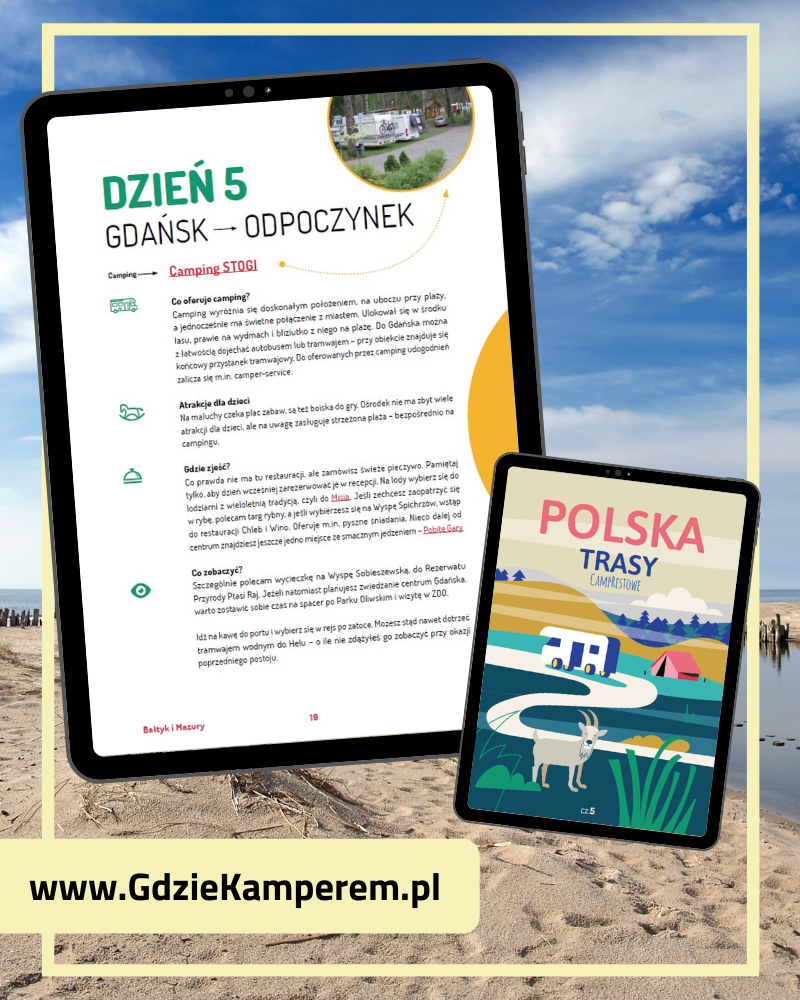 If you want to see such an example route, sign up for the newsletter and we will send you an e-book with one route that starts in Poland and ends in one of the European amusement parks. In the newsletter you will only receive information about motorhome routes. Sometimes we will send you free routes (which will never appear in the store) and discount codes to use in the store.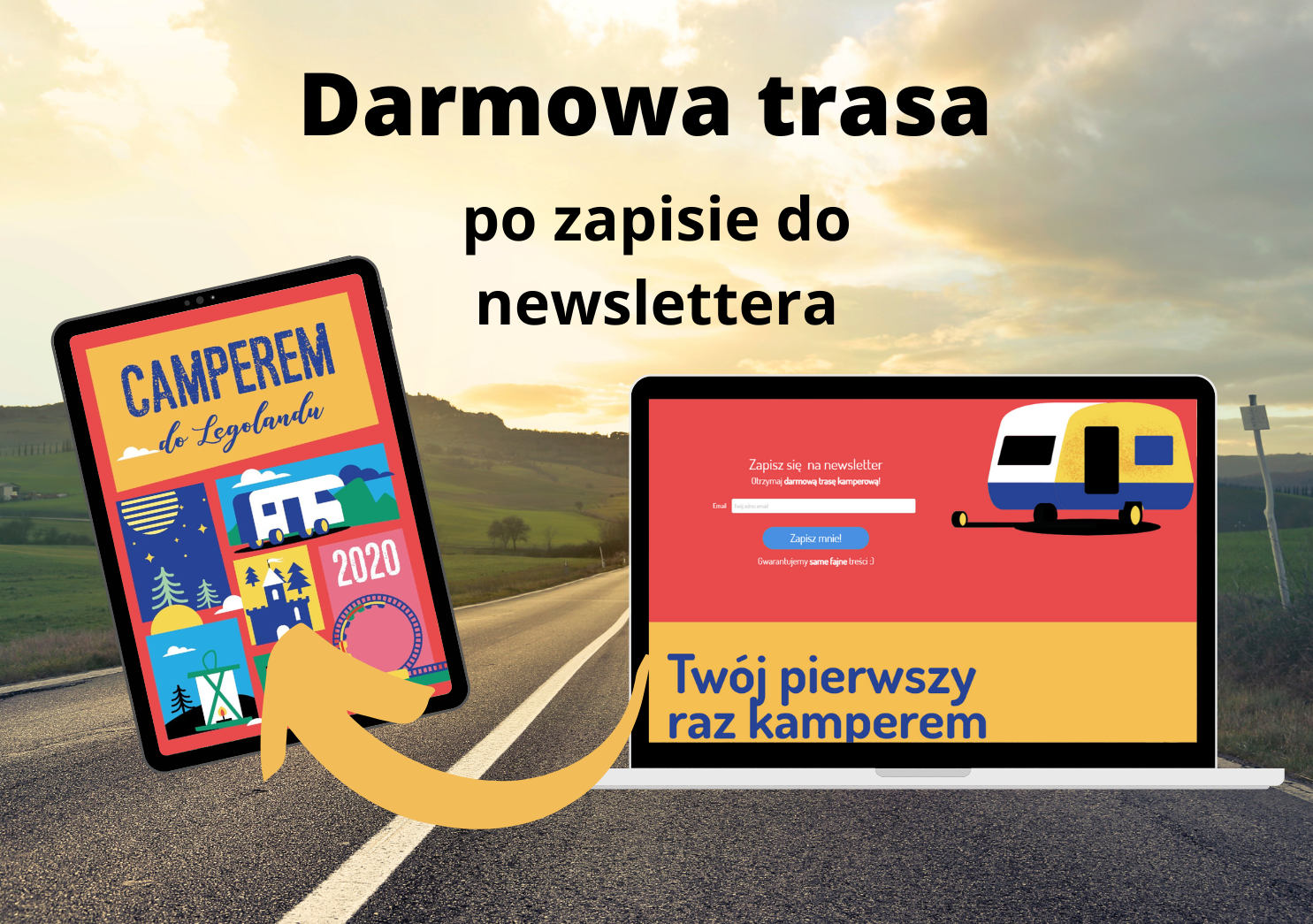 Which countries do they route through?
For each product in the store, there is a short description of the routes in which we summarize the routes. The cover also contains information about the countries covered by the e-book. Most of the routes are located in Italy, Croatia, Austria and Slovenia, but there are already two motorhome guides for Poland and more! See where to go with a motorhome .
Why are the routes not only wildspots?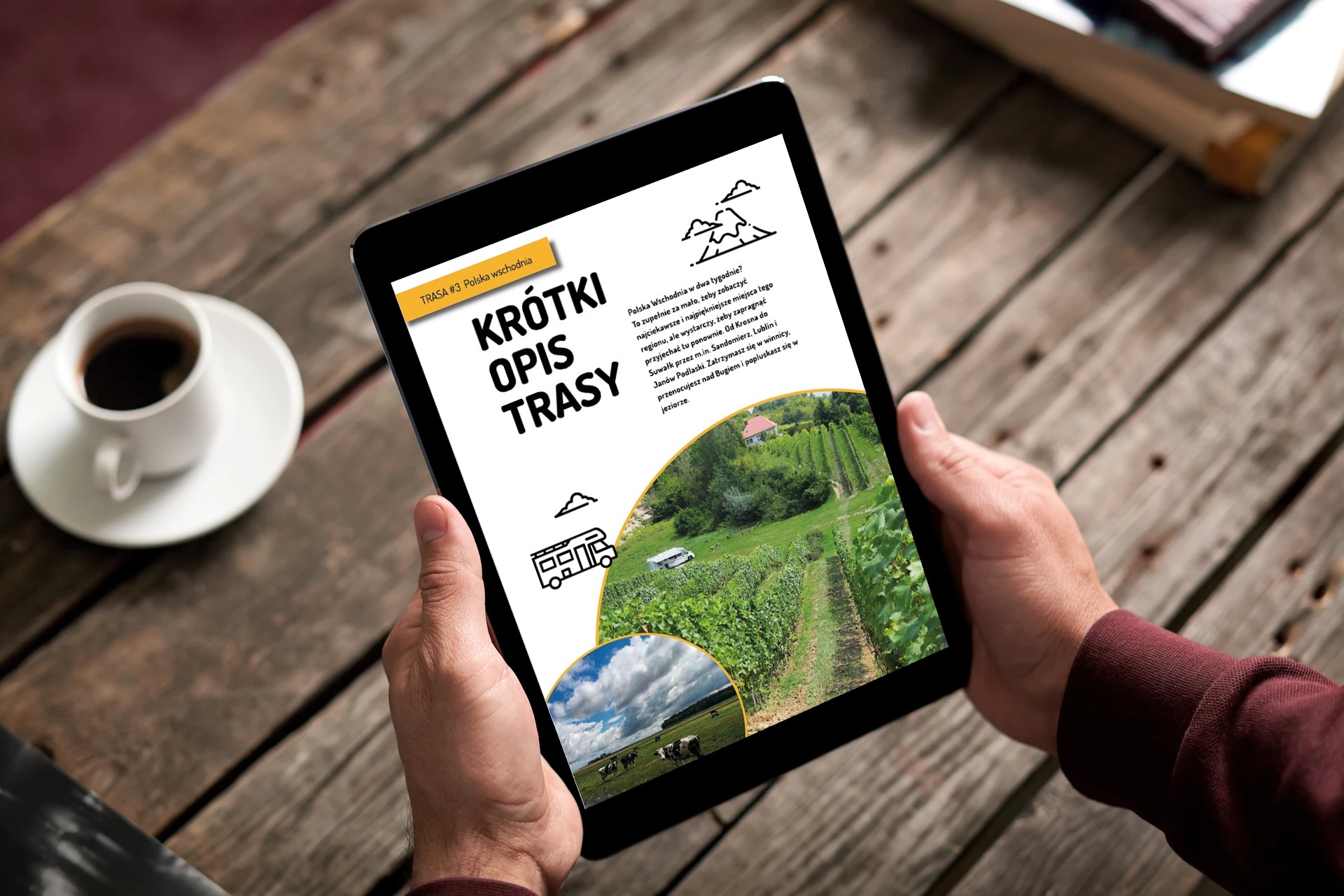 We try to diversify the routes and most of them are intertwined with various types of accommodation. There aresmall cozy campsites , large Family Parks with aqua-parks, several playgrounds, etc. But there are also a lot of camper-parks , parking lots by the beach and even accommodation in the vineyards! On routes around Poland you will also find great campsites as well as a lot of places by lakes or in landscape parks. I do not rule out that one day there will be an e-book with only wild routes, but so far there is no such item in the store.
Who are the motorhome routes for?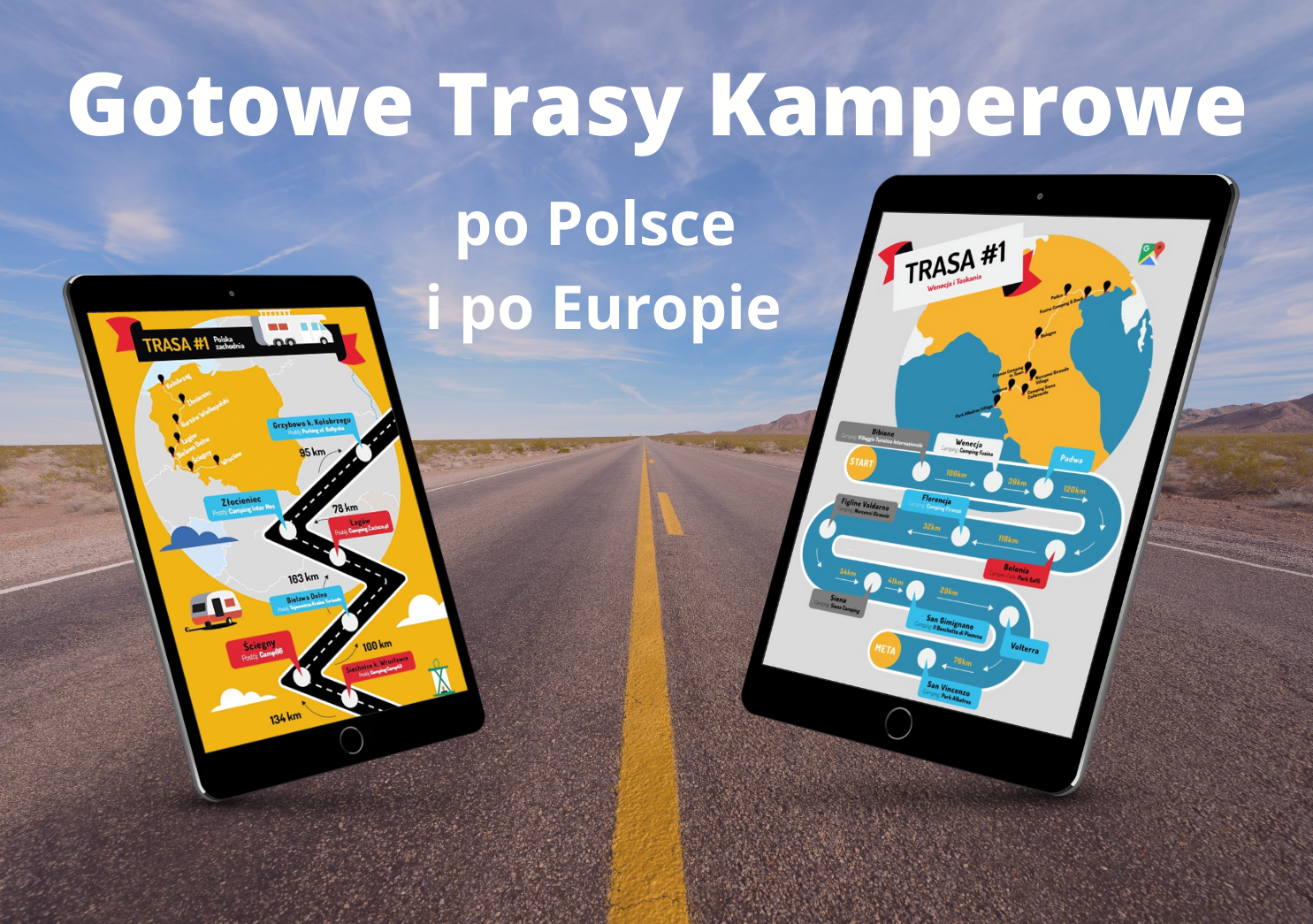 Ready camper routes are for you if:
You are renting a motorhome for the first time
Maybe you are delaying renting because you do not know where to go.
You are overwhelmed by the number of places where you can stay.
You are already driving a motorhome, but you are looking for inspiration.
You don't have time or you don't like planning your trip.
You like having ready-made solutions.
You want to discover cool places to stay in a motorhome
You like to know what there is to do in the vicinity of your accommodation.
Where can I buy CampRestowe Route guides?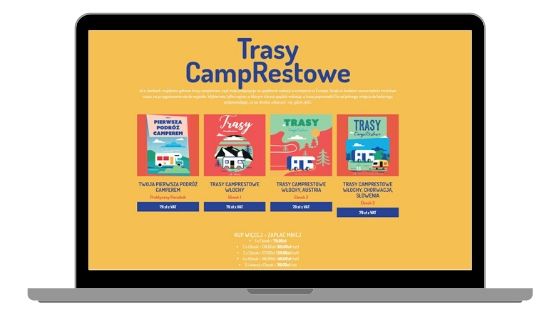 You can buy them on our new website www.GdzieKamperem.pl . In the store you will also find a guide: "Your first camper trip", which is dedicated only to people starting their adventure with caravanning. This guide will certainly help you at the stage of looking for a motorhome for a vacation , I will tell you where to rent it, how much does it cost to rent a motorhome and what to look for when signing the contract. There you will also find ready-made checklists on what to pack for your motorhome and you will learn how to plan your own routes!
Where by camper van? Buy more - pay less
We temporarily introduce a promotion to the store that the more e-books you buy, the less you pay for them.
1 x Ebook = PLN 79.00
2 x Ebook = PLN 69.00 / item
3 x Ebook = 59.00 PLN / item
4 x Ebook = PLN 49.00 / item
5 and more x Ebook = 39.00 PLN / item
---
Do you want to know even more?



• Join our Facebook group -

Cool Camping


• Follow our profile on Facebook -

CampRestowy Facebook


• See how we travel as a family on Instagram. During our trips, it is here that we put the most reports from everyday life on the campground or in the camper -

CampRestowy Instagram


• See our YouTube videos, subscribe to our channel and give a thumbs up to the videos you like -

CampRestowy Youtube
This article was prepared in cooperation with GdzieKamperem.pl
We have created the CampRest portal for people who value freedom and travel on their own.
Enjoyed reading this article? Share it!