Western attractions - in a motorhome around the USA [COSTS!]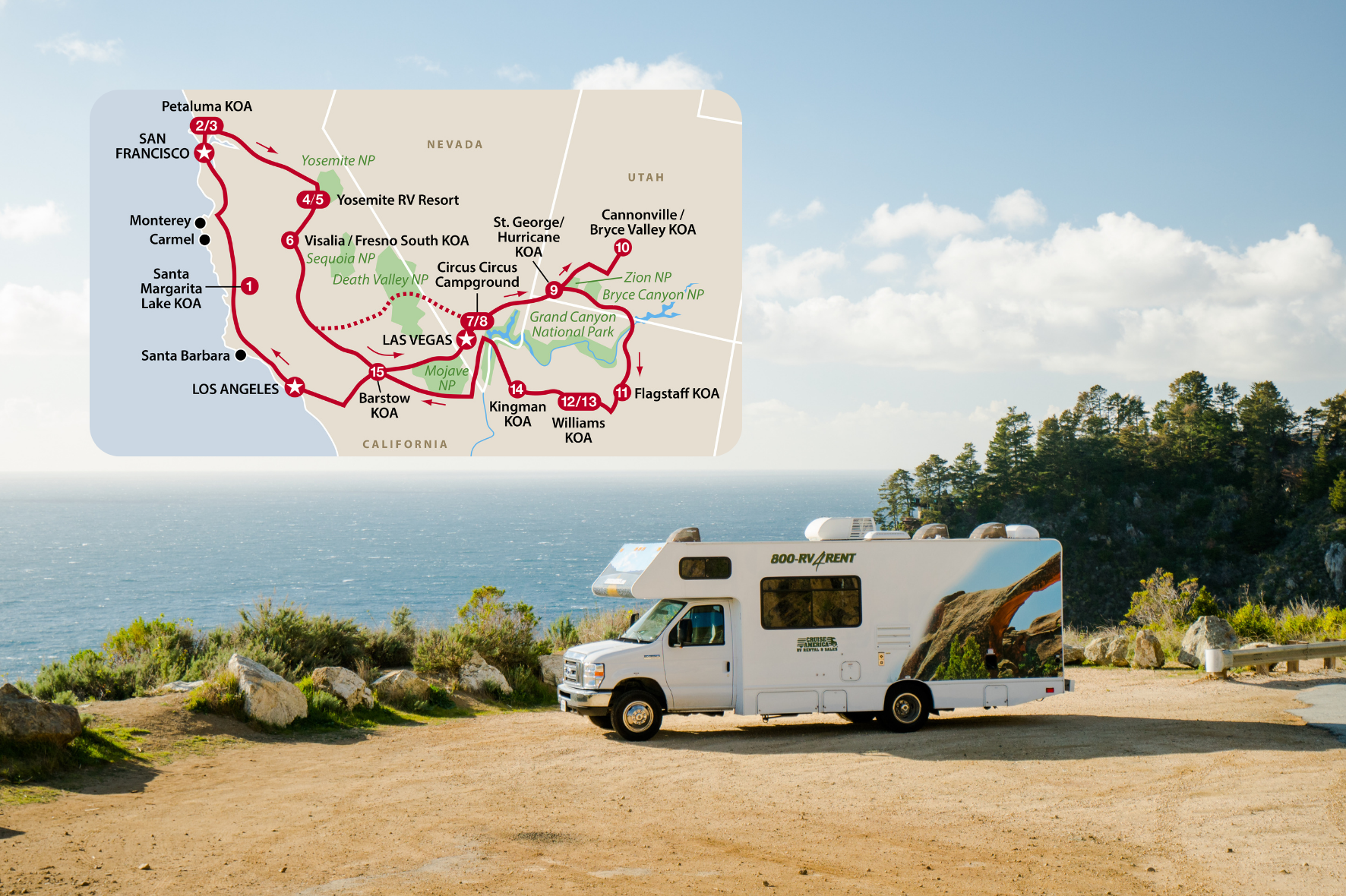 We invite you to the West of the USA. In a motorhome of course! Southern California beaches, iconic national parks such as Yosemite, Grand Canyon, Zion and Bryce, and 3 big cities - Los Angeles, San Francisco and Las Vegas . If you have time and you don't know the West yet, on this tour you will discover its unique atmosphere!
A motorhome tour in the USA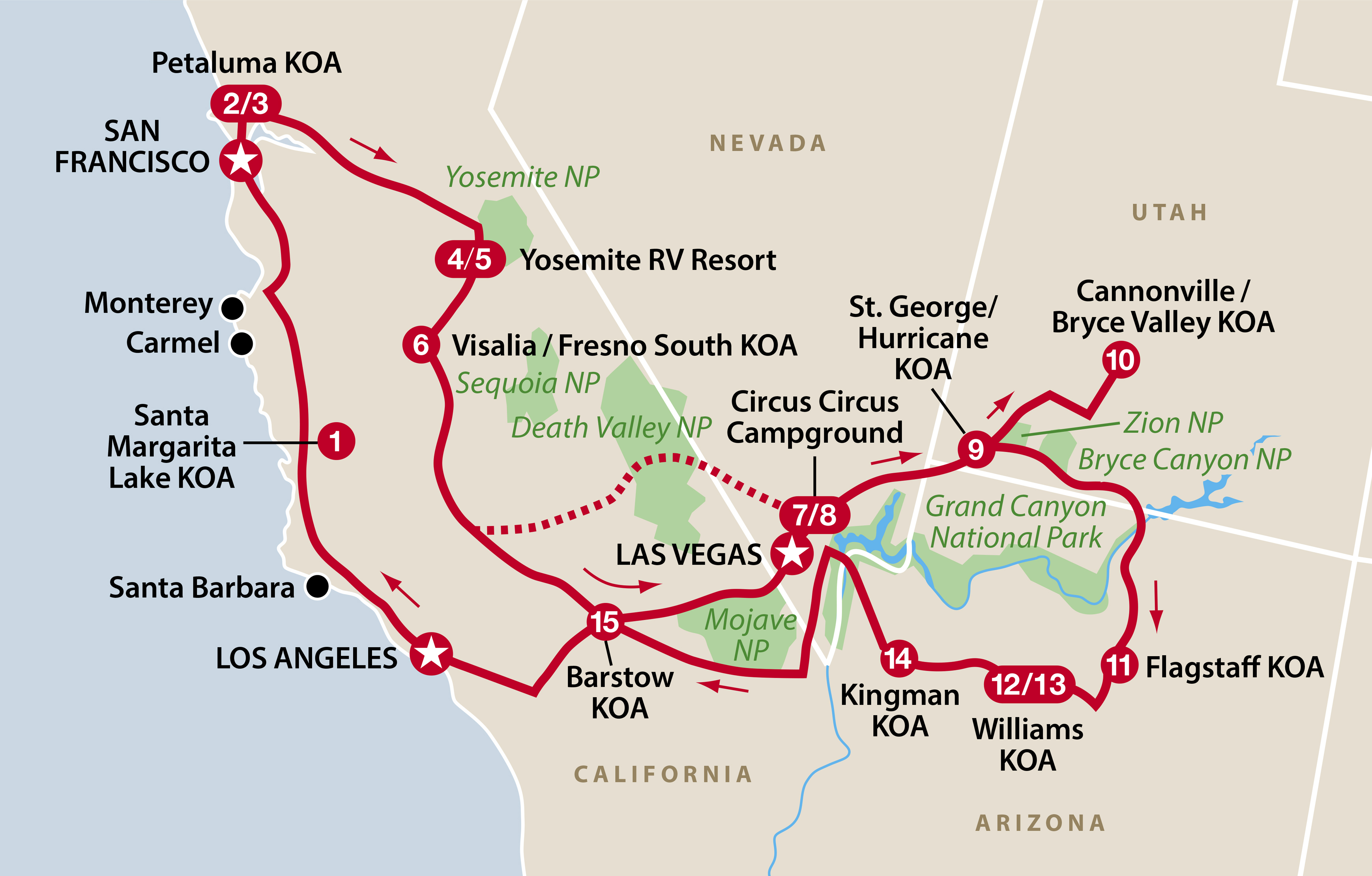 The routes we publish on the portal are created in cooperation with Cruise America - the largest motorhome rental company in the USA and Canada. From September 2020, we are the only and official representative of this rental company in Poland. We hope that soon we will be able to move freely in the US in our motorhome. The costs of such a ready route are given at the end of the article.
If you want us to evaluate your individual RV trip around the USA or Canada - write to us at: [email protected] . Remember that we guarantee lower prices than when booking directly with Cruise America RV Rental . Soon you will be able to check them in person on our website: www.usakamperem.pl. In the meantime, you can download the free tourbook . Renting a motorhome in the USA is safe and simple!
Day 1 - Pick up your camper at Cruise America
Pick up your camper van at the Cruise America point in Los Angeles. For starters, take Route 101 and head north - your first stop is in less than four hours: Santa Margarita Lake KOA Camping. The area around Santa Barbara town is known as the "American Riviera", so you may want to stop at a beach or restaurant along the way.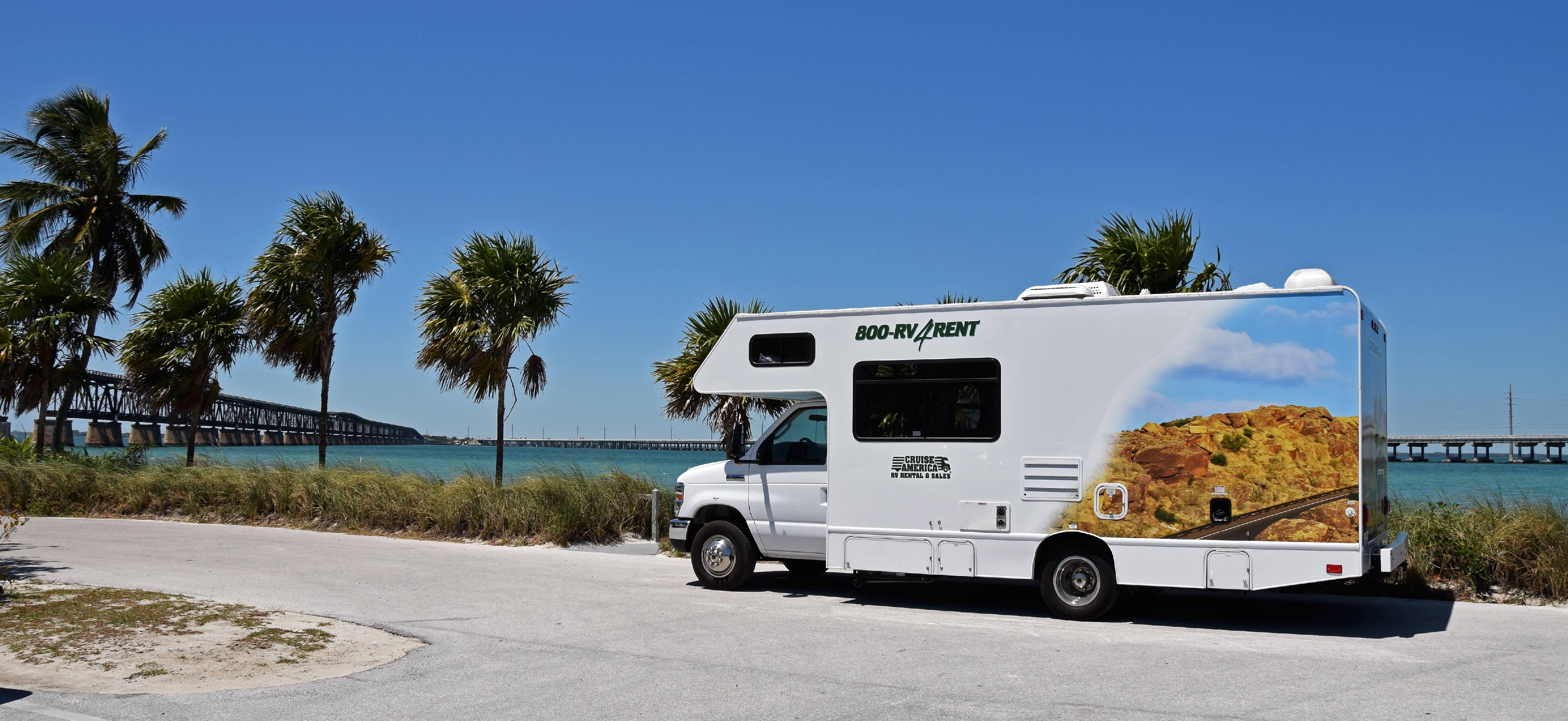 Day 2 & 3 - Cruise America San Francisco
Are we going to San Francisco? En route, stop off at Hearst Castle in San Simeon, 65 miles from the campground. On this day, breathtaking views await you - Big Sur coast and Pebble Beach. You can make a stop in Carmel or Monterey (if you have time, spend one more night in this amazing area). Then we will cross the famous Golden Gate Bridge. Today we head to Petaluma KOA, 34 miles north of the bridge. Another interesting attraction awaits you at this campground - a petting zoo where you can see cows, sheep, donkeys, goats and even peacocks. You can also visit San Francisco with a guide - the tours are organized daily from May to October inclusive. It is good to spend two nights at Petaluma KOA campground.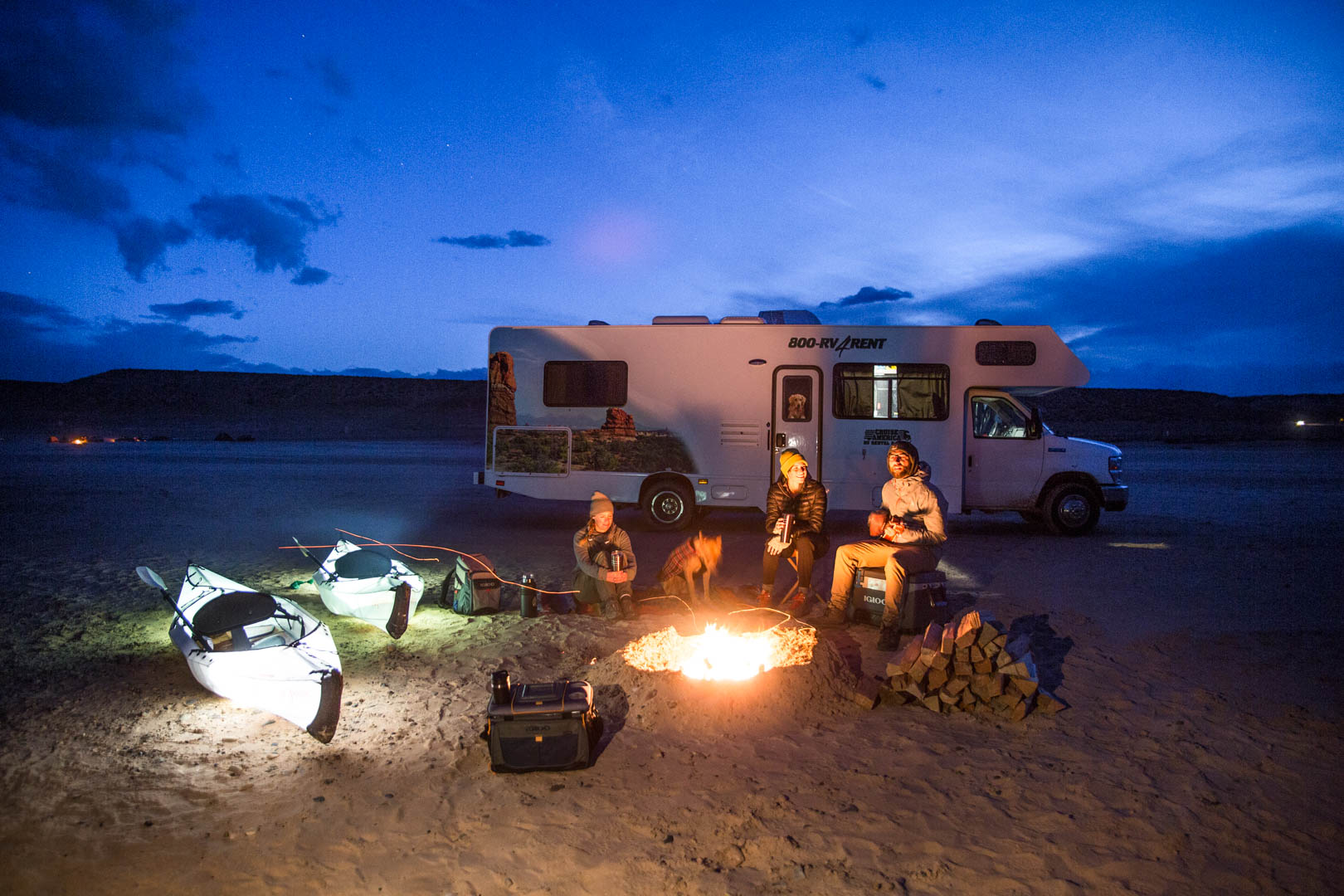 Day 4 and 5 in a camper through California
It is worth setting off early today. You'll travel through California to Coarsegold Town and then on to Yosemite RV Resort. From there it is a stone's throw to the first national park on the route - Yosemite. Leaving San Francisco, admire the view of San Pablo Bay. It's a good idea to stay two nights at Yosemite RV Resort. The campsite is situated on the border of the national park. The drive to the park itself is less than an hour. You have a whole day to discover amazing places. Bridal Veil and Yosemite Falls await you.
Day 6 - RV by Yosemite
It's going to be a long day so leave early. A nice road through Yosemite National Park is ahead of you. Then you will head south through the Sierra National Forest to Fresno. On the way it's worth it
take an hour's lunch break. Then we will travel east on the winding Route 198 to Sequoia National Forest, where you can admire some of the largest trees in the world, and from there we will head to one of the oldest cities in California, called Visalia. It is worth stopping at Sequoia National Park and climbing Moro Rock, from where you can admire the view of the Great Western Divide mountain range. Enter the forest of giant trees, where the greatest representative of the species - General Sherman - is waiting for you!
Stay at Visalia Camping . Interestingly, at most campsites, there are grills next to the plots, which you can use for free. Wood can be purchased on site.
Day 7 & 8 - Cruise America Las Vegas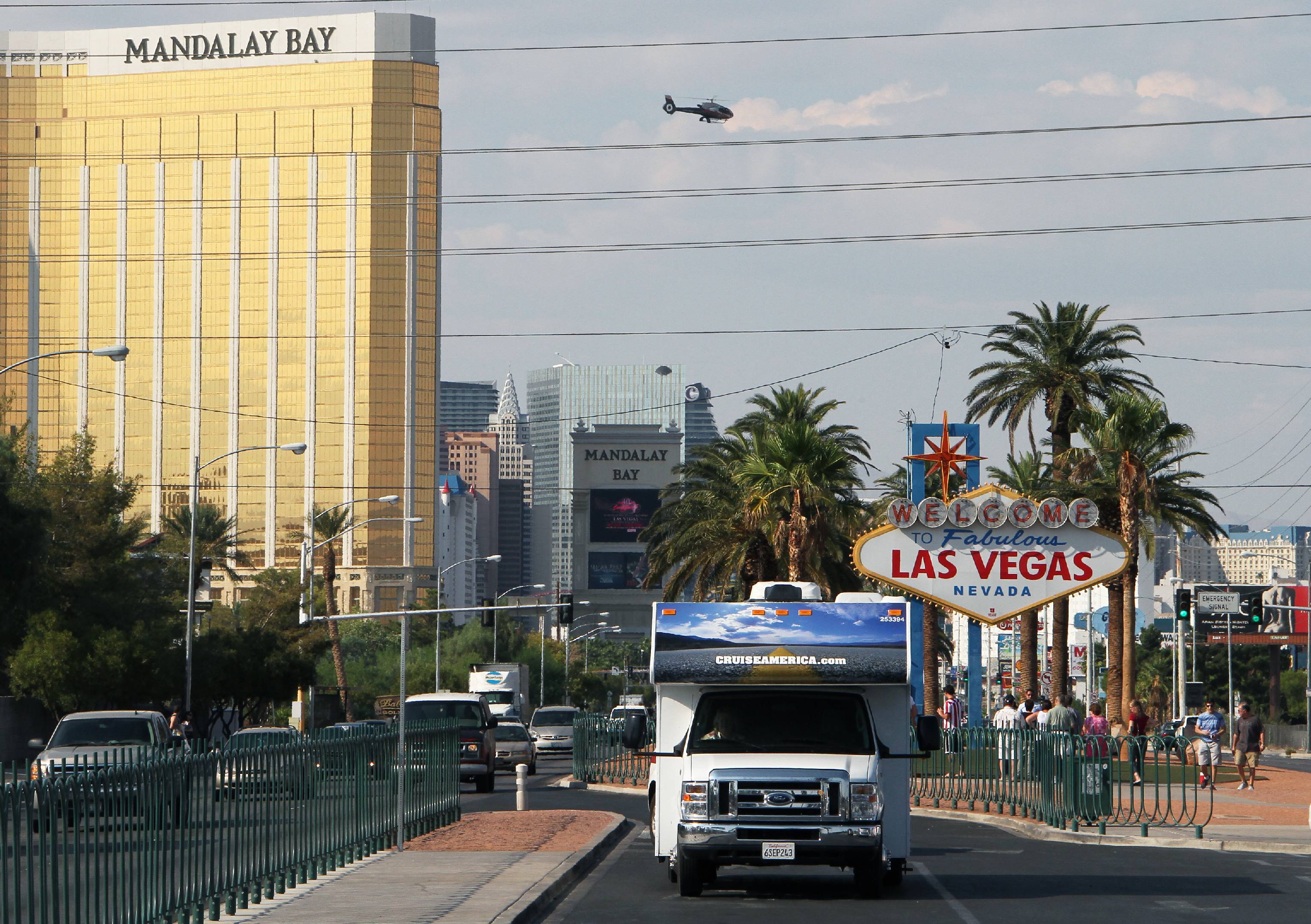 On the way to Las Vegas - we will stay for two nights at Circus Circus Campground . There are seven hours ahead of us, most of the route we cover on the highway. But remember that we're heading to the capital of fun, so it's worth it! NOTE: If you are traveling in the period from September to June and you can afford to extend your stay, it is worth choosing the route through the Valley of Death. Otherwise it's gonna be a really long day. If you manage to extend your stay, you can stay overnight at Furnace Creek Campground . The camper-park next to Circus Circus is located right on the Las Vegas Strip!
Day 9 - Zion National Park
Today it's time for the third national park - this time it will be a park in Utah, located just three hours from Las Vegas. Like Yosemite and Sequoia, Zion National Park is an exceptionally scenic place, although it has a completely different atmosphere. To the west of Zion there is a campsite where you will stay overnight - St. George / Hurricane KOA is located in the most beautiful corner of the state of Utah. If you have the opportunity, go to Angels Landing. You can also visit the Zion National Park in the saddle - if you want to try it, we recommend Canyon Trail Rides. This can be a unique attraction - you can choose to ride an hour or longer, for 3 hours!
Day 10 - Bryce Canyon National Park
Today you need to cover 140 miles to Cannonville / Bryce Valley KOA Campground, approximately 15 miles from the entrance to Bryce Canyon National Park. This park is different from the previous ones. It will surely be an unforgettable experience, so make sure you reserve a full day for this trip.
The great amphitheater-shaped basin with its rock spiers shining pink at sunrise and sunset, is a unique place. There are plenty of lanes, hiking and biking trails, as well as horse riding trails, and if you haven't been able to go horse riding in Zion Park, be sure to try the Bryce Trail!
Day 11 - in a camper in the USA - Arizona
Depart around 8:00 AM to your campground in Flagstaff KOA, Arizona by 6:00 PM - stop for three or four hours along the way and take a trip around Lake Powell. This amazing lake is an artificial body of water on the Colorado River. If there is time, extend your stay here and stay here another night for a trip to Antelope Canyon - it's a photographer's paradise! Rent a speedboat and go to the famous Rainbow Bridge National Monument, or book a seat aboard one of the boats that depart from the Lake Powell Resort Hotel - you can listen to your guide during the cruise. This camping is part of the KOA chain.
Day 12 & 13 - Grand Canyon
You will spend the night at an altitude of over 2000 meters above sea level. In the morning you can ride the cable car to an altitude of three and a half thousand meters and admire the views of the Grand Canyon, Coconino National Forest and Flagstaff. There are several excursion routes from the campground. Or you can head south to Walnut Canyon. There you can admire the ruins of a former settlement carved into the rock walls. From here, head west. 45 miles away, near the entrance to the Grand Canyon is Williams KOA Campground , where you will stay for two nights! Here you have three options to reach the Canyon. You can get into the Cruise America motorhome - it will take an hour to get there and you will feel at home all the time; you can also go on a bus trip organized by camping KOA , or get to the Canyon by the Grand Canyon Railway. KOA campsite hosts will help you book tickets and book a taxi to the station. Various activities await you at the campsite - music straight from live Westerns, horse-drawn cart rides, bike rental, mini-golf and horse riding.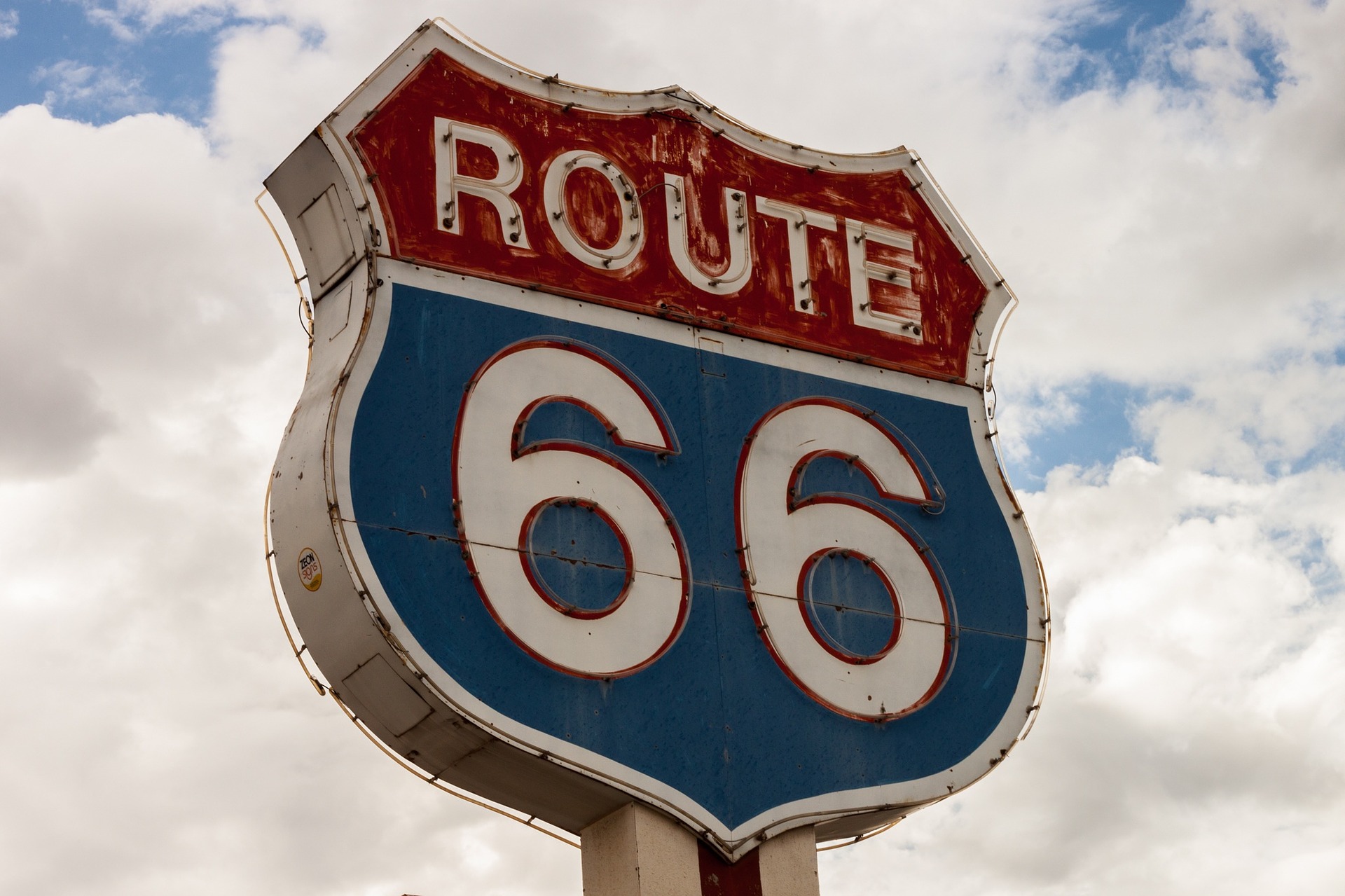 Day 14 - Route 66 by RV
It's time to go back, but don't be in a hurry - in the morning you can still enjoy the attractions on the Williams campsite. Today we will have to cover 125 miles, 82 of which are legendary Route 66, state road 66. We hope you enjoy it !! On this day, we go to the Kingman KOA camping. There you can relax in the large swimming pool in the middle of the desert surrounded by the Hualapai Mountains. Nearby you will see the wheel marks left by the pioneer cars - this is the Fort Beale Wagon Trail.
Day 15 - Mojave Reserve
This is the penultimate day of the trip, but this time there are as many as three stops. You're headed west. The first stop is another iconic place on the Colorado River - famous. Pause for a moment to get a closer look at this achievement of human thoughts, then head to Boulder City and from there south around the Providence Mountains and on to the Mojave National Preserve.
The penultimate stop will be the Mojave National Preserve. It's a desert corner in southern California, home to singing sand dunes, volcanic cones, yucca and colorful flowers. You will find all this on an area of over six hundred thousand hectares. As you explore canyons, mountains, and plateaus, you'll discover deserted mines, farms, and military outposts between rock walls. In the evening you will stand at Barstow Camping .
Day 16 - This is the end of your US camper van trip
Today, you will travel three and a half hours to Cruise America Carson (150 miles).
USA in a camper van. Details of the trip
US camper pickup location: Los Angeles
Place of delivery of the camper in the USA: Los Angeles
Duration: 16 days
Motorhome route length: 2,360 miles
Costs by camper over the USA - camper C25
Cruise America camper type C25 is the best type of camper if you want to go on vacation with children. How much does it cost to rent a 5 seater motorhome at Cruise America today (5/30/2022)? The price is only valid this week and changes every Sunday. C25 is a 5-person camper, in fact 4 + 1. You can read more about the types of motorhomes in the tourbook .
October 2022 motorhome rental in Los Angeles: approx. $ 1,650.00
May 2023 motorhome rental in Los Angeles: approx. $ 1,360.00
The cost of renting a motorhome in July 2023 in Los Angeles: approx. PLN 3,200.00
To rent a motorhome, you need to add:
Cost of purchased miles: Approx. USD 1,050.00 (Unlimited milage)
Deposit: $ 500
Camping costs: it can be assumed that an overnight stay at a campground will cost between $ 20 and $ 60 per night.
Fuel Costs: With an average fuel price currently in California of $ 6.14 / 1 gallon, the cost of a 1,000 mile drive is approximately $ 614-1014. Cruise America camper vans can be driven from 6 miles to 10 miles on 1 gallon of fuel. Hence the forks.
You can add to the rent:
Motorhome Supplementary Insurance : $ 14.95 per day
Early Bird Departure: Approximately $ 480.00
Personal kit (i.e. pillows, sheets, sleeping bag, towels): approx. USD 75 / person
Vehicle Profisioning Kit - $ 125
A personal kit is an additional option here, because tourists often prefer to drive to Walmart and buy all the necessary things themselves, which is much cheaper.
Rental rates for May and July include the Early Booking Discount from Cruise America, which is valid for bookings through the end of the current year. The price changes every week. The given prices do not constitute an offer within the meaning of Article 66 (1) of the Civil Code.
We are the only official representative of Cruise America and Cruise Canada in Poland. From 2020, you can easily and safely book a motorhome in the USA or Canada. We know when and where it is best to rent a motorhome. We will answer all your questions and doubts by e-mail or telephone.
Enjoyed reading this article? Share it!