Złotniccy motorhomes face new challenges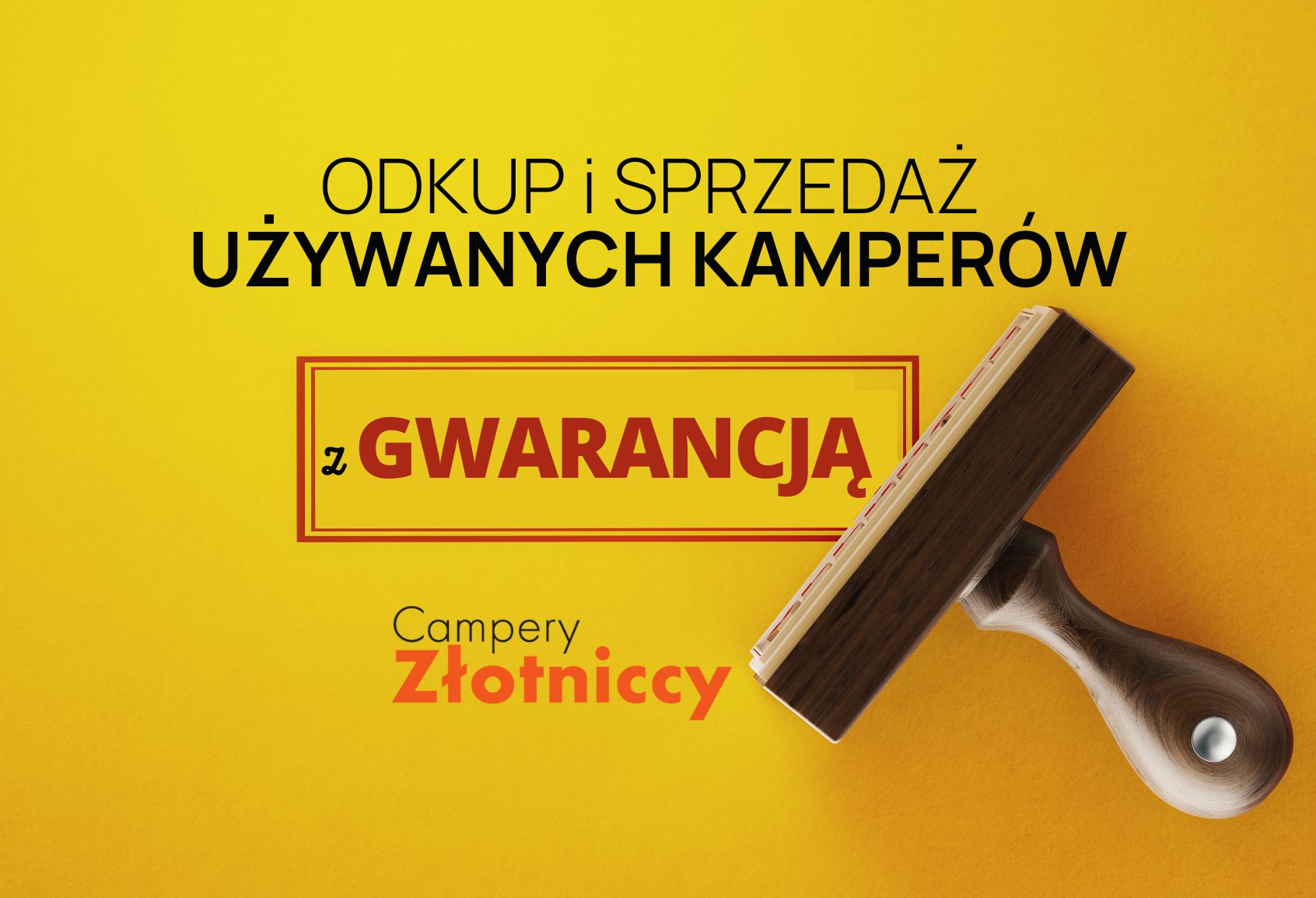 Kampery Złotniccy is a family company that has achieved significant success in recent years - and not only in the caravanning industry. In addition to the sale of new recreational vehicles from reputable manufacturers, we can use a professional service here, as well as renting motorhomes and vans.
The phenomenal development of the industry that we have observed since the pandemic has passed, however, and many companies are forced to adapt their business profile to the new reality. We were able to talk to the owner of the company, Łukasz Złotnicki, about the challenges and prospects.
MK: Łukasz, we welcome you back to our pages and once again we have to ask the question: what are the moods and prospects in the industry?
ŁZ: Well… Without a doubt, we are currently dealing with a collapse in demand. Diagnosing the situation, we come to the conclusion that this state of affairs consists of several factors.
On the one hand, the availability of new motorhomes is still poor, on the other hand, it should be emphasized that after repeated increases in prices, there are much fewer people willing.
However, we notice another peculiar phenomenon. After 2 years of the Covid boom, an evidently large group of users comes to the conclusion that the purchase of a motorhome was not entirely successful.
Especially private individuals and entities who, encouraged by the vision of easy earnings, decide to part ways have invested in one or several motorhomes for rent. Demand in this area has been significantly reduced. Small, backyard motorhome rentals ceased to bring profits, and the costs of maintenance/leasing remained.
Exactly. This brings us closer to the topic I wanted to ask about - can this state of affairs have any impact on your business?
Directly and indirectly, we see a certain opportunity here. There are offers for the sale of used cars - even one-year or two-year ones, often associated with the takeover of leasing.
Our idea is to act as an intermediary - we want to facilitate the sale and purchase of such cars.
Buying a used motorhome is as safe as buying a new car. Therefore, the vehicles we offer are to have a real warranty, even comparable to the factory warranty. It is to be 2 years or be limited by the mileage, the limit of which we have set at 40,000 kilometers.
It is not and is not intended to be an insurance policy of dubious quality, which can be found in companies dealing in the sale of used passenger cars on a large scale. Our guarantee is in writing. This requires a thorough verification of the technical condition of the cars and their on-board systems. The tightness of the building is also an important element.
In practice, so you will focus on almost new cars?
Not necessarily. Of course, we will work hard with "fresh" cars, but not exclusively. There are a lot of well-maintained motorhomes on the market, even 10 years old, in impeccable technical condition.
Also such cars, after appropriate verification, can be covered by our program. However, we care about meeting high quality standards and we will certainly not turn a blind eye to any shortcomings.
The value of the purchase will also depend on the condition of the car and the condition of its equipment. We also reserve the right to offer used cars not covered by the aforementioned warranty, if it does not meet the specified standards and does not pass the initial qualification.
What kind of cars (brands, types of bodies) are the most attractive for you from the point of view of this program?
Of course, we first look at the brands that we distribute as new cars, but we have no problem with servicing/buying other brands. The alcoves and semi-integrated ones are the most interesting for us, full integrateds are rather rare, as are tinplates. However, we will consider any offer.
However, the needs of customers are different - sometimes sophisticated. Is it possible to commission you to search for a dream model / layout of a motorhome used, for example, abroad?
Of course, we have our sources and the ability to search for cars abroad, but we rather try to focus on the scheme related to repurchase/exchange. We have an extensive customer base and in case of interest we are looking for who has bought a given model from us in recent years. We contact and ask if they are interested in selling/exchanging the vehicle. This is a natural way for us to acquire proven cars.
I would like to return to the issue of guarantees - do you have the technical potential to comprehensively service such a program?
Yes of course. Our strong point and the apple of our eye was, is and will be a professional, fully equipped service. For us, this is an elementary issue in the context of the company's development and ensuring an appropriate level of customer service.
With the facilities we have, we are able to handle the full spectrum - from mechanical repairs, through the installation of accessories, to more advanced post-accident repairs.
You mentioned that many of the cars offered for sale are leased motorhomes. Is the user change/assignment process a complicated process?
The process of financing and leasing assignment are, in principle, similar. Such an assignment is not problematic. The annex to the contract is the only additional operating cost and amounts to several hundred zlotys.
Because in many cases the cars are already paid for in a large part, the current user usually expects the payment of the so-called transferee. From a formal point of view, we supervise the entire process , and as an intermediary, we issue an invoice for the brokerage service, containing the most often mentioned amount of the transfer fee.
And what is the status of your motorhome rental fleet this year?
This year, due to the challenges we have to face, we will register more motorhomes from the 2022 model year (and not 2023). The fleet of our motorhome rental in the season usually oscillates around 20 vehicles for rent (sometimes there are more).
This year, more cars will be equipped with amenities that were not there before - for example, we focus on powerful solar installations , including those capable of powering stationary air conditioning without connecting to an external power source. Many of our vehicles are already equipped with Gas Bank systems that allow you to refuel gas from the outside without having to replace the cylinder at times.
In addition, it is worth noting that we offer the motorhome rental service throughout the year and all models are winter versions.
During our last conversation, you mentioned the formal difficulties you encountered while planning your new headquarters. Is there any progress yet? < link to previous conversation >
Yes, fortunately, things have gone in the right direction and we are now waiting for the decisions of the authorities. If everything goes according to plan, we will start construction in the first half of 2023, and the move could take place as soon as next year.
Our new spot will be quite close to the current headquarters, because in Henryków-Urocze at ul. Gromadzka.
Thank you and we wish you a successful season, we keep our fingers crossed for record sales against all odds.
I feel best in the form of trade fairs and meetings with enthusiasts. Technical freak. In my life I have dismantled many motorhomes for the first time. Fan of large vehicles, mountain biking and traveling without weight and financial restrictions. At CampRest, I am responsible for all publications on automotive topics.
Enjoyed reading this article? Share it!