Ah, how nice it is to be a nudist ...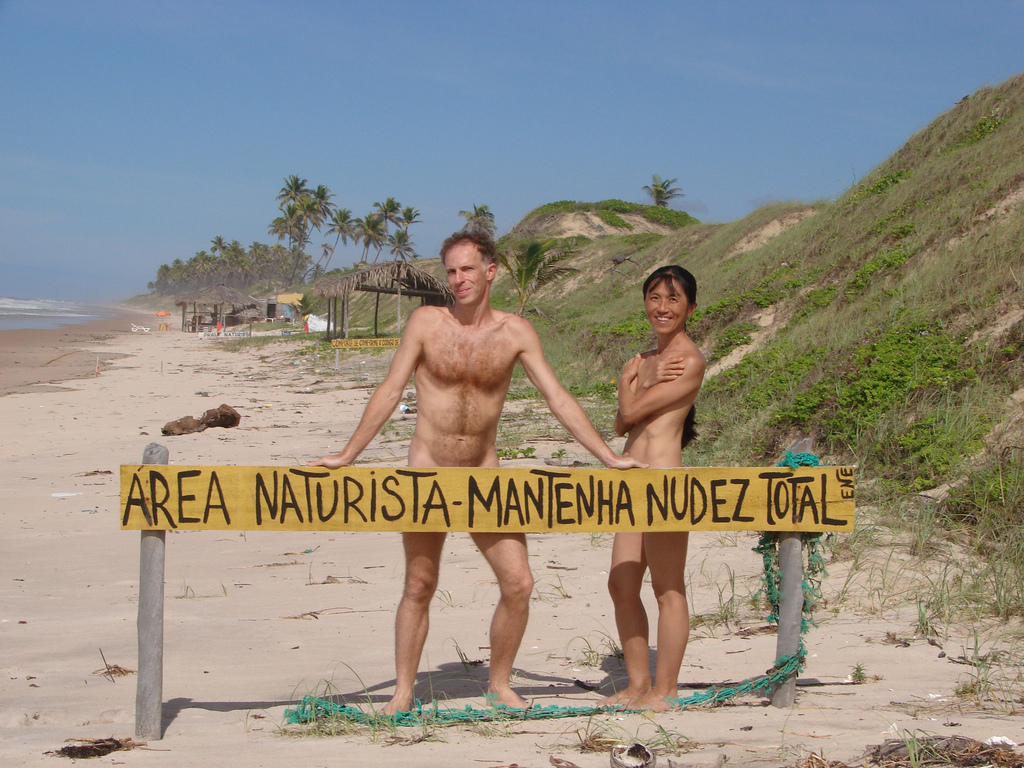 Ah, how nice it is to be a nudist ...
Goal - it's an equal tan. To get it, you have to undress. There are plenty of places in Poland where you can easily throw off your clothes. We also have a long tradition in this.
As the audience is usually unwelcome, nudist beaches are usually located in quiet and secluded areas, only a few kilometers from the resorts. Some are known and marked, others only those who are interested know about them.
Soon you will be able to meet us in Chałupy , where - as is well known - you can sunbathe naked. It is the oldest and most famous nudist beach, which was established in 1960.
"As every year in Chałupy, when the heat begins, you can hear a great noise, you can meet a naked man, like on a beach in Mombasa, a whole crowd of naked people."
That's how Zbigniew Wodecki sang and the fans of this place on the eastern side of the beach are still humming, which stretches for almost 4 kilometers and lies roughly halfway from Chałupy to Kuźnica. If you want to go there, you should leave Chałupy on the northern beach and head east along the seashore. It will take about 40 minutes.
The song became a summer hit of 1985, and by the way, an informal hymn of native gentlemen.
The naturist movement, however, appeared in our country much earlier - already in the 70s, thanks to Sylwester Marczak, a legend among naked compatriots and the founder of the Polish Erotic Party.
"A blind man has never been seen on a nudist beach," Woody Allen
The next place is Dębki. The section designated for nudists stretches just beyond the mouth of the Piaśnica River for over 7 kilometers west to the town of Białogóra.
If, however, you are shy - we recommend one of the longest and most "private" beaches. It is almost 10 km long Pogorzelica-Mrzeżyno , along which there is not a single town. It is surrounded by the grounds of the former military unit, and privacy is protected by a net.
In turn, the Chłapowo-Rozewie beach stretches for about 2 kilometers. A high cliff protects them from voyeurs there. Interestingly, this place was founded by the inhabitants of the village 12 years ago.
Other such places are located in Rowy , Łebie-Rąbce and Piaski .
There are also plenty of lonely places in Jurata. Wild beaches stretch from this town all the way to Hel itself. The nudist beach is located 3 kilometers east (towards Hel) from the last descent to the beach. It is not marked, so sometimes you can find "textile" ones there.
In the vicinity of Jastrzębia Góra, you can relax on a small unmarked rocky beach in Lisie Jar .
Finally - the definition of naturism, which was adopted by the now defunct Association of Polish Naturists, but is still valid.
NATURISM is a way of living in harmony with nature, characterized by the practice of shared nudity in order to promote a model of respect for oneself, for other people and for all of nature.
Naturists rest naked in conditions where clothing does not have a positive function and disturbs, i.e. when sunbathing, bathing, using the sauna and baths.
Naturism is practiced in isolated or secluded places among supporters of this form of recreation.
A naturist can be any man who is characterized by a high level of personal culture, cares for his own health and that of others, for hygiene and body aesthetics.
Naturists cannot be indifferent to the problems of the ecological threat, because a naked man in the surroundings of devastated nature looks grotesque.
"Yeah, it looks like ... You're crazy, you're crazy, you're crazy. But I'll tell you in secret. Only crazy people are worth something ..." Alice in Wonderland- Tim Burton
Enjoyed reading this article? Share it!