The most beautiful beaches in the world - Albuferia in Portugal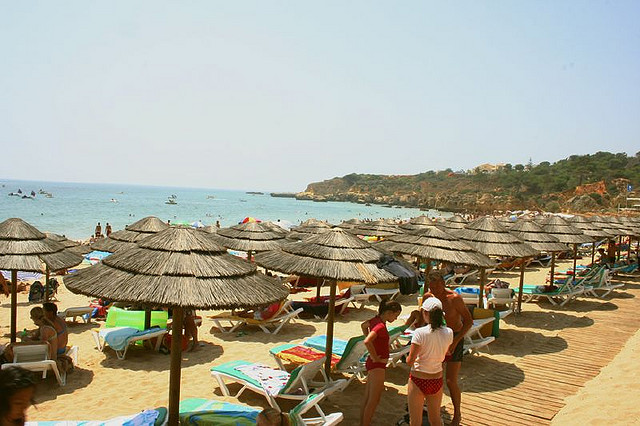 The Portuguese commune can boast as many as 19 places marked with the "blue flag" . Statistically, over half a million tourists come there in the season, which is why the town with 40,000 inhabitants experiences a real siege.
There is also one of the most luxurious marinas in the world - Marina de Vilamoura , and the rich and famous open their businesses.
No wonder, because the town has the most world-class beaches in all of Portugal. In total, over 270 places can boast the blue flag in this country and the number of places is still growing. Another advantage is a very high degree of sunlight and, as you can easily guess - few cloudy days.
The Blue Flag is a distinction awarded to localities that meet the highest criteria in the field of water purity, environmental management, safety, as well as educational and information activities.
However, Albuferia is not only about sunbathing. The town is very picturesque. Anyway, the name itself in free translation means "castle at sea".
If you are fed up with the crowds, it is enough to escape further to the sea. Parking places for motorhomes are located by the ocean and it is easy to find very intimate corners. Caravans recommend the entire west coast of Portugal on their blogs.
However, if you are not going to Portugal, and you want to have beautiful beaches - just go to the Baltic Sea. The beaches in Świnoujście, Kołobrzeg, Szczecin, Gdynia, Gdańsk, Sopot, Pobierowo, Pustków, Pogorzelica, Trzęsacz, Mrzeżyno and Ustronie Morskie were marked with a blue flag.
Around the world, 2,949 beaches and 662 marinas can boast this prestigious title.
"Yeah, it looks like ... You're crazy, you're crazy, you're crazy. But I'll tell you in secret. Only crazy people are worth something ..." Alice in Wonderland- Tim Burton
Enjoyed reading this article? Share it!