Attractions in Switzerland are breathtaking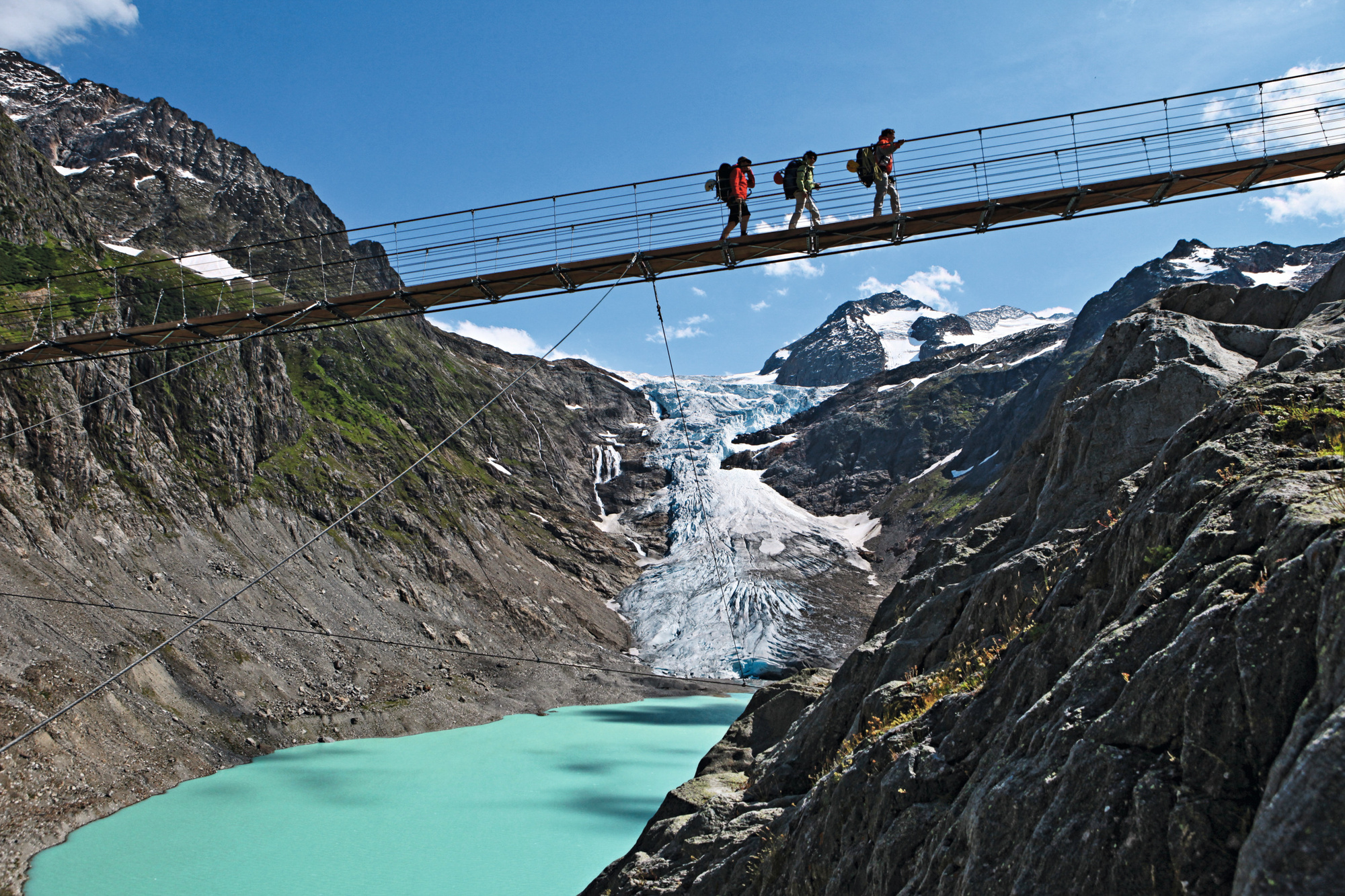 That Switzerland is beautiful is known not from today. Although the country is not very large, it impresses with attractions and landscapes like from postcards. However, there are places in it that take your breath away and do not let you forget about yourself. Take a closer look at them.
Thousands of tourists visit Switzerland in the winter season, because they are tempted by snowy slopes. However, we want to show you the attractions for summer and autumn. You will embark with us on an amazing journey to areas that can be reached by the panoramic train. First Flieger zip-line, the Rhine waterfalls viewed from a boat or Interlaken from a paraglider are just a few examples. We invite you!
First Flieger zip line - only for the brave!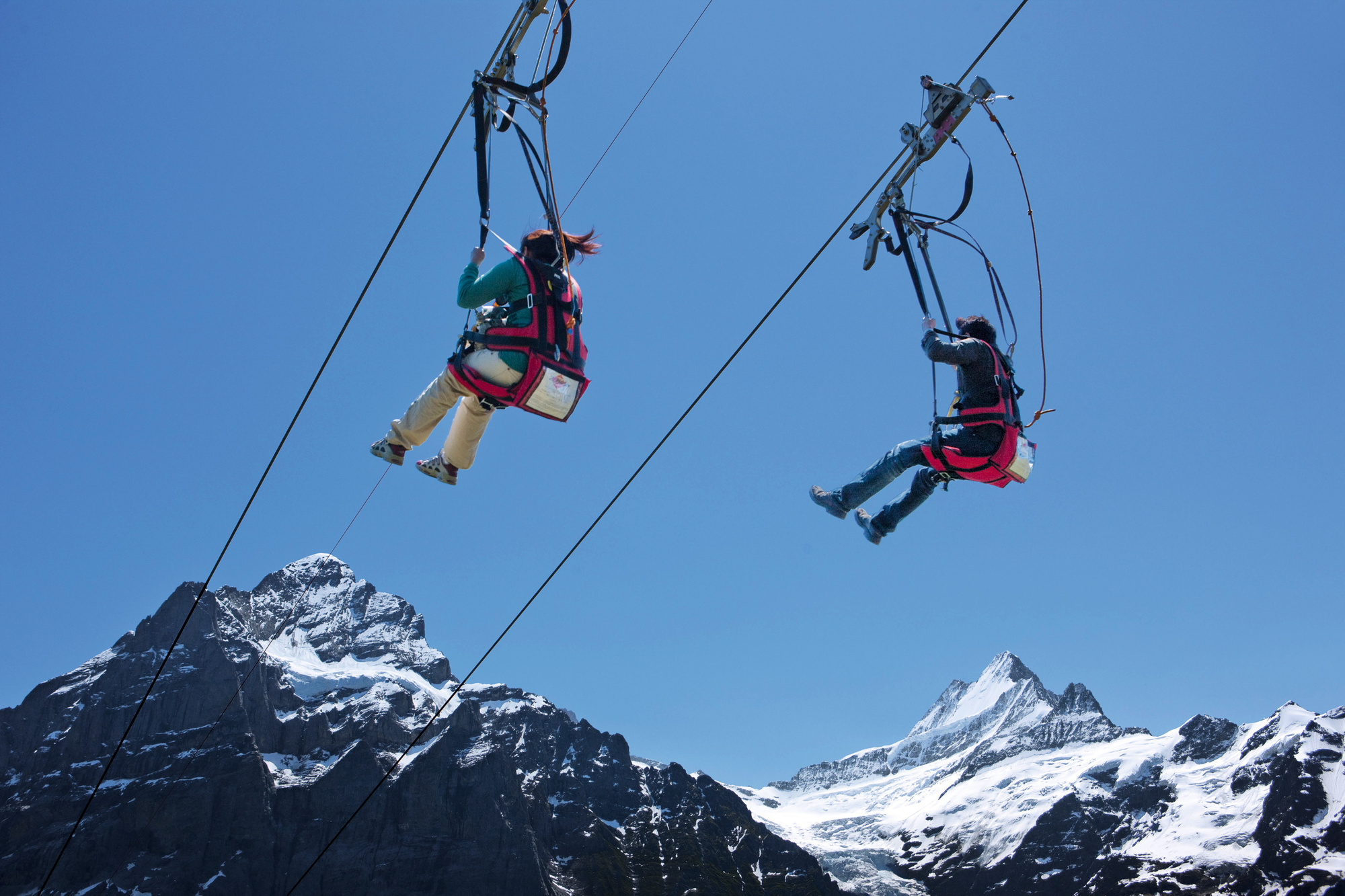 Forget it if you feel faint at the thought of stepping into a cable car. Get it out of your head if you have heart palpitations at the sight of a chairlift. First Flieger is a much higher - literally and figuratively - level of entertainment. This cable car will take you to the intermediate station, Schreckfeld, but it's not about transportation, it's about adrenaline. And it's such that it requires signing the appropriate statement. If you suffer from heart disease or any other condition on the list, this is definitely not for you.
The First Flieger zip line is a huge attraction of the Swiss Alps, and the only one of its kind in Europe. It's more of a flight than a ride, especially since it takes place not in a trolley or a chair, but in a parachute-like harness. You'll feel like you've jumped out of an airplane. Some even compare it to bungee jumping. You will go down at a speed of up to 84 km/h. You will overcome over 170 meters of level difference. The distance is 800 meters and ends with a sharp braking . The drive is short, but you will remember it long after you return from Switzerland.
We recommend First Flieger to daredevils who visit Bern and the surrounding area, including Grindelwald. The areas encourage hiking and are also great places for bird watching.
Paragliding in Interlaken - sightseeing from a different perspective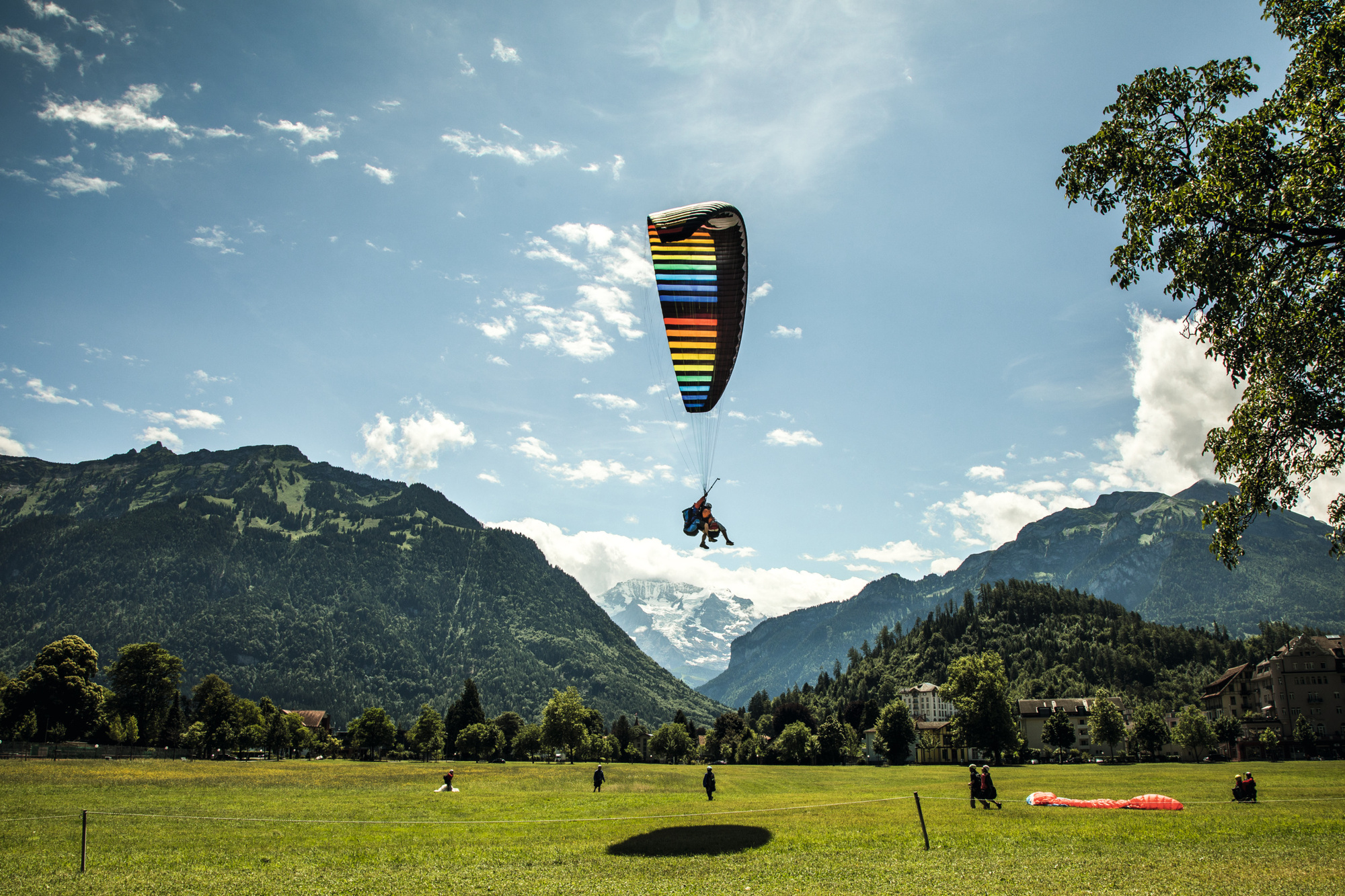 Another proposal that literally takes your breath away is also not for everyone. You can use it when you stay longer in the canton of Bern. Do you love extreme experiences? Then enjoy a bird's-eye view between Thun and Brienz , the two lakes where Interlaken is located. The city took its name from its location (inter - between, laken - lakes). It captivates with its beauty no matter from which side you look at it, but it really captures your heart from above.
In the warm months you have the opportunity to soar above the resort. During the paragliding flight you will see not only Interlaken or the Eiger massif, but also the waters of Lake Thun. Just decide to take a longer flight to see much more. The basic offer includes a journey lasting 5-10 minutes, and the extended one from 12 to 30 minutes. Apart from Thun, you will admire Brienz, and beyond the Eiger - Jungfrau, Schilthorn, Titlis or Mönch. With a paragliding flight you can start the day off perfectly. You won't need coffee, because it will be replaced by a flight lasting about 10 minutes at sunrise.
It is worth emphasizing that in summer and autumn more entertainment awaits you here to make your heart beat faster. The brave choose rafting, kayaking or the so-called jetboats, or fast boats. Those who prefer a safe (and peaceful) view of the landscape can board a cruise ship and enjoy the alpine landscapes.
Triftbrücke suspension bridge - a walk in the clouds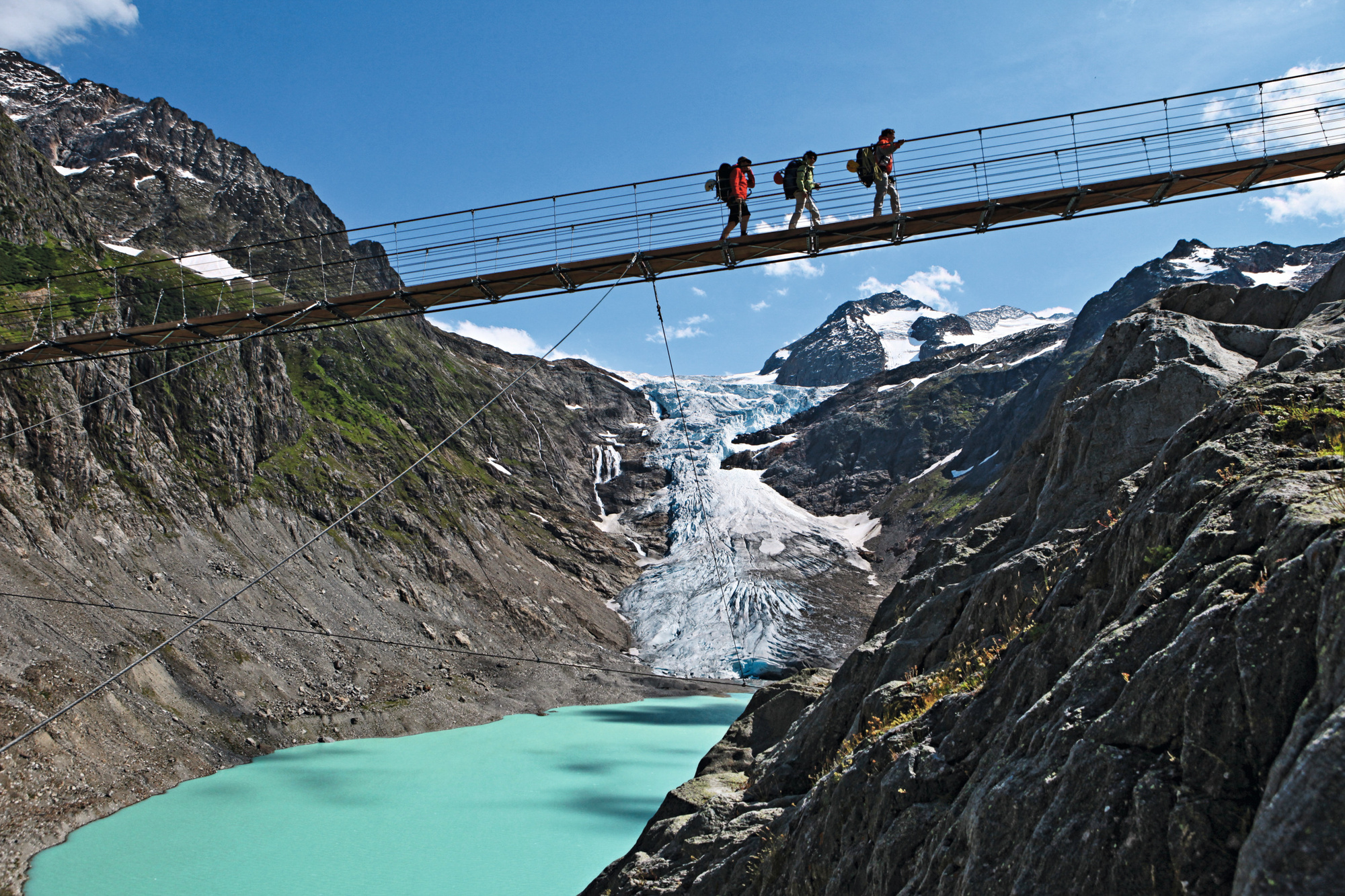 The next item on our list may not be as... dynamic as its predecessors, but it doesn't take away from its attractiveness. The Triftbrücke suspension bridge is located on the Sustenpass, which connects Bern to Uri. Innertkirchen on one side, Wassen on the other. What does it mean? When traveling by panoramic train, you should make a longer stop in this part of the country. The region is full of fantastic places to explore. And activities to check on your own skin - or rather with your own feet.
Walking on the Triftbrücke, you feel a slight sway. The very fact that you are on something so seemingly fragile, which hangs at such a height, makes many stomachs jump to the throat. Fortunately, this fragility of the structure is only an appearance. The bridge is 170 meters long, it is well secured with a net, and it is supported by four load-bearing ropes. Each of them withstands a weight of 18 tons. In addition, the bridge has wind protection in the form of two side ropes that go down diagonally.
How do I get to the top of the trail? By cable car from Gadmen, alternatively by the eastern or western route marked T3 (mountain). However, this is an option for people with good shape and plenty of time. In addition, we advise against going on routes before June - then there is still a layer of snow on them.
If you want to stay here longer, you can stay in the aforementioned Gadmen, Meiringen or Brienz. You can also find accommodation in Hasliberg or Innertkirchen.
Titlis Cliff Walk - a pedestrian bridge along the cliff of Mount Titlis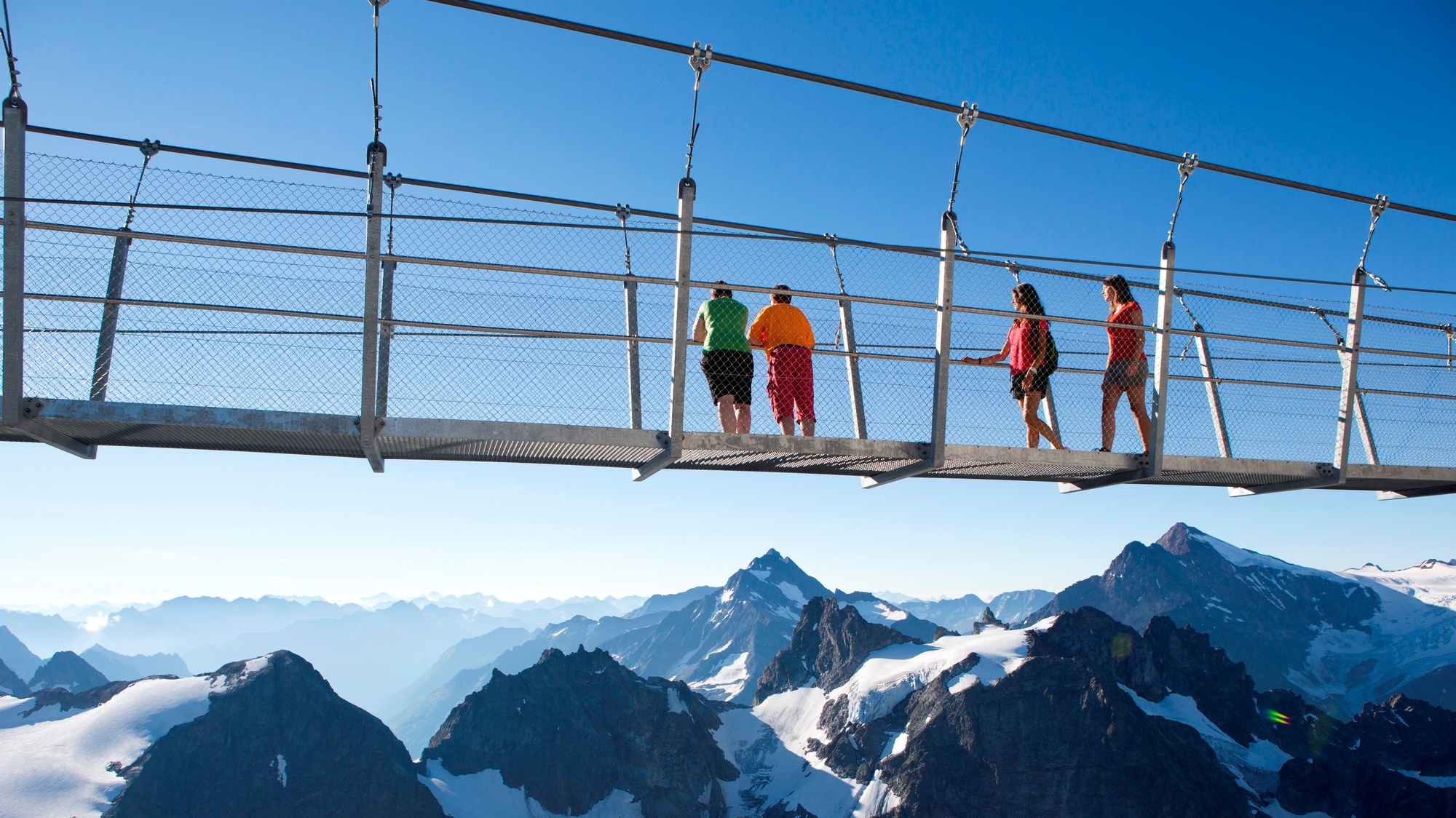 Do you miss walks on a shaky surface? If so, we have another suggestion - Titlis Cliff Walk . This is a pedestrian bridge stretching along the cliff of Mount Titlis in the Swiss Alps. It was built at an altitude of about 3000 m above sea level, which makes it considered the highest structure of this type in Europe. It dethroned another Swiss bridge, the Salbit Bridge (Salbitbrücke). If you want to spice up your holiday in the Interlaken area, go for a walk along the cliff. It is worth doing, especially since it is a really short distance from its predecessor, Triftbrücke.
A meter wide, about 100 meters long between one rock and another. The Titlis Cliff Walk provides people walking it with an adrenaline rush for the day. Climb the bridge from the viewing platform and you will see a drop of more than 500 meters under your feet. It really makes an impression, even without the spectacular landscapes that you will have in front of your eyes.
If you want additional attractions, you can fly over the glacier. The "Ice Flyer" chairlift is waiting for tourists. During the ride you will see chasms a meter or more deep. Better not to lean out.
Boats at the Rhine Falls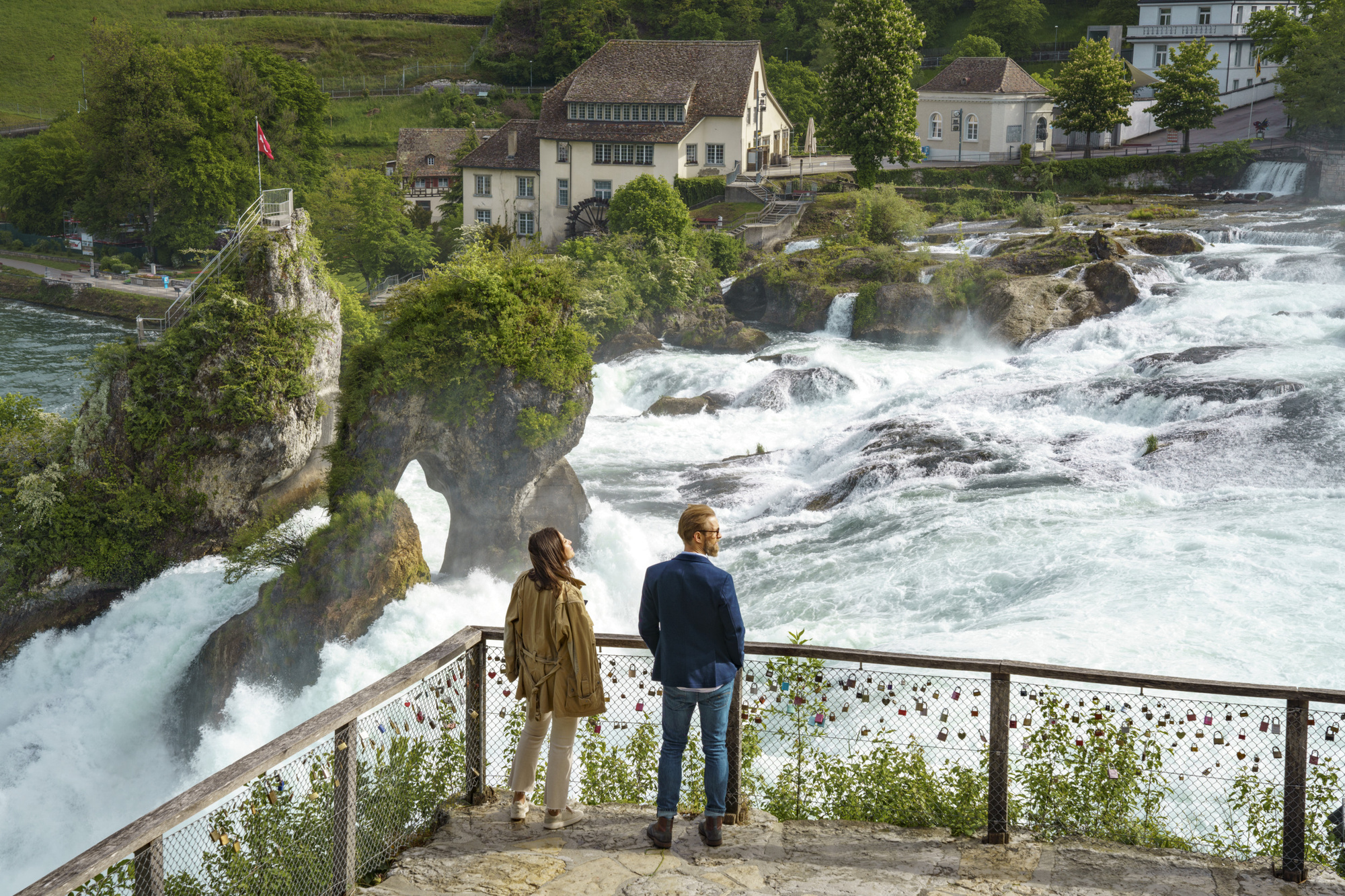 Now let's go down to the ground, or rather to the water. The next proposal we have prepared for you is Rhienfall. We recommend the tour to everyone who wants to go to Zurich or St. Gallen. By train you can also reach Stein am Rhein, and from there you have a stone's throw to your destination. Don't miss the opportunity to see - and hear - the biggest waterfalls in Europe!
Rhienfall has captivated millions of tourists from all over the world, which is not surprising at all. When you come here, you will understand why. If you imagine a romantic date by the gently roaring water, it's definitely a bad association. The waterfalls are noisy, the falling cascades roar, and there is a damp mist in the air. This does not change the fact that the participants of the expedition are having a great time.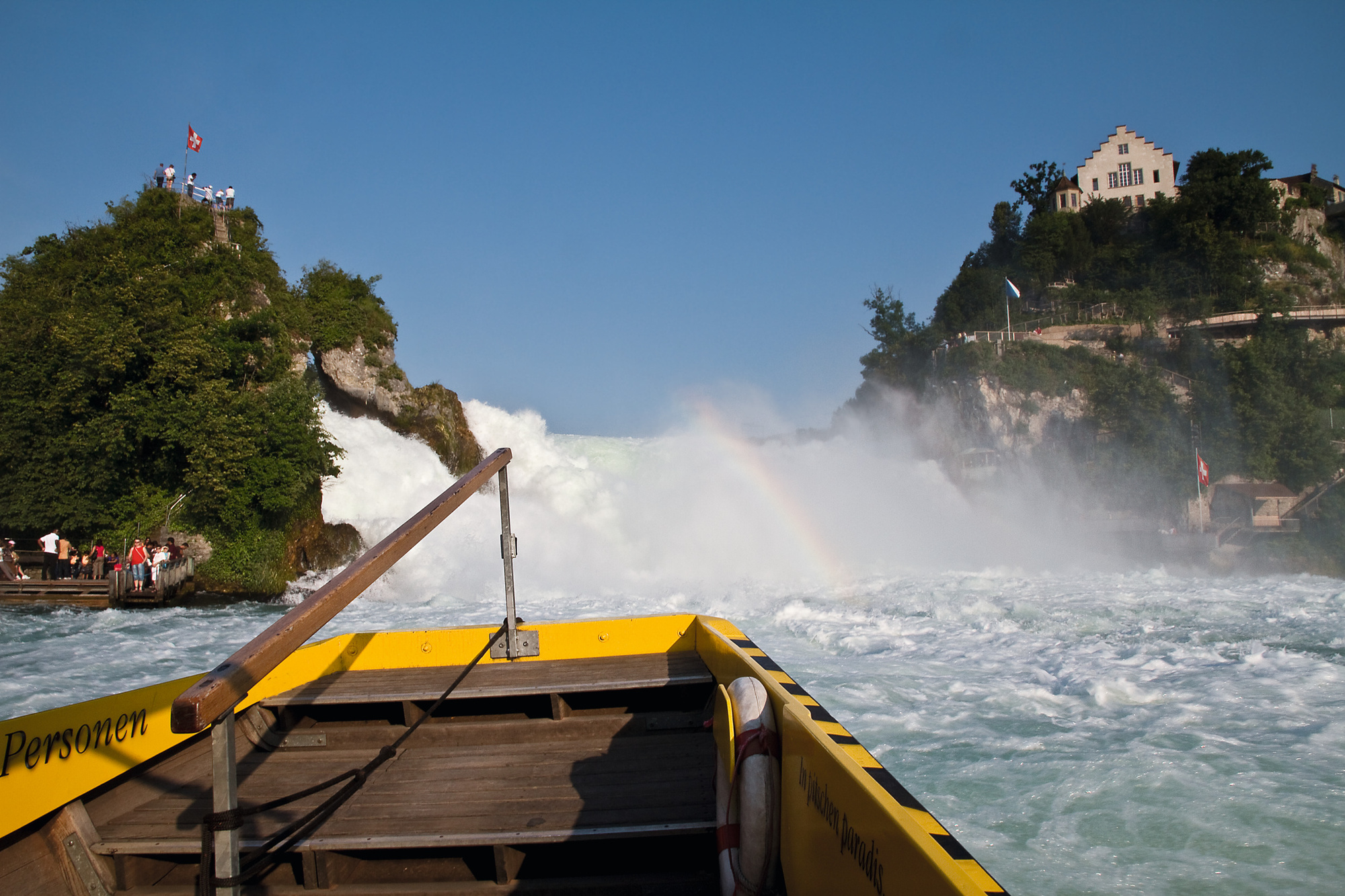 You can enjoy the views from Laufen Castle or from Schaffhausen. Tourist boats depart from both sides of the river, so those willing have the opportunity to go on a boat trip. You can choose different variants of the Rhine tour - information can be found at the marina.
"Roller coaster" Gelmerbahn, Guttannen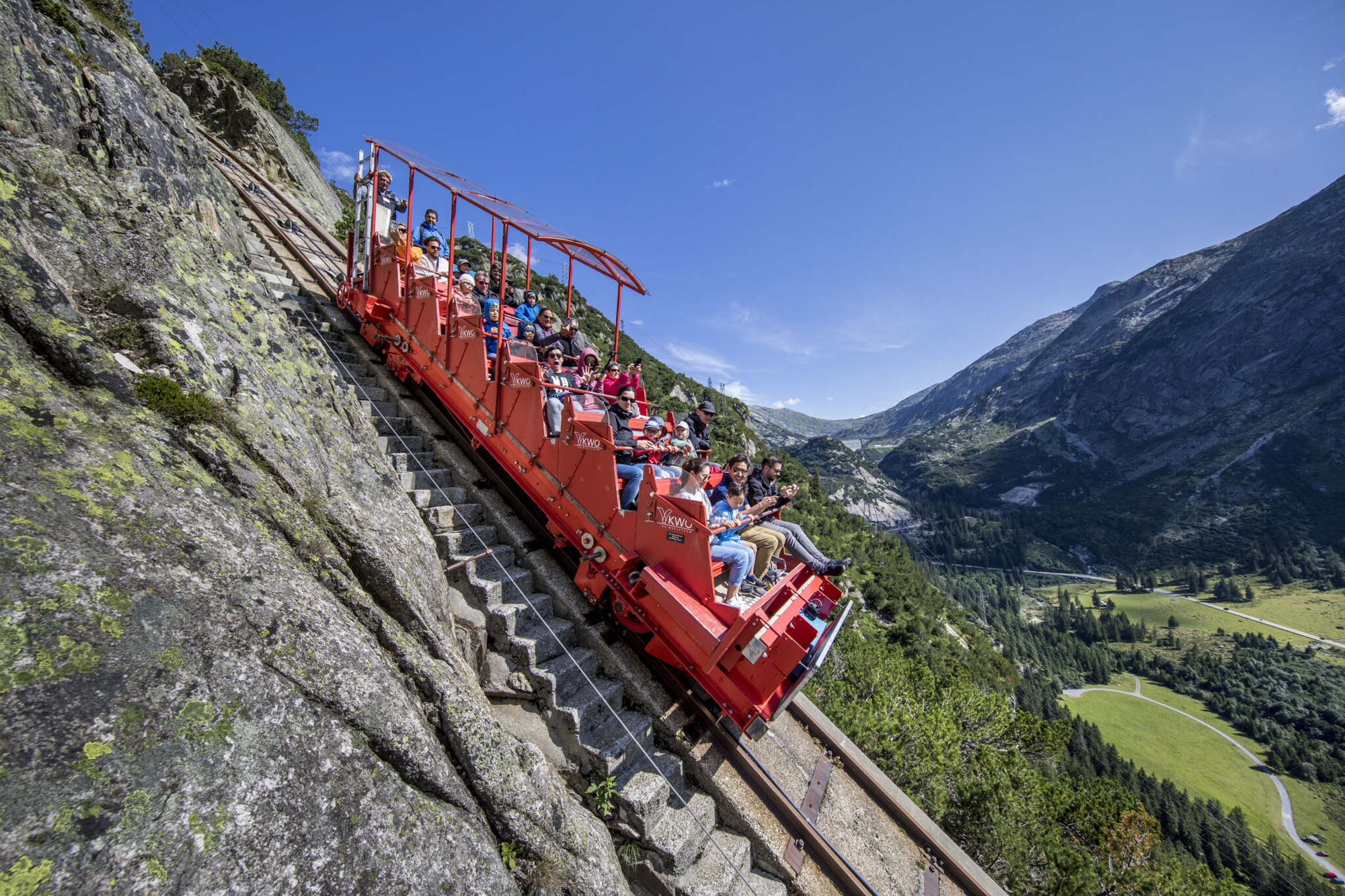 The last item on our list is the Gelmerbahn, which is located in the Haslital valley in the municipality of Guttannen. Its slope is as much as 106%, which makes it the steepest cableway in Europe. In the past, it was used to conduit building materials, today it can be used by adventurous holidaymakers. You can get here by bus - just get off at the stop Handegg, Gelmerbahn. Another option is free parking at the lower station.
The Gelmerbahn's main destination is Lake Gelmersee, and the best time to visit is July - mid-September. Of course, the place can also be reached on foot, but it's a sin not to take advantage of such a ride! Especially that it runs only in the warm months, and even then not always. Better check it out beforehand. In summer and autumn you can walk around the lake and go for a walk on one of the trekking routes. They have different degrees of difficulty and different length, you will certainly choose something for yourself.
The tour can be completed by crossing the Handeckfallbrücke suspension bridge. It is available free of charge and is waiting for the brave at the cable car station. Guttannen itself is located in the vicinity of Innertkirchen, which means that we end our story in the canton of Berne. This is the last stop of the panorama train that travels through Switzerland.
As you can see, there is no shortage of exciting places in this country. Many of them are located relatively close to each other, so you can plan your vacation to get to know them during one stay.
gallery
A writer by profession, a passion of a cat. One day he will see what is behind the Urals - good to Vladivostok. So far, when he can, he enjoys the sun of the countries of southern Europe. And it's also fun;)
Enjoyed reading this article? Share it!