Beach life: books, games and a tan. The charming waters of Garda Trentino

Regardless of whether you prefer pure relaxation or intense sports, games or reading, beach life in Garda Trentino is varied and follows the rhythm of the characteristic ora wind.
Lake Garda and its rhythms: silence before the wind ora , when the lake is perfectly flat and its colors are deep blue; big and small waves that break this peace when the famous Garda Trentinowinds approach and transforms the lake into an ideal place for sports such as windsurfing. The sun that warms the skin lets you know that summer is here.
You really don't want to sunbathe a little tonight?
If we say the word "beach" you'll immediately think of the (sometimes) annoying fine sea sand and salt water that dries out your skin. You probably don't know the advantages of sunbathing on the lake yet? There is no hot sand here, but a lot of stones to massage the feet, green lawns, and… fresh water! Your hair will surely be happy! In addition, quite close to our beaches, you can find many well-equipped campsites to suit all requirements.
Pure relaxation and a golden tan
One of the main attractions of sunbathing is undoubtedly getting a tan. In Garda Trentino , the sun never shines too intensely, nor from very high, the local winds repel the summer heat, leaving pleasant fresh air and guarantee an enviable tan! And if you don't feel like sunbathing (don't forget to protect yourself with sunscreen anyway!), Why not relax with a book? Reading is one of the favorite activities of all sunbathers! (You can sip a spritz by the way).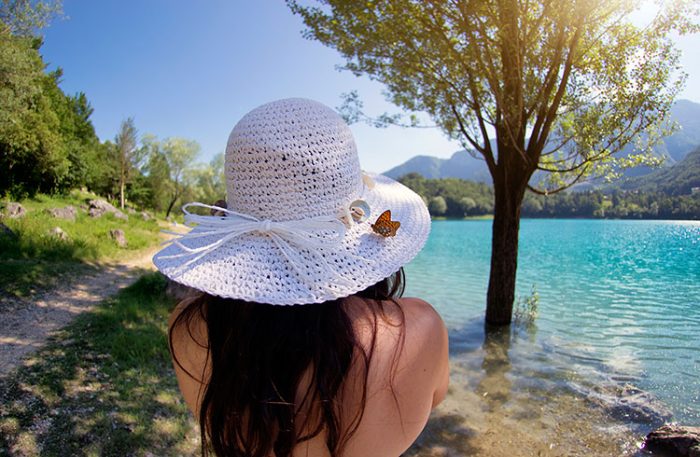 Comprehensive range of services
Bathing beaches, bike paths, refreshing showers, beach bars, beach lounger rentals and many other opportunities for water and land sports, from paddling (the latter is very trendy!) To windsurfing, from sailing to canoeing. The beaches are equipped with showers and toilets, and in the summer months, a team of lifeguards carefully checks the area and ensures safety - both on land and in the water. Lifeguard care ensures the safety of children and adults, and in the evening there are many events and beach parties in the area, so you can also relax after a day of relaxation on the beach!
And if lying by the water and sunbathing is not your favorite activity, we recommend a walk - it's the best alternative to help you stay in shape and get a healthy glow that will make your neighbors green with envy, even if they have just returned from Mauritius. Because you don't have to fly to the other end of the world to spend a five-star vacation.
Situated between high green mountains and fully equipped beaches, Lake Garda Trentino offers you a choice of many different relaxing and fun beach experiences for your holiday. You will be sipping a cocktail on the beach at sunset, and the life of a big city ... you will leave behind!
Camping on Lake Garda
Camping on Lake Garda is the perfect solution for anyone looking for a low-cost holiday on Lake Garda all season long. The campsites are located close to Lake Garda and are surrounded by lush greenery. The campsites offer a variety of services including rental of bicycles, windsurfing equipment, kayaks and pedal boats. They will surely meet all your requirements, regardless of whether you decide on a tent, caravan or motorhome. Many of the campsites on Lake Garda offer entertainment services, bars and restaurants: click here to find out more.
We have created the CampRest portal for people who value freedom and travel on their own.
Enjoyed reading this article? Share it!