Camping Sabbiadoro - Your family vacation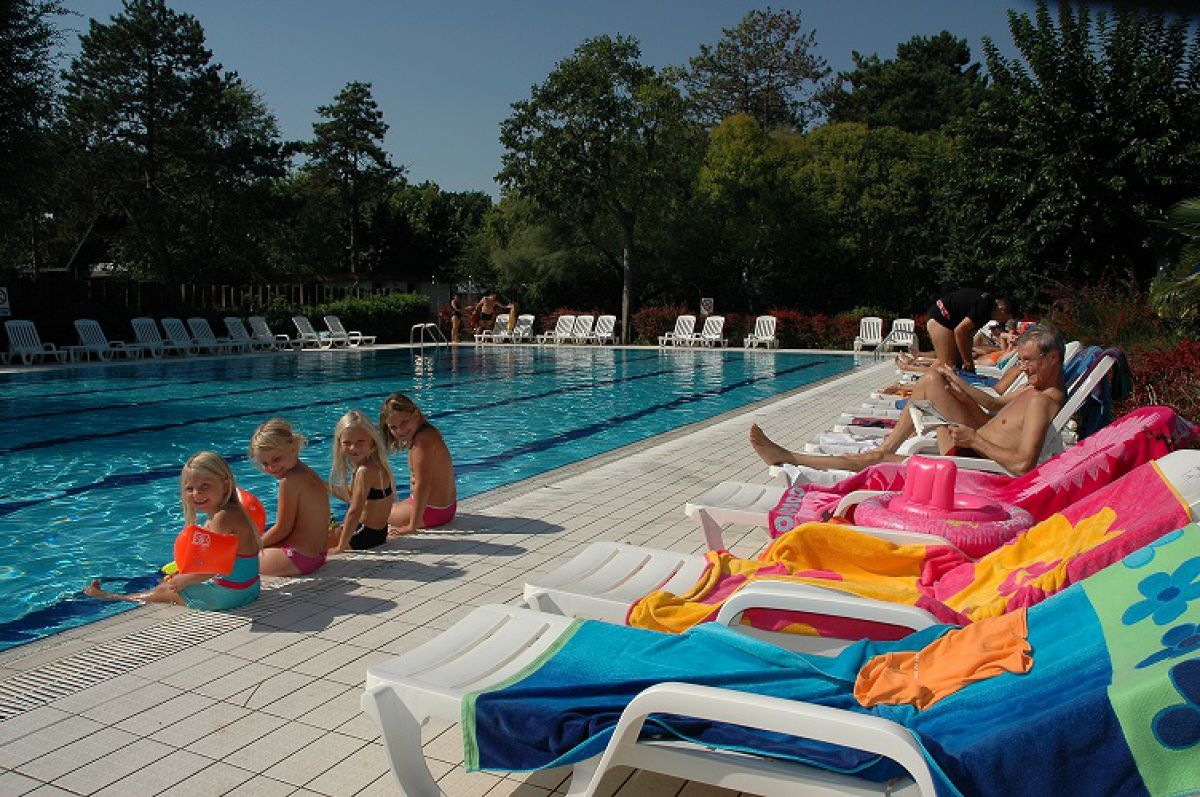 Are you looking for a vacation that combines fun for children and relaxation for parents? Camping Lignano Sabbiadoro is just for you! A beach with golden sand, 8 km long, repeatedly awarded with the "Blue Flag" badge, confirming the purity of the waters, undisturbed nature and the highest quality services - this is just the beginning of what our camping offers. The beach at our campsite descends gently into the sea and creates a shallow reservoir, ideal for the safe play of children and for parents who can relax and enjoy a carefree vacation.
Our 19 Sabbiadoro Beach office will meet all your needs. In addition to the rental of sun umbrellas and gazebos, on the beach you will find family-friendly amenities, special bathrooms for children and hot water for showers. While children enjoy playing in the Mini Club, adults can play sports (aqua-aerobics, beach volleyball, Pilates, or play rackets on the beach) and relax. You can also try your hand at kitesurfing, windsurfing, SUP and swimming during classes conducted by professionals who will provide you with the equipment and everything you need.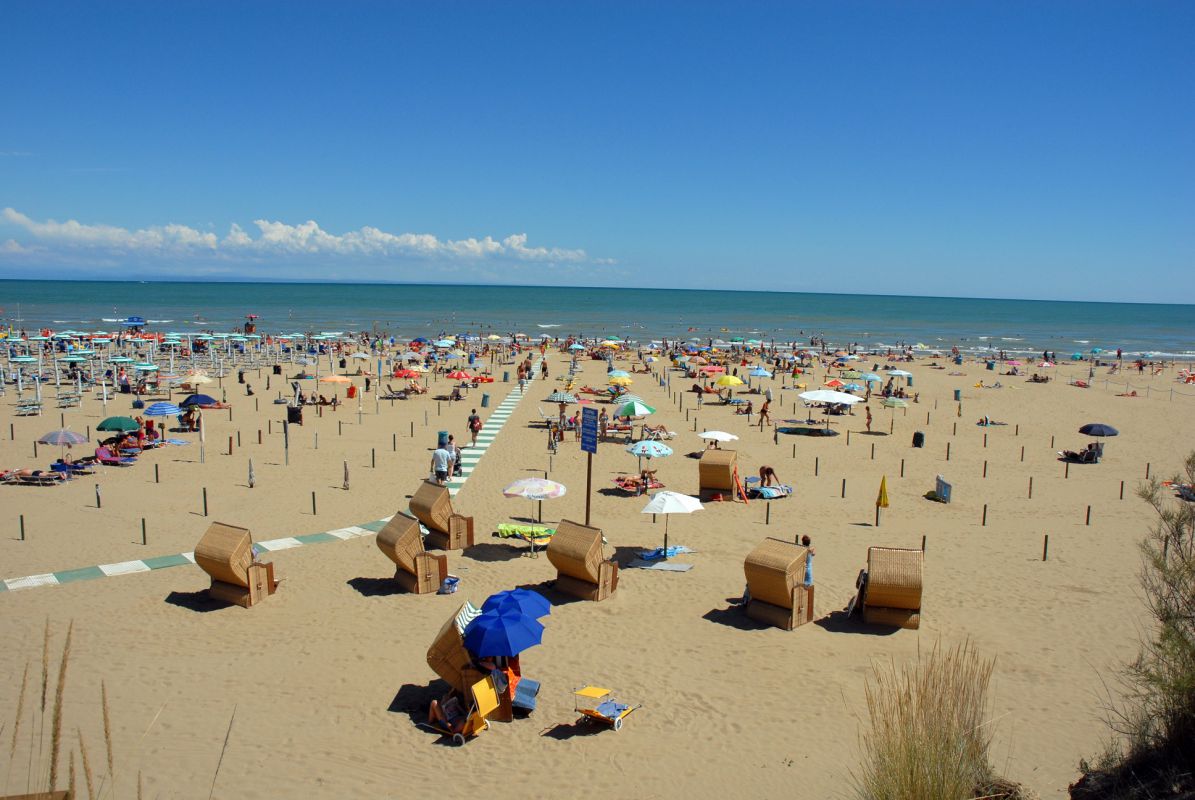 The beach bar " Sabbiadoro Beach Bar " is perfect for all those who love the beach as you can spend the whole day close to the sea. The completely new beach bar with jacuzzi is open from early morning until late evening. The breakfasts here will tempt everyone! You can also relax on the covered terrace overlooking the sea, for example during lunch. In the evening you will be amazed by our sophisticated menu. The view of the beach, the smell of the sea, the flavors of regional cuisine, as well as the sound of the waves and live music: all your senses will be awake.
You can't miss our Junior Park playground. It is a green area full of attractions for children of all ages who can play there all day long and enjoy the evening animations. Free tickets to the shows are distributed to all children at Camp Sabbiadoro . It is an ideal solution for those who are looking for comfort, but also freedom offered by camping with holiday homes. An alternative to sunbathing and relaxing on the beach is to relax in our heated hydromassage pools. You can also work out in the gym, while our entertainment team will organize time for your children - sports games and pool parties.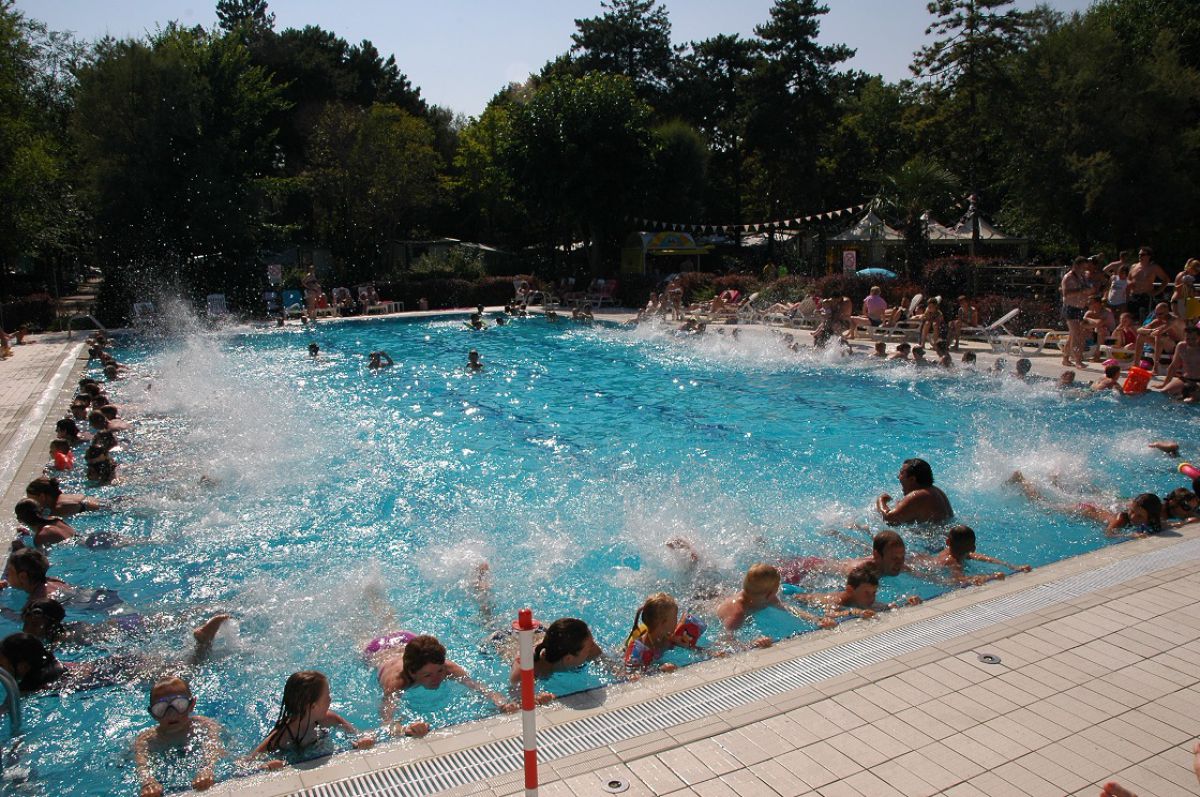 The staff can also help you organize time outside the campsite: walks, bicycle trips, and renting children's prams or bicycles for them. So many services at one campground! In addition, the entire area is constantly monitored and the campsite has a permanent GP, so you can feel safe. All this is designed to make your family vacation the best it can be!
Located in the shade of a 130.000mq pine grove, Camping Sabbiadoro is an oasis of tranquillity only few walking minutes from the Lignano's pedestrian zone. Our structures dispose of divided pitches with electricity, loading and unloading water and satellite TV. A wide range of mobile homes to your disposal, will offer you the comfort of a home in the freedom of the campsite. They are equipped with kitchen area, refrigerator, blankets, toilette-shower, hot water, parking space for one car. Furthermore our camping site offer the following services: • a self service restaurant; • a bike rental; • a supermarket; • an internet point; • a newspaper-kiosk. At our guest's disposal there are 3 heated swimming polls: a whirlpool and water games, a covered-heated with slide for children and a semi-olimpic pool. Sports, games and entertainment for everybody with qualified animation team. Only 250m far from the campsite lay our private sandy beach (Beach office nr. 19) where you can put your own beach equipment. That part of the beach office is reserved only for camping guests. Otherwise on our equipped private beach you can rent beach equipment at discounted prices.
Enjoyed reading this article? Share it!