Camping Village La Tortuga - holidays in Sardinia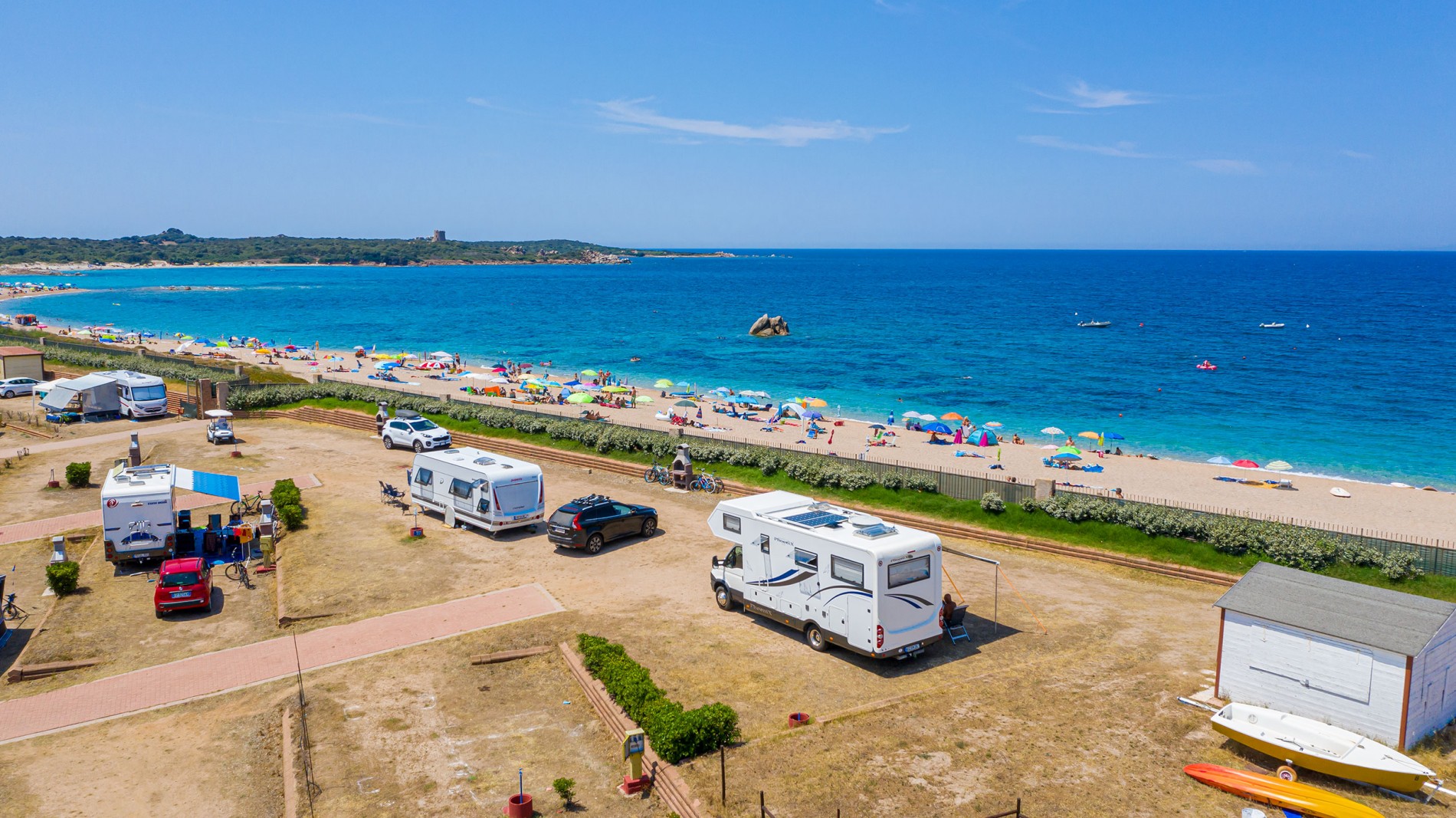 North Sardinia is a region that is very popular among tourists from all over the world. Warm water with incredible transparency, beaches of wonderful beauty and the friendliness of the inhabitants are just the beginning of a long list of advantages of this destination. On the plus side, there is also a rich accommodation base - for guests there are, among others, surrounded by pine trees, Camping Village Baia Blu La Tortuga .
Accommodation at the campsite
Vacationers have at their disposal a camping sector with pitches for caravanning enthusiasts and a "village" zone, where you can rent a mobile home with air conditioning and TV. The cottages have a different standard, to suit all budgets and expectations. In addition to the bedrooms, living area and kitchenette, they feature a covered terrace or veranda.
Owners of motorhomes and caravans will be satisfied with the offer. La Tortuga has prepared 4 types of plots for them, where, depending on the standard, there is access to an electrical connection (all types) and connections to water and sewage (type A and Paradise). Tourists renting places for a longer period can use the Camper Service free of charge.
Regardless of the chosen option, it is better to book in advance. It is worth adding that the camping has a zone without architectural barriers. In the central part there are houses adapted to the needs of people with disabilities.
Beach at the campground
The campsite is surrounded by the wide and sandy Spiaggia di Vignola. It has a gentle descent to the water, and the white sand and views that can be admired from it attract crowds of tourists every season. There is a separate area for umbrellas and sunbeds (can be rented), in addition, the bar offers its services, where customers can buy ice cream, tasty snacks or order a drink.
Pools and water attractions
Those who dream of swimming after a day of lounging on a sunbed or a blanket have a semi-Olympic swimming pool and an aqua park for themselves. Camping Village Baia Blu La Tortuga also invites you to a wellness center, where you can relax with a hydromassage or water jets.
Attractions and animations for children
Camping is a family facility , aimed at providing entertainment for adults and children. From 10:00 to evening, under the supervision of qualified personnel, you can prove yourself in archery, beach volleyball or Latin American dance. KidsClub is waiting for children aged 5-8, JayClub is available for the age group 9-11, and teenagers (> 12 years old) participate in TeenClub activities.
In the evenings, there are performances much liked by the guests.
Other amenities
Sardinian cuisine prides itself on a variety of flavors and seafood-based dishes. We will find out how delicious regional dishes are by visiting a restaurant and a pizzeria. Both are located within the property and tempt guests with an extensive menu, as does the beach bar. It's the perfect dessert spot - it serves delicious ice cream and lots of other delicacies. In the evening, you can return to the restaurant for a glass of wine from the local wineries.
During the season, the camping provides a number of additional services, such as food delivery. All you need to do is use the appropriate application and wait for the meal to be delivered to the lot. In addition, nothing prevents you from self-catering. In the market, we can buy everything you need for self-cooking. The store is well-stocked - it has products such as for people with food intolerance .
What to see in the area?
North Sardinia is famous for its crystal clear waters and beautiful beaches. Both are a proven recipe for a dream vacation, but the region offers so much more. The Arcipelago della Maddalena National Park should be on the vacationers' must see list, especially its biggest attraction - the island of La Maddalena. You can get to the archipelago by boat, which leaves the port of Santa Teresa di Gallura every morning. During the cruise, tourists will not only see the famous pink beach (Spiaggia Rosa) or soak their feet in the azure waters washing the nearby islands. They will be able to see local monuments, including the center of La Maddalena.
Sardinia is also loved by fans of hiking and sightseeing by bike. Its area is crossed by numerous routes that allow you to reach places inaccessible to cars.
Do you want to know even more?



• Join our Facebook group -

Cool Camping


• Follow our profile on Facebook -

CampRestowy Facebook


• See how we travel as a family on Instagram. During our trips, it is here that we put the most reports from everyday life on the campground or in the camper -

CampRestowy Instagram


• See our YouTube videos, subscribe to our channel and give a thumbs up to the videos you like -

CampRestowy Youtube


• Visit our e-book store with ready camper routes -

www.GdzieKamperem.pl
A writer by profession, a passion of a cat. One day he will see what is behind the Urals - good to Vladivostok. So far, when he can, he enjoys the sun of the countries of southern Europe. And it's also fun;)
Enjoyed reading this article? Share it!