Campsites in the US and Canada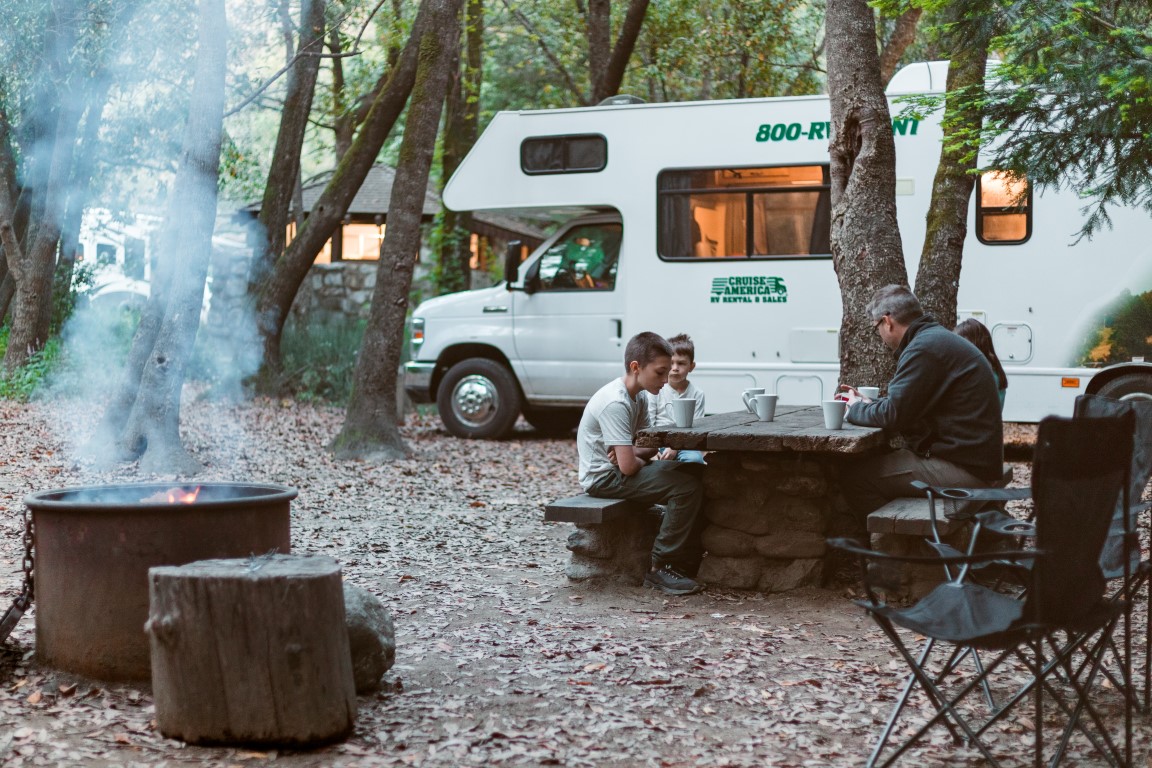 You'll find thousands of campgrounds across North America, from luxury resorts with every conceivable amenity, where the emphasis is on hospitality and good vibes, to smaller sites in national, state or provincial parks. There are also places to spend the night in the wild - such traveling is recently known as boondocking. Those who enjoy this type of recreation can park their camper in a public space intended for this type of use.
We want to show you the advantages of each of these solutions. Each of them has its advantages and provides completely different experiences. However, we will openly say that if you find yourself near a national or state park, we wholeheartedly recommend these campsites!
In a camper in the USA - let's start with a few words about luxury camping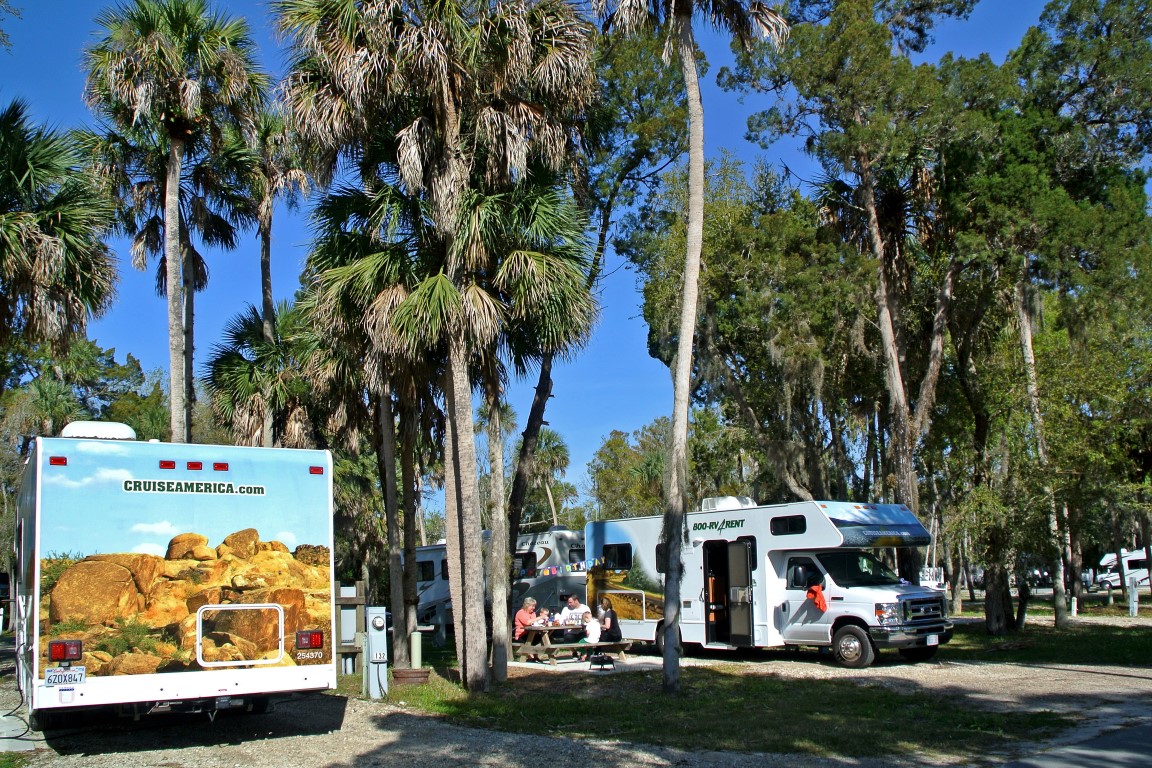 They may be privately owned or part of a larger project. They are usually distinguished by an excellent location, excellent conditions, paved paths and places for campers, and the possibility of connecting to municipal waterworks, electricity and sewage systems. Guests can also use modern showers and toilets. Such a campsite usually has a club, a restaurant and a bar, and, of course, a swimming pool or a private beach, plenty of attractions for children and sports facilities.
Costs vary by area: these campgrounds may be more expensive if they are close to tourist attractions such as Disneyworld or Niagara Falls. You'll also pay more in states that are generally considered more expensive, such as the northeastern United States. However, camping is still a fairly economical option for holidays. They are usually in a good location and have all the necessary amenities. Most of the large campsites have an online booking option on their website.
The cost of such campsites starts from $70 and can reach up to $200 per day.
Smaller, family campsites... what's the best way to travel in a camper in the USA?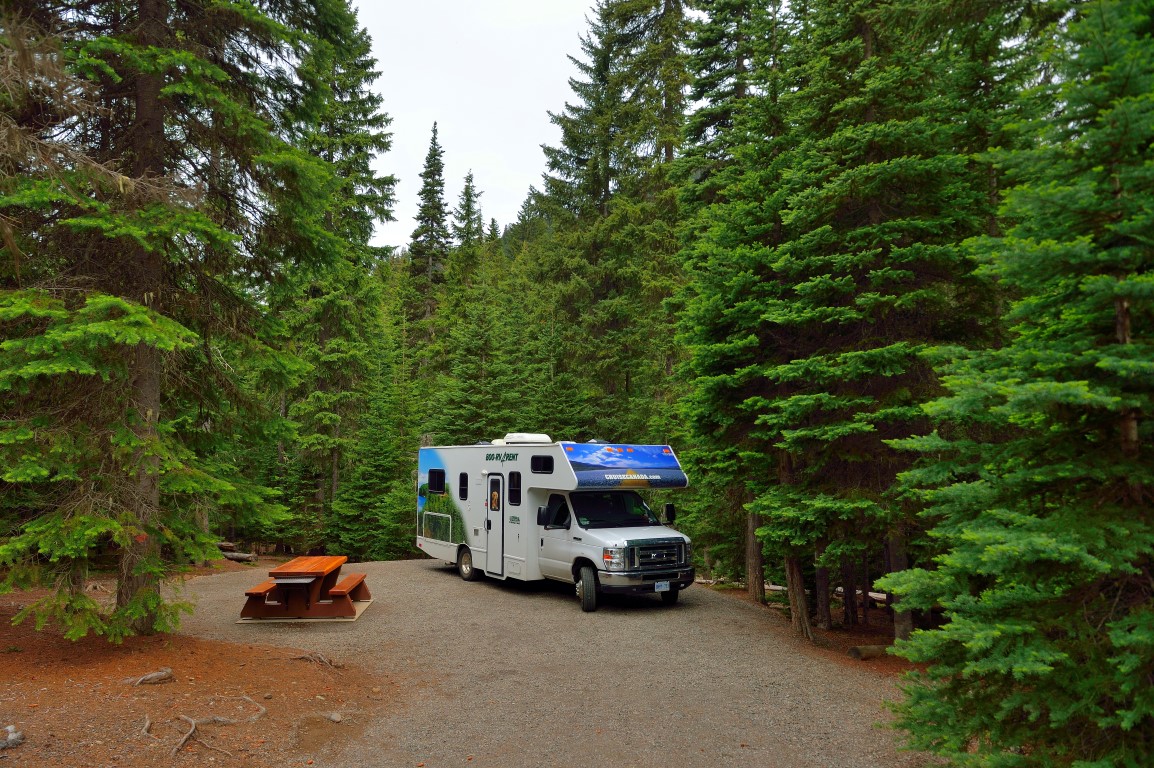 This category includes smaller campsites, run as a family business, known for their individual approach to guests. Most often, they have paved paths, space for campers and the possibility of connecting to municipal waterworks, electricity and sewage. They also have clean showers and toilets, as well as an on-site shop and laundry. There is usually a swimming pool, unless there is a lake or beach nearby. You can also find playgrounds for children or other entertainment for the whole family, especially during the season.
In this case, costs can also vary, but it is usually quite a cost-effective option. It is possible to book online, and many of these campsites also offer the option of a booking form, which must be completed and returned by e-mail.
The costs of staying at such a campsite range from approximately $50 to $100 per day.
Camping in national, state and provincial parks
They are usually located in the most beautiful location, in the bosom of nature. It's an unforgettable experience when you can wake up in wonderful surroundings. Only here you can admire the sunrise and enjoy the silence interrupted only by the singing of birds. At such campsites, you will rarely find a connection to water, electricity or sewage - but this is not a problem if you fill up the water and gas tanks in advance (for the stove, water heater and refrigerator), and empty the sanitary tanks. There is a separate utility battery in the camper (i.e. not the one from the engine) that supplies power to some of the internal LED lights. This will last for a day or two, but if you have a camper with a generator, start it in the morning to power the battery!
"Remember that most parks have restrictions on the use of generators - the noise could disturb other tourists."
Some campgrounds in national and/or state parks have bathrooms and toilets (e.g. Mather Campground in the Grand Canyon of the Colorado and Furnace Creek in Death Valley). You can check what amenities individual campsites offer in the USA www.recreation.gov and in Canada www.pc.gc.ca - you can also make reservations on these websites.
Overnight camping in the wild - boondocking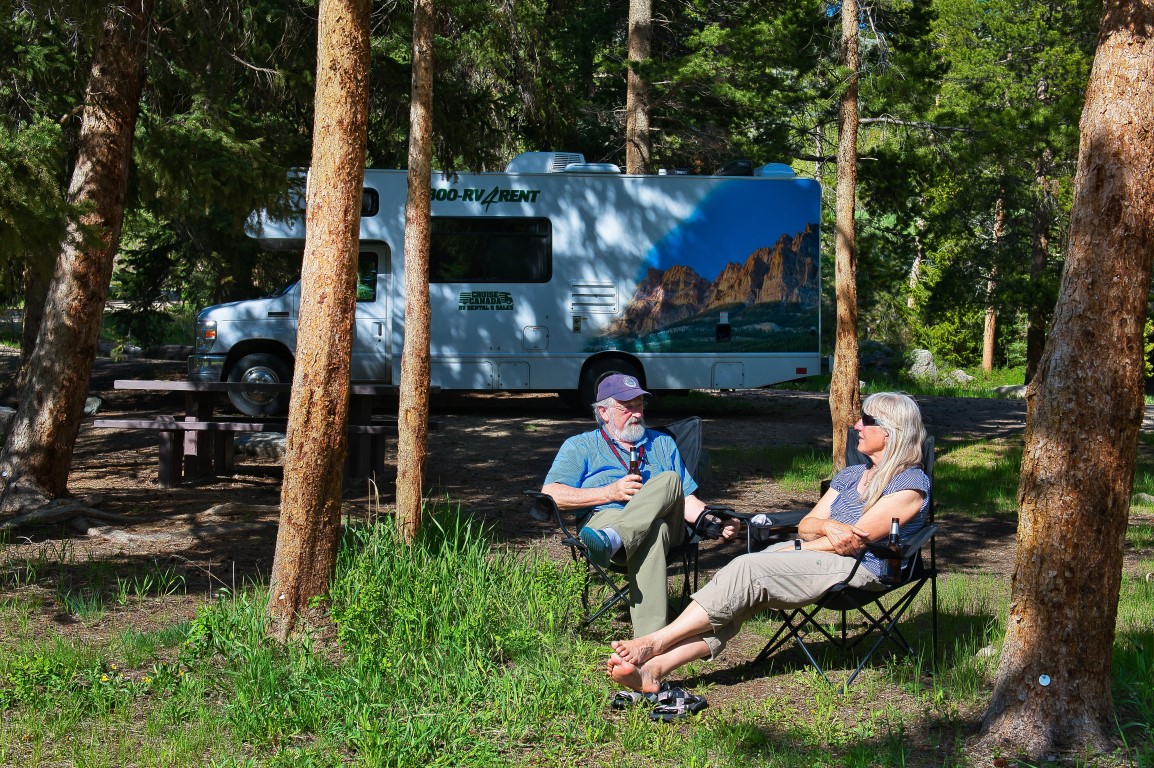 There's nothing like freedom when you can park your camper in a secluded, picturesque place, far from civilization. If you don't want to use the campsite or RV park, you can choose a charming corner in public space - such places are specifically intended for recreational purposes.
We especially recommend areas of the state Forest Service, BLM ( Bureau of Land Management ), WMA (Wildlife Management Areas) and urban and rural parks. Overnight stays in the wild, or " boondocking ", means resting in such places, other than traditional camping sites. The advantage is undoubtedly free accommodation, as well as the fact that many of such places are beautifully situated. On the other hand, this means that there is no what to count on for a connection to water, electricity or sewage.
Ready-made camper routes around the USA and Canada
If you don't have time to look for accommodation and plan routes, we have a ready-made solution for you in the form of routes. They were created in cooperation with Cruise America and Cruise Canada, the largest camper rental company in the USA and Canada. In the fall of 2020, we became the only and official representative of the Cruise America rental company in Poland. In this article you will find links to 11 sample routes. In each article, we provide the costs of renting and driving such a route: USA by camper - summary of the 11 best routes
If you want us to estimate your individual camper trip around the USA or Canada, please write to us at: [email protected] . Remember that we guarantee lower prices than when booking directly with Cruise America. Soon you will be able to check the prices in person on our website: www.usakamperem.pl . However, you can now download the tourbook from our e-book store and start planning your vacation: 16 camper routes around the USA and Canada . You will find much more information about the routes in the tourbook. First of all, it contains links to all the campsites we recommend.
Below you will find some answers to questions about how Cruise America and Cruise Canada created these itineraries.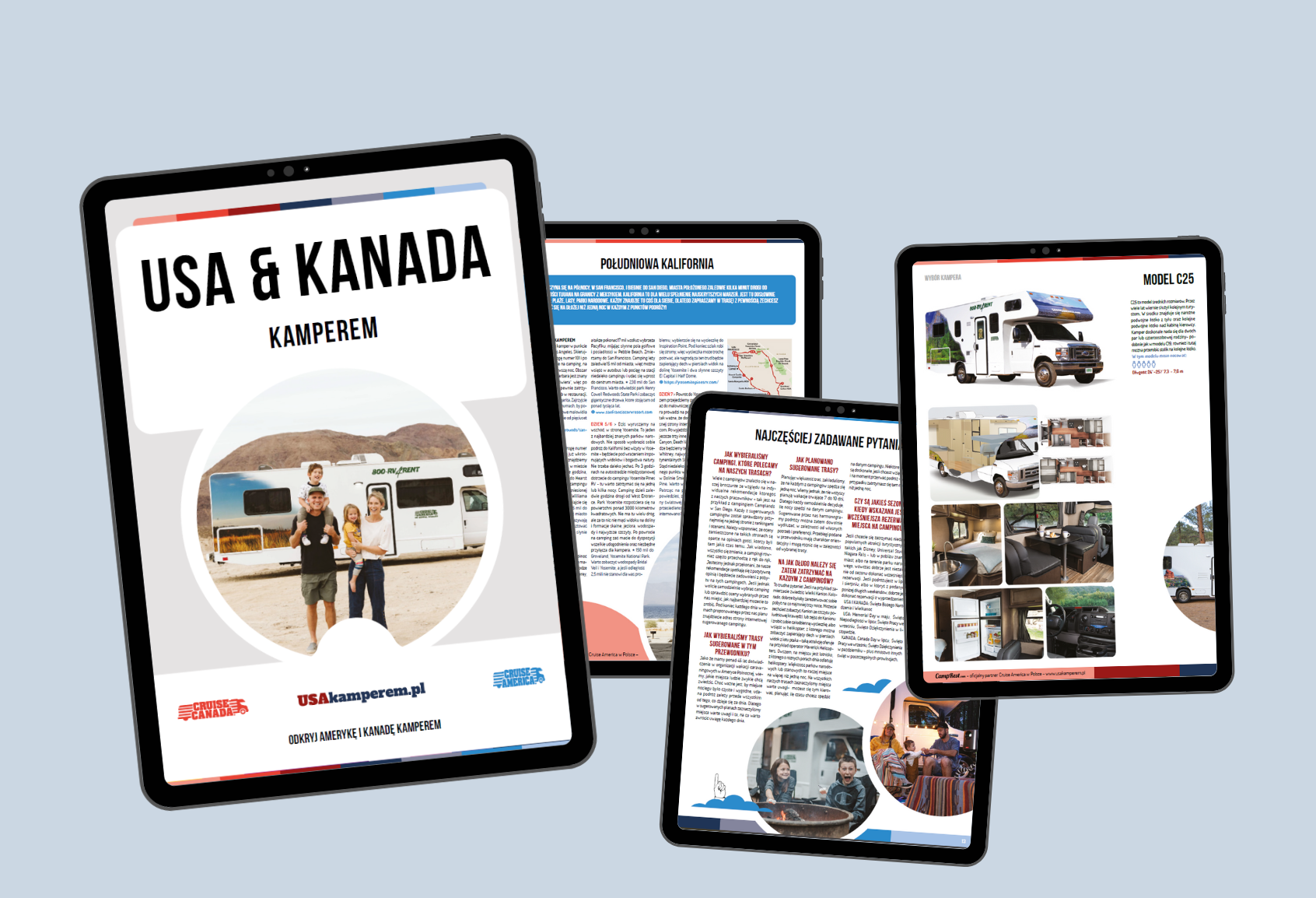 How did we choose the campsites we recommend on our routes?
Many of the campsites are included in our brochure due to individual recommendations from one of our employees - this is the case, for example, with the Camplands campground in San Diego. Each of the suggested campsites has been checked on at least one website with rankings and ratings. It is important to mention that the ratings posted on such sites are based on the opinions of guests who were there some time ago. As you know, everything changes, and campsites also often change hands.
However, we are convinced that our recommendations will receive positive feedback and you will be satisfied with your stay at these campsites. However, if you prefer to choose a campsite yourself or check the ratings of the places we have selected, you can do so. At the end of each day as part of our proposed itinerary, you will find the website address of the suggested campsite.
How did we choose the routes suggested in this guide?
Because Cruise America has over 45 years of experience organizing caravanning holidays in North America, we know what places people usually want to visit. While it's important that your accommodation is clean and comfortable, a successful trip depends primarily on what happens during the day. That's why we have marked places worth visiting in the suggested plans and what is worth paying attention to every day .
When planning most of the routes, we assumed that we would spend one night at each campsite. However, we know that not everyone plans a vacation lasting 7 to 10 days. Therefore, everyone decides independently how many nights they will spend at a given campsite. Therefore, the travel schedules we suggest can be extended freely, depending on your needs and preferences. The routes given in the guide are indicative and may vary depending on the route selected.
Across the USA by camper. How long should you stay at each campsite?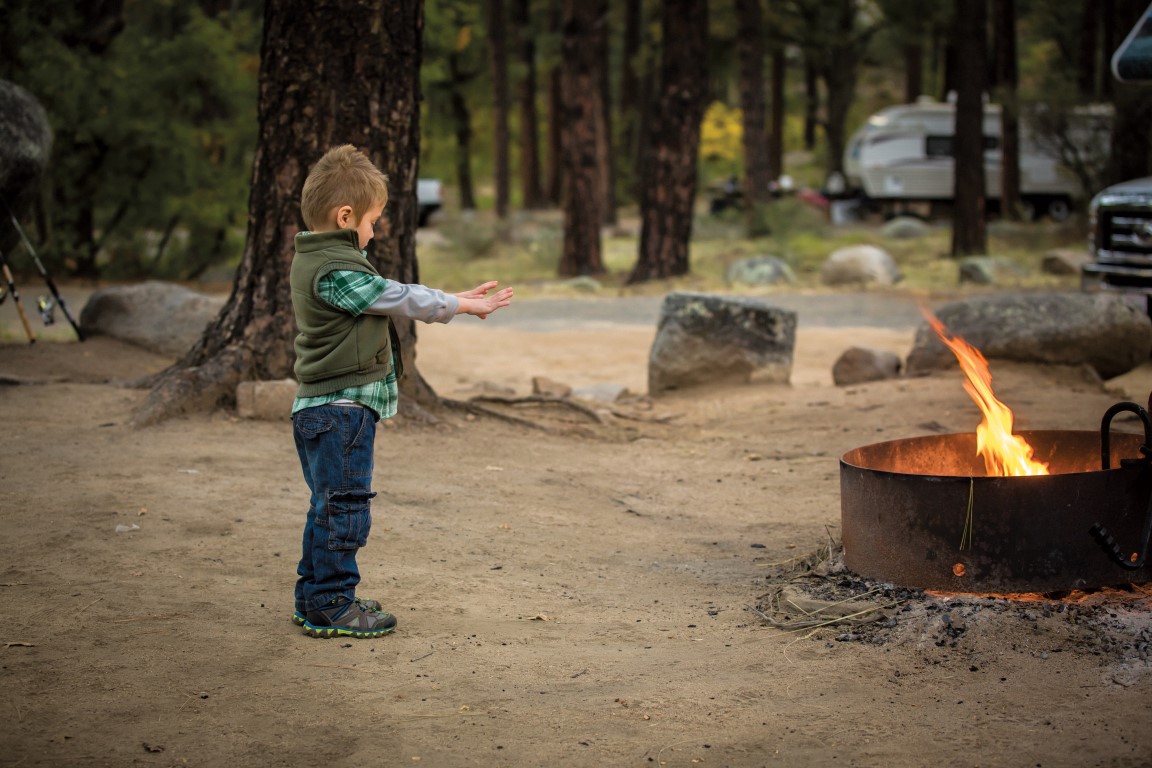 It's a hard question! For example, if you plan to visit the Grand Canyon of the Colorado, it would be a good idea to book a stay of at least three nights. You may want to see the Canyon from the top of the south rim, or go down into the Canyon and take a day trip, or take a helicopter for a breathtaking bird's-eye view - such an attraction is offered by Maverick Helicopters, for example. Yes, there is an airport on site from which helicopters depart at various times of the day. Most national or state parks are more of a one-night destination. We have marked places worth visiting on all our routes - you can use this when planning how much time you want to spend at a given campsite. Some campsites are perfect if you want to take a breather and stop your journey for a while - in which case you will stay there for more than one night.
Are there any seasons when it is advisable to book a campsite in advance?
If you want to stay near popular tourist attractions - such as Disney, Universal Studios, Niagara Falls - or near famous cities, or in a national park, then it is a good idea to make a reservation in advance regardless of the season. If you are traveling in July and August, or on any of the long weekends listed below, it is a good idea to make reservations in advance:
USA and CANADA: Christmas and Easter
USA: Memorial Day in May, Independence Day in July, Labor Day in September, Thanksgiving in November.
CANADA: Canada Day in July, Labor Day in September, Thanksgiving in October - plus plenty of other provincial holidays.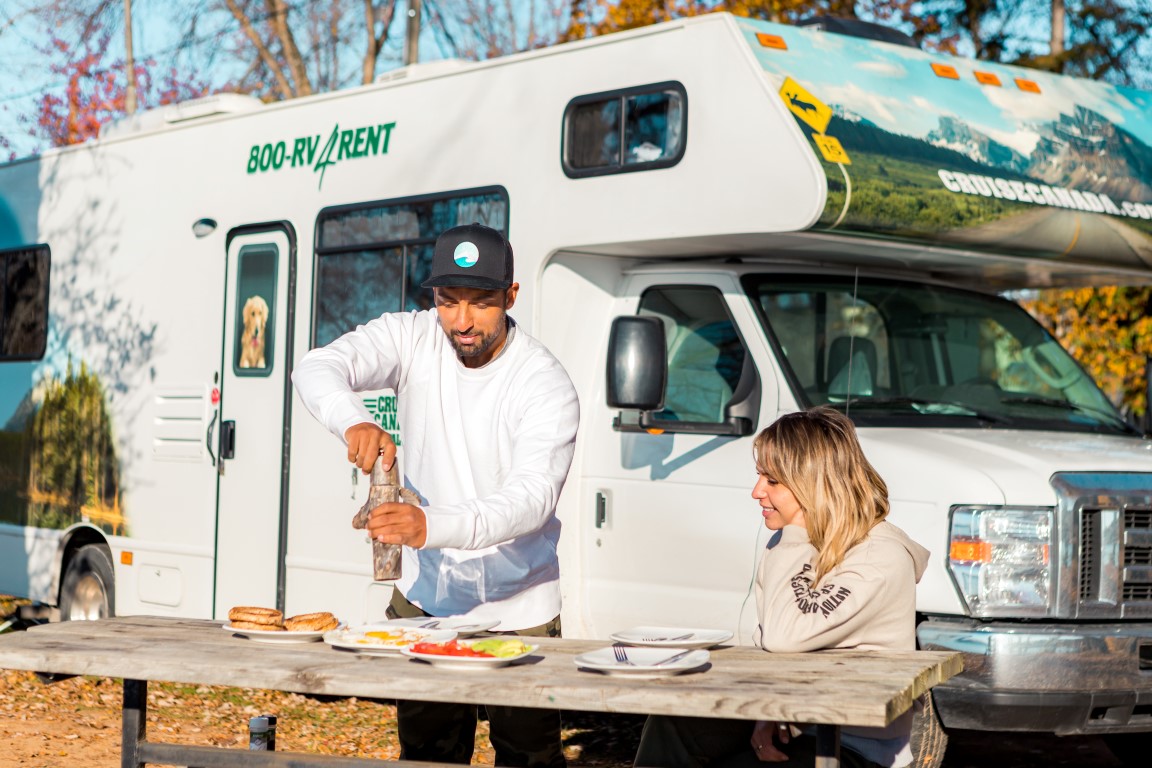 How do I book a campsite in advance?
Places at selected campsites can be booked on the website or by e-mail. You need to know your arrival date and the number of nights you plan to spend at the campsite; if they ask for amperage, select 30 amps (all Cruise America campers require 30 amps). The campsite staff will ask you to provide your credit card details to enable payment in advance. Each campsite has its own cancellation policy, so be sure to find out what your specific policy is.
If you are concerned about booking seats on your own, please contact Interamerica.com . Paweł will help you choose specific campsites, book them, and also help you buy and send entry passes to National Parks to Poland.
Do we need all the hookups every night?
If the fresh water tank is full, you do not necessarily need to connect to the municipal water supply. If the sewage tanks are empty, there is no need to connect to the sewage system. Then you will probably need an electricity connection. But if the sewage tanks are full and the fresh water has run out, then you definitely need to look around for all the connections!
Nomenclature in American campsites. Across the USA by camper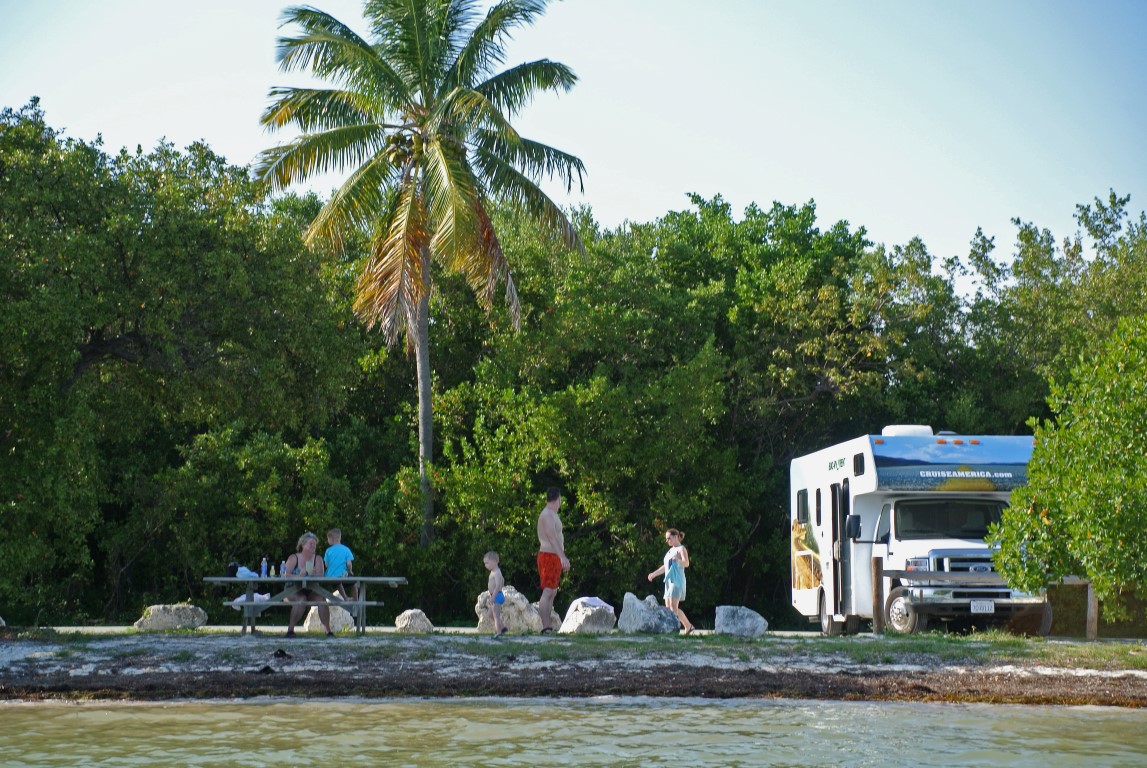 Already at the stage of booking campsites, you may encounter different names of the plots. I will explain how to choose the plot you will need on a given day. Generally, Cruise America and Cruise Canada campers are adapted to the so-called "boondocking", i.e. camping without connection to electricity, water or sewage. You have a tank with clean water, a tank for dirty water and sewage, as well as a 12V parking battery, thanks to which the lighting in the camper will work, a fan in the heating system and you will be able to use the cigarette lighter socket on the steering wheel of the vehicle. Unfortunately, this battery is not very capacious and will probably need to be charged after one night (without connection to the power supply).
The parking battery in Cruise America and Cruise Canada campers can be charged in three ways:
connecting to electricity,
starting the generator,
it also charges while the engine is running.
If you want to use 110 V sockets, the camper must be permanently connected to the campsite's electricity or have a generator running. Remember that every Cruise America camper has a generator as standard equipment, and its use is charged by the meter according to the operating time. At Cruise Canada, only the largest C30 campers are equipped with a generator. To connect to electricity at the campsite, you must select a "hookup" or "full hookup" plot.
What is the difference between a "Hook up" lot and a "Full hook up" lot?
A hookup plot (pitch or site in American) has a connection to electricity and water, and a full hookup plot also has a connection to the sewage system. The plots may also differ in the number of amperes. You may encounter plots of 30 AMP or 50 AMP.
All Cruise America and Cruise Canada motorhomes require up to 30 AMP , so you don't have to choose high-voltage lots like 50 AMP.
What is the difference between a "pull through" plot and a "back in" plot?
Another thing when choosing a plot is the way of entering it. There are "pull through" or "back-in" plots. A pull through lot means it has a separate entrance and exit. So you park and go out in front. A back-in lot means you will probably have to park in the back. Entry and exit are in one place. Such plots are most often found in Europe, so you won't have a problem with it if you have parked your camper at a campsite in Europe at least once. This first type of plot is very popular for huge campers or sets with long trailers... Such a plot will probably accommodate an additional car in addition to a very long camper. Cruise America campers are 20 to 30 feet long, and North American campground pitches are 20 to 50 feet long.
You often ask whether parking this largest camper will be difficult for you, but since the campsite has plots where vehicles almost twice as long can be parked, you will be able to handle it too.
Types of RVs available on Cruise America and Cruise Canada
Check out the campers available from Cruise America and Cruise Canada:
If you want to learn more about these campers and their equipment, see the article: Types and equipment of campers for rent in the USA and Canada
gallery
We are the only official representative of Cruise America and Cruise Canada in Poland. From 2020, you can easily and safely book a motorhome in the USA or Canada. We know when and where it is best to rent a motorhome. We will answer all your questions and doubts by e-mail or telephone.
Enjoyed reading this article? Share it!