Campsites overlooking Venice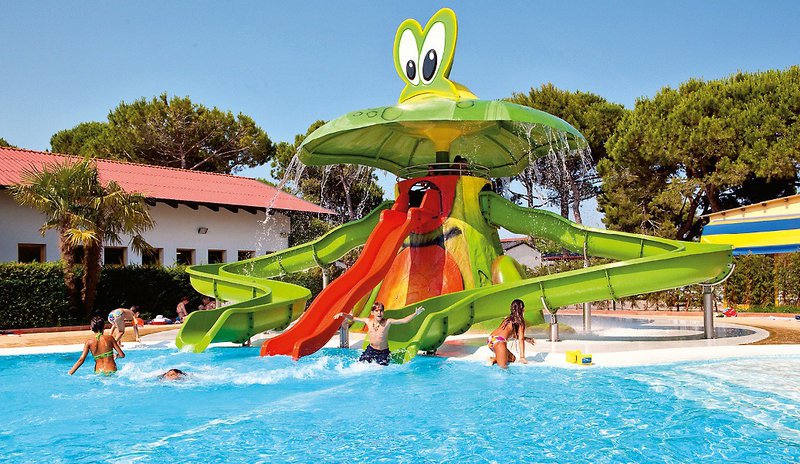 Veneto is a region created for relaxation, especially for those who love water, sunbathing and blissful relaxation on a sun lounger. Both families with children and couples in love love it.
The municipality of Cavallino-Treporti is located in the Italian province of Venice. The town of the same name lying there, is a resort that enjoys great interest among tourists from all over Europe. According to statistics, about 6 million holidaymakers come here every year, a large percentage of which are guests from the northern part of the continent - Germans, Austrians and Danes.
The beauty of the Italian coast
Cavallino-Treporti is a beautiful place between the Venetian Lagoon and the Adriatic Sea. The economy of the region is largely based on tourism, especially summer tourism. In response to the interest of people who want to relax by the sea, almost 30 campsites have been created here. And these are by no means ordinary places offering campsites or parking spaces for motorhomes. These are multi-hectare centers with an extensive accommodation and catering base and a wide range of entertainment. If it were not for the fact that they are situated in a beautiful area in the immediate vicinity of Venice, you could spend the entire holiday without leaving their premises.
Tourists who have decided to relax in this part of Italy have 15 km of sandy beach at their disposal. They can lie on a blanket or deckchair for hours, play beach volleyball, swim and enjoy the sun in dozens of ways. In addition to sunbathing, they can also explore the region, including, of course, Venice and the surrounding islands - Murano, Torcello and Burano. There are frequent ferries from Punta Sabbioni and Treporti-Ricevitoria during the season.
The charms of Cavallino-Treporti
One of the greatest strengths of Cavallino-Treporti is its location. It is located halfway between two popular cities - Venice and Lido di Jesolo - which makes it a great starting point for exploring this part of Italy. The resort itself is also attractive, attracting tourists with the beauty of the beaches stretching between Punta Sabbioni and the mouth of the Sile River.
Tourists resting in the village can admire nature - dunes, pine forest and the richness of fauna and flora of the lagoon. The area is intersected by kilometers of bicycle paths and hiking trails, on which you can stroll slowly, celebrating the beauty of nature.
In the region, great emphasis is placed on environmental protection and shaping public awareness, thus sensitizing them to the need to care for nature as a common good.
Campsite in Cavallino-Treporti
The nearby campsites offer visitors a variety of activities. One of them is Vela Blu Camping Village , located in Cavallino-Treporti. It is open from 28/03 to 26/09, is located directly by the sea, and provides tourists with a delightful shade on almost 3.5 hectares of natural pine forest. The restaurant on site serves traditional Italian dishes, based on carefully selected seafood, meat, fresh vegetables and fruit. The menu also includes creative pizza compositions and delicious wine. You can order take-away meals.
This Italian campsite offers tourists, among other things, pool bar with live music. For children there are playgrounds, slides and a range of games for all ages. Parents can relax while their children are looked after by trained staff. Guests have access to a private beach area where they can enjoy a drink on a sun lounger under the shade of an umbrella. Cavallino beaches have the Blue Flag status (since 2006).
A stay at a campsite costs, depending on the season, from 20.40 to 52 euros a day. The price includes accommodation for 2 people, a place for a car and a trailer, plus access to electricity.
Guests of Cavallino-Treporti can choose from a variety of options - from bed & breakfast to guesthouses, hotels and campsites. Satisfied with the high quality of services, they come back here every year.
A writer by profession, a passion of a cat. One day he will see what is behind the Urals - good to Vladivostok. So far, when he can, he enjoys the sun of the countries of southern Europe. And it's also fun;)
Enjoyed reading this article? Share it!