Time to get up! But not so-so, only on the board. If you like this recently fashionable sport, Stand Up Paddleboarding, then in Garda Trentino you can practice it in exceptional natural circumstances! Feel an unforgettable experience: as if you were soaring centimeters above the water. It is an extremely relaxing sport, which also strengthens the muscles perfectly: SUP stands for Stand Up Paddle ! Regardless of whether there are waves (so sought by surfers) or the surface of the lake is stationary, Garda Trentino is the perfect place for those who want to do SUP. This sport has recently become fashionable, but contrary to appearances, it is not an invention of recent years.
As early as 1778, the famous English explorer, Cook, noticed that the people of Hawaii could stand on boards with oars in their hands. Over the years, the sport gained popularity until it finally reached the shores of Europe, where it found fertile ground and was quickly successful. So much history. Do you know what the secret of SUP's success is? There are several possible explanations. Each of them is extremely convincing (after reading this article, you'll want to try it yourself, if you are not already tempted!).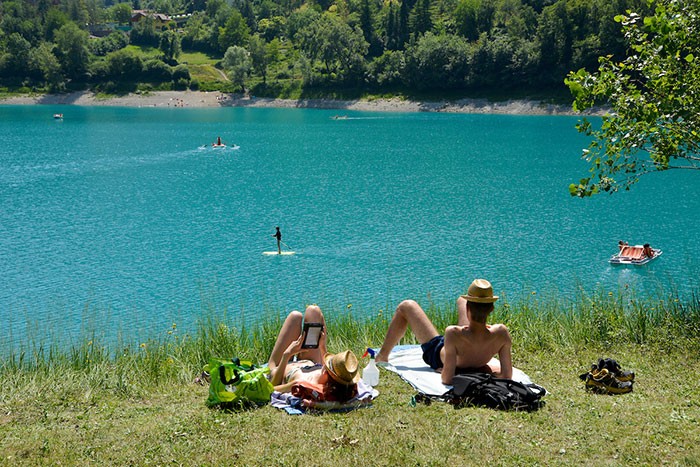 First of all, it's a fairly easy sport, with few rules and a guarantee of fun! You can relax and relieve stress thanks to the closeness of nature, which is guaranteed in the stunning landscapes between crystal clear water and green mountain slopes! In addition, SUP strengthens the body - you can develop your arm muscles, balance and work on your breathing. If you happen to hit the day when the Ora wind blows, you can jump on the waves and even surf like a pro.
SUP is a sport for everyone. It does not require you to complete any course, but if you want some valuable advice before trying your hand at one of your local windsurfing centers , ask for some information. You will hear useful tips for beginners in this sport, thanks to which you can make good use of the waves of the largest lake in Italy, all surrounded by breathtaking nature. If you listen to nature while pushing off the water with an oar, you will gradually fall in love with SUP and Garda Trentino - there is no doubt about that!
Lake Garda campsites
The campsites on Lake Garda are the perfect choice for everyone. You can enjoy a holiday on Lake Garda at a favorable price at the campsite in virtually any season of the year. The camps are situated close to Lake Garda and are surrounded by lush vegetation in an interesting environment. The campsites offer a variety of services, from renting bicycles or windsurfing equipment to the possibility of renting kayaks or pedal boats. Whether you choose a tent, caravan or motorhome, the campsite has everything you need. Many of the campsites on Lake Garda also offer entertainment, bars and restaurants: click to find out more.
We have created the CampRest portal for people who value freedom and travel on their own.
Enjoyed reading this article? Share it!