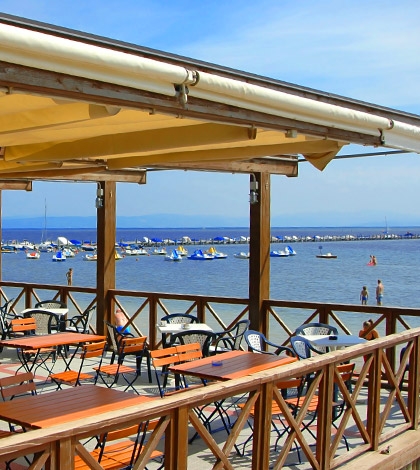 If you want to rest and are looking for a place where you can recharge your batteries and enjoy the warm Italian sun with a glass of the best Italian wine, then Grado will definitely appeal to you!
This coastal town near Venice and Jesolo is famous in northern Italy mainly for its thermal baths. Thanks to its unique location on a picturesque island halfway between Italy, Austria and Slovenia, Grado, which has been a holiday destination for years, still attracts crowds of tourists from both Italy and abroad.
The former fishing village has developed over the centuries and is now a destination for many tourists. Arriving guests will find a varied offer of accommodation, many amenities and, above all, stunning scenery. In addition, the hospitality of the local residents will make tourists feel at home thanks to the relaxed, friendly atmosphere.
Grado has everything you need to offer you a dream vacation.
It has a rich history, as the city's origins date back to the Roman Empire, the remains of which can still be admired in the town center or in the nearby town of Aquileia, which resembles an open-air museum and has therefore been inscribed on the UNESCO World Heritage List.
Grado is a town that is bustling with life: when the summer evening comes, the narrow streets of the old town - a reminder of the reign of Venice - are filled with the tasty smell of numerous restaurants and traditional osteries , where you can try local delicacies, mainly fish and excellent wine. You can also hear the sounds of live music from all over the cafes along the promenade.
As already mentioned, Grado is also famous for its waters and atmosphere that promotes health. The numerous thermal centers - Terme Marine - specialize in the treatment of lung and respiratory diseases. If you want to have a good rest and come back from vacation in good shape, you can take advantage of the offer of massage and beauty treatments.
The island of Grado is covered on one side by sandy beaches that lead straight into the calm waters of the coastal strait. From here there is a view of the lagoon. Thanks to its location, the beaches are safe - children will be able to play and swim here. On each beach there are bars and small restaurants, you can also rent umbrellas and sunbeds, and for those willing there is a wide sports offer: Stand Up Paddle, kayaks, swimming lessons for children, water aerobics and many other offers.
Camping in Grado
If you are looking for accommodation with access to a private beach, head to Residence Punta Spin , where guests can rent bungalows or caravans, and there is also a large camping area overlooking the sea. Here you will find comfortable accommodation with many amenities: the campsite has a supermarket, a café with an ice cream parlor, a beach bar, a restaurant-pizzeria and a laundry service, plus a range of sports activities (tennis, basketball, football, beach volleyball, water aerobics) ), there are three swimming pools, one with shallow water - for children, and in the evenings animators will take care of great entertainment. All guests have free access to the private beach at Residence Punta Spin: it is a sandy beach that slopes gently down to the sea. The water is calm, so children can play safely and parents can rest. In addition, you can rent beach equipment here, and lifeguards ensure a safe stay.
Residence Punta Spin is located on the outskirts of Grado, in a quiet neighborhood in the middle of a pine grove. You can easily reach the city center from here - by bus (the stop is located near the campsite) or by bike (there is a rental shop on site).
Although tourists from all over the world come to Grado, the townspeople make every effort to proudly uphold local traditions and cultivate their own identity. During the walks, you can hear the local dialect - similar to Venetian - spoken only by the population of this island.
Both the townspeople and tourists eagerly participate in traditional festivals and celebrations of religious holidays. The most popular holidays are undoubtedly the summer carnival in Grado, when a colorful parade passes through the streets of the city, a festival of traditional songs - Festival della Canzone Gradese - and an interesting religious ceremony called Perdon de Barbana , when the statue of the Virgin Mary, surrounded by the faithful, is transported by boat to the nearby islet of Barbana, located on the opposite side of the lagoon.
Music lovers will not be disappointed by the program of summer concerts in Grado: every year not only Italian artists but also world famous perform here, and gourmets will surely be interested in local wines and traditional dishes served during Calici di stelle , which takes place in a colorful atmosphere on the waterfront , to the accompaniment of live jazz music.
On August 15, it is worth joining the Ferragosto celebrations, which concludes with a magnificent fireworks display by the sea.
If you plan to visit Grado in late spring, don't forget the Grado Air Show featuring the Italian Air Force aerobatic team Frecce Tricolori , whose breathtaking aerial tricks surprise local viewers every year.
We have created the CampRest portal for people who value freedom and travel on their own.
Enjoyed reading this article? Share it!