Holidays at the Hungarian Lipót Thermal Camping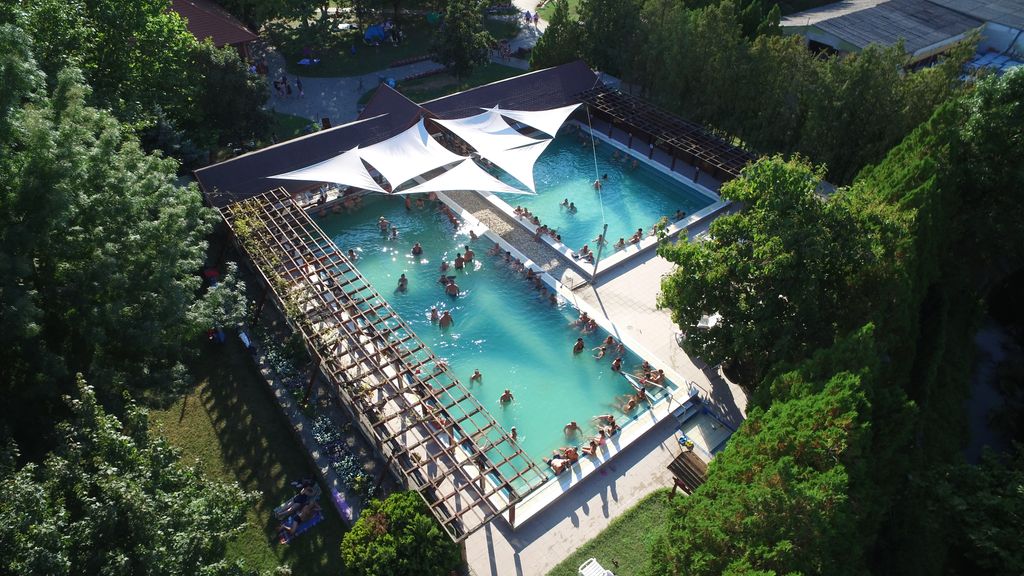 Season opening of thermalbath and camping: 20.05.2023.
The beach pool and giant slides as well as the pool with water castle opening: 17.06.2023
27 km far from Győr and 15 km from Mosonmagyaróvár, near the Austrian and Slovak borders, in Heart of beautiful nature area is a pearl called Lipót Thermalbath and Spa which is one of the most natural and greenest baths of Hungary.
The open air bath komplex welcomes its visitors:
two thermal pools,
a swimming pool,
children pools,
an experience pool with whirling corridor,
jacuzzi,
a 1200 m2 beach pool ( wave-ball, huge slides, mini water park ),
brand new pool with water castle
and playground for children a fabulous island and watermill-sauna in the calm and beautiful natural surroundings.
The Thermal well was qualified in 2004 as medicinal water
The spring water is of low firmness, sodium-hydrogen, carbonate, fluoride medicinal healing water.
Fields of application
Treating for deteriorative joint and spinal diseases, chronic inflammatory, arthritic diseases, arthritis and at locomotive complications of accidents (rehabilitative after-treatment).
The Thermalbath of 10 hectares watered green lawn gives in addition to swimming and bathing,are at disposal for international beach volley ball and beach football courts,, massage, lake with special fishes from Danube. One day in Lipót Thermalbath and Spa is not only bathing experience however a whole day relaxation and refreshment in the beautiful natural surroundings for all ages.
Book your accommodation in a wonderful natural environment, in Lipót Thermal Camping**** right next to the Thermalbath.
Spend unforgettable days in a wonderful natural environment, in a huge green area,in our air-conditioned houses or in the spacious, shady plots in the heart of nature. Lipot Thermal Camping awaits you
All pools are available during your stay (2 thermal water pools, 2 children's paddling pools with mini castle and slide, 1 adventure pool with family slide and massage elements, 1 swimming pool with trampoline, 1 beach pool with 6 huge slides, water park, pools with water castle, huge playground, sauna) . On weekends, we welcome visitors with an exciting program such as aqua zumba or dance performances on stage (in the high season). Free WIFI is available in the thermal spa area and in the campsite.
Other amenities
A playhouse awaits the children on the campsite!
You can spend time in Camping Bistro with breakfast,lunch or dinner, locally baked snacks and foods and ice-cold cocktails with good music.
Accommodation types
The 235 plots of the campsite are equipped with electricity connection and water supply (not all pitches) for tents, caravans and motorhomes. In addition, 40 fully equipped mobile homes, 6 wooden houses, 5 guest rooms and 14 sleeping cars await the guests.
We have created the CampRest portal for people who value freedom and travel on their own.
Enjoyed reading this article? Share it!