Kokkino Nero, or liquid rust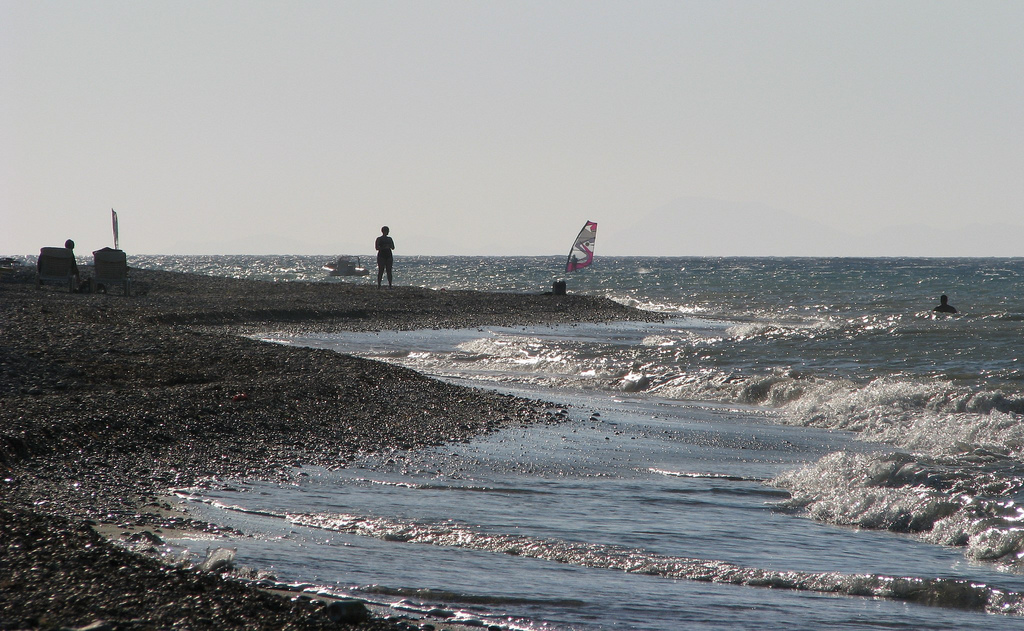 In the evenings, integration blooms on the beach in Kokkino Nero. Some are looking forward to parties and dancing, others want to have a quiet dinner in one of the taverns. Greece tastes of watermelon and wine poured from a plastic barrel.
Kokkino Nero may not be the most famous tourist destination of the Olympic Riviera, but it is undoubtedly a cult destination among young people, especially students. It is located in Greece, in the Thermaic Bay, about 80 km from Paralia Katerinis, the pearl of this part of the region.
Summer on the Red Water
In the summer, Kokkino Nero turns from a tiny fishing village into a resort for students who come here to relax as part of the Student Camp. They are attracted by the beauty of the Ossa Mountains, the extraordinary climate as well as the hospitality and cordiality of the inhabitants. Access to hot water is also essential, wonderfully transparent thanks to the stones covering the bottom. It is worth adding that when swimming you need to remember about protective footwear - there are sea urchins here.
Kokkino Nero means "Red Water" . It owes its name to the local iron sorrel spring that springs in the forest on the outskirts of the village. The water flowing out of it looks like liquid rust, and it tints the objects it encounters with a characteristic color. Its healing properties are used especially by people struggling with stomach ailments. It is also effective in treating diseases of the throat (vocal cords).
Some tourists prefer a natural SPA with ice cold water. This SPA is located in the forest and consists of a cavity filled with water of surprisingly low temperature. Even on a hot day, it is icy cold, which means that the daredevils who venture here are only able to stay in it for a few minutes.
Shopping at doorstep sellers, or how to save
Prices in the resort are slightly higher than in nearby towns, and this is especially true for fish and seafood. It's best to look for door-to- door traders , because they'll pay a bit less. You can buy the so-called soap and jam - they offer, among others clothes, mattresses and swimming rings or towels. They also sell vegetables and fruits, including peaches, nectarines, grapes, and melons. You can buy a watermelon for as little as 2 euros.
Original alcoholic beverages are also not very cheap in Kokkino Nero. Homemade wines are only available in large-capacity plastic barrels, so you must have your own bottle when purchasing. "Lane wine" can be bought in local shops, proudly referred to as hypermarkets. We can buy Ouzo (Greek anise vodka) almost everywhere, but a particularly recommended place where you can buy stronger alcohols is a shop located near a spring of healing water.
There is a supermarket with the lowest prices on the main street near the medical center. It is worth adding that the owners speak Polish freely. Our language can be heard in many places (including guesthouses), which confirms the popularity of the village among compatriots.
Camping near Kokkino Nero
Tourists who are planning a vacation in this region and looking for accommodation at a campsite may have a small problem - there is no such center in the immediate vicinity of Kokkino Nero. However, it is enough to drive a little further to find the perfect place. About 40 km north of the town there is Camping ORPHEUS , where an adult will pay EUR 5.50-6.50 per night, while a motorhome pitch costs EUR 6.50-7.50.
The location of the campsite is only one of the strengths, although it is one of the most important. The facility is located in a wooded area and the sea is reachable within a few minutes on foot. Campers praise its intimacy, cleanliness and friendly atmosphere.
We will spend our holidays in many ways in this part of Greece. Active people can climb Mount Olympus, visit the Calypso Canyon or hike to the Byzantine Bridge, while those who just want to relax will find peace and relaxation on the pebble beach.
A writer by profession, a passion of a cat. One day he will see what is behind the Urals - good to Vladivostok. So far, when he can, he enjoys the sun of the countries of southern Europe. And it's also fun;)
Enjoyed reading this article? Share it!