Lake Garda - Camping Lago di Tenno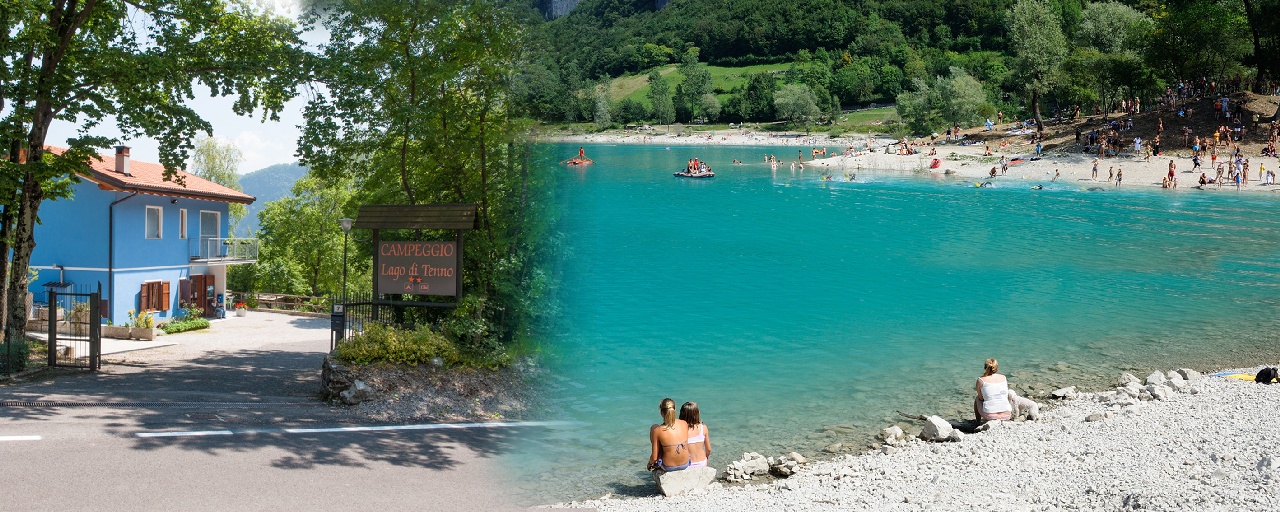 Camping on Lake Garda is the perfect place for those who wish to spend their holidays in close contact with nature without sacrificing the comforts of modern camping. It is a delightful destination and an alternative vacation destination for lake lovers looking for a quiet location. The Tenno boasts an exceptionally favorable location between the Mediterranean climate of Lake Garda and the surrounding mountains. It is a real gem, whose still intact roots date back to the Bronze Age. Canale di Tenno is one of the most beautiful villages in Italy. The Casa degli Artisti residence and the arts and crafts park are a meeting point for artists and a place for cultural initiatives. Tenno and its villages form part of the area covered by the "From Dolomites to Garda" Eco-museum Judicaria project.
From the castle of Tenno you can enjoy a wonderful view of Lake Garda. The castle, which was built around the 12th century, rises above the ancient hamlet of Frapporta and the church of San Lorenzo, one of the most important examples of romantic art in Trento. Another attraction is Lake Tenno - a bathing area with incredibly clear water, surrounded by unpolluted landscapes. It is a real paradise oasis. The lakeside beaches are free and well-equipped. Tenno is often called "blue lakes" because the surrounding forest and the white rocks at the bottom give it a blue-green tint. Lake Tenno can only be reached on foot, via high medieval stairs.
A campsite immersed in greenery
The campsite is located on Lake Tenno, a few steps from the medieval hamlet of Canale di Tenno. Its surface is mostly covered with high-growing trees, divided into terraces with grassy ground. Especially recommended for people who value peace and nature. The campsite is located 300 meters from the lake of the same name, with crystal clear water and mountains overlooking it. The surroundings offer endless possibilities for excursions and walks: medieval settlements, archaeological zones and numerous sightseeing routes for lovers of walks and mountain bikes. The Terme di Comano spa resort is 15 km away , and the towns of Riva del Garda and Arco are within 10 km. The pitches have a power connection. Other services offered include free wi-fi, bicycle storage, grill, caravan service point, bar, restaurant and pizzeria within 100 meters from the campsite, shop, tennis courts, 5-person football field, volleyball court , ping pong table and playground.
Offers
In the periods from June 19 to July 9 and from September 1 to October 31, 2017, the campsite has an interesting offer for people who want to spend their holidays focused on sports. The offer includes the possibility of using boats on Lake Tenno (kayak-SUP-pedalo for a maximum of three hours), Nordic walking tour and climbing via Ferrata.
The offer is available in two variants: for two people (from 300 euro) and for four people (family offer from 450 euro).
We have created the CampRest portal for people who value freedom and travel on their own.
Enjoyed reading this article? Share it!