Lake Garda with a dog - where to stay?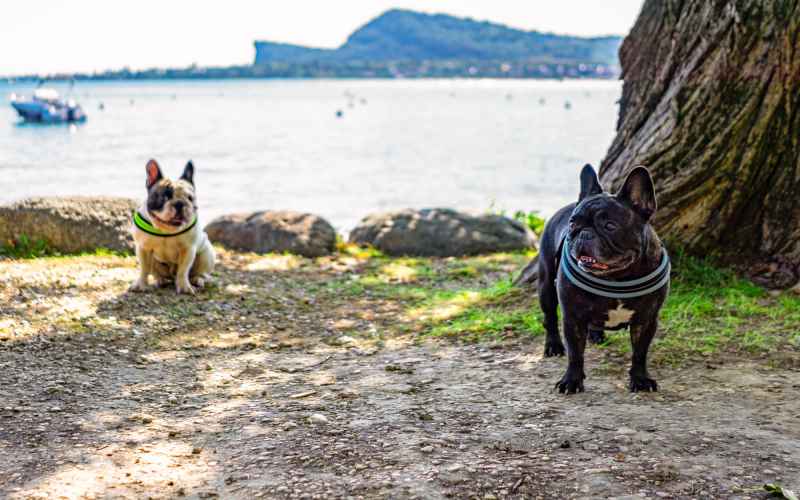 To spend a successful holiday abroad, it is not enough to just go away. There are so many things to remember, so many scenarios to take into account ... Such a trip should be well thought out, especially when we are accompanied by small children. Or a dog. It is true that the tourist infrastructure is becoming more and more open to people traveling with a pet, but still not everywhere we can take it, and where we can, there are often restrictions.
If you plan to visit Italy and spend holidays with your dog on Lake Garda, check with us which tourist facilities accept pets. We will circle the entire reservoir to find out what the surrounding campsites offer to dog keepers (or rather to the dogs themselves). We invite you to read!
Lake Garda
Garda is the cleanest and largest lake in Italy, it is also extremely beautiful. Palm trees, cypresses, orange trees and oleanders grow along the shores, and the nearby mountains are reflected in the water surface. Both thanks to its beauty and perfect location (halfway between Milan and Venice), it is a perfect destination for anyone planning a holiday in Italy . It is difficult to visit all the attractive places around Garda during one vacation, so a good solution is to tour it around it. Along the way, we will see a lot of atmospheric towns with narrow streets, and restaurants serving local cuisine are also waiting for tourists. Many points have viewing terraces where you can dine while admiring the landscapes. When the weather is fine, vacationers like to spend time on the nearby beaches, most of which are free.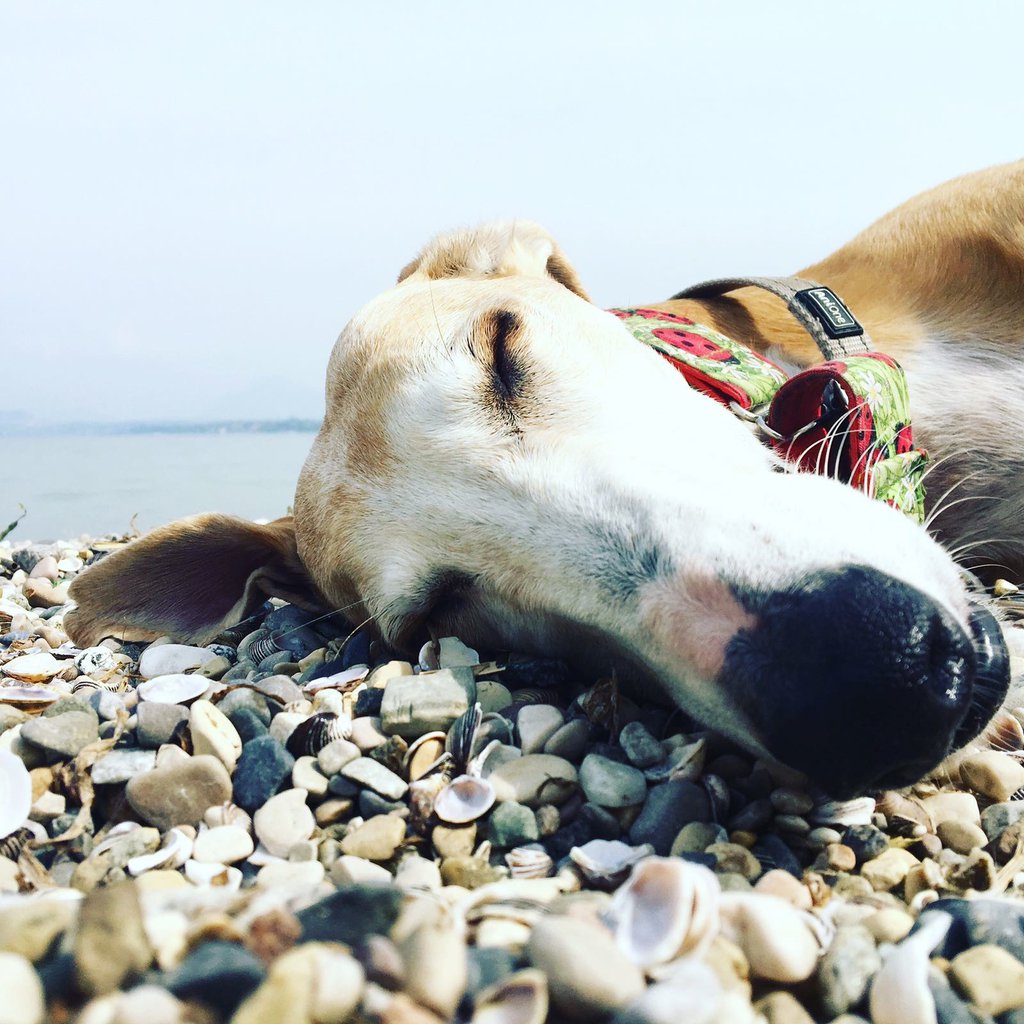 Garda is a paradise for anglers - carp, pike, eel, crucian carp and many other species of fish swim under the surface of the water. Willing people can easily rent a boat or canoe in one of the nearby rentals. There are also many vineyards where we can taste the best wines in the region. And where can we stay when we are on vacation with our dog ?
Lake Garda - North
The northern regions of Garda are truly alpine areas, adorned with beautiful peaks and even more beautiful towns. We start our journey from the village of Arco, located at the foot of Mount Colodri, approx. 9 km north of the lake. It is very much liked by nature lovers, and the network of bicycle paths and hiking trails attracts fans of active recreation.
About 500 meters from the center of Arco is our first accommodation point - Camping Arco . Guests can choose from over 230 spacious pitches prepared for campers and tents, 22 apartments (for 4 people) and a wooden house (6 people). It is a well-equipped campsite with bathrooms, a bar, restaurant and pizzeria, sports fields and other sports facilities.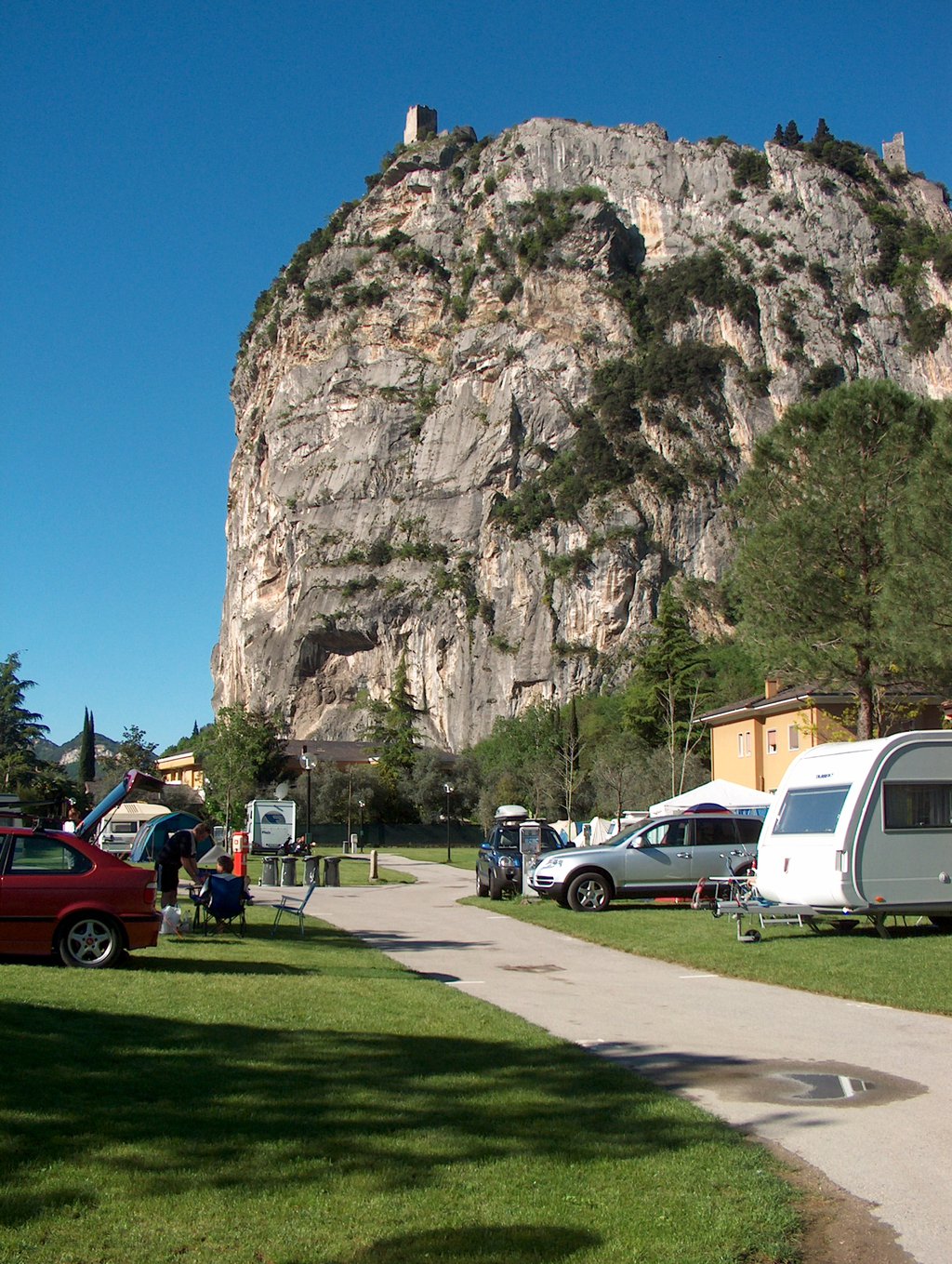 There is another resort in Torbole - Camping Maroadi . It is an ideal starting point for local attractions, as well as a great place for walks - numerous scenic routes and a picturesque beach tempt you to visit. Fans of water sports, mountaineering and those wishing to explore the nearby Riva del Garda are popular here. The campsite offers accommodation by the lake in several variants: on a plot, in a mobile home and in a cozy hotel room.
The above-mentioned Riva del Garda is a real tourist pearl, one of the most beautiful towns on the lake. Hidden between the peaks of Monte Rocchetta and Monte Baldo, it attracts visitors with its wonderful promenade, promenade and historic center. There is another facility in the resort that we can visit with our four-legged friend - Camping Brione . It is large and comfortable (one of the few with four stars), and the richness of its offer encourages the arrival of both families with children and a group of friends, as well as water sports enthusiasts, cyclists ... In short, there is something for everyone.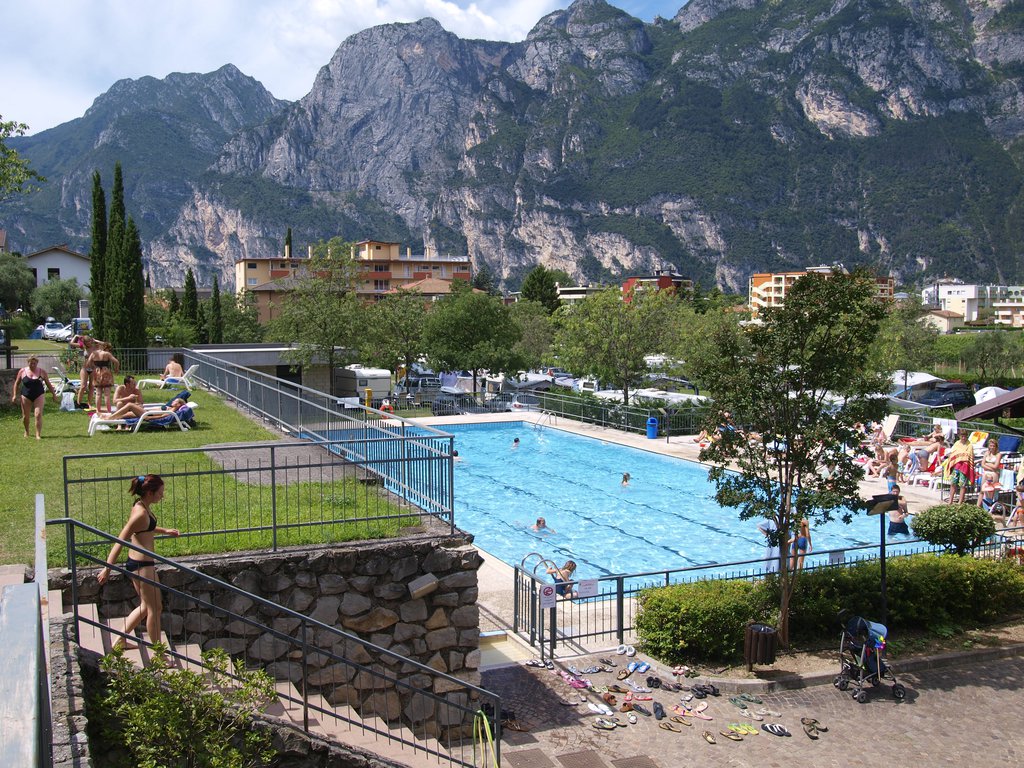 There is a campsite in a picturesque olive grove on the campsite . Hedged lots provide privacy and comfort. There are also mobile homes available, but you cannot live in them with a dog.
About 15 km west of Riva del Garda, on Lago di Ledro, lies Camping al Sole . It is an ideal place for those who intend to rest and rejuvenate themselves for at least a few years. A wellness center with massages and a wide range of facial and body treatments awaits them.
The campsite is very much liked by animal lovers who come here to relax with their dogs . The quadrupeds have a fenced area for themselves where they can run. However, they must always be on a leash when they walk. It is worth adding that the variety of entertainment and the vicinity of the beach make it difficult to find a free place without a reservation.
Lake Garda - west
Compared to the besieged north, the western shore of Garda is much calmer. It is largely forested and mountainous, and most of the resorts are located in the southwestern part of the lake.
Driving along the west bank, we come across a few places that are pet-friendly - the area around San Felice del Benaco. The first on the route is the four-star Camping Weekend . It is approx. 400 meters from the beach, and the activity options include, among others, windsurfing, canoeing and sailing. Set in an old olive grove, it provides the opportunity to relax on spacious, shaded lots. Lovers of peace and quiet surrounded by nature like to relax here.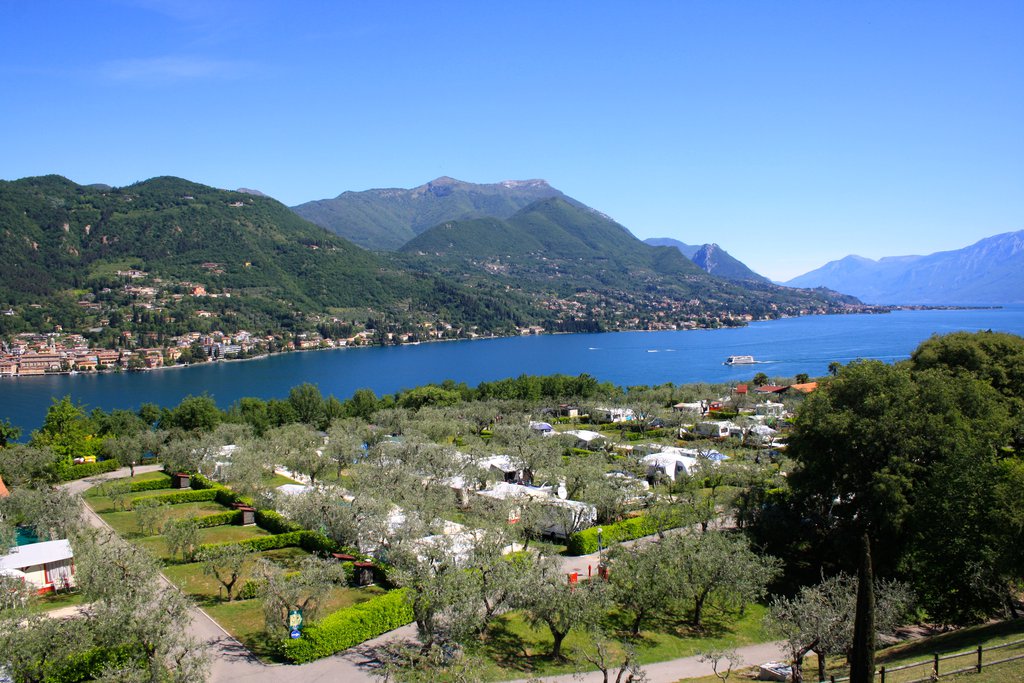 A little further south there is another center inviting tourists with dogs. This is Camping Fornella , located right next to the lake, on a headland. The term "family" fits it perfectly - it has been run by one family for several decades, and it is also adapted to the needs of the youngest guests. It is a real family park with friendly service and a wide range of animations for children and adults. It offers lots of different sizes, places in mobile homes, you can also buy olive oil from the owners' grove and visit their island of Isola del Garda.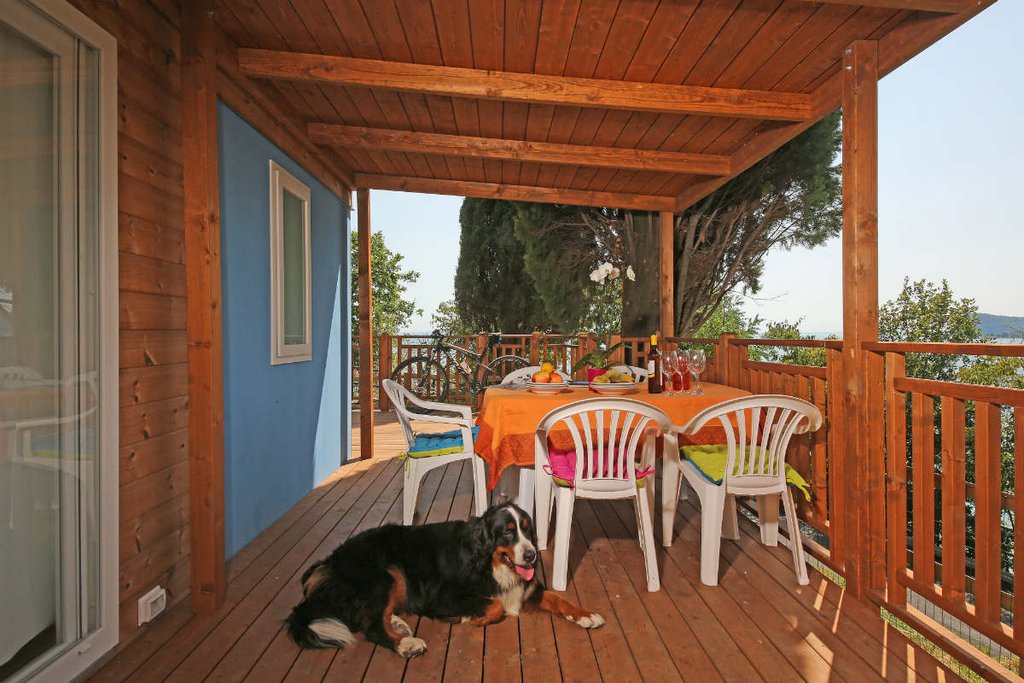 Those looking for privacy can stay hidden in the lush greenery, with lake access and views over Isola del Garda and the Bay of Manerba. Camping Village la Gardiola provides intimacy thanks to hedges and all the comforts in cozy cottages. There are also luxurious mobile homes (some with their own jacuzzi). At the positions overlooking the lake, you can park campers and caravans or set up a tent. Dogs are allowed in this part, as well as in some houses.
In the immediate vicinity of the Village la Gardiola, approx. 1 km from the center of San Felice, there is another facility offering hospitality to the care of pets. Camping Europa Silvella is beautiful - there are magnolias, acacia, oaks and olive trees nearby. The advantage of the location is also the terrace location, which provides unforgettable views of the Garda.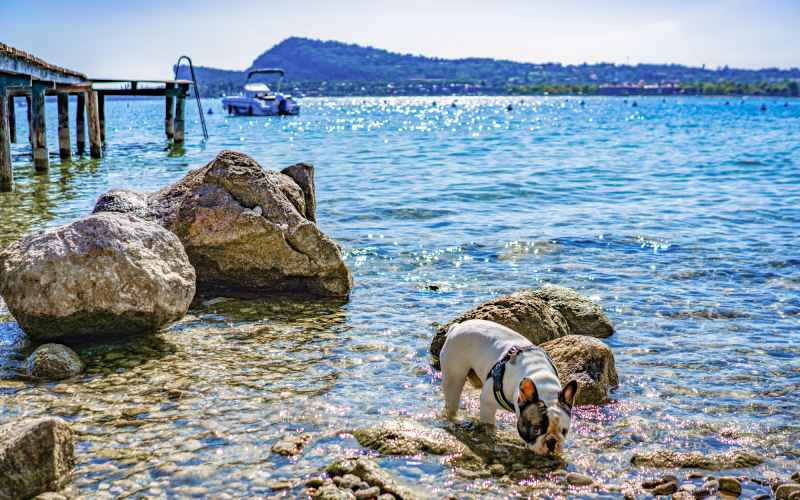 Amateurs of soaking in the water will be delighted with the swimming pool complex and jacuzzi. In addition, guests have access to a private beach. They rest on spacious plots, they can also rent comfortable cabins by the lake .
About 1.5 km south of Europa Silvella lies Camping Baia Verde , loved especially by families with children. There is a swimming pool, paddling pool, large playground and numerous sports fields, which are only a fraction of the attractions prepared for small guests. The campsite offers pitches where you can park your mobile home or put up a tent. He accepts dogs, except for breeds considered dangerous in Italy.
Lake Garda - South
The landscapes of the southern shore of the lake are flat areas, castles and fortifications, and bustling towns. It is worth paying attention especially to Desenzano del Garda with a huge port from which you can sail to other parts of Garda, Sirmione with the famous Rocca Scaligiera castle or Lazise, known as Venice on the Garda.
Sirmione is another of the many pearls of Garda, an exclusive resort attracting crowds of tourists from different countries. It has a historic center, separated from the rest of the city by a moat built around the castle. The nearby hotels with their own thermal pools are among the most prestigious on the lake. There are also well-equipped facilities for caravanning fans, including the 5-star Camping Village San Francesco . It is located right next to the headland (on the south-west side), has large pitches for campers, caravans and tents. Willing people can rent one of the three types of caravans or a luxurious lodge tent. It is a pet-friendly camping, although you should check in advance which accommodation options are available for people with dogs.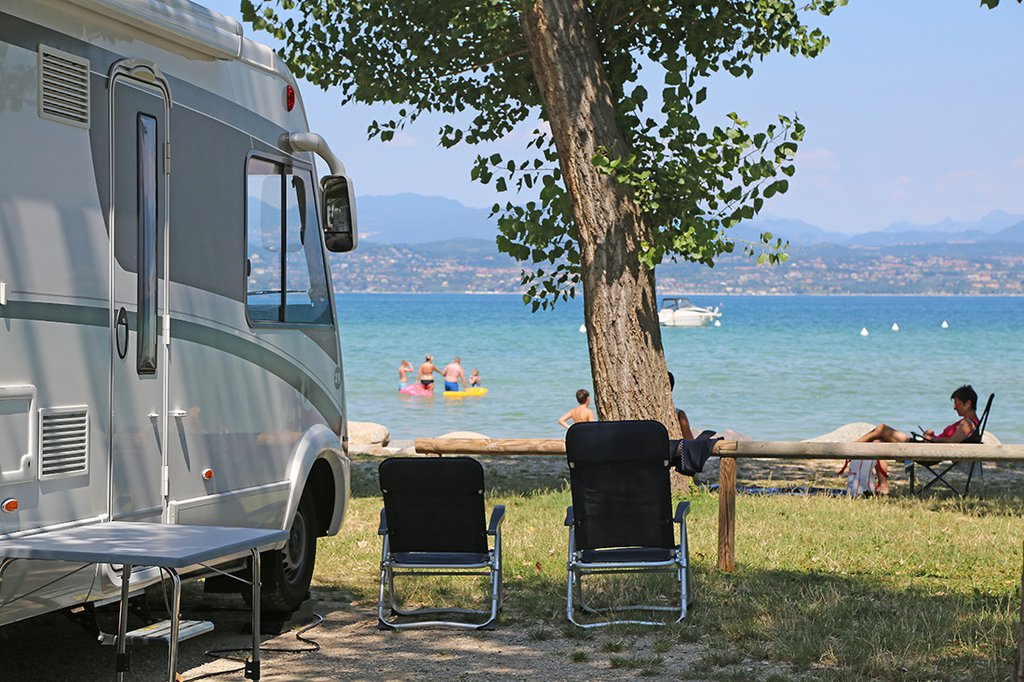 If we want silence, away from the city noise, we should visit Camping Bergamini , which has been welcoming guests for over 65 years. It is situated in Peschiera del Garda, 9 km east of Sirmione, right on the beach. Among the newest amenities the owners have to offer is the panoramic heated swimming pool.
The famous dog beach is a stone's throw from the campsite. On Braccobaldo you can relax freely with your four-legged friend. What's more, for a few euros, we can rent a deckchair for ourselves and for a dog. Each place is equipped with an umbrella and a bowl of water, and at the entrance you get a bath towel for your pet.
A little further east of Bergamini (but still close to the dog's beach) is another fur-friendly resort. This is San Benedetto Camping Village , which is very popular among families with children. It has numerous sports fields, shows and live music performances, and the youngest can count on a number of entertainment organized by animators.
Lake Garda - east
The eastern part of Garda is considered by many to be the most beautiful. Crowds of visitors are attracted by the wonderful medieval Malcesine, once a fishing port and today a popular resort. There is a cable car station to the top of Monte Baldo, from which there is a fairy-tale view of the lake. Lazise is also a must-see, crowded with tourists heading for the castle. This is the main attraction, but the houses and streets are also beautiful.
People looking for accommodation in this part of Garda can choose Camping Gasparina . He invites everyone, but he holds particular esteem for families with children. It is hardly surprising considering the fact that she has a neighbor. Practically behind the fence lies Gardaland, the most visited amusement park in Italy. It can be reached on foot.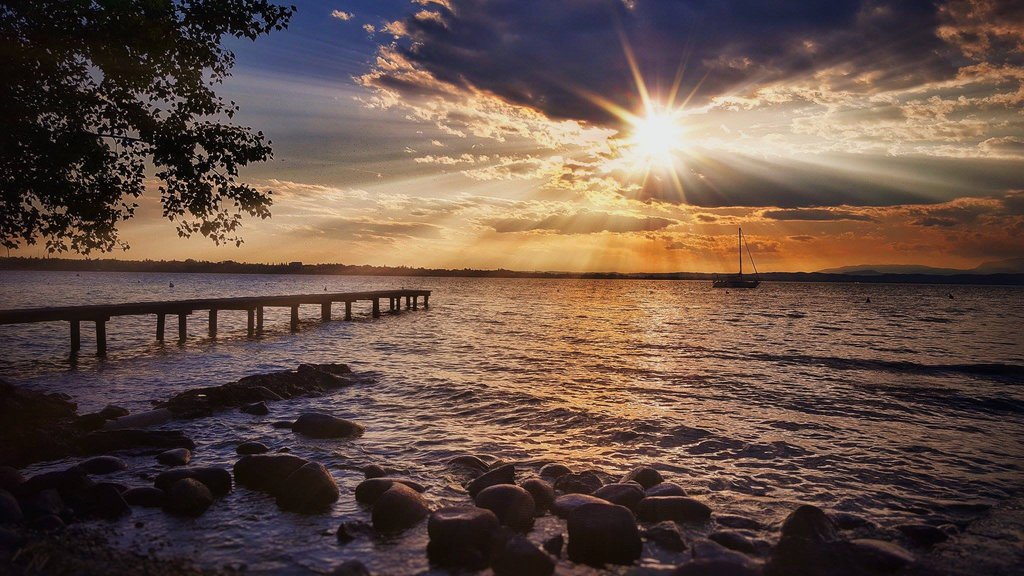 The campground itself has access to a free beach by the lake, and its guests stay on one of the pitches in a camper or tent. You can take your dog with you. It is also possible to rent a luxury bungalow (Maxicaravan), where, unfortunately, pets are not allowed.
Less than 2 km north of Gasparin, there is another pet-friendly property - Camping Le Palme . Located directly on the lake, in close proximity to the town of Lazise, it provides quick access to nearby attractions, including amusement parks. Apart from Gardaland, it is also easy to reach Movieland, Thermal Park Villa dei Cedri or Caneva. Among the many amenities there is a mini market, a swimming pool for adults and children, a bar and restaurant, and a pediatrician (high season).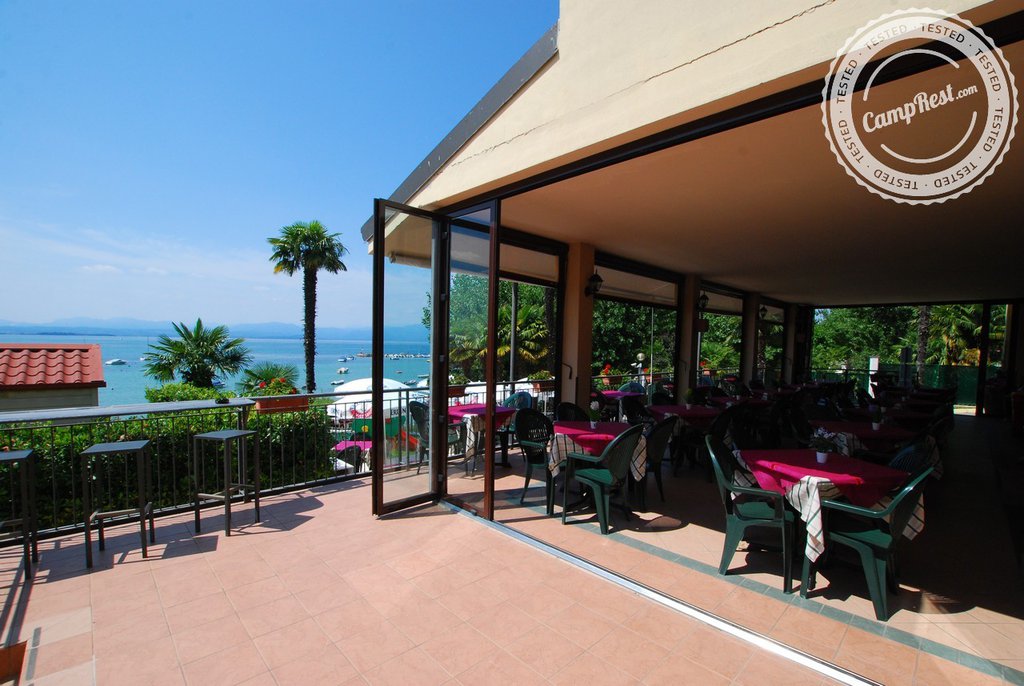 Continuing north along the shore, on Lazise, we come across the family- run Camping Belvedere . It offers vacationers over 360 places where guests can relax in a motorhome, in a tent or in one of several variants of mobile homes. Dogs are allowed in some of the houses. There are swimming pools for children and adults (with a new slide and paddling pool), playgrounds, sports fields and a beach. There is also a restaurant and shop.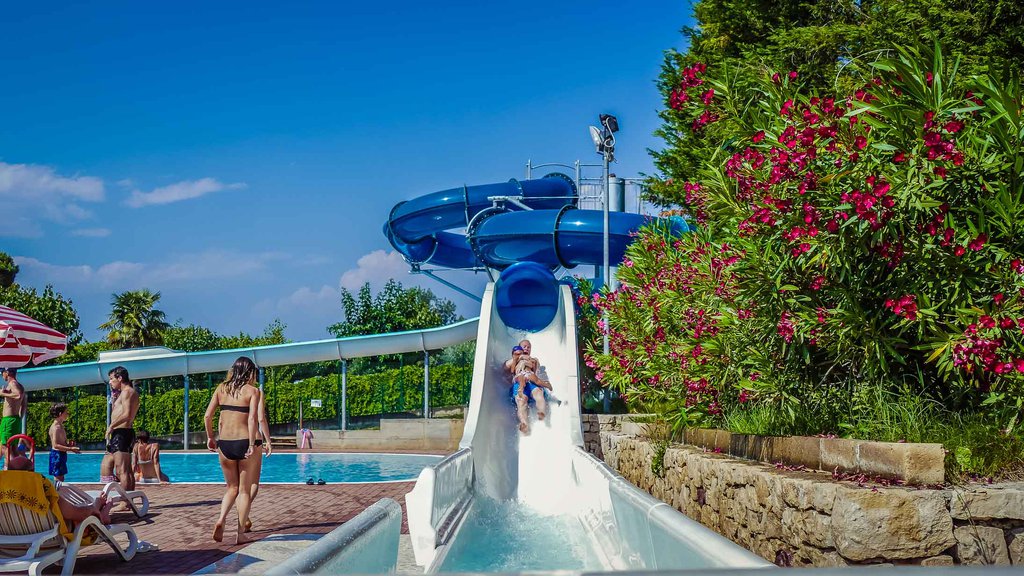 The last place on our map is the family- run Camping Spiaggia d'Oro . Holidaymakers have a huge selection of leisure options, ranging from crazy activities in the water park and activities on sports fields or in the fitness center, through excursions in the area, and ending with relaxing on the beach. Motorhome owners can settle down on shaded plots with full sanitary and electric facilities, while those who want to relax among nature, but in comfort, there are villas by the beach and Maxicaravana.
If with a dog, then to Garda
The beauty of Garda has been attracting thousands of vacationers for years. Today, people coming to the lake to relax have dozens of hotels, guesthouses and campsites offering everything you can dream of on vacation. You do not have to worry about finding a hotel for your dog - you can take it with you, because many facilities provide an accommodation option for four-legged guests. There are also specially designated beaches for dogs by the Garda, so your pet is not condemned to sit only on the plot or in the cottage. The same interiors, viewed 24 hours a day, would bore everyone, let alone a doggy.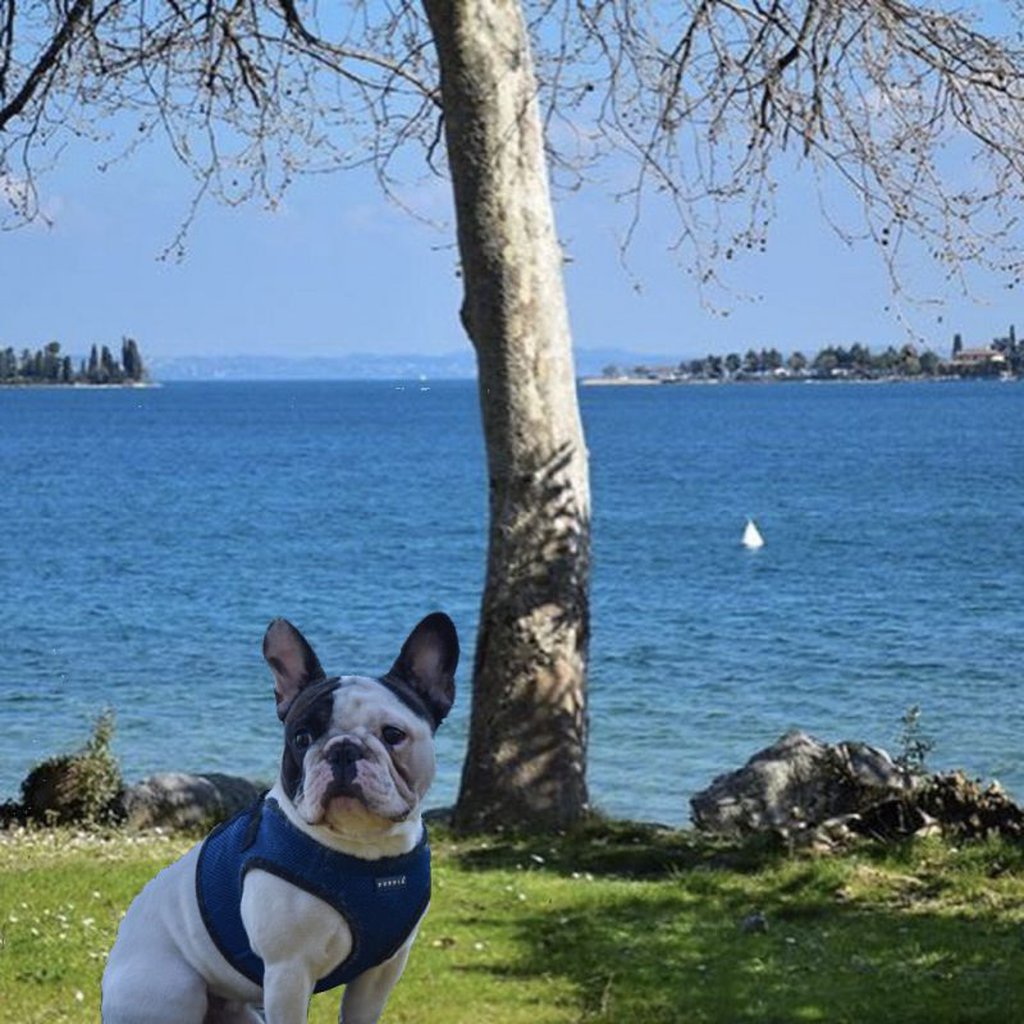 So if you would like to come camping with your dog , there is nothing to stop you. You can already plan a trip to the Garda.
A writer by profession, a passion of a cat. One day he will see what is behind the Urals - good to Vladivostok. So far, when he can, he enjoys the sun of the countries of southern Europe. And it's also fun;)
Enjoyed reading this article? Share it!