Leaking clocks in Figueres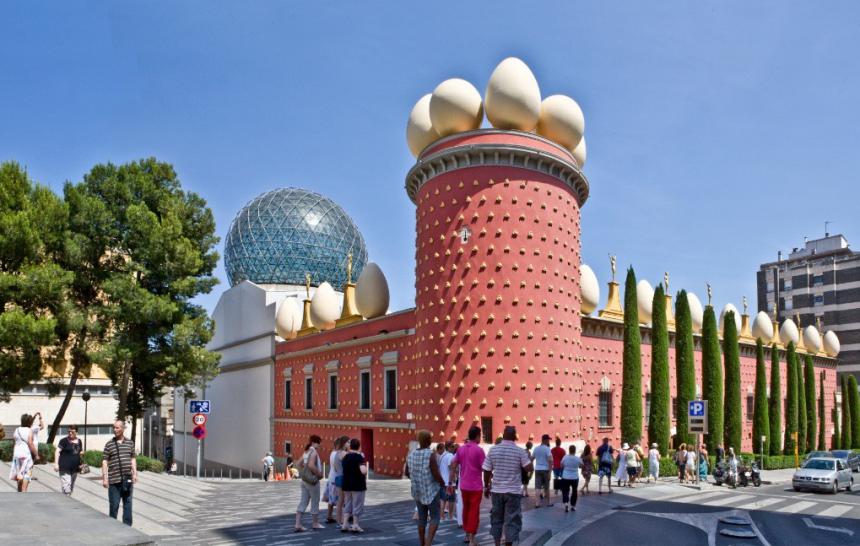 Let's go to Figueres, a city where lived an artist who called himself "Surrealism is me!", Who believed that all Picasso's works are worth less than one of his. Let's visit the museum of Salvador Dali, the genius in love with himself who came up with the Chupa Chups logo.
When planning a trip to Spain, it is worth taking a 1- or 2-day trip to Catalonia. There is something absolutely unique here, something that evokes admiration, anxiety, maybe even in some sense disgust, but it certainly will not leave anyone indifferent. In the small town of Figueres, there is a museum of Salvador Dali, the master of surrealism, the father of the "Flaming Giraffe", "Leaking Clocks" and other paintings, where you stand today with a pensive face entitled "What did the poet mean?"
Figueres is approximately 136 km from Barcelona, so if we have more time, we can treat the walk along the trail of buildings by Antonio Gaudi as a prelude to a world that we will not be able to comprehend.
Catalan donkey versus Spanish bull
To begin with, it should be noted that Catalonia is now one of the autonomous regions lying in Spain. Despite the fact that the government has not yet succeeded in fighting off distinctiveness, it is better to remember in Figueres that you do not visit Spain. Similarly, in the capital of the region, Barcelona. We are visiting Catalonia - a land whose symbol is a nice donkey, not a dangerous bull.
Regardless of the political turmoil, the region is very popular with tourists. It is characterized by the stunning beauty of sea and mountain landscapes and a wealth of monuments. The main attraction for visitors, however, is art with a capital S. Gaudi lived and designed in Barcelona, and in Figueres a crazy genius with a big ego, Salvador Dali . His works may be frightening, they may not like them, but no one can say that he lacked talent.
Dali triangle
In Figueres there is one of the sides of the so-called the Spanish Dali triangle. We are talking about the Dalí Theater-Museum , founded by the artist himself. He lived and worked in the city, he was also buried here. The other two sides of the triangle lie at Pubol (at the castle of Gala, the painter's wife and muse) and at Port Lligat (at the artist's house).
Dali was eccentric, a bit crazy and downright madly in love with himself. He was alien to the prosaic dilemmas of hundreds of artists trying to make a living from art, because he lived in luxury. Surrounded by wealth, he could focus only on his work. His museum is as crazy as he is. It houses over 1.5 thousand. Dali's works , ranging from prints and sketches to sculptures and installations. Walking among them is like wandering through a dream world from which it is difficult to wake up. On the way, you can see a patio with a black taxi (Cadillac square), and inside - Escenario Cupula, i.e. the main hall with a glass drop crowning it.
Walk around Figueres
The city is famous for its crazy genius, but not only is its museum noteworthy. Figueres has many historic buildings that it can be proud of. These include neoclassical tenement houses and the parish church of Sant Pere on Placa de Sant Pere. After a fire during the Civil War, it was rebuilt in the original Catalan Gothic style.
Later, you can visit La Rambla , the city's main square, to relax in the shade of plane trees. In the area, guests can enjoy numerous cafes and bars with cold beer and tapas.
Surreal dream
A trip to a place that has such an exceptional effect on the mind can be exhausting. Before we continue our journey through the donkey's land, we can stay overnight at Camping Bungalow Park Las Dunas . By car, you can reach it from Figueres in approx. 20 minutes, because it is located in Girona. It is quiet and peaceful here, surrounded by the sea and green trees - the campsite is ideal for families with children. Tourists are offered large stands at prices oscillating around 18-53 euro / day, and accommodation costs from about 3.75 to 6 euro. The pitches have access to power, are grassy and intimate (separated by hedges).
After spending the night in the picturesque Bay of Roses, you can continue your journey towards the attractions of Catalonia. There are so many of them that we are not bored.
A writer by profession, a passion of a cat. One day he will see what is behind the Urals - good to Vladivostok. So far, when he can, he enjoys the sun of the countries of southern Europe. And it's also fun;)
Enjoyed reading this article? Share it!