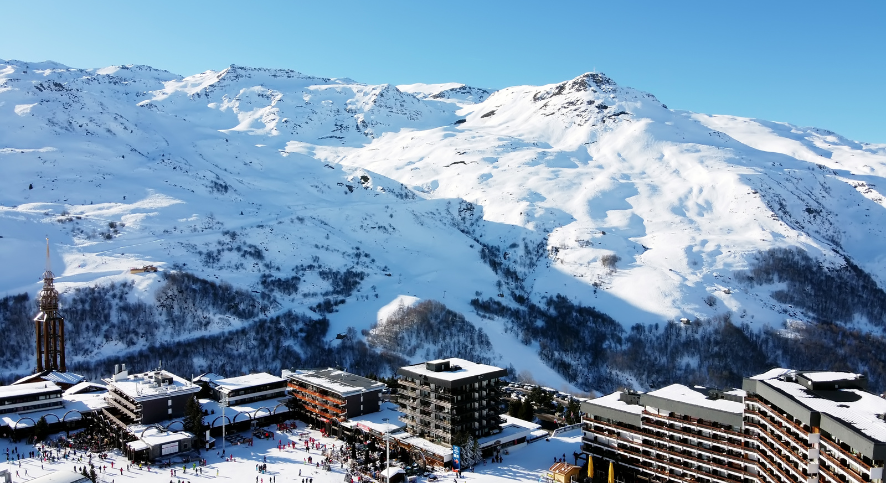 The largest resort
The French Three Valleys is the world's largest ski area. As the name suggests, it stretches between three valleys: Des Allues (Meribel), St. Bon (La Tania, Courchevel) and Belleville (Val Thorens, St Martin de Belleville, Les Menuires). Its area is almost 10,000 hectares, and the region is located in the Savoie department in southeastern France.
It all started in the 1980s, when modern cable cars - like cobwebs - stretched between Val Thorens station and the neighboring valleys of Meribel and Courchevel. It was then that masses of white madness enthusiasts began to come from all over the world and it continues to this day. Almost 300 ski runs with a total length of 600 km have been prepared for them, plus over 200 ski lifts and cable cars. Every day you can face snow on a different slope, and there will be plenty of attractions. Everyone will find something for themselves - both a beginner skier who wants to learn to ski in an extremely picturesque area, and an experienced ski user who likes extreme adventures. The most difficult runs in Europe are waiting for the latter: "Masse" in Les Menuires, "Couloirs de la Saulire" in Courchevel or "Bouquetin" in Meribel-Mottaret. And beginners can enjoy the less traveled routes between Les Menuires and Saint Martin de Belleville (La Becca, Les Granges or Saint Martin 2 chairlifts) without stress.
The phenomenon of popularity of this resort is easy to understand - two stately glaciers, de Cheviere (3,210 m) and de Peclet (3,300 m), majestic mountains, sunny surroundings and an ideal climate, plus a well-organized infrastructure and extremely practical connections between stations. And most importantly: the entire ski area is accessible after purchasing one pass. The approximate prices of ski passes are: for one adult person 300 EUR / 7 days, for a child 240 EUR / 7 days, the price of a weekly group ticket (3 people and more) is 282.70 EUR / person. And for a group pass for the entire season you have to pay EUR 1115 / person, and you will receive discounts on other attractions. A great convenience is the introduction of contactless pass readers, ie "Mains Libres" (Free Hands) throughout the ski area.
3 valleys in a camper van!
You can also go skiing in the Three Valleys with a camper. One of the possible places to stay in a motorhome is a dedicated parking lot for motorhomes in the center of Val Thorens in the immediate vicinity of the slopes. It offers all the amenities we need, i.e. toilets, the possibility of connecting electricity, the possibility of emptying the chemical toilet and filling the tanks with clean water. The weekly cost of stay in the season 2012/2013 is EUR 122.5 / vehicle. Reservations can be made online at https://www.valthoparc.com .
The second very similar but slightly cheaper place to Val Thorens is the Preyerand parking space in Les Menuires. The cost of parking in the season 2012/2013 is EUR 10 / day per vehicle. In addition, access to electricity and toilets, where the toilet can be emptied, is payable. As in Val Thorens, the location is ideal and is directly on the slopes, shops and restaurants. For more information, please visit http://en.lesmenuires.com/winter/camper-park-202.htm .
All the ski resorts of the Three Valleys attract tourists, and each one with something else, except, of course, the routes themselves. For example, Les Menuires offers a Sports Center with a fun park for the youngest. In turn, adults can go on a motor-glider flight, ride a quad bike on a secured track or take a dog sled ride. Guests are also invited to the Aquaclub-Spa with saunas and swimming pool, jacuzzi, solarium with relaxation and water gymnastics. In addition, those eager for cultural and spiritual experiences can visit the Sanctuary of Notre Dame de la Vie and the Church of Saint Martin de Belleville with a guide, or go to musical meetings in the Belleville Valley, where you can hear choral singing, gospel and Celtic music.
The next station, Courchevel, is said to be the most renowned of all alpine ski stations. Supporters of comfortable conditions stop here - both in the hotel and on the slopes. Heated sofas, monitoring on routes and modern snowmaking await them. Freeriding enthusiasts will definitely choose the highest station in the region and Europe, i.e. Val Thorens (2300 m). There, they will have unlimited possibilities for crazy snowboard and ski descents, and there is also a SnowPark with a halfpip and a boardercross track (1.5 km) waiting for them.
Meribel, on the other hand, attracts with the atmosphere of traditional wooden architecture. There are no strict, modern hotel complexes here. Body and spirit can also be rested in Brides les Bains, a thermal station with sensual warm springs. Every year, thousands of patients come here especially, and skiers like to rest by the springs after a day on the slopes. You can relax all year round in this beautiful mountain town at the foot of the region, and access to the Three Valleys ski runs is possible thanks to the famous Olympe cable car.
Three valleys, lots of routes, great views - the perfect place for (not only) winter fun.
A writer by profession, a passion of a cat. One day he will see what is behind the Urals - good to Vladivostok. So far, when he can, he enjoys the sun of the countries of southern Europe. And it's also fun;)
Enjoyed reading this article? Share it!