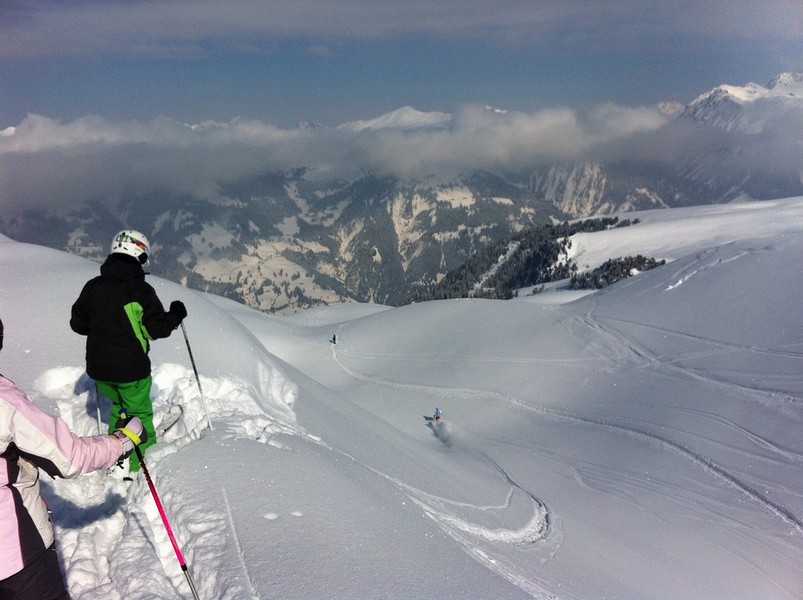 Recently intimate, today it is one of the largest centers in Switzerland. The charming Arosa is a health resort for tuberculosis patients and a tempting place with 225 km of great ski runs.
If someone is planning to spend a week or two-week skiing holiday, he will probably consider large resorts, "merry-go-rounds" and resorts offering hundreds of kilometers of ski slopes. However, if he only has a short weekend at his disposal, paradoxically, he has more choices. Why? Since in such a situation it is unlikely that you will be able to check all the slopes of large resorts, so you may also consider going to a smaller, more intimate resort. He has a chance to fall in love with small but picturesque towns, not as crowded as crowded and fashionable resorts. He can also find a golden mean and go to a resort placed at the center of the list of famous mountain resorts. A good choice in this case is Arosa - a Swiss resort located in the canton of Graubünden, in the Rhaetian Alps, a few hours' drive south of Zurich.
Arosa is a well-known tourist and leisure center, as well as a health resort popular among tuberculosis sufferers. It is located in the Plessur Valley, 6 km from St. Peter-Pagig. It is 7 km from Tschiertschen, and 12 km from the famous Davos. The winter season starts here on 30/11/2013 and lasts until 21/04/2014.
Arosa - a little pearl of Switzerland
Arosa is a resort located in a beautiful scenery. Until recently, it was a charming, intimate resort - perfect for quiet weekends among mountain peaks. In 2013, the slopes of his and neighboring Lenzerheide were connected by a spider web of lifts, thus creating 225 km of ski runs. Most of the trails here are for intermediate skiers, but there is also something interesting for more experienced skiers - a few difficult black runs await them. Beginners can choose from 111 km of blue runs (their number is 67), the remaining ones have 87 km of red (28) and 27 black (14). The length of the longest route is 10.4 km. Today, Arosa offers excellently prepared routes serviced by 42 modern lifts .
Most of the slopes are on the south and south-east side, so you can start skiing quite early in fine weather. You can warm up on the slopes below Hörnli, after reaching it with the Carmenna lift. It is a great place for beginner off-piste skiing enthusiasts - under the watchful eye of experienced instructors, you can test your skills on a thick layer of snow.
If the weather is good, you can try to go down route number 11. You can reach it with the Bruggerhorn chairlift. Open spaces make it possible to ride in areas outside the designated routes, which is an additional advantage of the area. There is a half pipe and a snow park for snowboarders. On the other hand, those who prefer to get to know the area in a slightly calmer way can take advantage of 32 kilometers of cross-country ski runs.
Ticket prices in Arosa in the season 2013/2014
The development of the resort and the increase in the number of slopes and lifts made the popularity of the resort even more popular. No wonder - the surroundings are exceptionally beautiful, the air is clean and the routes are well-kept. For the upcoming ski season, the prices of the Arosa Lenzerheide trails are as follows: A 1-day child pass costs CHF 23. An adult will pay CHF 69 and adolescents (13-17 years old) will pay CHF 46. The price of a 6-day pass is CHF 111 for a child, CHF 221 for young people and CHF 332 for an adult skier. People who are delighted with the local routes can consider buying a season ticket and come to Arosa more often. The cost of such a pass is CHF 330 for children, CHF 660 for teenagers and CHF 990 for adults.
In case we get hungry while driving, Hörnli Hut is located at the top station of the Hörnli lift - a restaurant with a large terrace and fantastic views. It serves traditional dishes, including delicious salads. If, on the other hand, we have an appetite for delicious potato rösti, we can go to the other restaurant, Carmennahutte. On the other hand, you can go to Grottino for pizza or spaghetti.
Welcome to Arosa!
Not only skiers will have a great time in Arosa. The resort is famous for its well-developed infrastructure, and it also hosts ice and snow horse races. Many ice hockey enthusiasts also come here (there is the EHC Arosa club in the center).
We will have no problems finding accommodation. There are a lot of hotels and guesthouses waiting for tourists, there are also campsites, including Arosa Camping . The price of a night stay for two adults and the cost of a stand for a vehicle is 40 euros. Two adults with two children aged 6-10 will pay 49 euros per night. You can come here with your pet, another advantage of the campsite is free Wi-Fi.
Arosa is a resort that is constantly developing, adapting its offer so as to reach everyone - not only to people interested strictly in skiing. A weekend in this charming town will fill us with positive energy, and encourage many people to quickly return to the Plessur river valley.
A writer by profession, a passion of a cat. One day he will see what is behind the Urals - good to Vladivostok. So far, when he can, he enjoys the sun of the countries of southern Europe. And it's also fun;)
Enjoyed reading this article? Share it!