Mirabi-fun in Mirabilandia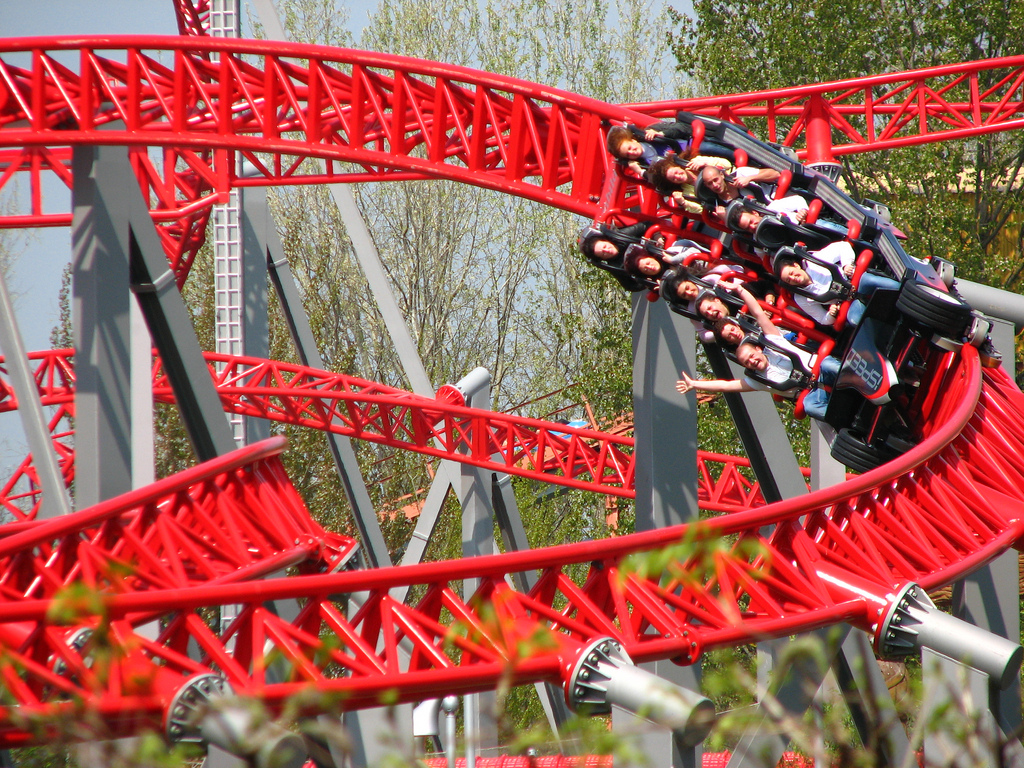 Mirabilandia - the name itself promises great fun. It is worn by the largest Italian amusement park located in Ravenna, where - according to the creators - guests will find 30% of entertainment, 20% of adrenaline and 40% of relaxation.
Mirabilandia is the largest amusement park in the Adriatic with a lot of attractions, and at the same time the second most visited facility of its kind in Italy. We will spend the whole day in it, and in the second (and third) there will be plenty to do. An adult will pay 29.90 euros for admission, while a child's ticket costs 24.90 euros.
Fun in several ways
There are 11 theme zones in Mirabilandia for all age groups. Bimbopoli awaits the little ones with a number of attractions, ranging from merry-go-rounds, through cable cars (including the first roller coaster in Europe for children from 3 years of age, the splashing Mini Rapide and St. Nicholas Express), and ending with the Crazy House, which can carry us straight in the clouds.
Fans of water, rail and road vehicles will love Motorworld . They can choose the iSpeed roller coaster, reaching 100 km / h in 2.2 seconds, car racing (Le Mans), the Divertical rollercoaster, on which we will get wet from head to toe, or skating on the fairway with a Cadillac car.
One of the newer zones is Mirabilandia Beach , where we will move to the Caribbean beach. The aquapark has swimming pools and smaller and larger slides where you can whiz until you get bored.
At Dolcevita Studios , guests will gain strength from further madness. Performances and musicals take place in this zone, you can hear music and buzz from everywhere. There are restaurants here, serving a delicacy called piada, popular in this region of Italy. It is a thin flat cake made of wheat flour, served sweet and salty.
In Mirabilandia there are also beautiful gardens with lakes in which swim, among others, ducks, swans and grebes.
Learning fun ... and less fun
Sian Ka'an is an ancient Mayan city dominated by one of the most famous attractions in the park, the Katun rollercoaster, which resembles a giant snake. It's definitely better not to overeat before the ride - not only because we drive upside down.
In Zone 35 , aviation enthusiasts can see numerous planes, and feel like astronauts when the rocket takes off - just get in Columbia. In turn, Dinoland awaits dinosaur lovers. In this zone, you never know when a great head with a series of knife-sharp teeth will pop out of the brush. The fear of being eaten will be tamed by riding bronto cars, traveling in a giant egg or flying like a pterodactyl.
In Baia dei Pirati you can find the lost treasure of Captain Flint. However, it must be remembered that he is under a curse. In Reset, New York Anno Zero we will see what the yellow taxi city would look like after a disaster, when you have to start all over again. Anyone who visits both of these zones without twitching an eyelid will stop smiling in the city of Phobia . There are beings living in it that feed on fear, and they will make things never be the same again.
Camping at Mirabilandia
In Marina di Ravenna, about 15 km from Mirabilandia, there is Piomboni Camping Village , the park's official partner since 2007. For a standard place (e.g. a car with a trailer, a camper, a tent and a car) we will pay 10.30-15 euro per day. Discounted tickets for 3 days of fun in the park are available at reception.
The property itself is 50 meters from the sandy beach. It is surrounded by a pine forest, the lots are shaded and have access to electricity. The campsite has a restaurant, bar and pizzeria as well as a mini-market, toilets are adapted to the needs of the disabled, there are also 2 rooms with a changing table and a baby bath. You can come here with your pet, as long as it is not a Rottweiler, Pit Bull or Doberman. The camping is waiting for guests from April 22, 2016.
So many attractions in one place - and how beautiful a place ... Is it already known where you must go on vacation?
A writer by profession, a passion of a cat. One day he will see what is behind the Urals - good to Vladivostok. So far, when he can, he enjoys the sun of the countries of southern Europe. And it's also fun;)
Enjoyed reading this article? Share it!