Picnic in Altomincio Family Park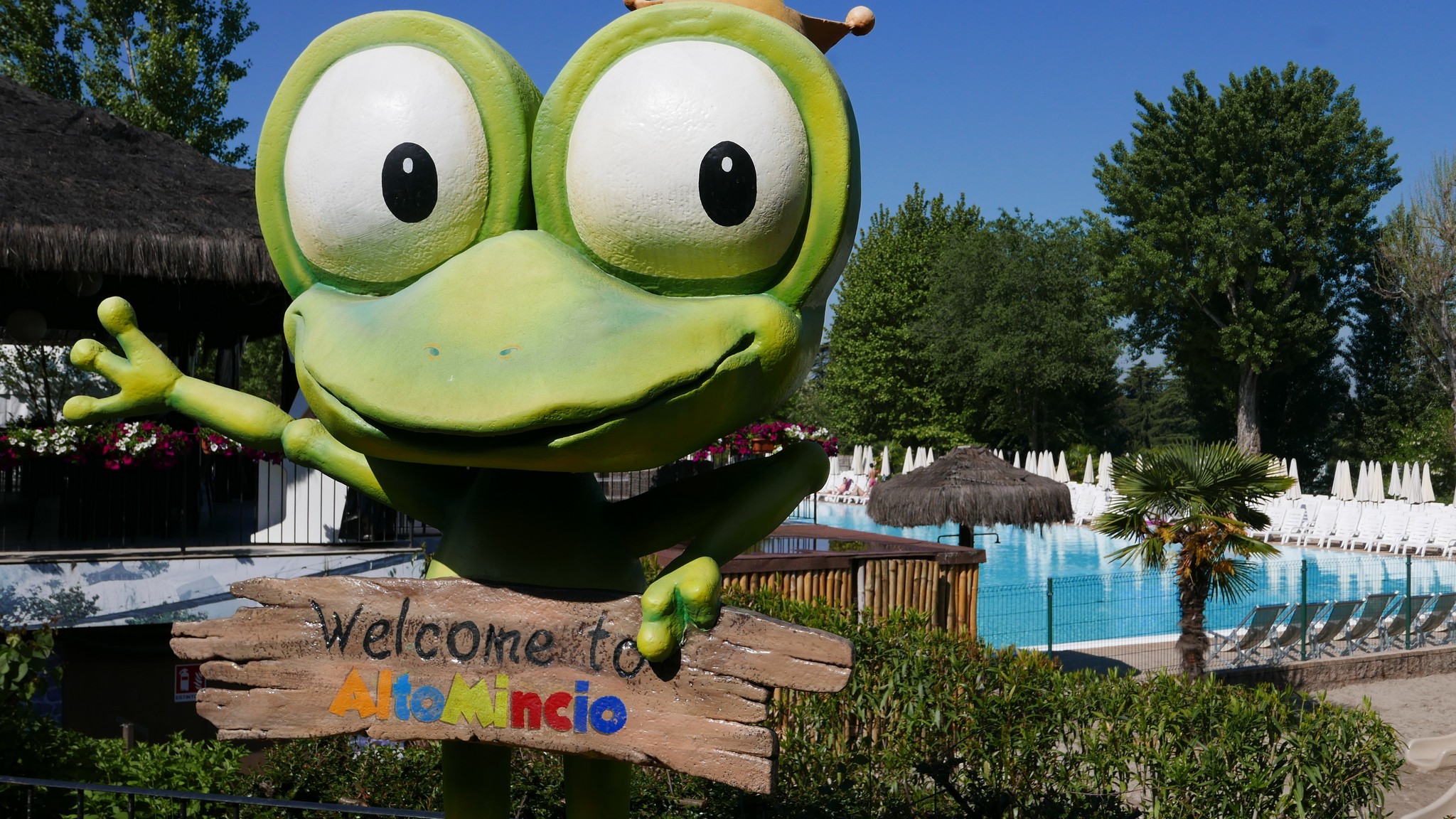 The trip that opens the camping season has been planned for a long time. This year we decided that Italy would be the destination of the picnic. We wanted to go to the Garda again, and an important argument was, among others close proximity to Poland. Even though it snowed the day before our departure in Austria, it was already sunny on the other side of the Brenner Pass, and during our spring holiday we even managed to feel the summer breeze.
As a rule, we go camping with a motorhome or a trailer. This time, however, we got an invitation to a camping site with no plots! There was an opportunity to test accommodation in a holiday home, which we decided for the first time in our lives. Did we like it?
Close to nature and with ... a pizza on the phone
Altomincio Family Park is not directly on Lake Garda, but south of it, directly on the Mincio River that flows from it. The campsite is terraced, so most of the bungalows overlook the beautiful Mincio River. There are car parks on the lowest level, and houses, swimming pools, restaurants and shops are located higher (on a huge area). Even higher we find more houses - these, however, are a bit far from the center of the campground. In return, they offer a fantastic view, and also provide a pleasant breeze of fresh air, which will be most important during the summer heat. The distance from the center of the campsite is not a problem, because the melex runs there in the season and food can be ordered by phone from the restaurant. Even the bread, if we order it the day before, will be delivered directly to the porch of the cottage. If someone wants to live in silence, away from the hustle and bustle of the pool, this is the perfect place.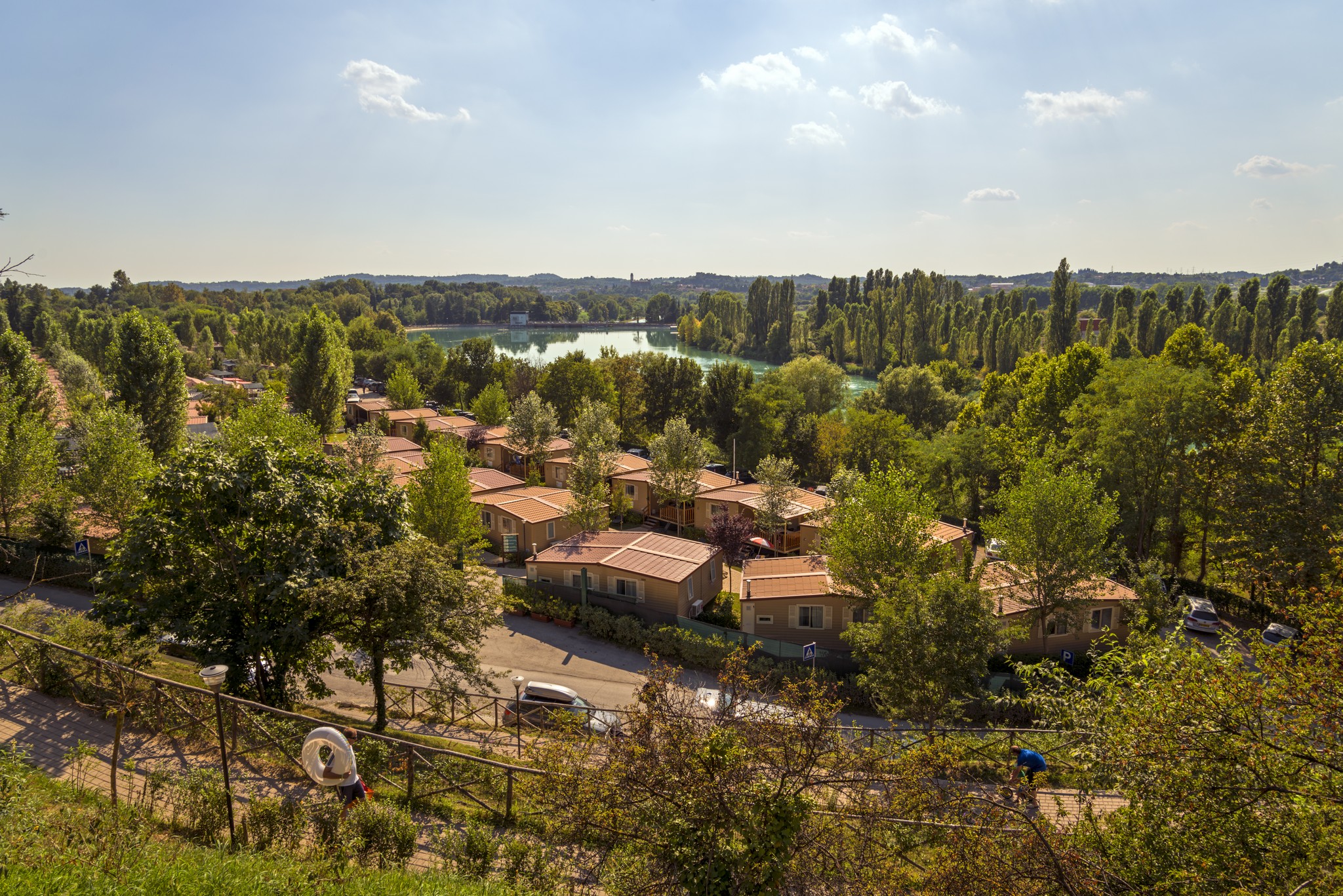 View from the upper level of the parc
However, in the center of Altomincio Family Park at Piazza Froggy, there is everything we may need during a day at the campground: one deeper pool, two lagoons with low water level and soft ground (including one tiny for the youngest children), three slides and the greatest fun - a whale-shaped slide with an underwater tunnel.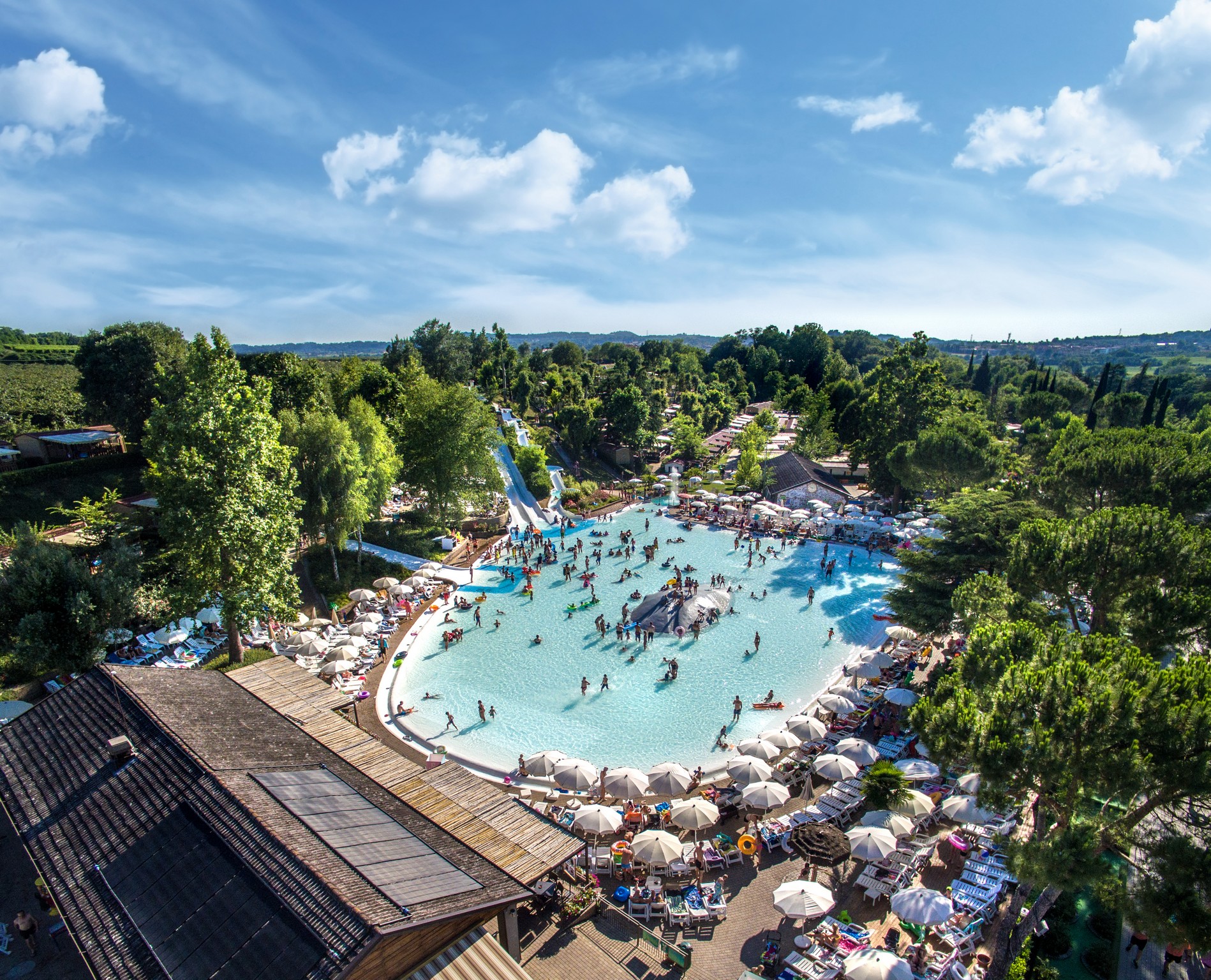 Next to the pools there is a grocery store, as well as a toy, swimwear, clothes and souvenir shop. At the store and at the bar by the pool, we find compressors, thanks to which we can quickly inflate the purchased mattresses, pontoons or other toys perfect for water.
Children will not be bored, because in addition to the pools, there is also a rope park, mini golf, and professional animations are conducted from morning to evening. In addition, there are many small playgrounds throughout the campground. They are practically on every corner, so children don't have to stray too far from the house to play. Anyway, they can also have fun in the streets, right next to the holiday homes, because car traffic is strictly forbidden at the Altomincio campsite.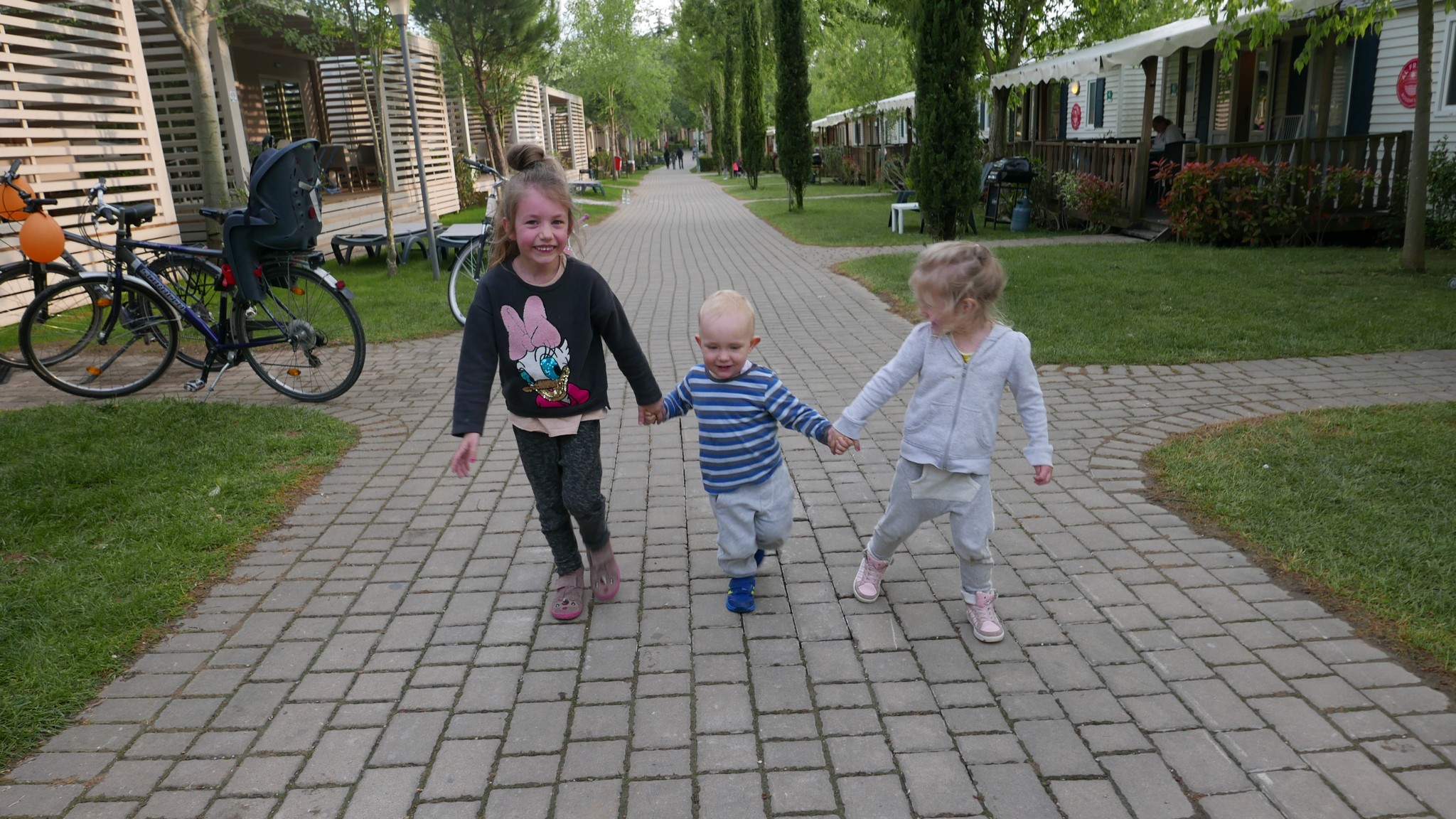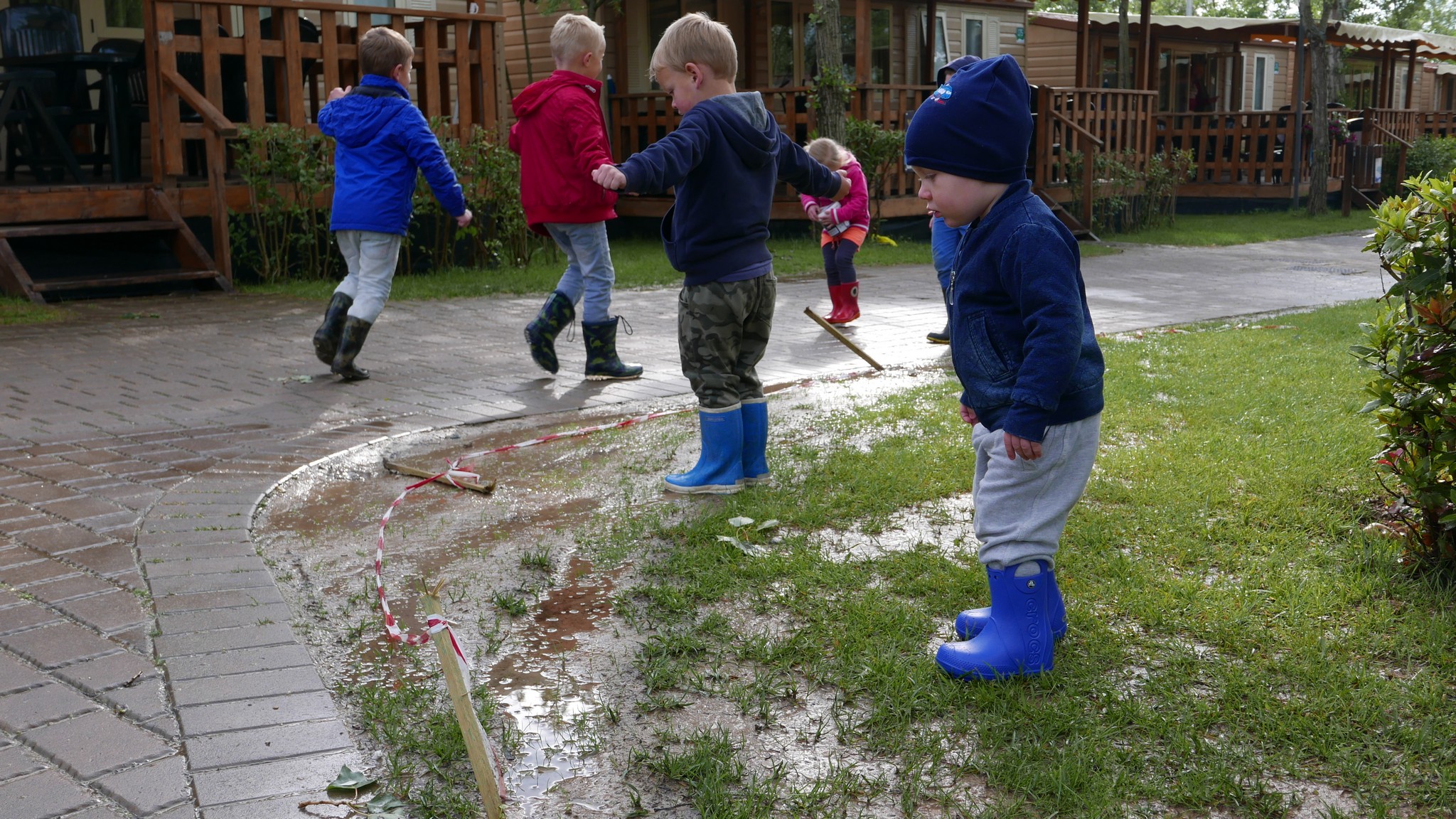 Cheaper tickets and rental
There is also an Info Point at the campsite, where the staff will help us organize activities outside the campsite. You can go on an organized trip or use the tips on how to explore the area individually. At this point, we can also buy cheaper tickets for most attractions located in the vicinity of the lake. For example, a ticket to enter the Gardaland theme park purchased at the campground will cost us EUR 33.50 instead of EUR 40.50.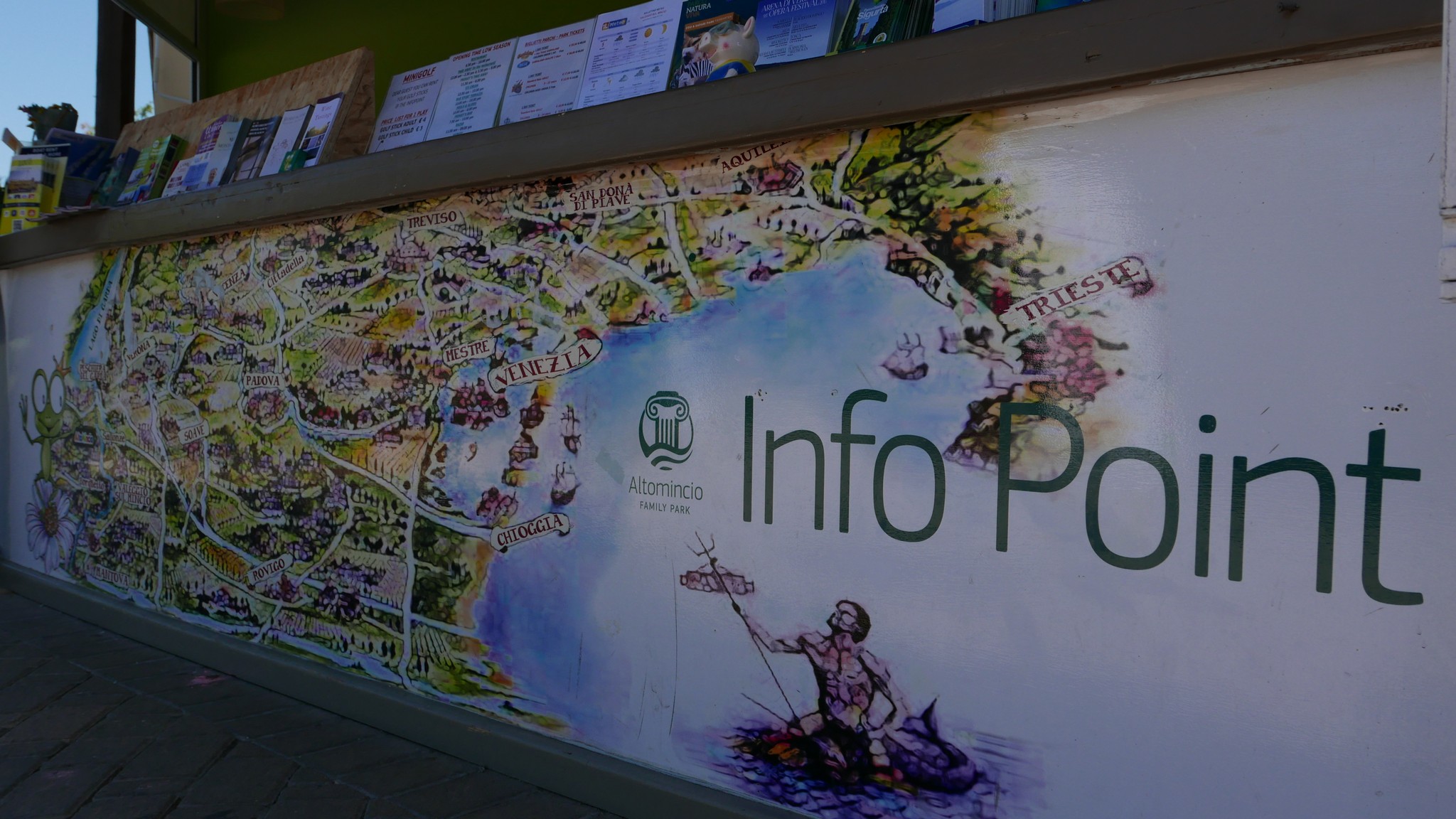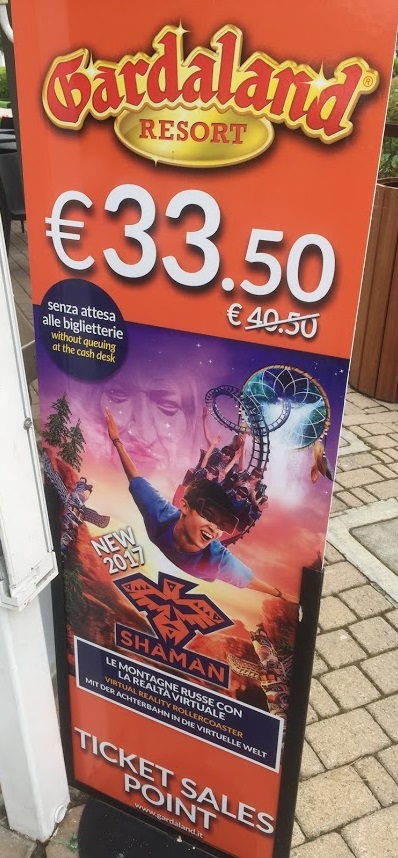 At the Information Desk, you can rent bikes for adults (with child seats) and bikes for children, and even cross-country bikes and scooters. The campground's location allows you to go on great bike tours along the Mincio River . A 35 km path (located directly at the campsite) connects Peschiera with Mantova and is a very important part of the popular Ciclopista del Sole cycle path (eurovelo 7).
If we cycle towards Peschiera (5 km), we can continue our journey along Lake Garda or take the ferry (also with bike) to visit other towns further north. We, with Lazise, were cycling back to Altomincio.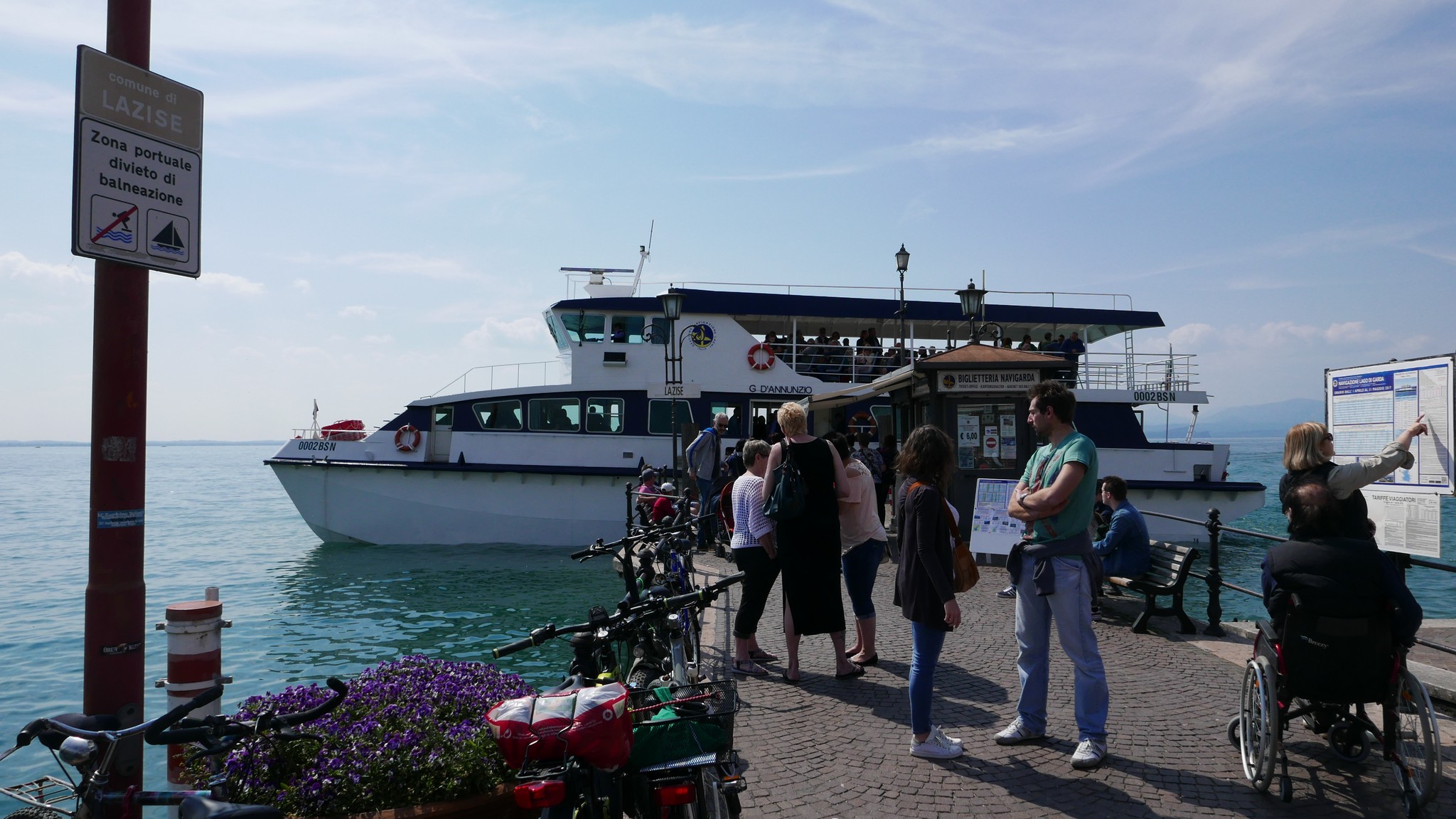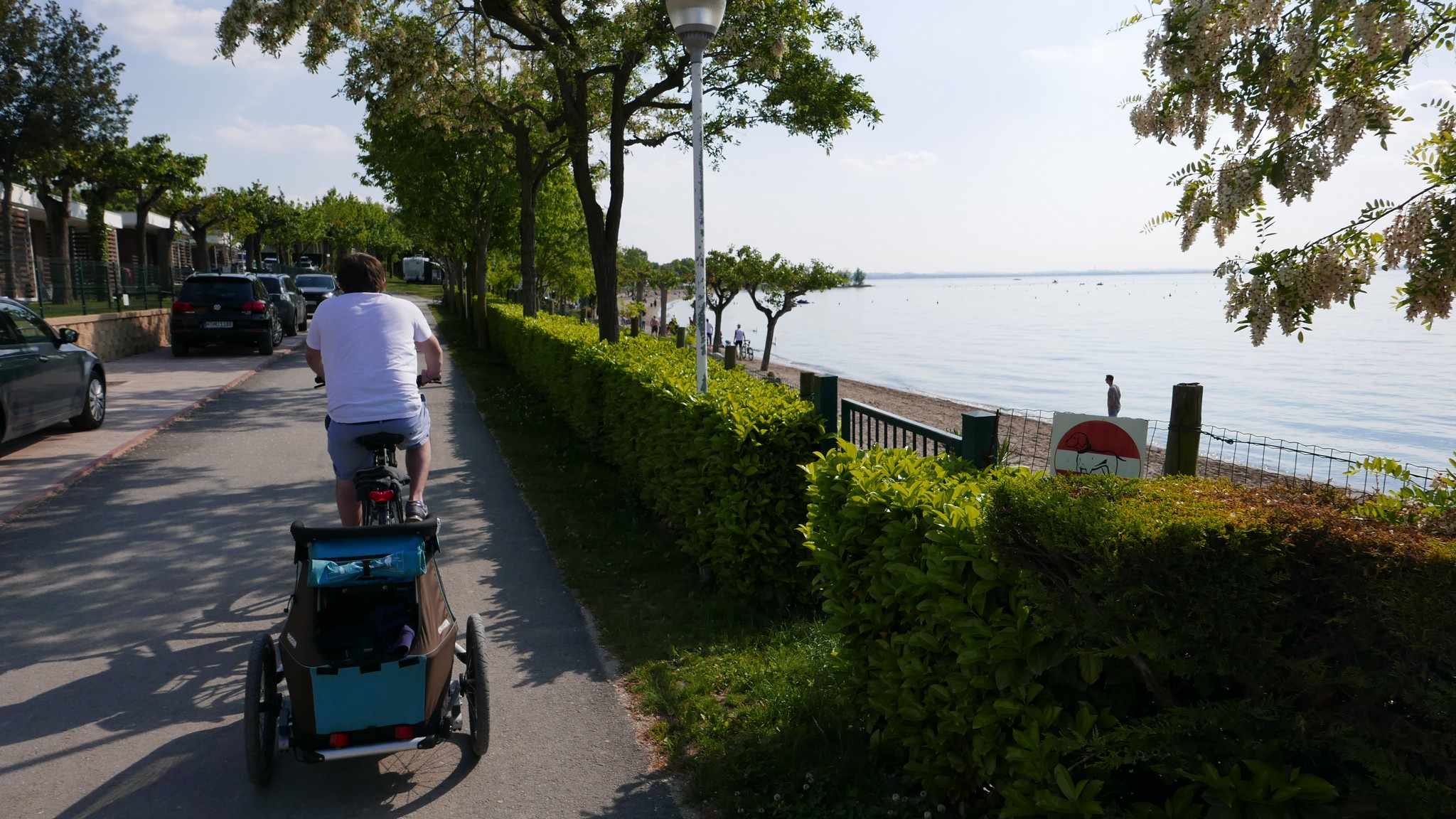 A camping full of delicious things
When it comes to camping meals, the holiday homes are fully equipped so you can easily cook everything there. When booking, you can also order a gas grill, which will be waiting at our cottage on arrival. You can also shop on site in a fully equipped shop. We can find everything there - from bread, fruit and cheese to alcohol, cosmetics and household chemicals.
But if you don't feel like cooking, there is a restaurant on the campsite with delicious take-out food. This is not fastfood like the famous chain with golden arches, but truly delicious Italian food - only in boxes;) There is also another restaurant with amazingly delicious food (open in the evenings), and besides, a bar by the pool, where we can also find incl. pizza, salads or fruit, and we can drink coffee and cocktails. There is also an ice cream shop with amazing ice cream made on site.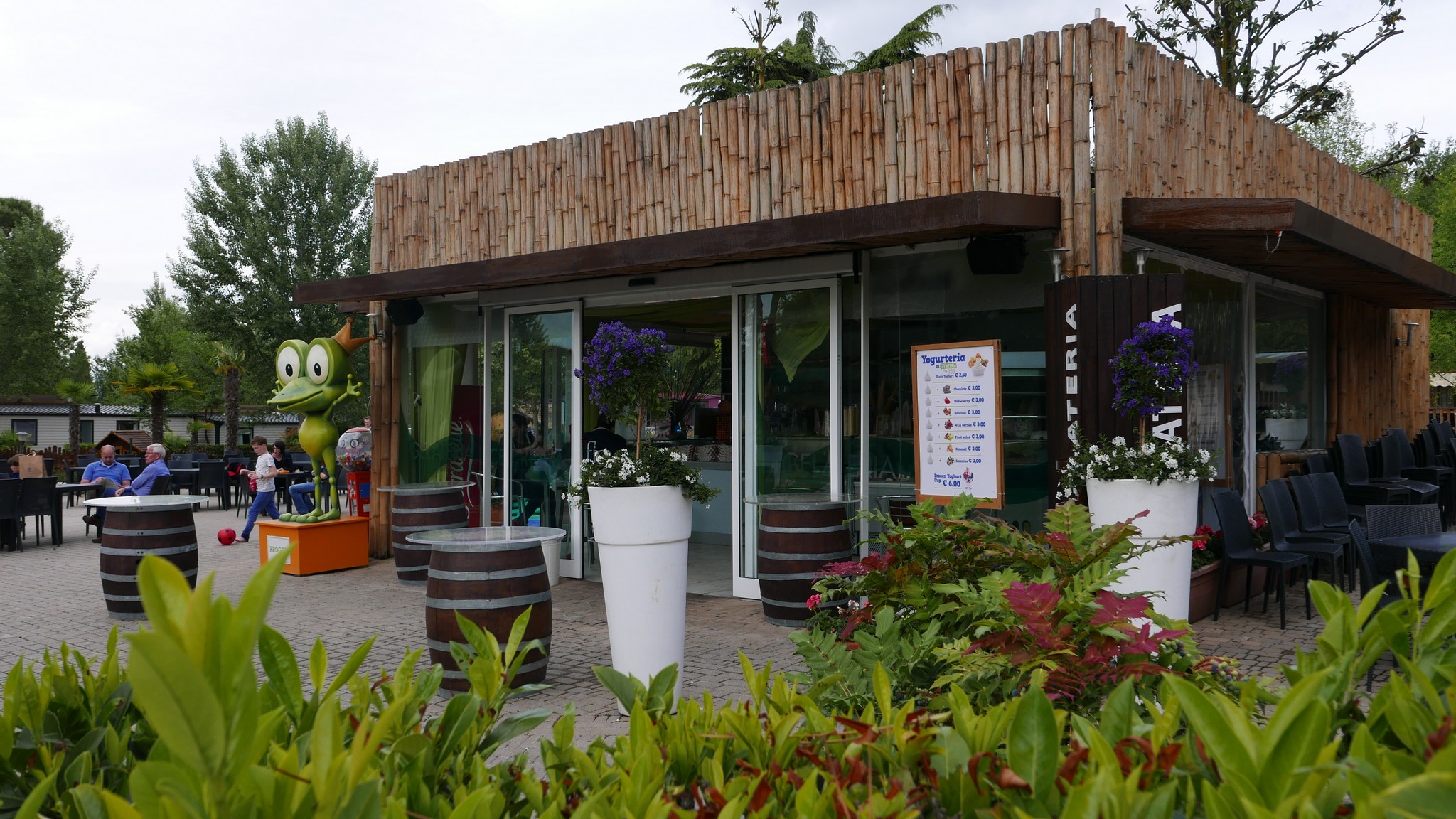 Cabins with Jacuzzi or Hello Kity
Someone might ask: what kind of camping is this without plots? Well, it is a perfect solution for those who want to experience a camping holiday without the need to take all equipment with them (especially if they do not have it). In the cabins you will find everything: bedding, towels, dishes and much more.
There are 820 cabins on the campsite - from standard to truly luxurious. And already in mid-June, the brand new Mobile Home EDEN houses with a jacuzzi on the terrace will appear in the offer of Elite Club Vacanze ! Also new will be glamping tents (safari style) located in the heart of the campground and a small hotel with several rooms.
There are also Hello Kitty cabins on site. We had the opportunity to go inside and see what a fairy-tale holiday with this cute character can look like. We have to admit that it's great there! The pink house has its own garden, and in its interior most of the furnishings are decorated with the Hello Kitty theme (bedding, dryer and even toilet paper are only part of the beautiful, tasteful and - contrary to appearances - subdued interior). There is only one downside - your children will not want to leave it too willingly;)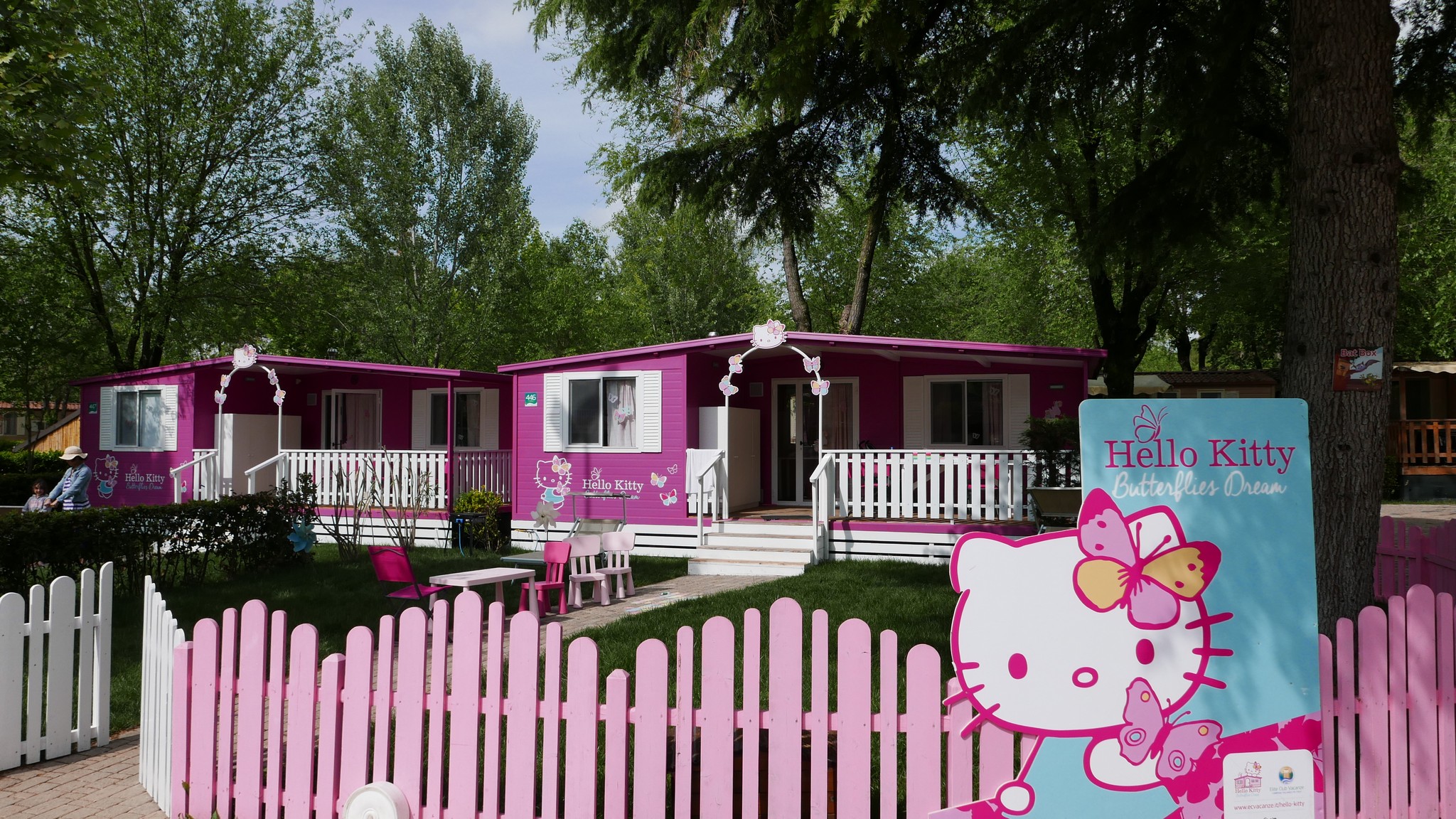 Holiday with a discount
You can check the prices of the cottages directly on the website of the ECVacanze camping network by selecting the appropriate campsite. For example, the price of the Giotto cottage (5 people) for a week's stay during the May weekend was around EUR 280. Additionally, until May 27, with the discount code ECVMAJOWSKA2017, you can get a 30% discount for a minimum 3-day stay. You can find more details here .
Similar discounts are offered by ELLE Vacanze. More information can be found directly on their website .
You can also get a 15% discount on online reservations on the following websites:
We were guests in one of the ELLE Vacanze cottages. It was a brand new deluxe holiday home and I must say it was really luxurious. This form of accommodation turned out to be perfect for a trip in May. Our 1.5-year-old son was warm in the heated house, while it was 8 degrees outside.
I don't think it was our last time camping with such accommodation. However, our thoughts are already revolving around the beloved trailer and road trip, which we plan to do in June.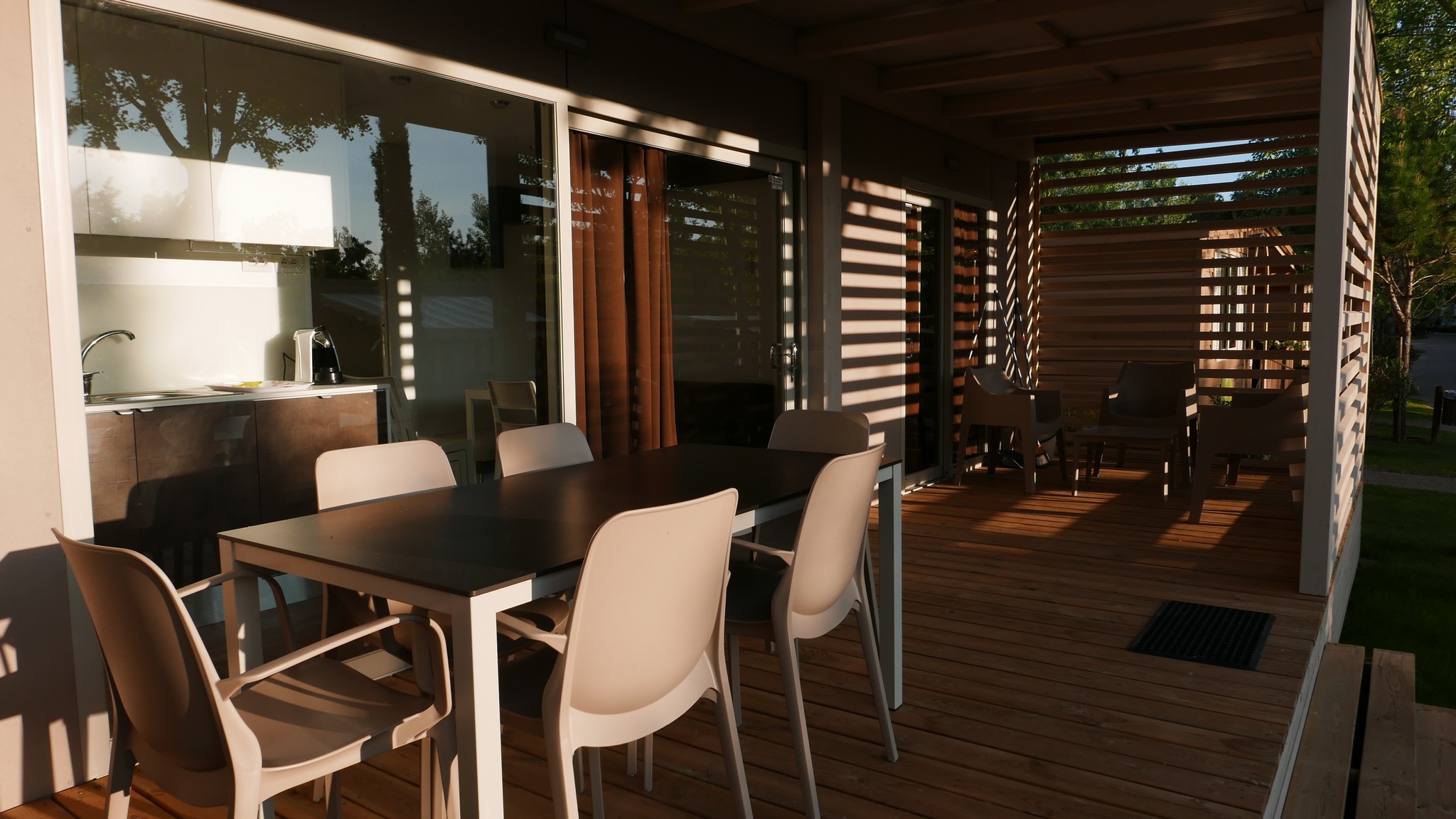 An engineer with a passion for traveling. My dream is to drive a motorhome through the USA from coast to coast. I would also like to do a few longer bike trips around Europe, but I have to convince my husband to do that;)
Enjoyed reading this article? Share it!