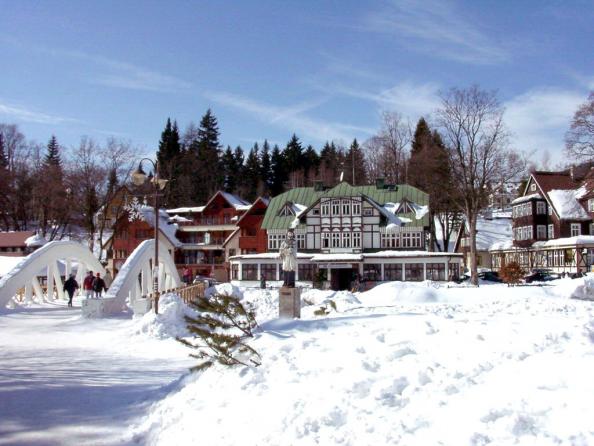 "Pearl of the Giant Mountains"
You don't necessarily need to go all the way to Switzerland to be able to ski. We do not have to go to Austria either, because just beyond the Polish border, Spindleruv Mlyn (Špindlerův Mlýn), commonly known as "Špindel", awaits skiing enthusiasts. It is the largest and most popular mountain resort in the Czech Republic, which is not surprising when we look at its offer. With so many possibilities for active recreation and so many options for sports, it becomes fully understandable why Špindlerův Mlýn is a place so eagerly visited by tourists. All year round.
The resort is located at an altitude of 715-1310 m above sea level. Visitors are tempted with ideal conditions for skiing and cross-country skiing for about five months a year. The ski runs are perfectly maintained and meet the requirements of the International Ski Federation (FIS), which means that they can host world-class competitions. There are 14 T-bar and chair lifts at the disposal of ski lovers. Here you will find routes with all levels of difficulty, and their total length is 25 km.
Špindlerův Mlýn lies in the heart of the Giant Mountains, which is why many call it their pearl. Other terms are also "Czech Davos" or "Val d'Isere of Central and Eastern Europe". There is no majestic glacier here, nor as many different routes as in the dazzling resorts of Switzerland or France, yet the beauty of Spindel's landscapes makes the comparisons most appropriate. Situated in a valley stretching along the "rift" in the Bohemian Ridge of the Krkonoše Mountains and surrounded by beautiful massifs, it attracts nature lovers. The close vicinity of the Karkonoska Pass, located at an altitude of 1198 m above sea level, as well as the Elbe flowing through the city, are other advantages of Szpindel.
Ticket prices in the season 2012/2013

What are the prices of ski passes? In the winter season 2012/2013 Špindlerův Mlýn offers tourists 10-day adult passes for CZK 5500, while if you want to buy it for a child, the price is CZK 3850. There are also ski passes for 15 days (CZK 7,600 for adults and CZK 5,320 for children) and ski passes for skiing throughout the season. The cost of such a purchase is CZK 9,000 for an adult and CZK 6,300 for a child. You can also buy a 1-day pass, then we will pay 700-600 CZK, depending on the season.
With the pass in hand, you can go to the slopes. What is waiting for us? Svatý Petr (Hromovka) and Horní Mísečky (Medvědín). A new ski school has recently been established on Medvědíne, and it is easy to get around the slopes thanks to the ski bus. Those who prefer a gentle ride will surely choose Horní Mísečky and its short, gentle slopes. There is also a black trail, beautifully sunlit from the early morning hours. On the other hand, in St. Peter there are 3 snow parks, a cross-country track and ramps. There is also a Kid Park, where children can use the Magic Carpet mobile platform and a playroom at the Skolmax ski school, right at the entrance to the cable car.
Spindleruv Mlyn - not only skiing
The offer for skiers is extremely attractive, but this does not mean that there are less visitors in the summer months. Quite the opposite - this is when the time for lovers of mountain hiking, cycling, as well as walks and runs begins. We can choose from tennis courts, bowling and squash, and for those for whom it is definitely not enough for the blood to circulate faster in their veins, there are also "stronger" attractions. Adrenaline enthusiasts can climb rocks, practice paragliding, there is also a bobsleigh route open all year round.
The center also does not forget about families with children. Varied entertainment programs have been prepared for them, which will please not only children but also seniors. In addition, the beauty of the area encourages trips, which is worth taking advantage of, the more that the entire city belongs to the Karkonosze National Park. We have a choice of numerous tourist routes, moreover, there are plenty of attractions in the city itself. There are both sumptuous restaurants and cozy eateries. There is also the Aquapark Špindlerův Mlýn with a SPA & Wellness complex - a paradise for muscles tired of long hours of skiing. The Wellness Center offers guests a salt cave, steam bath and infra-sauna.
Camper? Great choice!
To get to the resort, take the road from Vrchlabí. There is no other route, but it is the most picturesque road in the whole Karkonosze Mountains. It runs along the Elbe and is well cleared of snow in winter, but drivers are advised to take snow chains with them. And where can those who decided to come here with a camper stay?
The Špindlerův Mlýn campsite (Špindlerův Mlýn 276) in the Elbe valley is the closest to the resort. We will pay 230 CZK / day for a motorhome place (the same for a car with a trailer), and for an adult - 120 CZK / day. Children 6-12 years old have to pay half the price, and children up to 6 years old can stay for free. The campsite is located near the Aquapark and the ski slopes, with hiking trails right next to it, so it is an ideal place for tourists who want to take advantage of as many local attractions as possible.
Wherever we stop, we will be pleased. The area is beautiful, scenic and sun-drenched routes, restaurants serve delicious food - it's time to go there and check the offer of Špindlerův Mlýn for yourself.
A writer by profession, a passion of a cat. One day he will see what is behind the Urals - good to Vladivostok. So far, when he can, he enjoys the sun of the countries of southern Europe. And it's also fun;)
Enjoyed reading this article? Share it!