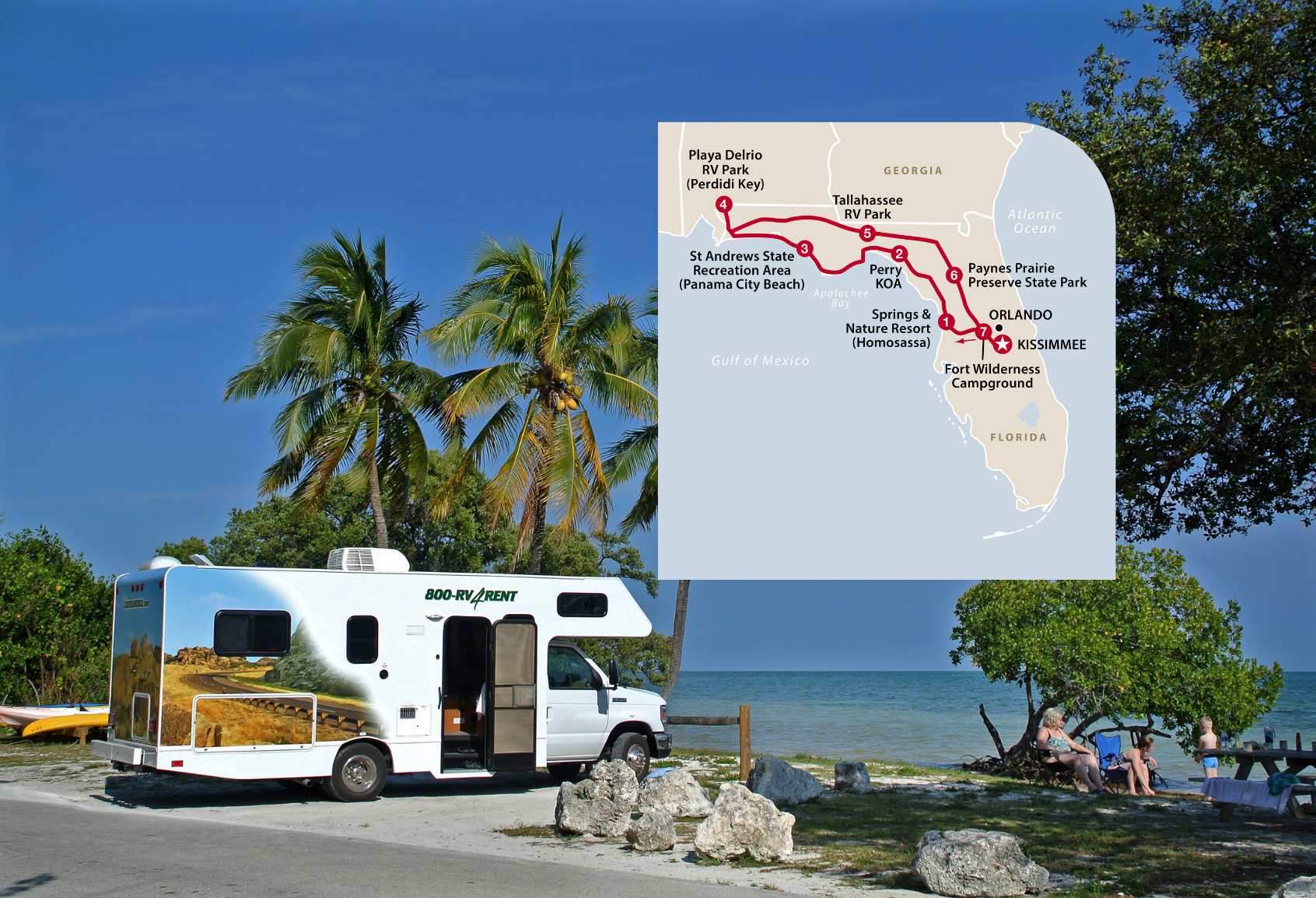 Orlando to Florida Pan Handle and back. This time, the route is not north to south of Florida, but west. This is an opportunity to take a look at slightly less populated beaches and admire the beauty of Florida that not everyone knows. This tour takes you just under the Alabama border. By the way, you can visit the capital, Tallahassee, and finally reach Walt Disney Word.
Travel Details:
Departure: Orlando
Duration: 8 days
Length of the route: 1,010 miles
Motorhome travel route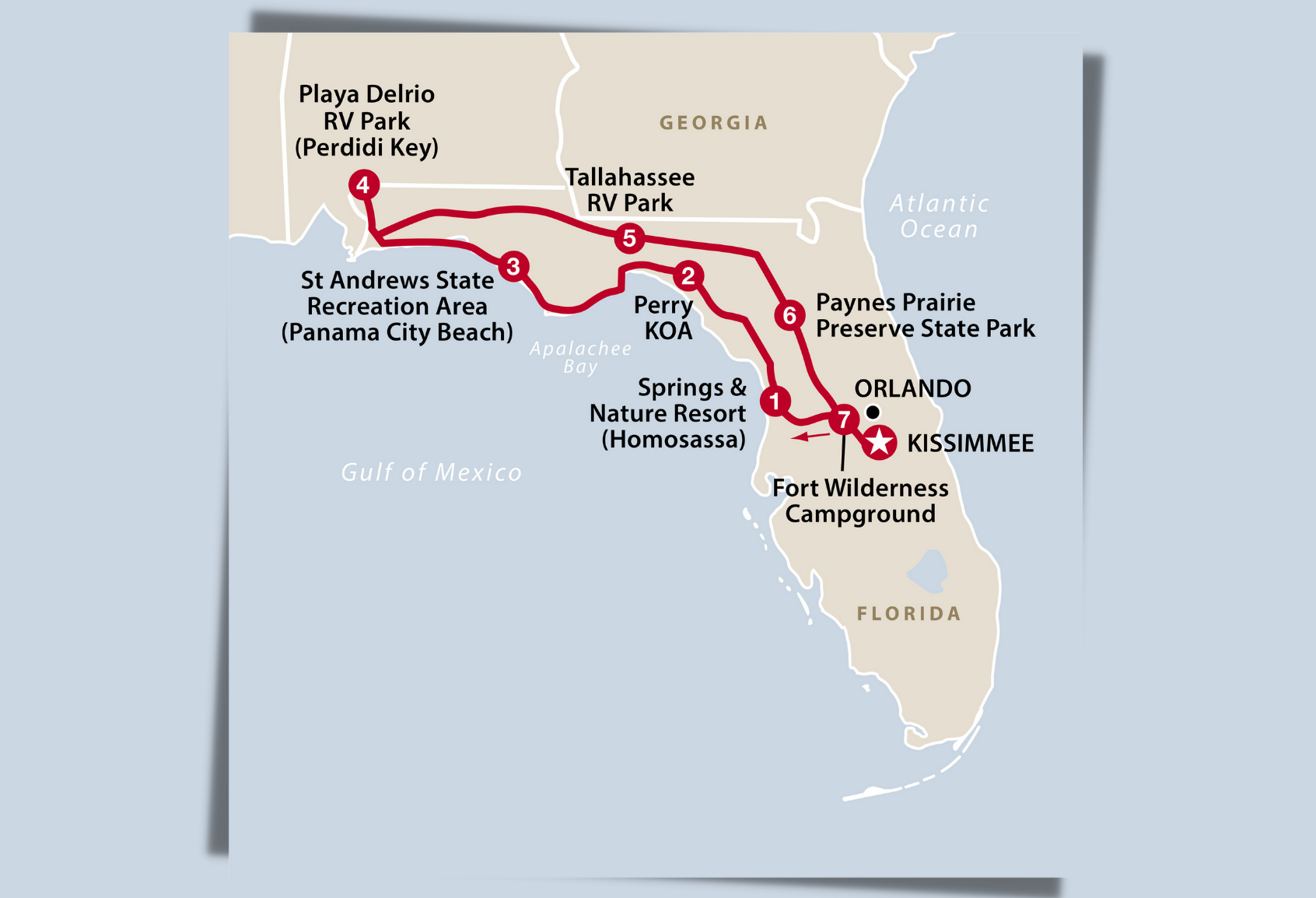 The routes we publish on the portal are created in cooperation with Cruise America - the largest motorhome rental company in the USA and Canada. In the fall of 2020, we became the only and official representative of Cruise America in Poland. Plan your vacation with us in a motorhome in the USA. The costs of such a ready route are given at the end of the article.
If you want us to evaluate your individual motorhome trip around the USA or Canada - write to us at: [email protected] . Remember that we guarantee lower prices than when booking directly with Cruise America. Soon you will be able to check the prices in person on our website: www.usakamperem.pl. Now you can download the tourbook from our e-book store and start planning your vacation: 16 US and Canada motorhome tours . You will find a lot more information on this tour in the tour book. Above all, there are links to all the campsites we recommend. Renting a motorhome in the USA is safe and simple!
Day 1 - Pick up your camper van in Orlando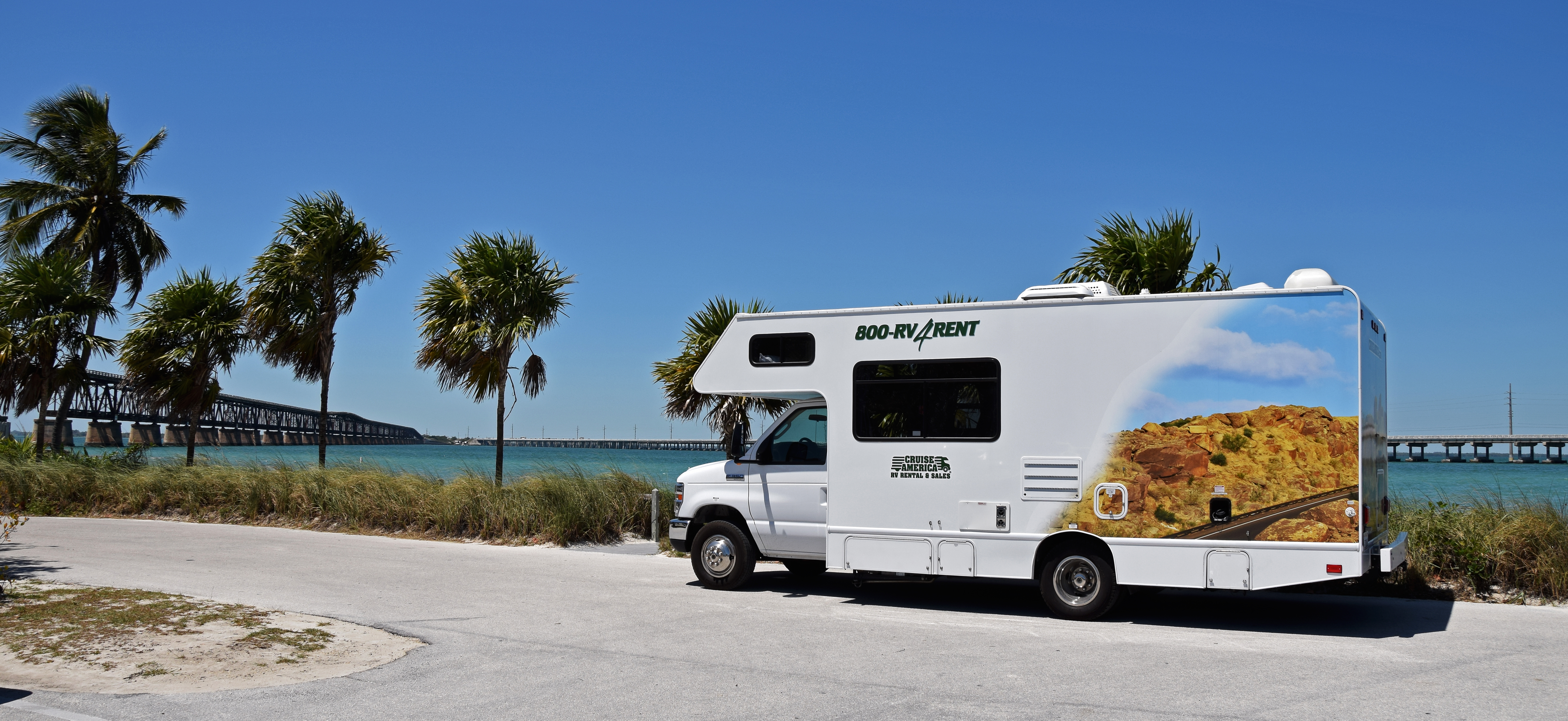 Pick up your camper van at the Cruise America point in Kissimmee and hit the road. Soon you will reach the Homosassa Springs and Nature Resort, where you can admire the frolicking manatees. Set off the main road and set on a river, this area of 40 hectares is a real paradise for motorhomes. There is a constant temperature of 22 ° C near the springs, which is why manatees and other species of animals do well here.
Day 2 - towards Alabama
Head north on Route 19. The KOA camping in Perry is a good place to stop before turning left and continuing west to Alabama. Noteworthy is the large, year-round solar-heated swimming pool. The beach is only 15 minutes away.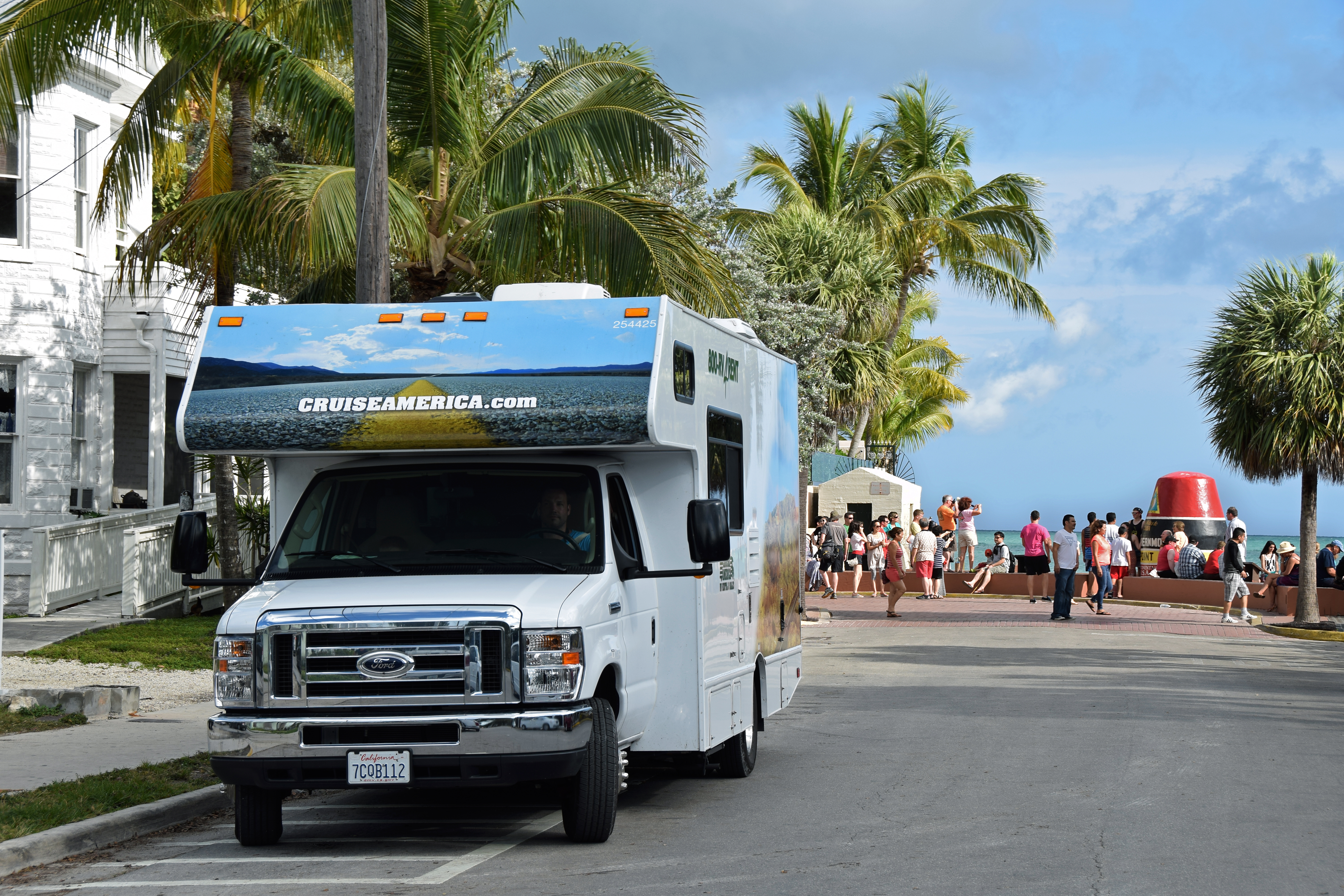 Day 3 - day at the beach
We are heading to the St Andrews State Recreation Area in Panama City Beach. This place is famous for its snow-white sandy beaches and emerald green water. At one time, these areas belonged to the army. Now there are beautiful beaches on the Gulf of Mexico and the Grand Lagoon. Lovers of water sports will appreciate the possibility of swimming and diving. You can also rent a kayak.
Day 4 - Pensacola - America's oldest settlement
Today you will reach the Florida border with Alabama. At the very edge of the state of Florida lies Playa Delrio RV Park and the Yacht Club in Perdido Key. Get ready to have fun!
Day 5 - RV to Tallahassee hills
Today you will head east and head to Tallahassee, the capital of the state of Florida. To get there as quickly as possible, take state road 10. Camping Tallahassee RV Park is located on the slopes of the Florida state capital Tallahassee. The campground is only minutes away from the state university and the capital itself, where sporting events take place, but lovers of original shops and regional specialties will also find something for themselves.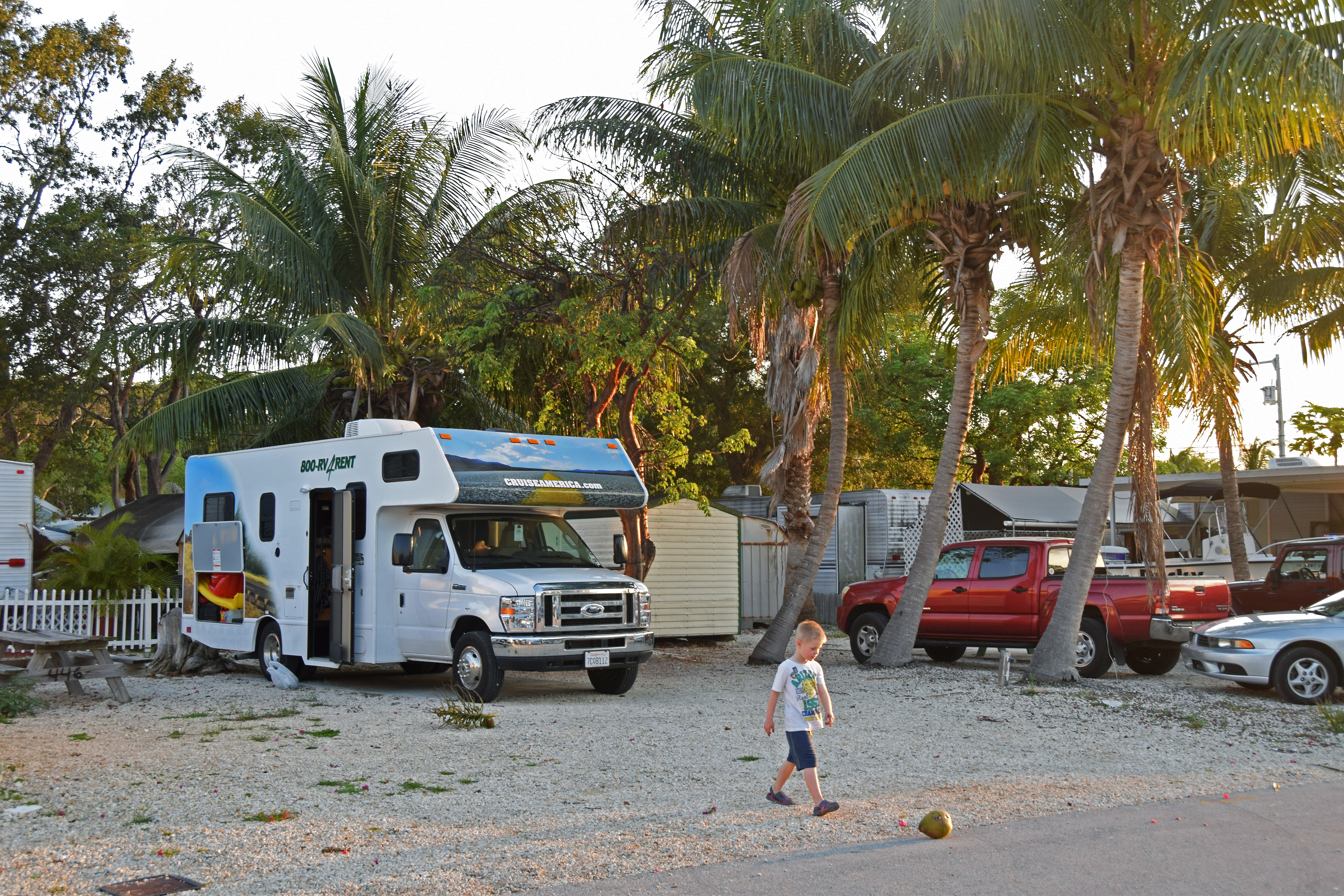 Day 6 - Paynes Prairie Preserve State Park
This route takes you to places remote from the popular Florida hiking trails - have you ever heard of the village of Micanopy? Today you will head east on Interstate 10, then turn south and continue on Highway 75. Today's leg will end south of Gainesville. West of Orange Lake is Paynes Prairie Preserve State Park. Paynes Prairie is a biologically, geologically and historically unique area. This park became the first state reserve in Florida, and is now listed as a National Nature Site. It is located on US 441, 10 miles south of Gainesville.
Day 7 (and 9 and 10 if you want !!) - Walt Disney World
After meeting the wonders of nature, it's time to discover the achievements of human thought and visit Walt Disney World and get to know many other attractions of Orlando. You can only stay here at Fort Wilderness Campground. Remember to make a reservation in this facility in advance.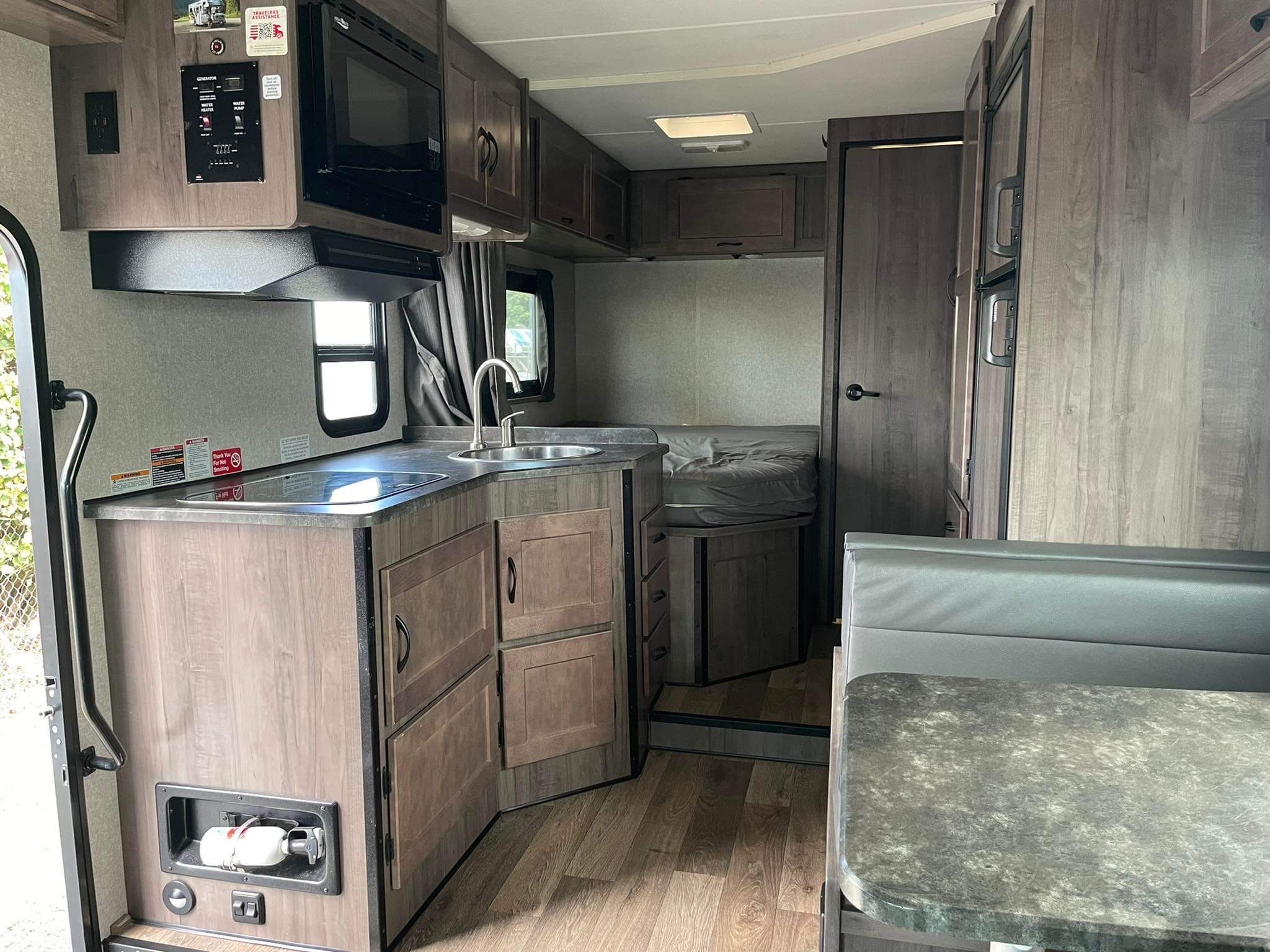 Day 8 - returning the camper to the rental shop
20 miles to Cruise America Rental in Kissimmee, where you will drop off your camper van.
US motorhome costs - C25 motorhome Cruise America
Cruise America C25 motorhome is the best type of motorhome if you want to go on vacation in the USA with children. How much does it cost to rent a 5 seater motorhome at Cruise America today (5/19/2022)? The price is only valid this week and changes every Sunday. C25 is a 5-person camper, in fact 4 + 1. You can read more about the types of motorhomes in the article: Types and equipment of motorhomes for rent in the USA and Canada.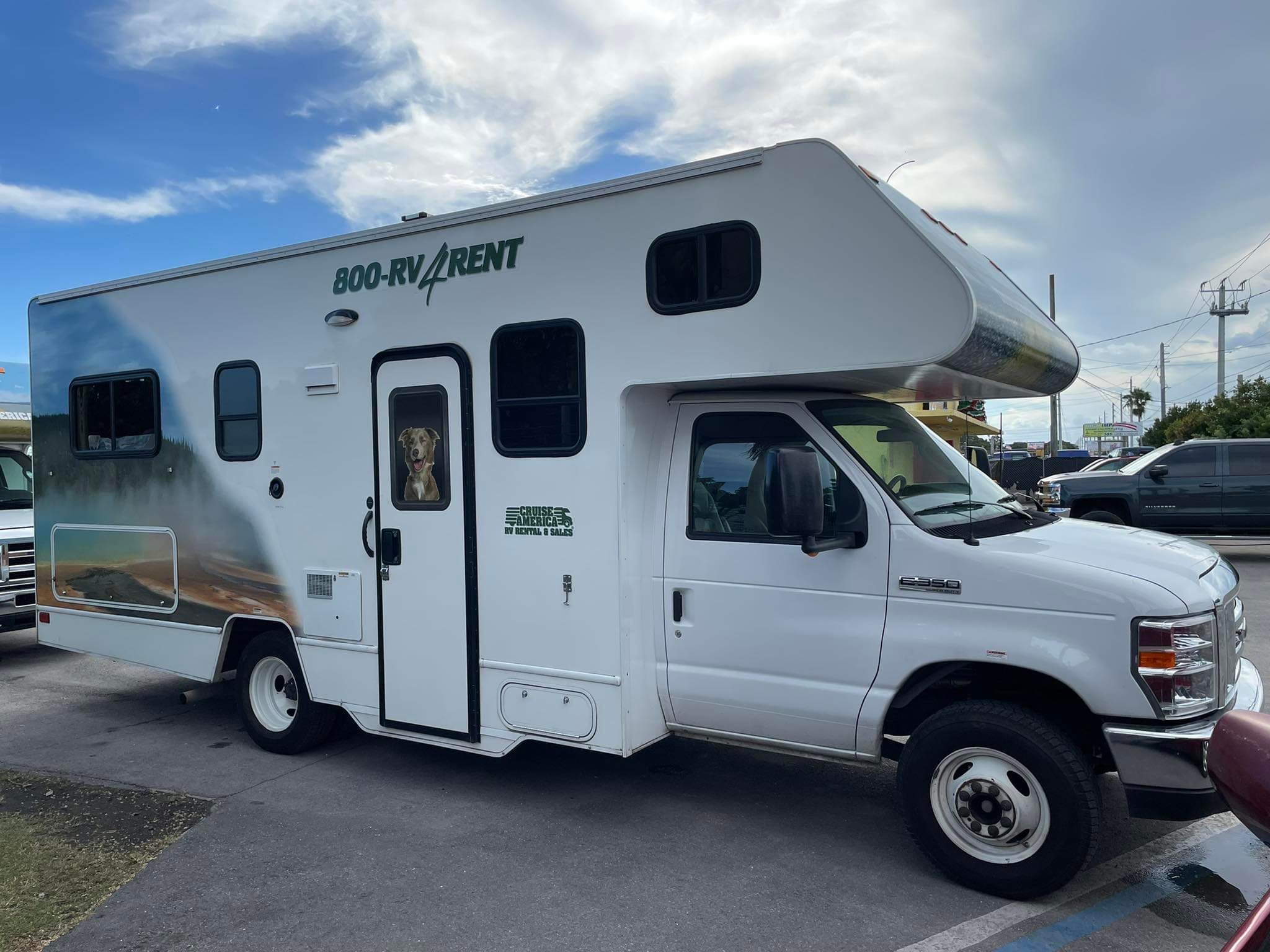 Motorhome rental in the USA in July in Orlando: approx. PLN 6,500
Motorhome rental in the USA in October in Orlando: approx. PLN 4,400
To rent a motorhome, you need to add:
Cost of miles purchased (1,010 miles): approx. $ 400
Camper deposit: $ 500
Costs of stay at campsites. You can assume that an overnight stay at the campground will cost anywhere from $ 20 to $ 150 per night.
Fuel costs. With an average fuel price currently in Florida of $ 4.5 / gallon, the cost of driving 1,000 miles is approximately $ 450-747. Cruise America motorhomes can be driven anywhere from 6 miles to 10 miles on 1 gallon of fuel. Hence the forks.
The following can be added to renting a camper at Cruise America:
Additional motorhome insurance: approx. $ 14.85 per day
Early Bird Departure: Approx. $ 480
Personal kit (i.e. pillows, sheets, sleeping bag, towels): approx. $ 75 per person
Vehicle Provisioning Kit (i.e. kitchen equipment): about $ 125
Personal kit and Vehicle Provisioning Kit is an additional option here, because tourists often prefer to buy all the necessary things themselves.
Prices in PLN were calculated on the basis of today's USD / PLN exchange rate and are subject to change. The given prices do not constitute an offer within the meaning of Article 66 (1) of the Civil Code.
Download the tourbook from our e-book store and start planning your vacation: 16 US & Canada RV Tours
This article was prepared in cooperation with Cruise America
We have created the CampRest portal for people who value freedom and travel on their own.
Enjoyed reading this article? Share it!