DOMO - VAN outside, motorhome inside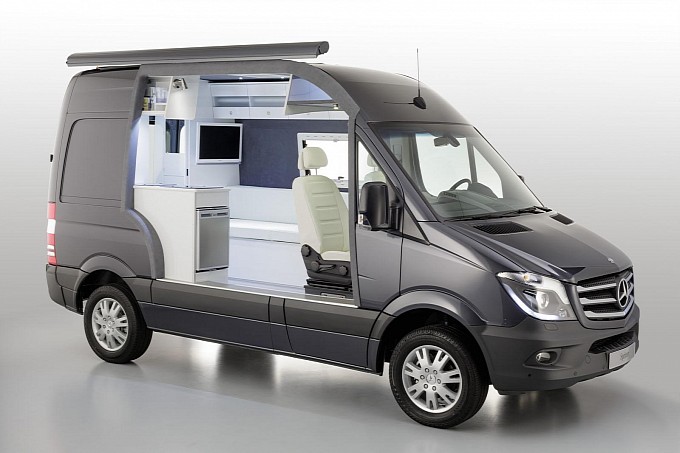 If you are interested in buying a new motorhome, one of the cheaper options will be to choose a van, branded for tourist use. Such vehicles are offered by the German company Domo ReiseVan.
Although there are many companies on the market that convert vans into campers, there are some features that distinguish the Domo brand. First of all, the manufacturer is not based on the currently most popular Fiat Ducato, but on the Mercedes Sprinter . Secondly, it uses many practical solutions that are not commonly used.
Pull-out bathroom
As the basis for a Domo motorhome are factory-sized cars, the manufacturer's attention was focused on making the best use of the space inside the car. Everything has been designed so as not to lose a centimeter of space that can be used by passengers. That is why, for example, an electrically lowered bed , suspended from the ceiling, will be very useful.
Is it possible to separate a toilet with a toilet, sink and shower in a small van? It turns out that it is. While standing in front of the door to this bathroom, we may think that we are about to look into the wardrobe, which is also not very spacious. This is because the equipment inside is foldable. With one hand movement, we can lower the hanging washbasin, with the second move the tap over it ...
What about the shower? The shower tray slides out from under the toilet! Then the wall of the shower cubicle can be pulled out from the side, which can only be folded out for the duration of the bath!
Domo bases its offer on a modular construction - that's why you can choose various options in specific units. For example, gas burners can be used in the kitchen and the manufacturer recommends such a solution, but an induction hob is also available.
Equipped like a motorhome
Domo motorhome is available in nine basic variants . The shortest of these is the 520 B model, available in Germany for 67,900 euros . This version is 5,245 mm long . Other Domo motorhomes are available in 5,910 mm and 6,945 mm lengths . The width of all cars is the same and amounts to 1,993 mm. If we do not decide to increase the permissible total weight (which is possible for the longest vehicles), it will be 3.5 tons .
Standard equipment of the basic model includes, among others tinted skylight (70x50 cm) with anti-mosquito protection, roof fan, heating and a large electric lowered bed (dimensions 165x200 cm).
In the kitchen part, we have a stainless steel sink, a chrome faucet, a 2-burner gas cooker and a 65-liter fridge-freezer. The clean water tank has a capacity of 70 liters , and the dirty water tank - 60 liters. There are 12V and 230V sockets in the vehicle (one is hidden under the mirror in the bathroom).
For comparison - in the 700 Comfort model the tanks are much larger. There are two clean water tanks (external and internal) - 75 liters each, and the waste water tank has 95 liters .
As in some models there is an additional sleeping place, created by folding armchairs, Domo motorhomes can sleep up to 3 people .
I must admit that Domo offers cars that are well equipped as standard, not inferior to larger motorhomes in this respect. Domo looks like an ordinary van, but thanks to well-thought-out solutions, it provides much more possibilities.
Sometimes it is better to get lost than to ask for directions too much. Aldous Huxley
Enjoyed reading this article? Share it!