Expedition container? An alternative to a motorhome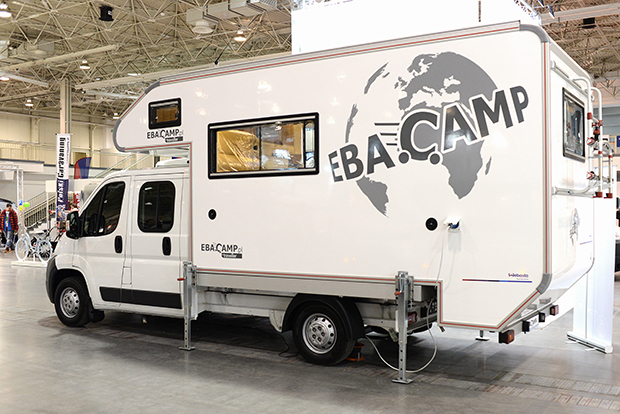 If you think about caravanning trips, your imagination suggests pictures of caravans and motorhomes in which the living area is permanently integrated with the seating area. However, there is also another solution - mounting an expedition container.
Buying a motorhome is often deterred by the fact that such a car is often used for only a few weeks a year. So there is a dilemma as to whether to spend money to buy and maintain a vehicle that will be standing rather than driving most of the time.
However, is there any alternative? It turns out that it is, although let's be honest - it is not a solution for everyone.
Put it on, then take it off
is just for you. Apparently, about 40-45 minutes is enough to install or remove the container. Thanks to this, even on a campsite, you can quickly get rid of such ballast and set off to explore the area without it.
Spaciousness and durability
I must admit that the containers made for trucks look impressive. EbaCamp showed one such company at this year's Motor Show in Poznań. This vehicle had a huge storage space that can be classified as a garage without any problems. Smart probably won't fit in it, but bikes or scooters won't.
To get inside the container, you need to use the platform placed outside and hold on to the railing attached to the vehicle. However, when we do such acrobatics, inside we will see high-class equipment and a lot of space. The container can be designed for 5 or even 7 people, and each development is made to individual order. Both customer preferences and the specific car model that is to be driven with the container are taken into account. Unfortunately, it is not possible to mount one container on the frames of different car models.
The walls of the container are made of laminate filled with insulation, which is polystyrene and styrodur. There is no place for wood (so nothing will rot), nor for aliminium. We will find these materials only inside, because they are used to make furniture.
6-year warranty
The container has walls 5.5 cm thick, which are connected with special, durable adhesives. As a result, a very tight structure was created, resistant to the effects of both high and low temperatures. This allowed the manufacturer to provide a 6-year warranty on the tightness of the building.
The advantages of the containers also include large tanks. We can, for example, have a 350-liter supply of clean water and large boilers. The specification of the equipment depends on the specific customer order, but there will be no problem if he orders, for example, solar batteries.
Do expedition containers have any disadvantages? One is for sure. After dismantling such a building, you still need a place where it can be stored. But it's a problem similar to having a large van or truck first. Whoever has them will not see the problem. And the benefits of having an expedition container are certainly as great as the container itself.
Sometimes it is better to get lost than to ask for directions too much. Aldous Huxley
Enjoyed reading this article? Share it!