HymerCar Cape Town - an option for mobile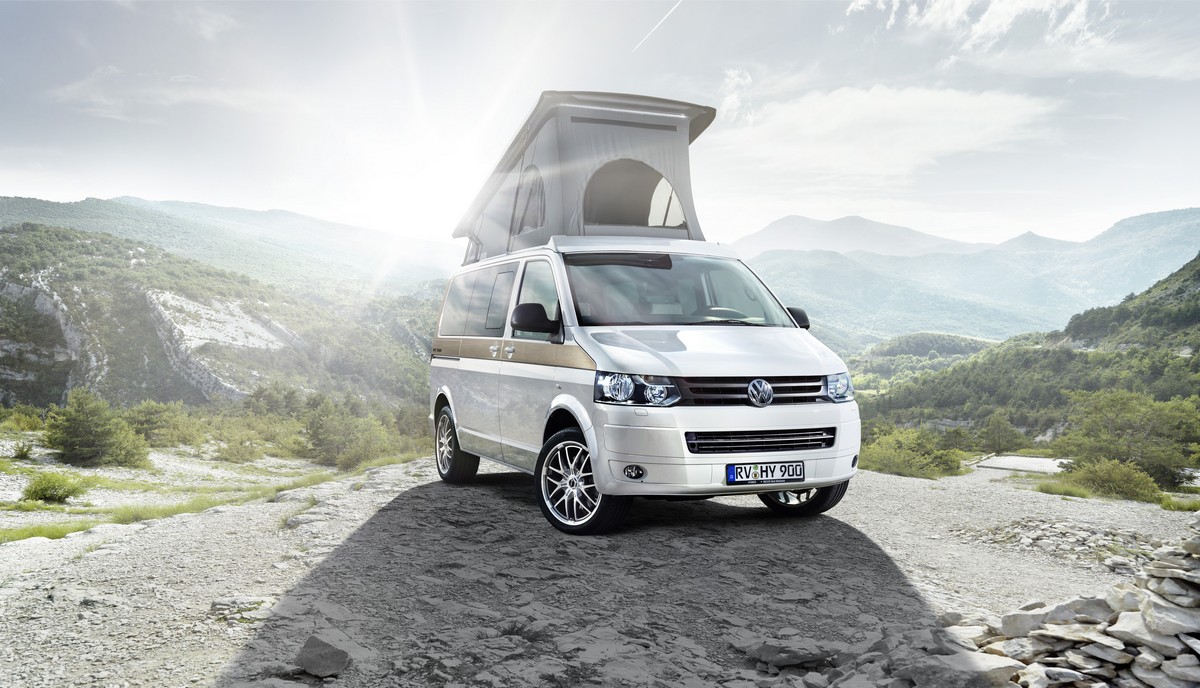 Volkswagen T5 has recently become a fashionable object of transformation. Although its modest dimensions do not allow it to be made a full-fledged motorhome, the Volkswagen version of California with a retractable high roof fired the imaginations of motorhome manufacturers.
Hymer - known mainly for large motorhomes and caravans, under the HymerCar brand it offers small camping vehicles based on vans. Currently, the offer includes three models based on Fiat Ducato and one, the smallest, based on the Volkswagen T5.
Van with kitchenette
HymerCar Cape Town - because this is how it was "christened" - can be powered by a 2.0 TDI engine with 140 HP or more (for an additional fee). Interestingly, despite the length of 489 cm , the thoughtful interior may seem quite spacious.
We find in it, among others a kitchenette that resembles that of the larger motorhomes. In the Cape Town kitchen you will find a sink with a glass lid, a two-burner stove or soft-closing drawers with a satisfactory capacity.
Beds like in a large motorhome
There are also two double beds installed in the car. One is folded out in the rear part of the body and when unfolded it covers almost the entire width of the interior, leaning on the side of the kitchen worktop. This bed is 193 x 135 cm.
The second sleeping place is located under the lifting roof - it is also quite large, measuring 193x112 or 193x 127 cm.
Four people can travel freely through Cape Town during the day, enjoying its maneuverability due to its small dimensions, in the evening they can prepare a meal and at night they can get a good night's sleep. Even when the nights are cold, this car has an insulated, fiberglass floor and a heating system .
Shower and toilet
What about hygiene? Well, a chemical toilet that slides out from under the armchair is a rather emergency solution, but it's good that there is at least such a possibility.
A shower is definitely an option for a warm day. It is attached to the open tailgate of the vehicle. It is also possible to extend a screen around the hatch so that the rear door forms a canopy around which a curtain extends.
Tanks are small, but they are
Inside, there is a place for a wardrobe and the necessary equipment - even skis can be successfully transported. The refrigerator is not large - its capacity is 49 liters.
The water tank has a capacity of 35 liters , but it can be supplemented with a 20-liter, foldable canister. The waste water tank has a capacity of 20 liters. There are 2 sockets 230V and 12V in the car.
There is even such an accessory as folding chairs , which take up little space inside, but after taking them out, you can easily unfold them. Also "ordinary" armchairs can be moved and removed, which increases the possibilities of arranging the space according to current needs.
The car may have a permissible total weight of 3 or 3.2 tons , and the load capacity may be 655 or 855 kg.
For mobile
HymerCar Cape Town is a successful car, which was probably created for those customers for whom mobility is the most important. They will not spend whole weeks on the campground - they will rather travel, moving not only along the highways, but also along the narrow city streets. And in such conditions, a small van will be better than a large camper or a car with a trailer.
Sometimes it is better to get lost than to ask for directions too much. Aldous Huxley
Enjoyed reading this article? Share it!