The best campsites in the Garda Trentino region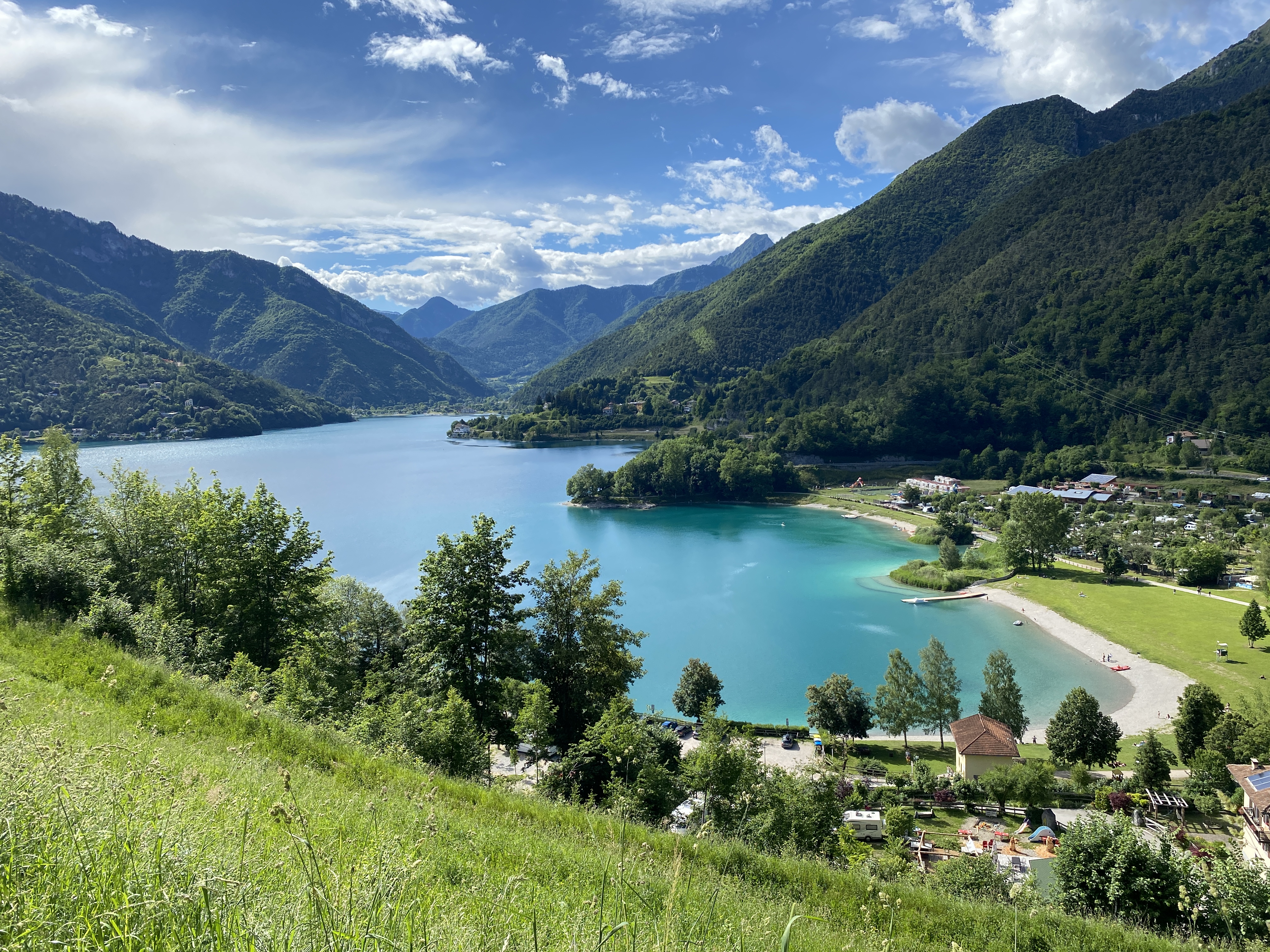 The Garda Trentino region is not only about Lake Garda... it is also a lot of smaller mountain lakes, around which there are thousands of kilometers of hiking and cycling trails, via ferrata and climbing walls. If you are looking for a place to spend an active holiday in the mountains, Garda Trentino is the right choice.
Before we start the list, we must point out that the Garda Trentino region is a very popular destination for many tourists. If you want to be sure of a place at a specific campsite, we recommend booking in advance, even if you are going outside the season. We especially recommend making a reservation if you are traveling with several families and need several plots.
The best campsites on Lake Garda
In the northern part of Lake Garda, i.e. in the Garda Trentino region, there is water silence. It is therefore an ideal place to spend a sailing holiday. Virtually every campsite with access to the lake has a windsurfing, kitesurfing and sailing school, as well as equipment rental.
Interestingly, kitesurfing is also prohibited in this part of Garda. To be able to kitesurf, you need to sail further into the lake on a motorboat (belonging to the school/rental company) and return to the shore in the same way. An interesting solution because you don't have to worry about reaching the shore in a specific place.
Al Lago campsite on Lake Garda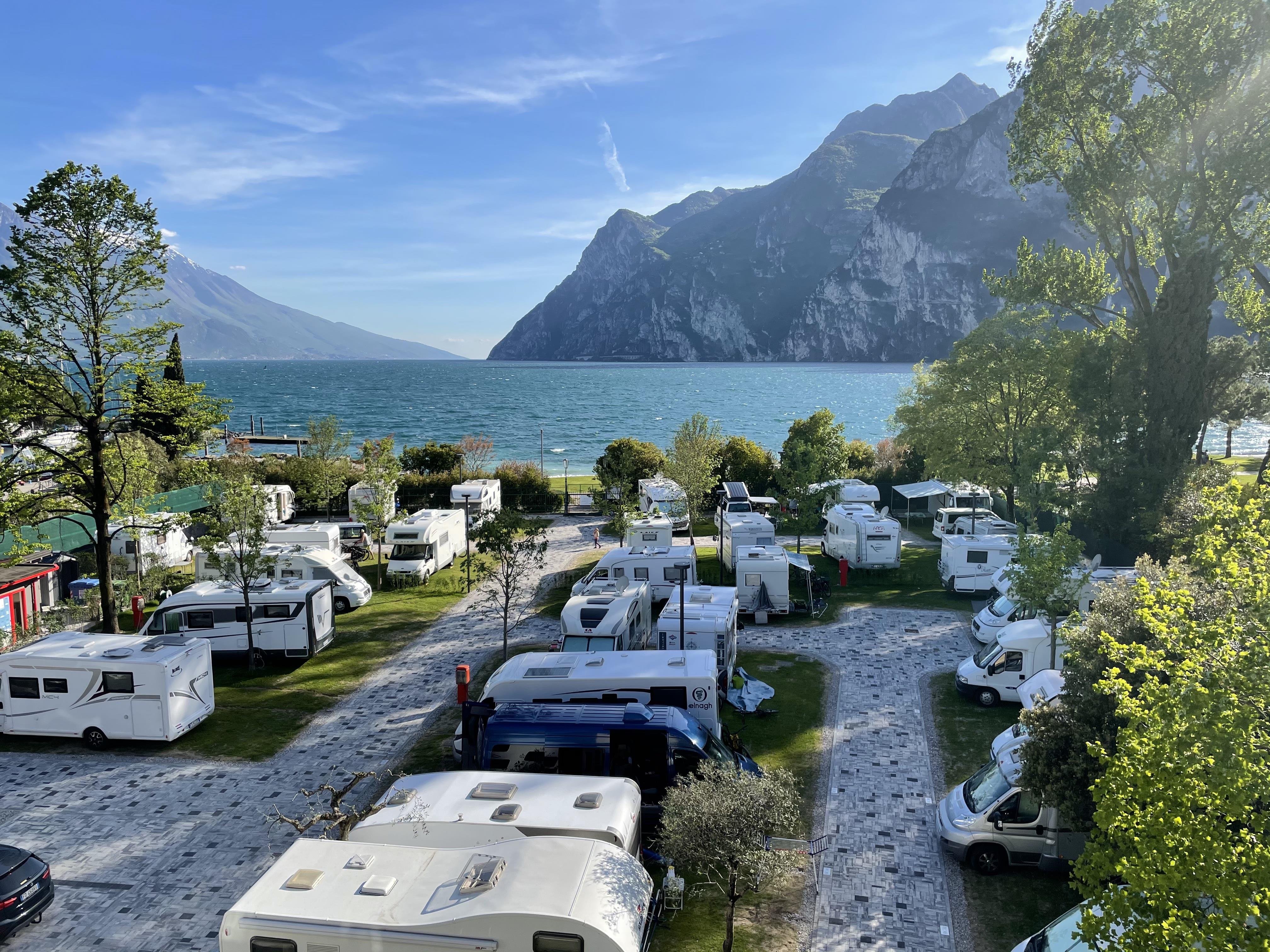 Al Lago campsite is located directly on Lake Garda. It has recently undergone a major renovation. New glamping tents have been built there, and the streets have been modernized and illuminated.
This campsite also has direct access to the lake. The beach is accessed through a gate after entering the code, so no one from outside will enter the campsite from the lake side. There is a small cafe located in an atmospheric old house.
Al Porto campsite on Lake Garda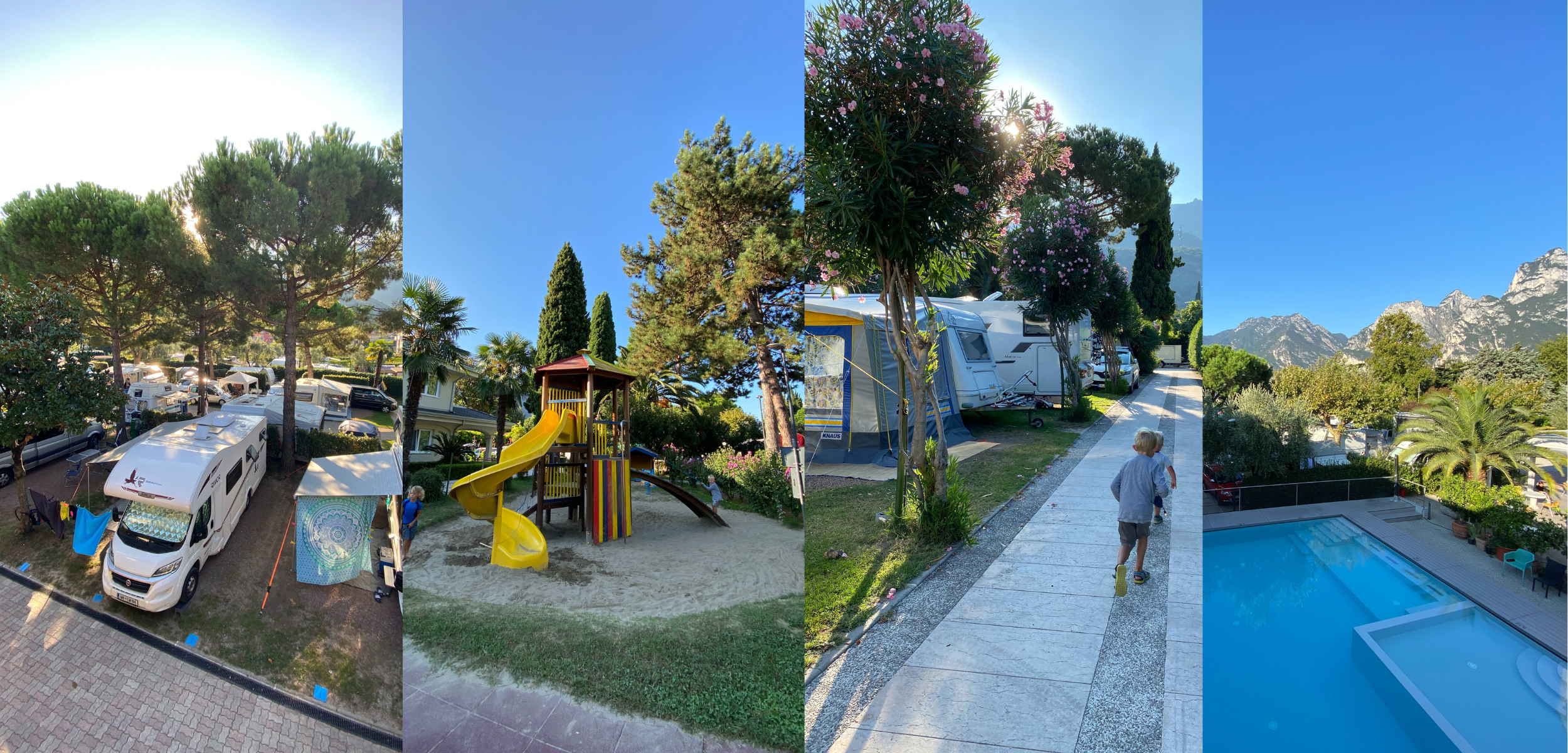 Al Porto campsite is located directly on Lake Garda in Torbole sul Garda. It's small and cozy. Its pitches are also quite small, but the campsite has a unique atmosphere, beautiful vegetation and a nice playground. There is a small swimming pool there. The toilets are new and clean. There are also bathrooms for children. There is a laundry room with a dryer and a camper service.
Brione campsite on Lake Garda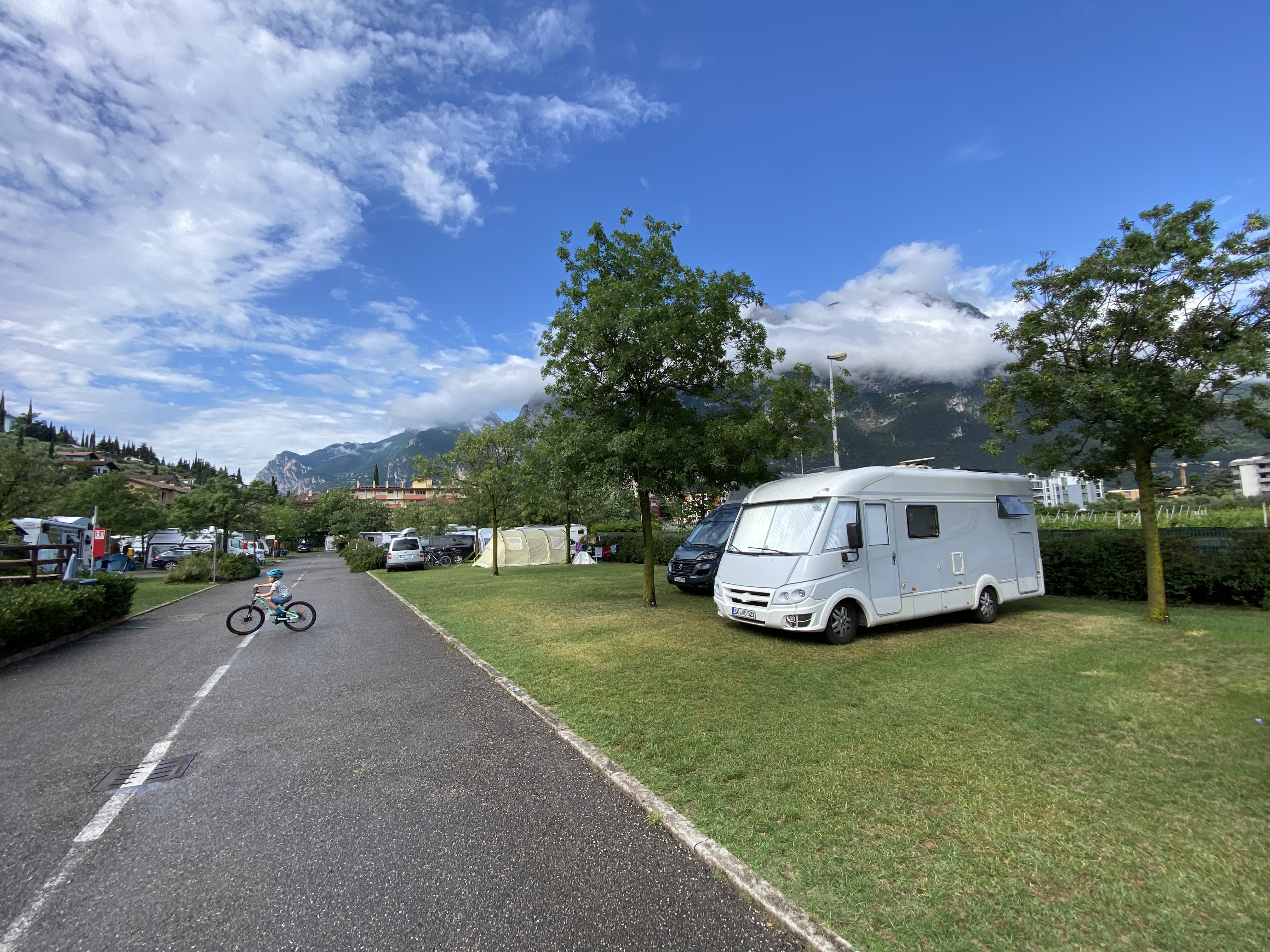 Camping Brione is located a few hundred meters from Lake Garda at the foot of Monte Brione. This is a very interesting alternative to crowded campsites by the water. It is located a bit outside the city, but still very close to the lake and the port. The camping area is vast, the streets are wide and the pitches are very spacious. In the olive grove overlooking the campsite, there is a zone intended only for tents.
There is also a swimming pool next to a small playground. From this year, you no longer need to wear swimming caps when camping.
Note for campers: there is no camper service at this campsite. The gray water tank can only be emptied on the pitch. Before coming here, get a drain pipe.
Zoo Arco campsite on Lake Garda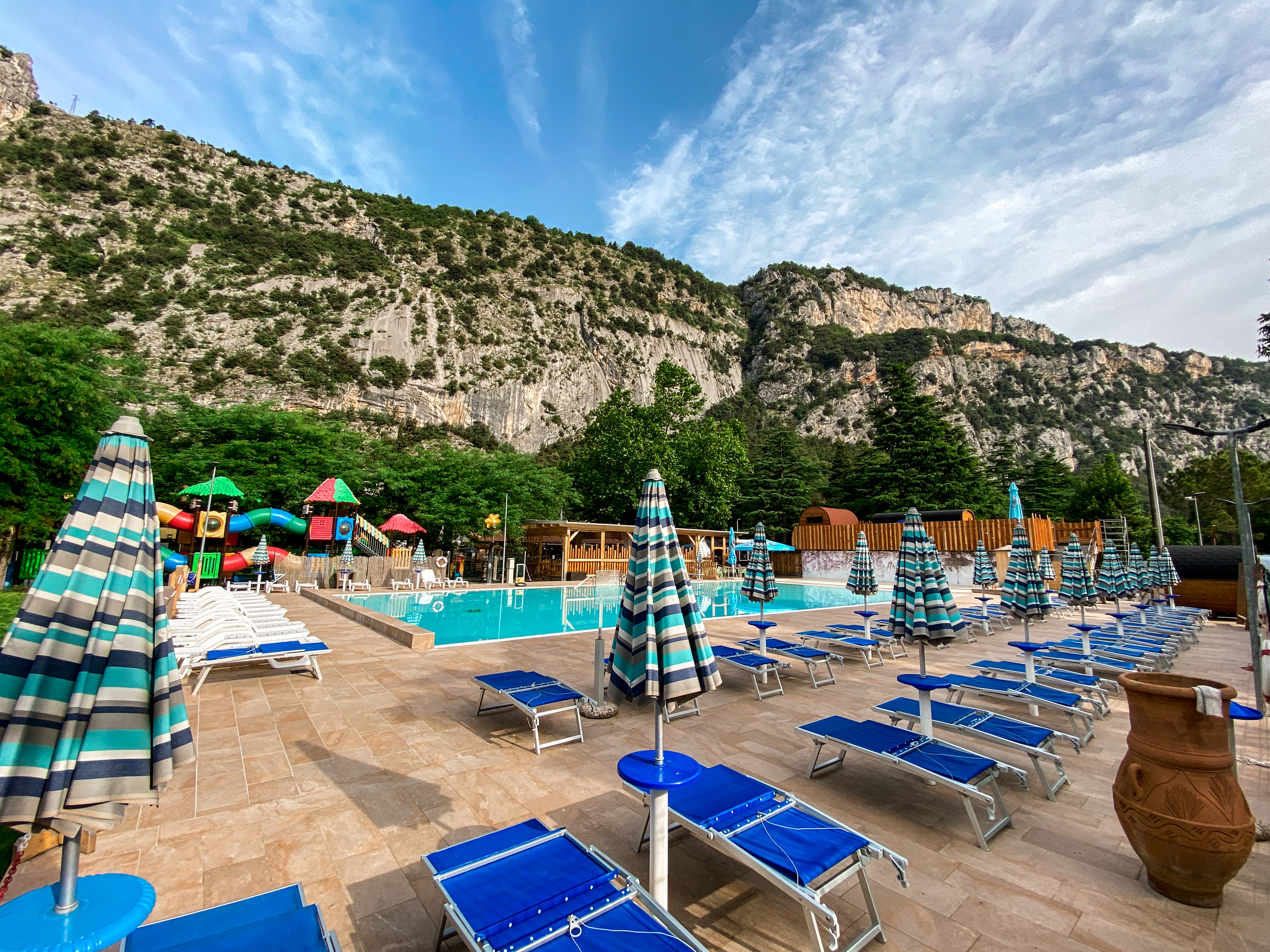 Camping Zoo is located 7 km from Lake Garda. This campsite is often chosen by you if there are no vacant plots directly on the Garda River, but in my opinion, Arco and this campsite are such a valuable place that it is worth planning your next vacation here. A cycle path along the Sarca River leads to Lake Garda. So if you feel like seeing Garda up close, you don't have to leave your car, because cycling to the lake will take you less than 30 minutes. The campsite itself is located on the river, but there is no direct access to it. There is a brand new swimming pool, a paddling pool, two hot tubs and a sauna. A new terrace is being built over the swimming pools. You can see that the campsite is constantly being modernized.
The plots are very spacious. There is no feeling of being cramped here and there is plenty of shade. Families who like climbing often choose this place for their holidays because the area is perfect for it.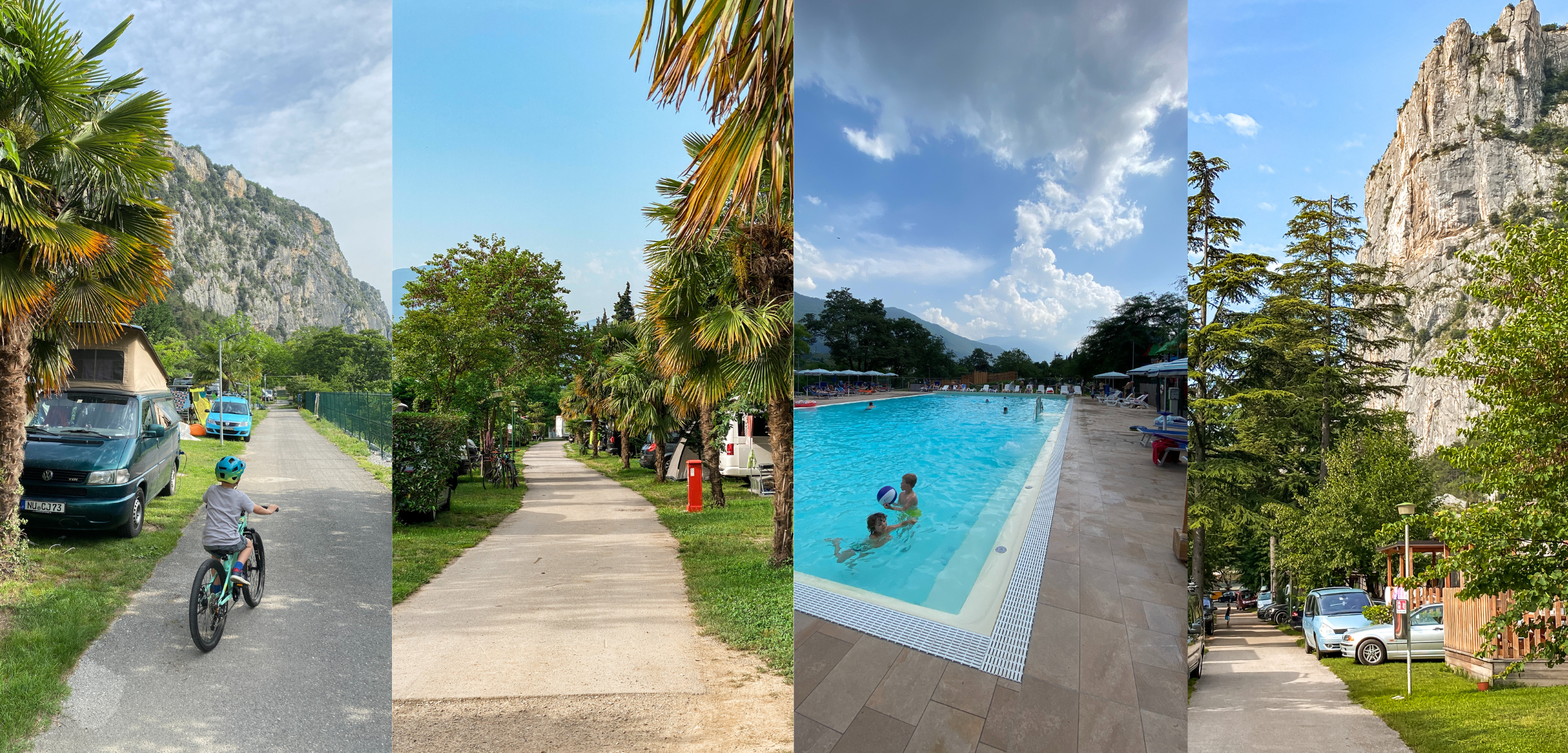 The campsite has been run by the same family for years and this family atmosphere can be felt at the campsite. Smiling and helpful people work at the reception. At the reception, in the heart of the campsite, there is also a restaurant with a café, a playground and a bouldering wall.
One of the biggest attractions for children here are the goats running freely around the campsite. They often come to the fence to feed them grass and pet them.
The best campsites on Lake Ledro
As we wrote in the introduction, there are many lakes in the Garda Trentino region. One of the largest lakes, quite close to Garda, is Lake Ledro. Even though the lake is located higher in the mountains than Garda itself, the water is much warmer.
Al Sole campsite on Lake Ledro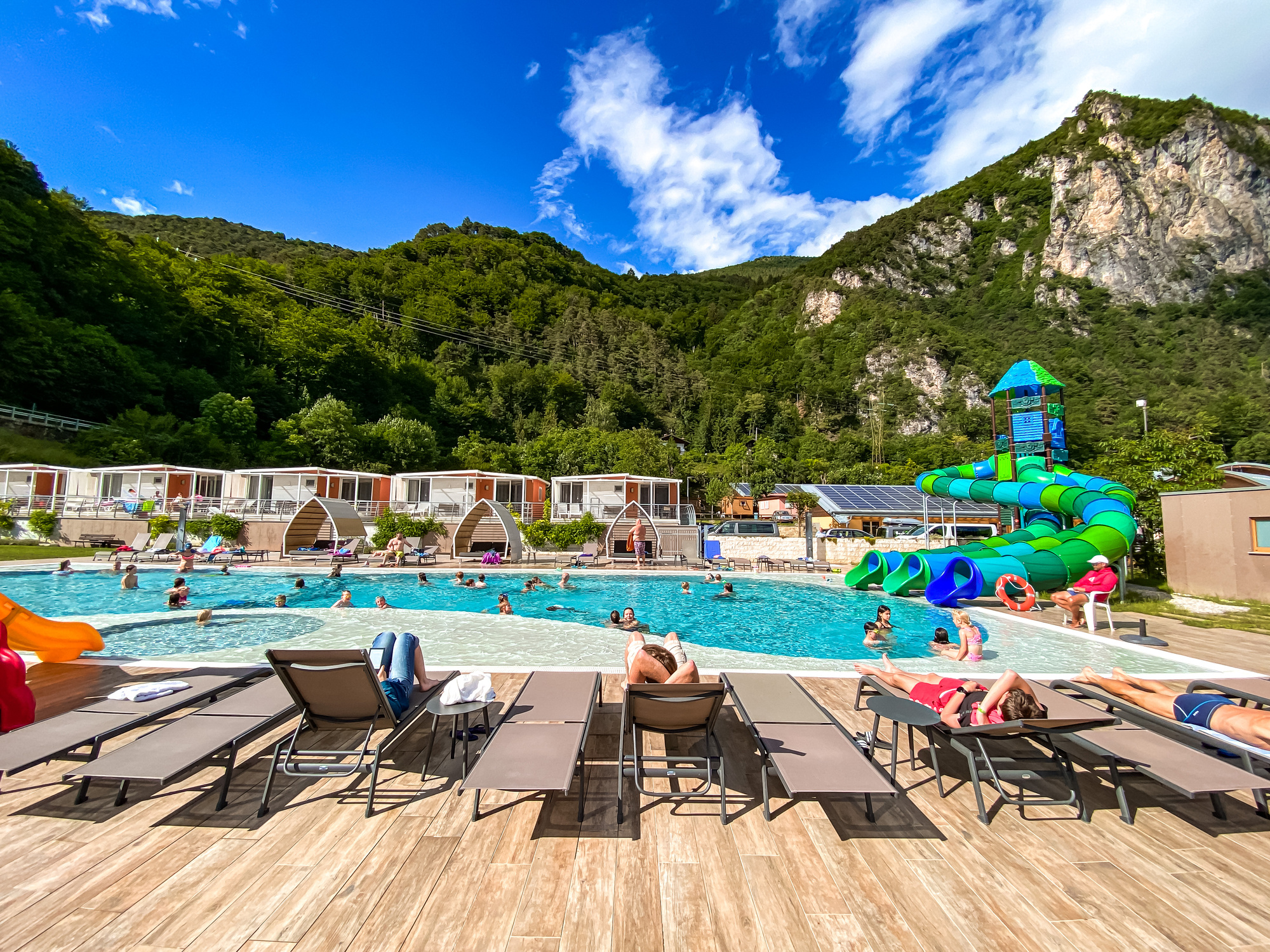 Al Sole campsite is located directly on Lake Ledro. The campsite probably has the most amenities compared to others on this lake. First of all, the campsite has a heated swimming pool with slides for children. Next to it there is a playing field and a playground. In the evenings, animations take place here.
New at the campsite in 2022 is a new building with sanitary facilities and a wellness center. All this is very impressive. You can also rent space in the fridge - a drawer with a key.
The campsite has its own bicycle rental. There are, of course, electric bikes. You can also rent a bicycle trailer for a child, which can be attached to an electric bicycle. There are also electric cars for children (24"). We took this exact set on a trip while here.
Al Lago campsite on Lake Ledro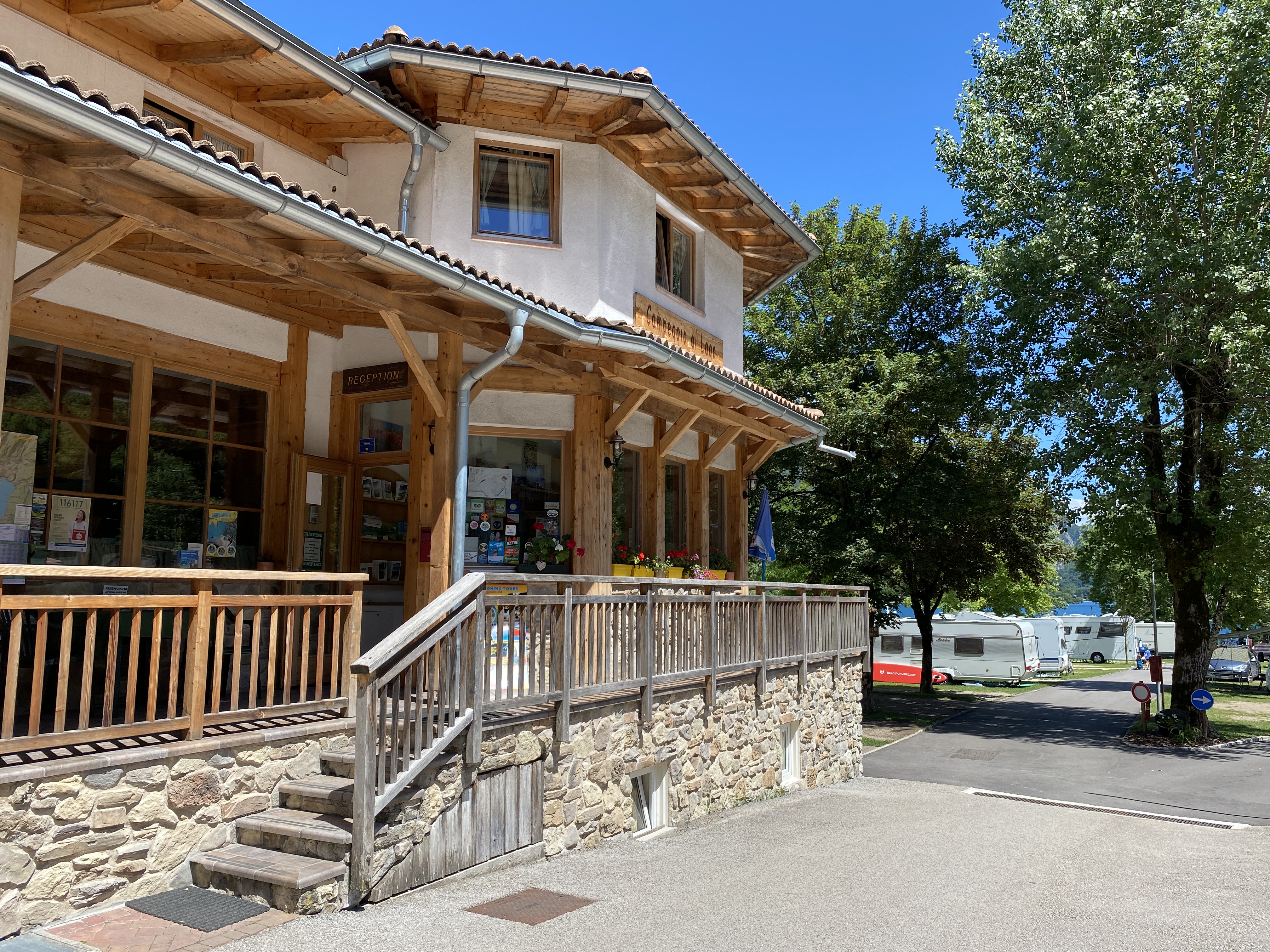 Al Lago campsite is located directly on Lake Ledro. It was the first campsite on this lake and has been run by the same family for over 60 years. Older residents may remember that this campground used to be on the other side of the bay - closer to the road, but apparently in the 1960s it was decided to move it further from the road to be a little further from the main road. People relaxing by the lake in swimsuits was a moral scandal back then.
We learned this story thanks to a conversation with the nice heir to the campsite - Steve. You can often meet him at the reception. Steve told us that they wanted the campsite to remain as it is, i.e. with spaces for tents, trailers and campers. They are also planning to renovate the toilets here in the near future.
There is no swimming pool or animation for children at the campsite. The owners take great care to ensure that the campsite is quiet. In addition, thanks to the fact that the campsite was moved further from the main road in the 1960s, it is truly quiet here. You often ask us about camping for couples or families with older children - this is definitely a good choice.
The campsite has a great restaurant, which requires reservations during the season. Read more about this restaurant and others in this region in the article: Where to eat on Lake Garda and Lake Ledro in Garda Trentino
There is a bicycle and water equipment rental here. The campsite is located directly next to hiking and cycling paths.
Best Ledro campsite on Lake Ledro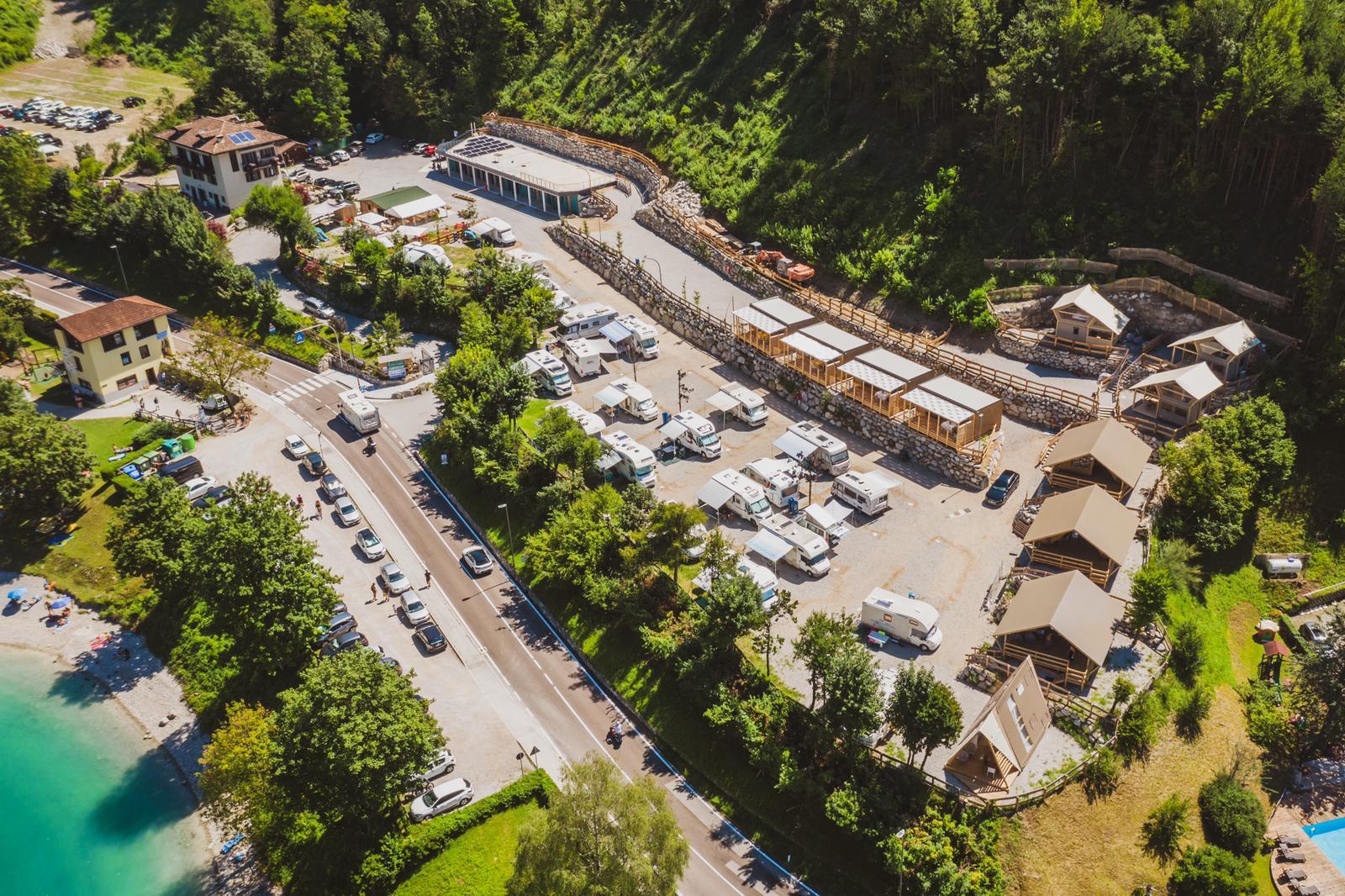 The Best Ledro campsite overlooks Lake Ledro, but is separated from the lake by a road. This is a new campsite in this area. Its owner built something that is not available in other places on Ledro - glamping tents. Several brand new houses were also built. There are literally a dozen or so plots. It's a small place, but there are plenty of amenities. The campsite has, among others: professional camper-service and new toilets.
You can see that this is also a popular place among cyclists. Especially at noon, you can see a lot of active people relaxing in the shade of the pergola with a glass of water or beer.
The campsite is located right on the trail to Madonnina di Best. Be sure to stop at the famous bench along the way.
Camping Lago di Tenno on Lake Tenno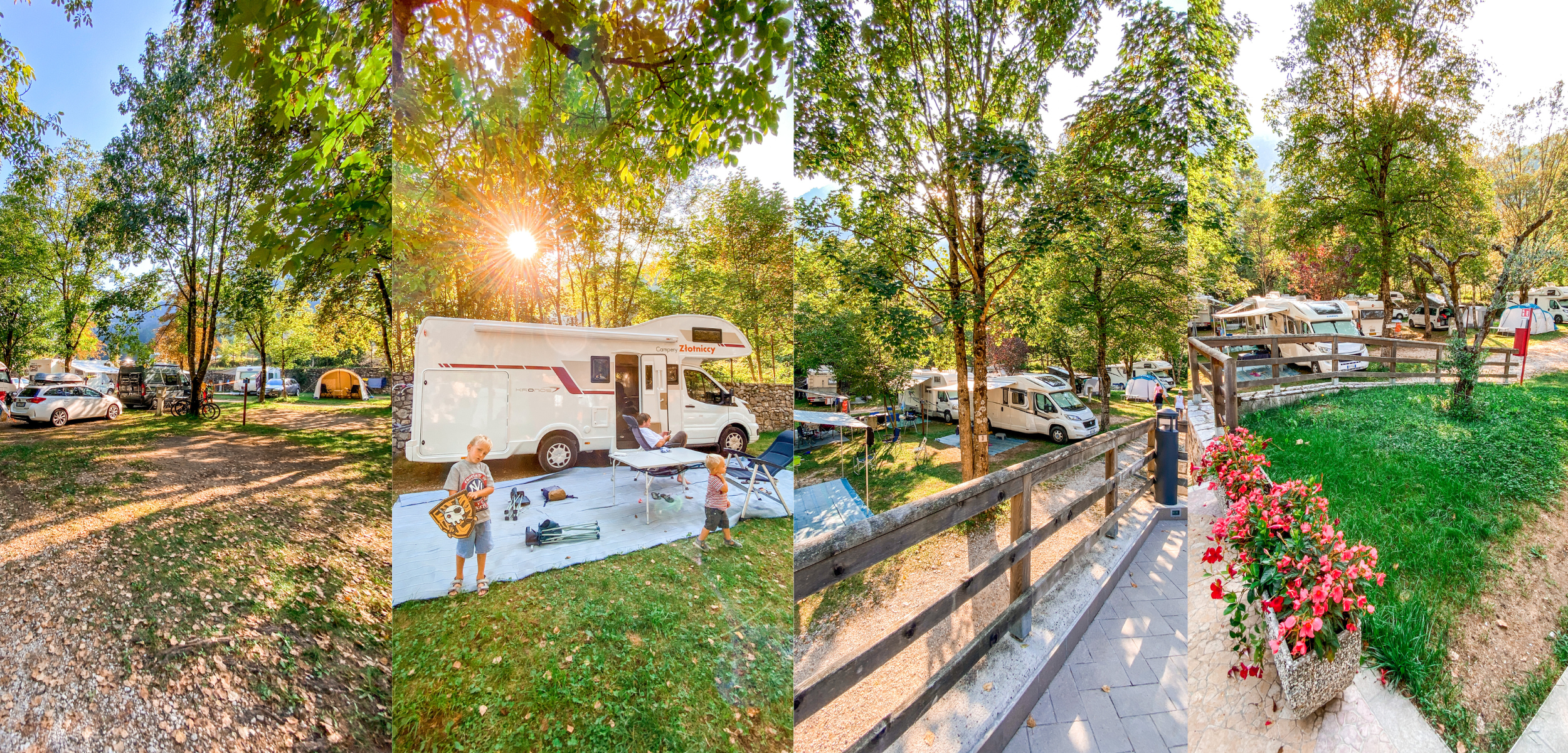 This is the only campsite on Lake Tenno. You have to walk about 500 m to the lake. You can rent kayaks and SUPs at the lake itself. You can relax on the free beach. There is also a small cafe with ice cream.
The campsite itself is not large, but it has nice shaded pitches - perfect for hot summer days. The campsite's location is an excellent starting point for hiking and cycling trips. We highly recommend going to Rifugio San Pietro from here.
Garda Guest Card – discount card for campsite guests
When sleeping at the above-mentioned campsites, ask for a free Garda Guest Card. It entitles you to discounts in many places or even free entry to some attractions. Thanks to the card, you can also use public transport for free. See what attractions you can take advantage of with this card:
Other campsites in the Garda Trentino region
See what other campsites are popular in the Garda Trentino region in our campsite search engine - Lake Garda or at https://www.gardatrentino.it/it/organizza/dove-dormire/camping .
gallery
This article was prepared in cooperation with Garda Trentino
We have created the CampRest portal for people who value freedom and travel on their own.
Enjoyed reading this article? Share it!