The best five-star campsites in Italy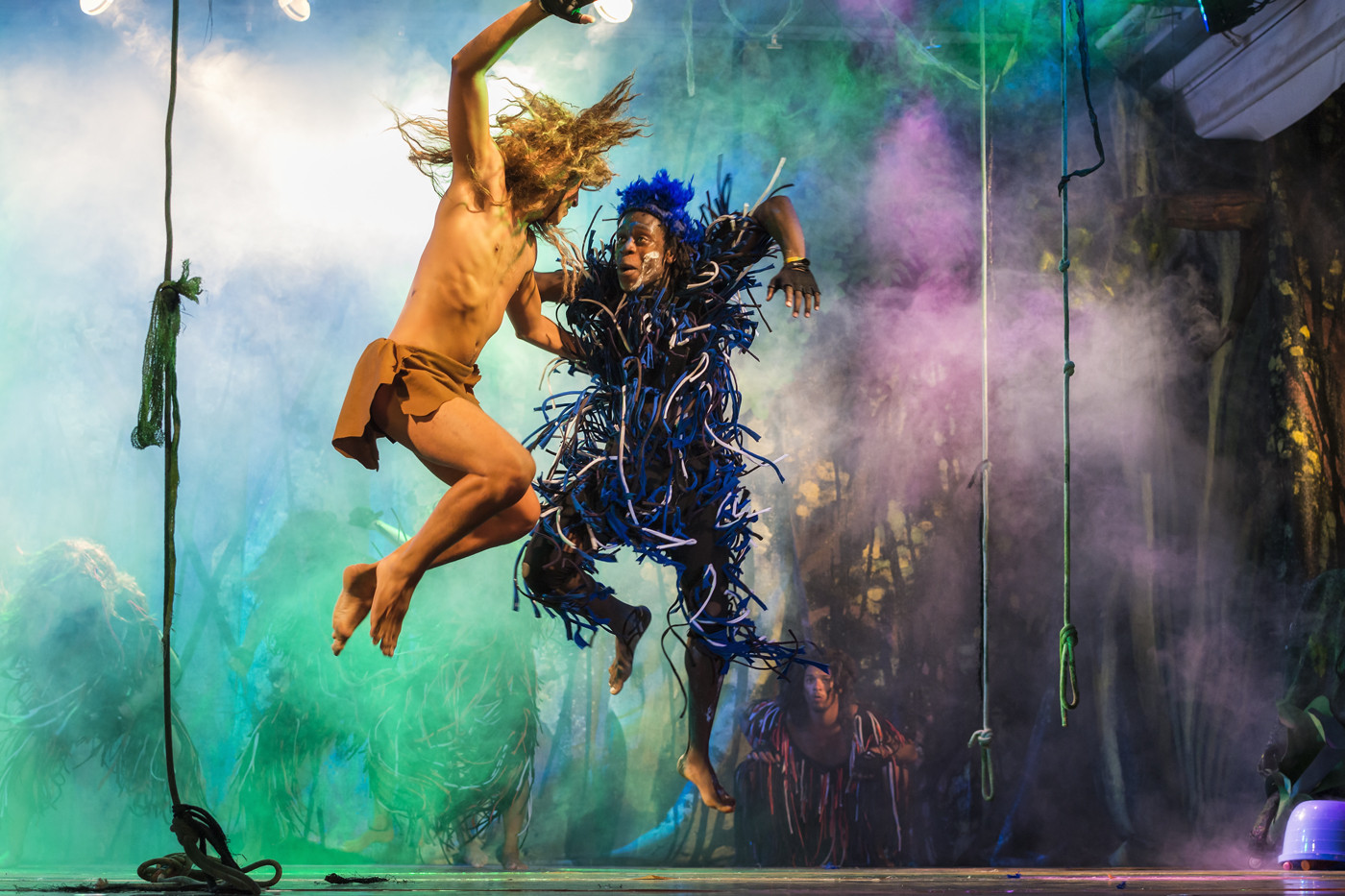 Italy's tourist infrastructure is among the best in the world. Hundreds of huge complexes and smaller recreation centers are only a fraction of the varied accommodation offer. Everyone will find something for themselves here, from a range of small campsites, larger family resorts and huge self-sufficient resorts.
It is not without reason that a number of facilities located in Italy have four- and five-star status. The amenities and comfort they offer to guests attract those tourists who love relaxation in the bosom of nature, but do not intend to give up the comforts of a hotel. Which campsites are worth paying special attention to when planning a holiday in Italy?
Camping Barco Reale – a stone's throw from Florence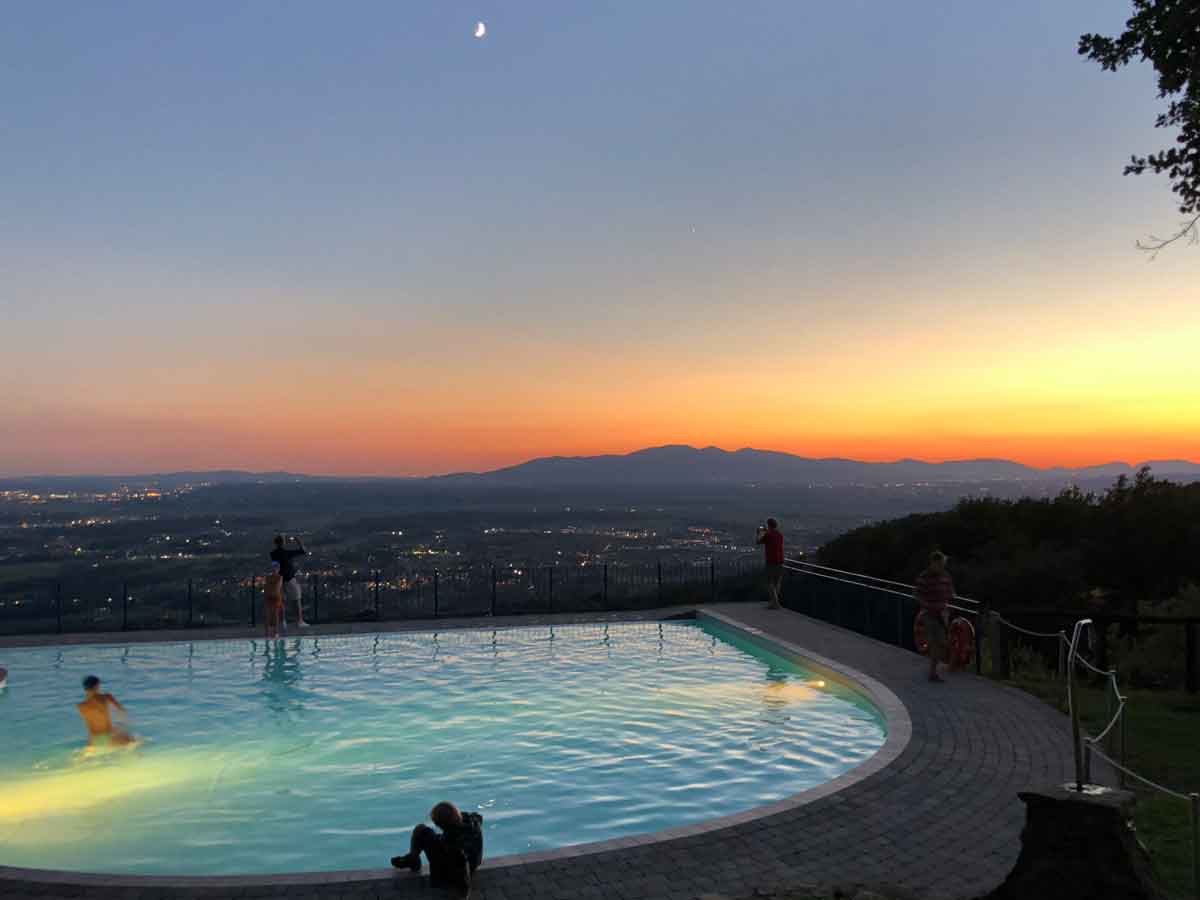 The first facility is located approximately 35 km northwest of Florence, in the very center of Tuscany. It awaits vacationers surrounded by hills and evergreen forests, ensuring peace and quiet for those relaxing. It is an ideal place for families and for people who want to recharge their batteries through as close contact with nature as possible. Accommodation options include luxury tents, mobile homes and vehicle pitches. On hot days, you can cool off in the swimming pool, which overlooks the nearby vineyards. Children have animators at their disposal who make sure that they have a great time during their stay.
Camping Barco Reale has four stars, which it fully deserves. The available amenities include a thriving restaurant serving delicious dishes and an ice cream parlor famous for its homemade delicacies. There is also a supermarket on site, where you can buy fresh bread and all the necessary products to prepare your own meals. The camping bar offers great drinks, perfect for hot weather (but they also taste delicious in the evening).
Guests like the resort not only because it is so well equipped. Its advantage is also its location - it is a great starting point for visiting nearby attractions. There is a bicycle rental service there, so cyclists can explore the area on two wheels, even if they are not on holiday. It's worth it, because there are plenty of nice bicycle paths around. In addition, Florence is nearby and easily accessible by car and public transport.
You can take your four-legged friend to the campsite - it is pet-friendly.
Camping Union Lido – holidays in the shadow of Venice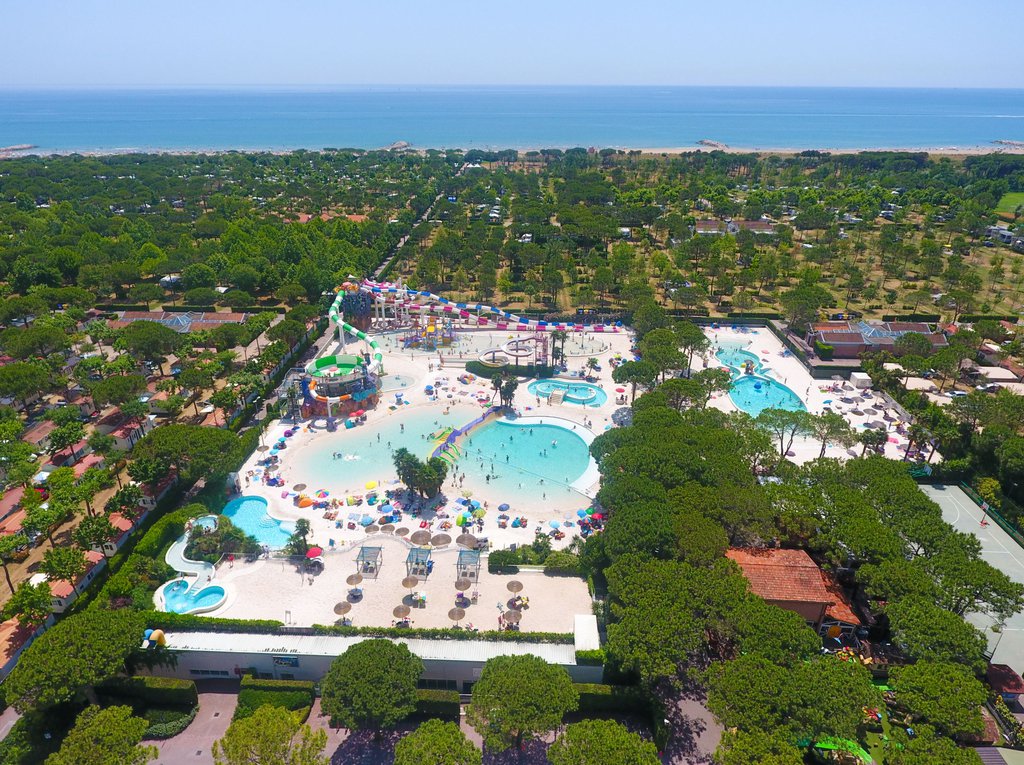 The next facility on our list is Camping Union Lido, located in the commune of Cavallino-Treporti. It is only about 18 km from Venice. The history of the complex dates back to the 1950s, when a place for tents was made available to tourists next to a narrow strip of sea. A lot has changed since then. Nowadays, camping is not a modest campsite , but an impressive complex. On its territory there is practically everything that can provide vacationers with the holiday of a lifetime. And that's not an exaggeration.
What makes people from all over the world come to this five-star resort? In addition to a diverse accommodation base, enabling a comfortable stay for couples (including seniors), families with children, groups of friends and animal lovers, Camping Union Lido has made sure that guests have access to a multitude of amenities. Great dishes in a rich restaurant menu, professional animators, numerous points of rental of leisure and recreation equipment, amazing water parks and swimming pools, beautiful beaches at your fingertips, Spa & Wellness services... It would be too long to list the attractions that guests of the complex can enjoy.
Holidaymakers have the opportunity to explore the area on their own and participate in organized trips. Those interested will see, among others: Venice, discover the charms of Cavallino, go to local markets and get to know regional monuments. The choice is really large.
It is also worth mentioning the option for lovers. Arrival at the campsite can be combined with organizing a wedding or renewing the wedding vows in an extremely romantic setting - on a private beach.
Marina di Venezia – even closer to Venice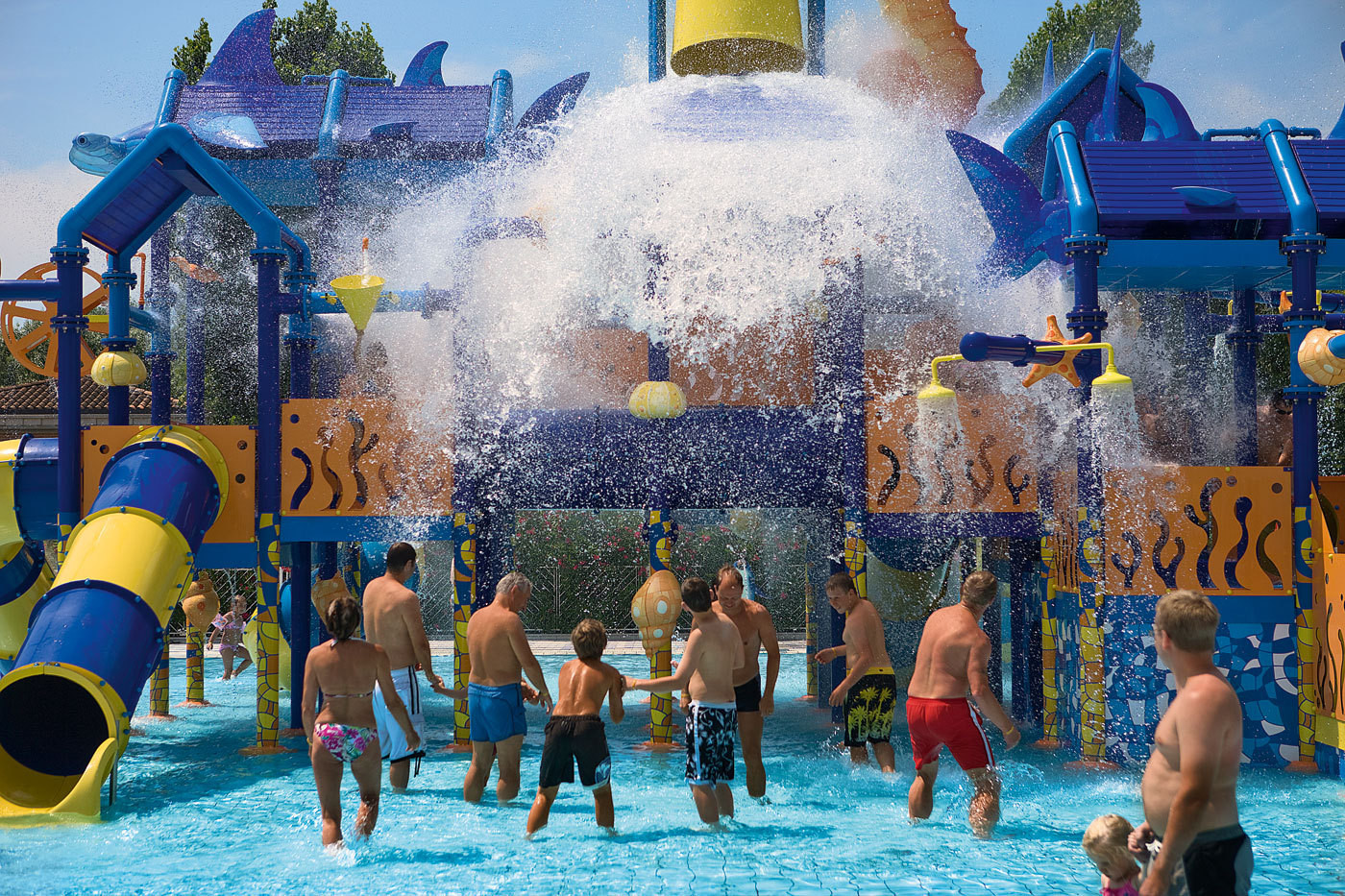 Marina di Venezia is actually the entrance to the city of gondolas, because it is only 11 km to the center. People who have decided to book accommodation in this facility will be fully satisfied with its offer and enchanted by the views. You will surely remember the sunsets over the crystal clear sea for the rest of your life.
The five-star resort is characterized by extensive accommodation facilities and excellent sanitary and water facilities. From April to mid-October, holidaymakers can stay overnight in their own vehicle (several hundred pitches), in a tent or in a hotel room. Marina di Venezia also welcomes guardians with pets - it is a pet-friendly facility. An attractive addition worth mentioning is the private jacuzzi in the Aqua Lodge option. In addition, glamping is becoming more and more popular among guests. This is not surprising at all if we look at modern houses finished to the highest standard. They are especially loved by couples and families with children.
Marina di Venezia is located right by the sea, surrounded by a pine forest. It provides guests with full culinary facilities (restaurants, bars) and the opportunity to practice sports (fields, water equipment rentals). Fans of cycling or walking tours have kilometers of trails that will allow them to discover the beauty of Cavallino-Treporti.
Holiday Village Isamar – Padua area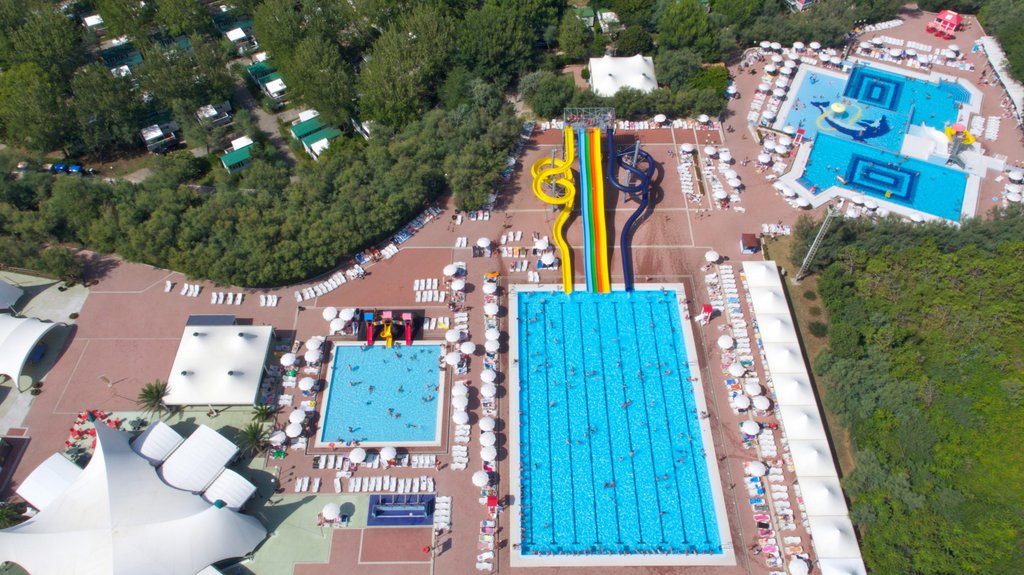 About 50 km southeast of Padua, there is another campsite that is worth visiting if you are looking for exclusivity in this type of resorts. This is Holiday Village Isamar, where top-class plots, luxurious apartments and comfortable houses are located on almost 30 hectares. This five-star complex will appeal to anyone who loves spending their free time by the water. The local beaches are among the best in Italy. They are distinguished by the Blue Flag status, confirming ideal conditions for water sports and exceptional water purity.
Holiday Village Isamar fully deserves its stars. It is a well-equipped campsite with lots of amenities for guests. Guests can count on professional service, comfortable accommodation, learning about local delicacies, as well as relaxation or fun in the water park - depending on what we prefer. As befits a luxurious facility that takes care of all holiday-makers, Village Isamar has also prepared an offer for people with dogs. You don't have to look for care for your pet during your holiday, just feel free to take it with you to this beautiful place.
As with the previous facilities, sightseeing enthusiasts who want to get to know as much as possible during their stay will easily find their place here. You can go on a trip, among others: to Venice, Padua, nothing stops you from jumping on your bike and hitting the trails. On your own or rented bike, you can ride kilometers of trails that lead to the most beautiful corners of the region.
Camping Village Ca'Pasquali – the kingdom of tents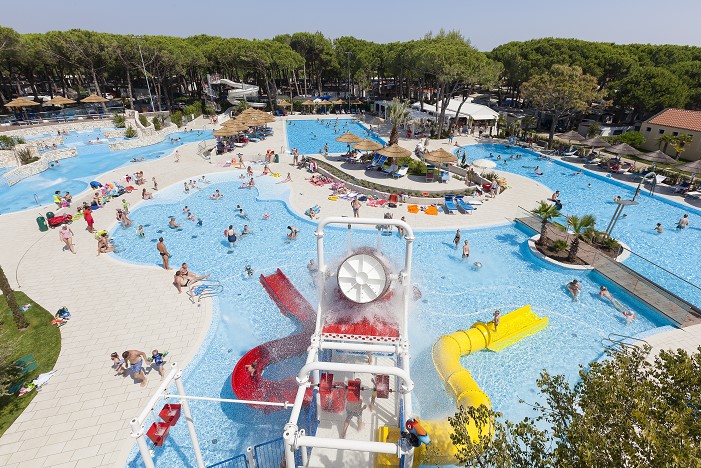 Cavallino-Treporti is a unique place, not only because of its proximity to Venice, but also because of its fabulous beaches and crystal clear water. Therefore, it should not surprise anyone that a large part of our list is occupied by centers from this region. Camping Village Ca'Pasquali is part of the canon of comfortable complexes worth visiting.
The five-star facility is famous for its luxurious tents. Here you will find Lodge and Airlodge tents fully equipped with all amenities, suitable for both couples and families with children. The standard includes the kitchen, living room, bedrooms and outdoor area.
Camping Village Ca'Pasquali systematically expands its offer with newer, practical amenities. This is one of those resorts from which you would actually never leave, because everything a vacationer needs to be happy is right there. Guests can enjoy catering facilities (bars, shops, etc.), a swimming pool area (for adults and children), a games room and sports fields, as well as a wide range of animations.
The complex is located by the beach. This means that everyone who cannot imagine a holiday at the Italian seaside without practicing water sports or relaxing on a deckchair will be delighted with their stay.
Sant'Angelo Village – full comfort of relaxation
The next resort we will focus on is Sant'Angelo Village . It is located surrounded by the beaches of Cavallino-Treporti, about 20 km east of Venice.
Its offer is addressed primarily to families, but couples, singles and groups of friends will also not complain. Accommodation includes comfortable cottages, luxurious hotel rooms and fully equipped plots. That's not all - as befits a five-star facility, it provides guests with the opportunity to relax in an apartment overlooking the water park.
No one will be bored in Sant'Angelo Village. In summer, you can cool off in the aqua park or the sea, and fans of water sports (and others) will have fun at the beach or on one of the sports fields. The evenings will be made more pleasant by attractive animations or partying until dawn to the rhythms of music. The campsite will also appeal to lovers of walking and cycling - many routes lead to nearby monuments or charming places. Those who want to go further and explore the region can go on trips on the Venetian Lagoon or visit Venice itself.
Centro Vacanze Villaggio San Francesco Caorle – in the shadow of Caorle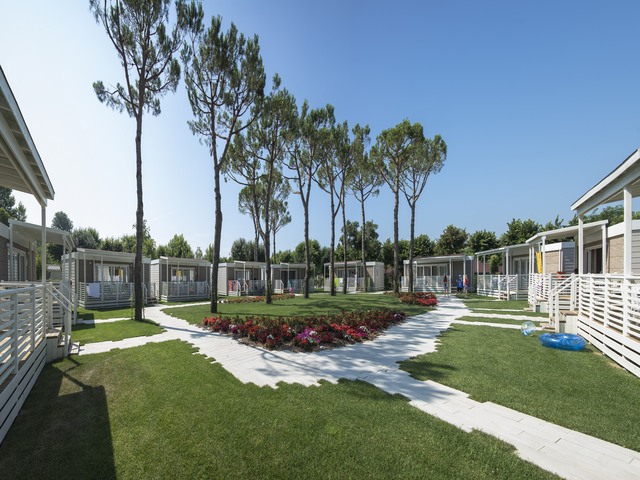 When it comes to camping, Italy really has something to be proud of. Especially when we are talking about impressive camping towns that often offer guests more than just one hotel. Such a facility was located near Caorle. This is the five-star Centro Vacanze Villaggio San Francesco , which is located less than 9 km from the resort.
As befits a resort with such a high rating, it provides tourists with everything that will allow them to enjoy their holidays in luxurious conditions. The accommodation offer includes exclusive cottages, comfortable hotel rooms and well-located plots. Additionally, there are places within the complex specially adapted for disabled people. Pet owners are eager to come to the campsite because pets are welcome here.
Tourists can enjoy friendly and professional staff, individual and group recreational activities, a swimming pool complex for adults and children, and a free beach with sun loungers and umbrellas. Nothing, just come and enjoy your holiday.
Villaggio Turistico Internationale – Bibione area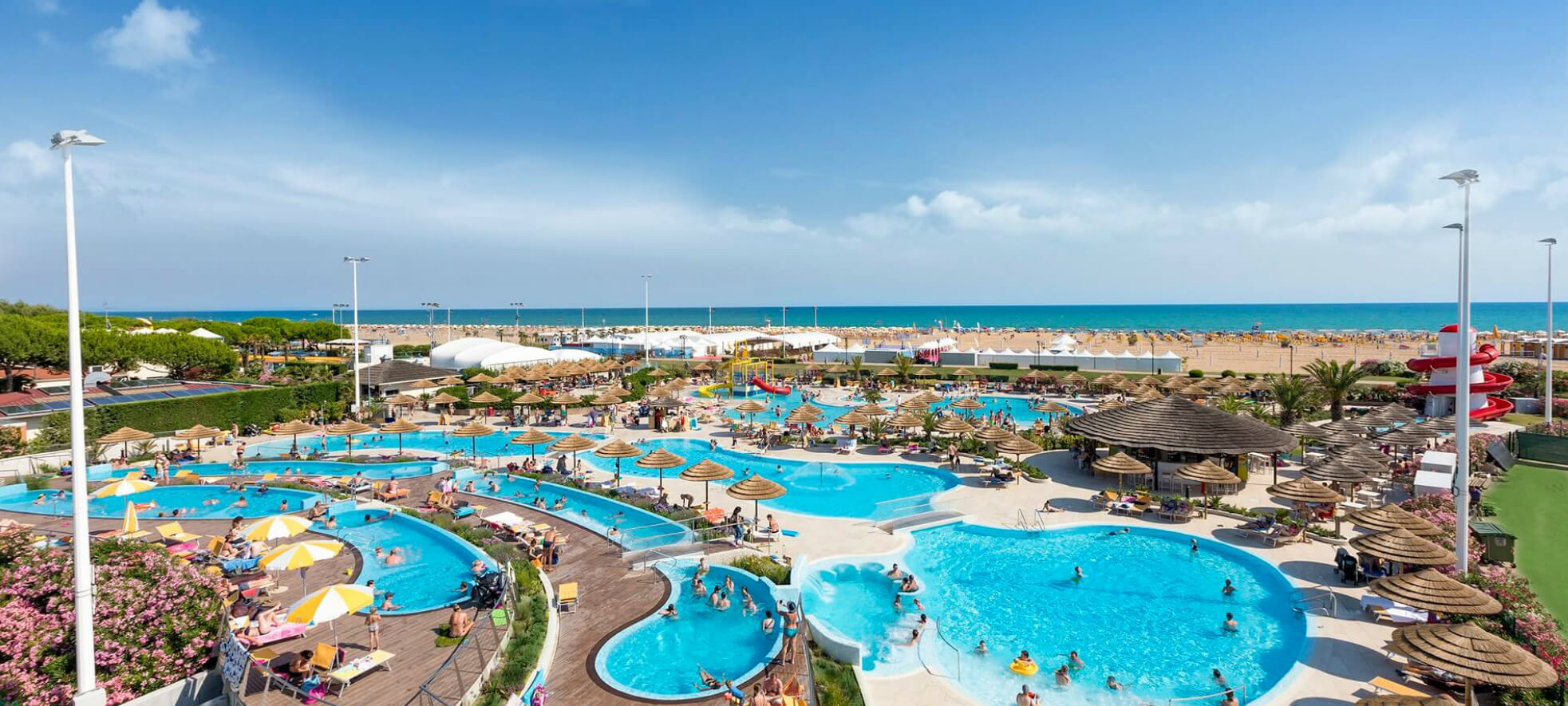 The last camping on our list (which does not mean that it is not very crowded) is located near Bibione, in eastern Italy. Villaggio Turistico Internationale has four stars, but does not differ in level or number of amenities from its five-star predecessors.
First of all, it is a place where children will not be bored even for a moment. Waiting for them, among others, playground, kids' club, animation team with lots of ideas and many, many other attractions. Slightly older people can try their hand at water sports (windsurfing school) or engage in physical activity on the sports fields (football, tennis, basketball, etc.). In addition, the facility has a swimming pool complex that can be used by both children and adults. Villaggio Turistico Internationale is located directly on the beach, so lovers of sunbathing or lying under an umbrella can enjoy blissful relaxation just a stone's throw from the campsite.
The facility's accommodation offer includes comfortable mobile homes and cozy bungalows. Fans of outdoor recreation can pitch a tent on one of the numerous shaded pitches, and those with their own vehicle can park in a spacious pitch. Vacationers from the second group have access to full water, electricity and sewage facilities.
As you can see, there will certainly be no shortage of tourist facilities for caravanning fans in Italy. Luxury campsites in Italy will surprise many people with their equipment and attractions. Well, isn't it worth seeing for yourself that a vacation to the warm sea of southern Europe is a great idea?
A writer by profession, a passion of a cat. One day he will see what is behind the Urals - good to Vladivostok. So far, when he can, he enjoys the sun of the countries of southern Europe. And it's also fun;)
Enjoyed reading this article? Share it!