The pearl of western Istria - Vrsar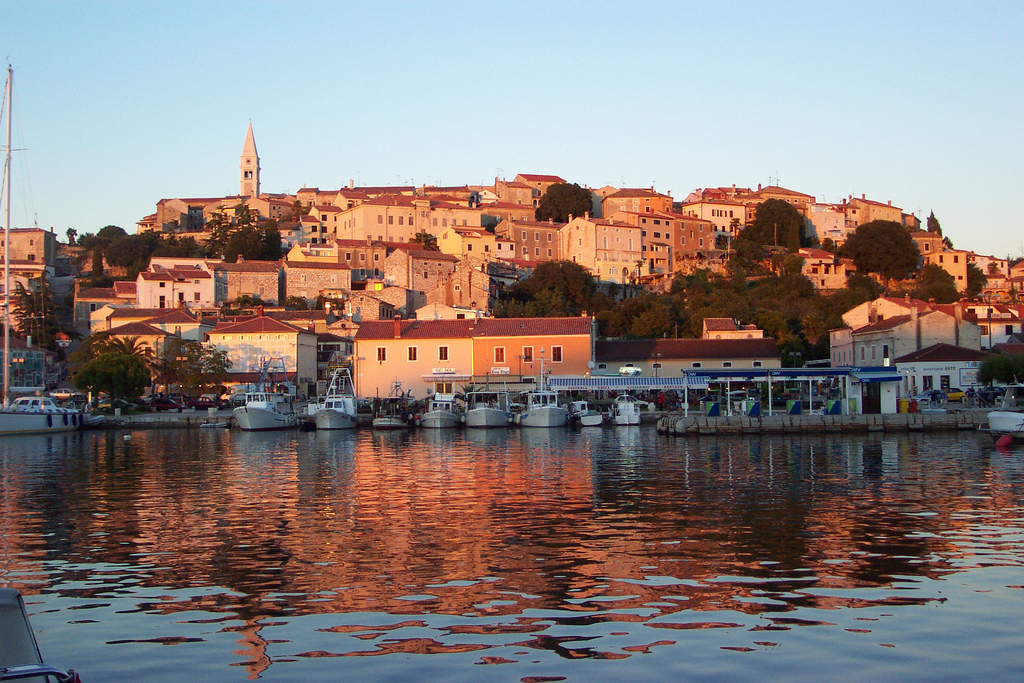 Vrsar, a beautiful Croatian resort, is located in the vicinity of the largest naturist center, amid hills and lush Mediterranean vegetation. Wide beaches and blue water attract tourists from distant corners of the continent as well as delicious cuisine.
Vrsar is located approx. 9 km south of Poreč in western Istria. It has an exceptionally beautiful archipelago, which consists of 18 tiny uninhabited islets with Mediterranean fauna. Those interested can see them up close from a motorboat - they can be rented in the town itself, as well as pedal boats, sailboats and surfboards.
A cuisine of a thousand flavors
The town captivates with its beauty. In the past it was called Orsera, today it is known as Vrsar . It was a place where mainly nobility and bishops lived, and also functioned as a port through which Istrian stone was exported. Today, it is very popular among tourists who visit Croatia.
The main street of the city, Obala Maršala Tita , runs along the port and is also a promenade. The resort has retained the Mediterranean climate thanks to the tangle of stone streets and a multitude of intimate, charming squares. It is beautiful and colorful here, and in addition to the sense of sight, you can also enjoy the taste and smell. The local cuisine is famous for its diversity - among the served dishes you can mention ham with truffles and asparagus, and seafood served in many ways.
Attractions Vrsar
Vrsar will be especially loved by families with children and amateurs of active recreation. Excess energy can be lost, among others on one of the several tennis courts in the city. Of course, you can spend a 2-week vacation blissfully lounging on the beaches, but it is a pity to waste opportunities, which are so many here. These beaches have all the amenities, adequate equipment and offer a wide range of entertainment. They have a gentle descent to the sea and are covered with fine gravel.
Lovers of monuments will also be pleased to visit Vrsar. In the old part of the resort, a tiny Renaissance church with a rich collection of sacred art awaits them, as well as the Romanesque gate and Trg Degrassi , which was the city's main market in the past. The defensive walls of the Illyrian settlement have also survived from the former buildings.
The stately silhouette of the Church of St. Martin with a belfry from which you can admire the entire area. The Renaissance-baroque church of St. Anthony and the bishops' summer residence with the remains of two towers. One of them has a sundial. On the ground floor of the building there is a collection of paintings by the Croatian artist Ed Murtić, who creates works in the style of abstract expressionism.
There are also many attractions outside of Vrsar. It is worth going to the fjord Lim Channel , located about 3 km north of the city. It is considered a landscape park, and on its territory there is a restaurant with an extensive menu prepared according to traditional recipes.
The cradle of naturism
Approx. 2 km south of Vrsar is Europe's largest naturist center - Naturist Park Koversada . It can hold up to 5,000. people and has an excellent recreational infrastructure. There are football and basketball courts, tennis courts, and beach volleyball. There is also a wide range of water sports, ranging from water skiing, yachting, and ending with diving lessons under the supervision of instructors.
On the other hand, those who prefer traditional bikini sunbathing can choose the Croatian Camping Orsera . A parking space for a motorhome costs from about 76 to 147 PLN. The cost of an adult's accommodation ranges from about PLN 34 to PLN 46.
A holiday in Vrsar is a guarantee of great fun and relaxation on numerous beaches, 5 of which are certified with the Blue Flag. Regardless of whether we will spend time on the promenade or in the hilly old part, we will remember holidays in this resort forever.
A writer by profession, a passion of a cat. One day he will see what is behind the Urals - good to Vladivostok. So far, when he can, he enjoys the sun of the countries of southern Europe. And it's also fun;)
Enjoyed reading this article? Share it!